On Friday, July 30, 2021, Fares Ibrahim El-Bakh won a gold medal at the 2020 Tokyo Olympic Games in the Men's 96-Kilogram Weightlifting session. With this win, El-Bakh secured Qatar's first-ever gold medal and the country's sixth medal overall. They also have one silver and four bronze. This is Qatar's second medal in the sport of weightlifting.
This is the 23-year-old's second appearance at the Olympic Games, and he's racked up a very impressive resume as both a Junior and Senior weightlifter. El-Bakh, who also goes by Meso Hassouna, won his session handily, leading the runner-up by 15 kilograms in the total. Here are the results from the Men's 96-Kilogram session, which took place at 2:50 a.m. EST:
Men's 96-Kilogram Results
Fares Ibrahim El-Bakh (Qatar) — 402 (177/225) (Gold, Olympic Record)
Keydomar Giovanni Vallenilla Sanchez (Venezuela) — 387 (177/210) (Silver)
Anton Pliesnoi (Georgia) — 387 (177/210) (Bronze)
Boady Santavy(Canada) — 386 (178/208)
Chen Po-Jen (Chinese Taipei) — 381 (176/205)
Bendoloot Rasulbekov (Kyrgyzstan) — 374 (166/208)
Bartlomiej Adamus (Poland) — 360 (163/197)
Yu Dong-ju (South Korea) — 360 (160/200)
Olfides Saez Vera (Cuba) — 359 (156/203)
Tchatchet Il Cyrille Fagat (Refugee Olympic Team) — 350 (155/196)
Theodoros Iakovidis (Greece) — 338 (156/182)
Christian Amoah (Ghana) — 315 (145/170)
Moammed Hamada (Palestine) — 310 (137/173)
Yauheni Tsikhantsou (Belarus) — X (173/X) Did Not Finish
Toshiki Yamamoto (Japan) — X (168/X) Did Not Finish
Note: the above stats are structured as — Total (Snatch/Clean & Jerk)
El-Bakh's Weightlifting Resume
As a Junior weightlifter, El-Bakh has medaled in three Junior World Championships — he placed third in 2016 (at 85KG), and then first in 2017 (85KG) and 2018 (94KG). The Junior World Records in the clean & jerk and total with 225 kilograms and 397 kilograms, respectively.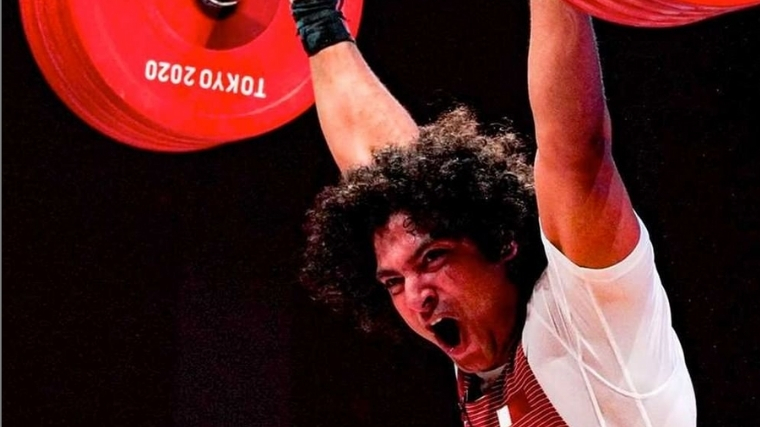 In 2018 and 2019, El-Bakh won gold at the Qatar Cup. He's also won two medals at Weightlifting World Championships — silver at 96KG in 2019 and a bronze medal in 2017 at 94KG. (The IWF restructured the bodyweight categories in 2018, which is why he's competed at both 94 and 96 kilograms.) In 2018, he took second at the Asian Championships. Notably, El-Bakh represented Qatar at the 2016 Olympic Games, competing at 85 kilograms. He placed seventh overall, and Kianoush Rostami won that year.
Qatar's Medal History at the Olympics
Qatar has participated in nine Summer Olympic Games, with their first being in 1984. El-Bakh's gold medal is a first for the country and marks the sixth medal ever won by Qatar at an Olympic Games.
Most of Qatar's medals have come from Athletics (3), with the three others coming from Weightlifting (2), and Shooting (1). Qatar has never competed in a Winter Olympics.
Olympic Medals Won By Qatar
Here are all of the medalists from Qatar:
Athletics
Mohammed Suleiman (Men's 1,500 Meters): Bronze, 1992 Barcelona Olympic Games
Mutaz Essa Barshim (Men's High Jump): Bronze, 2012 London Olympic Games
Mutaz Essa Barshim (Men's High Jump): Silver, 2016 Rio de Janeiro Olympic Games
Weightlifting
Said Saif Asaad (Men's 105KG): Bronze, 2000 Sydney Olympic Games
Fares Ibrahim El-Bakh (Men's 96KG): Gold, 2020 Tokyo Olympic Games
Shooting
Nasser Al-Attiyah (Men's Skeet): Bronze, 2012 London Olympic Games
At 23-years-old, El-Bakh, who is of Egyptian descent, is a serious contender for the 2024 Olympics, being held in Paris, France. He is now the sole gold medalist from Qatar and, though he's already accumulated an impressive resume, he still seemingly has a bright future ahead.
Featured Image: Stephen Galvan for the IWF