Naturo Nitro is a division of Naturo Sciences, a company that's pretty well known for their natural approaches for issues like bone, colon, and prostate health — their joint pain product is made with green tea, for example.
But Creatine Chrome has a different look. The package design is  clearly going for the cutting edge, clinical science theme, and according to the product's official website "most creatine is ineffective" and "this form of creatine is absorbed by your body ultra-fast."
So let's take a closer look at the label.
Naturo Nitro Creatine Chrome Ingredients
One serving of three pills contains about two grams of of creatine MagnaPower®, also called creatine magnesium chelate.
The other ingredients are magnesium stearate (a "flow agent" that helps to stop the product from sticking to the machinery in the facility where it's made) and the anti-caking agent silicon dioxide.
Naturo Nitro Creatine Chrome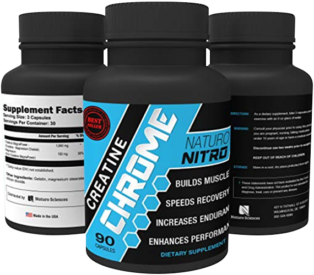 Naturo Nitro Creatine Chrome
A solid pick for people who are sold on the potential benefits of creatine magnesium chelate.
Note that the pills are encased in gelatin sourced from cows, so this product isn't vegetarian-friendly and it doesn't appear to be halal.
Naturo Nitro Creatine Chrome Benefits and Effectiveness
So what's creatine magnesium chelate? Most creatine is monohydrate, which means the creatine has been bound to water. MagnaPower is bound with magnesium.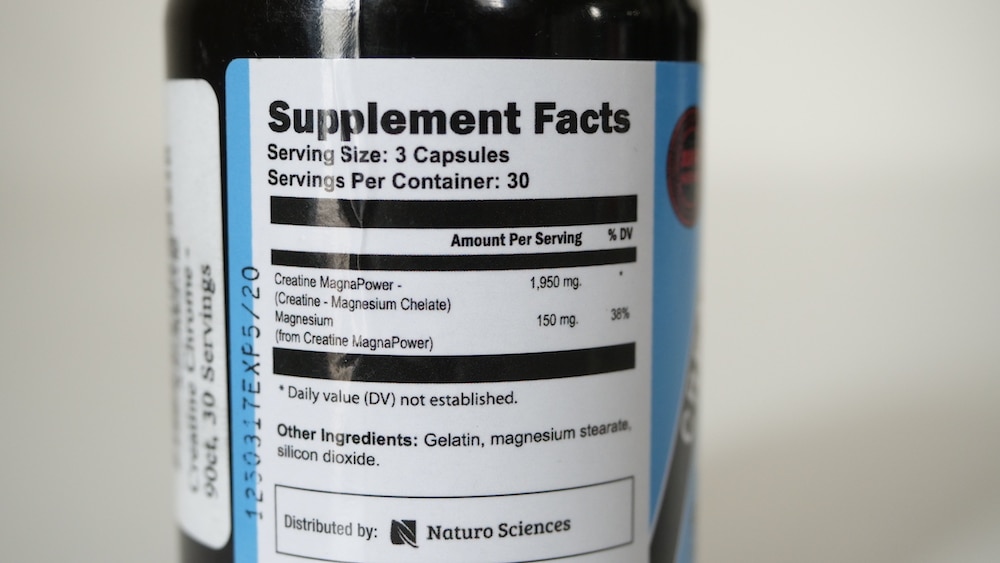 There are a few pros and cons to this process. The main con is that very little research has been done on this creatine magnesium chelate and the claim that it's more effective than monohydrate is somewhat unfounded. The most rigorous study comparing it with monohydrate showed no significant difference in performance tests over 30 days of taking it.
That doesn't mean this is a useless product. There was one 2003 study in Metabolism that showed it could help with power output without the water weight that creatine monohydrate often brings with it. Plus creatine monohydrate can cause stomach cramps for some people and a more alkaline product like MagnaPower may help to alleviate these issues for certain athletes — that evidence is anecdotal, but it's worth mentioning.
So there are potential pros, but they've only been seen in one study — more research is needed.
Looking for Creatine? See some of my favorites!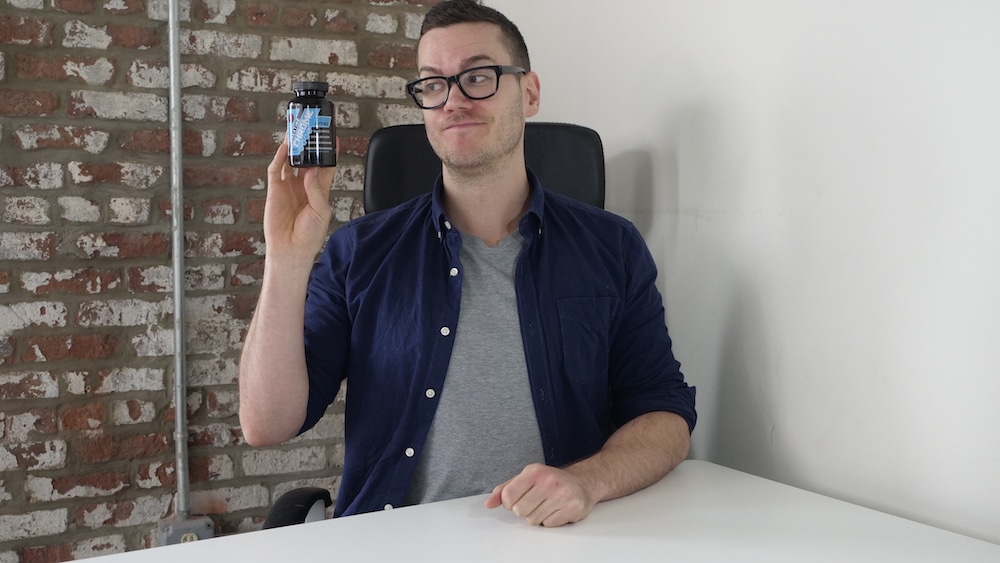 Naturo Nitro Creatine Chrome Price
One serving of two grams is three pills, and you can pick up 30 servings for $25. That comes to 83 cents per serving or 41.5 cents per gram of creatine.
Regular creatine monohydrate is usually around 4 cents per gram, and other brands offer the powdered MagnaPower for a lot less, between 10 and 20 cents per gram.
The Takeaway
There are plenty of upsides in the potential improvements with water weight and stomach cramps, but there's relatively little evidence for creatine magnesium chelate, so it's hard to be certain that it's worth the extra cost.
Naturo Nitro Creatine Chrome
Per Serving: $0.83