The NordicTrack T Series (T6.5 Si) Treadmill is easy on the wallet, small in stature, and still quite high-tech for its price. However, because of its less powerful motor and smaller rollers, it's not quite as sturdy or durable as other treadmills that fall into the same price range. But luckily what it lacks in durability, it makes up for in space-saving abilities, so if you're looking for a machine you use every once in a while and then fold up for storage, this could be a great buy for you.
Main Takeaways
This machine comes with a free one-year iFit subscription for live and on-demand workout classes. 

It has SpaceSaver Design with EasyLift Assist for painless hydraulic folding.

The T Series treadmill has a 10" HD touchscreen display to view your workout classes and stats. 
T Series
NordicTrack T Series 6.5 Si Treadmill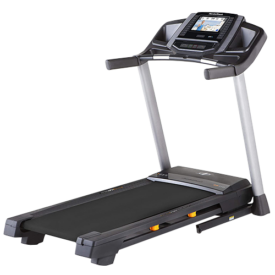 NordicTrack T Series 6.5 Si Treadmill
The NordicTrack is a budget-friendly option with a 10" HD touchscreen and comes with a free one year iFit subscription, giving you both a personal trainer and a machine all in one.
NordicTrack T Series (T6.5 Si) Treadmill Highlights
​
Though it's a massive plus that this treadmill comes with an iFit subscription, avid runners might be limited with the classes they can take as the T6.5 Si won't fare as well on long runs or interval workouts. However, if you're a walker or even a jogger, this may not matter to you. Either way, this tread is likely to attract some eyes even if only for its price tag.
Who Should Buy the NordicTrack T Series Treadmill
Power walkers and joggers looking to up their speed on shorter jaunts.

Live workout class fiends wanting to score a free workout subscription for a year.

Someone who likes having a high-tech display throughout their runs.
Who Shouldn't Buy the NordicTrack T Series Treadmill
Tall runners who need a little extra room for their longer strides.

Anyone who's training for a marathon or doing frequent long distance runs.

Interval training aficionados who are looking to go above 10 mph in speed.
Price
​
This machine is pretty budget-friendly, only setting buyers back around $1,299 at full price. Though it does lack some features due to its size and build, you're still getting a solid product for what you're paying for this tread compared to other treadmills on the market.
Overall Build and Quality
​
Because this tread is gauged toward athletes who are looking for a smaller, foldable machine, the NordicTrack T Series (T6.5 Si) is less sturdy than some other treads of its class. It's good for power walking and jogging but it might not be as solid with frequent long distance runs or interval training. Regardless, you can still expect the basic finds, like decent incline and speed ranges, along with pre-programmed workouts.
Features
​
The NordicTrack T series (T6.5 Si) has most of your basic needs. As far as incline and speed goes, this tread gets the job done at 10 mph, but doesn't hit all the higher range marks. Where it lacks in speed and incline, it makes up for in workout options with its free iFit subscription and extra pre-programmed workouts.
Incline range
​
The incline on this tread ranges from 0 to 10 percent. Many treads go all the way up to 15 percent, but if your legs aren't looking to climb too high, 10 percent will do the trick for most incline-based workouts.
Speed range
​
The speed ranges from 0.5 to 10 mph, which is on the slower side considering lots of other machines go up to 12 mph. But if you're just looking for a basic tread for walking or jogging, this guy was built for you.
Included workouts
​
One of the coolest features on this tread is that your purchase comes with a free one-year membership to iFit, which is NordicTrack's live and on-demand workout class subscription service. But even without iFit, this model still has more pre-programmed workout classes than most other treads in its price range—you'll find 20 programs in this console.
Display
​
This piece of equipment has a 10-inch HD touch screen display, which is more high-tech than most treadmills of its class. You can take an iFit class, go through a pre-programmed workout and track your stats all on this display.
Speakers
​
There are two built-in speakers and an auxiliary audio input, so you can turn your garage into a full blown fitness studio, jams and all.
Fans
​
Unfortunately, this tread doesn't have any built-in fans, so if you like your workouts breezy, you'll need to set up a floor fan nearby.
Heart Rate Monitoring
​
You can grab onto the handlebars to use the CardioGrip TM sensors to check your heart rate throughout your session.
HDMI, USB and Other Inputs
​
There's no USB (just auxiliary audio input), so if you're looking to charge your phone during your workout, you'll have to use a nearby wall outlet. But with the auxiliary audio input, you can still listen to your favorite jams through the tread's speaker system.
Bluetooth and Audio Options
​
The NordicTrack T series (T6.5 Si) is Bluetooth compatible, so if you want to go cordless, you can sync your phone to the tread and play your music for all your neighbors to hear.
Water Bottle, Cup Holders, Tablet and Phone Holders
​
This tread has two cup holders (or storage compartments, if you'd prefer) and a tablet shelf if you want to prop your tablet up to stream your favorite TV show during your run.
Product Specs
​
Because this machine was created for space-savers, it's going to run a little bit smaller in build and running track length. Along with that, the motor isn't as powerful as the motors of other treadmills of a similar price. But if that doesn't bother you, you will be getting a product that folds up and can save you some room that other larger treadmills can't.
Motor Size
​
This tread's 2.6 CHP DurX Commercial Plus Motor motor is not as powerful as most. It can handle light cardio, like power walking and jogging, but you'll have to take it easy on the long distance running and interval training—it might note fare well with those too frequently.
Running Area
​
The track is a bit smaller than most, measuring 20 x 55 inches. This shouldn't be a problem for most athletes, but if you're on the taller side, you may want to take your search elsewhere because your gait will require a little extra room.
Weight Capacity
​
This T Series can support up to 300 pounds, which is on the lighter side but still a decent weight capacity, especially considering the smaller build of this machine.
Folding Options and Dimensions
When in use, the NordicTrack T Series (T6.5 Si) measures out at 67.5″ L x 36″ W x 73″ H, but it does fold and due to its small size, will take up less space than some others in its price range. Though, it still folds into a V shape, so don't expect to be throwing it in any tight corners for storage. In addition, it has hydraulic EasyLift Assist, making the folding process super easy-breezy.
Max Speed and Incline Range
​
With a less powerful motor and smaller build, this tread only climbs up to 10 percent incline and runs up to 10 mph in speed. Though those are still decent specs, it's not great for long distance runs or interval training as it limits how far you can go and how fast you can sprint. But if you're a walker or jogger trying to increase your speeds on shorter jaunts, this is a great buy for you.
Electrical Requirements
​
You'll need an outlet with 120 volt capacity, which you can find in your average home wall outlet.
Warranties
​
You'll get 10 years of coverage on the frame, two years on the parts, and one year on labor with your purchase. Sometimes NordicTrack runs promotions for extended warranties though, so be sure to look into that opportunity before buying.
Belt Information and Roller Size
​
This treadmill only has 1.9″ rollers. Many treadmills have 2.5″ (or larger) rollers, which help the machines to last longer, so you can expect the lifespan on this machine to be a little shorter than most.
Cushioning and Feel
​
The NordicTrack T Series (T6.5 Si) has FlexSelect cushioning. When turned on, this feature adds extra cushioning for your joints to make for a lower impact workout. When turned off, you can mimic outdoor road running, which is ideal if you're training for an outdoor road race.
Workout Apps and Compatibility
​
Along with your purchase, you'll get a free one year iFit subscription, which is NordicTrack's live and on-demand fitness subscription service. If you choose to take a class, the incline and speed will adjust automatically throughout the class based on your instructor's calls. With iFit's Google Maps feature, you can also walk and run around the world, and the incline will automatically adjust when your terrain takes a dip or makes a climb.
If you prefer a separate workout app, this tread has a tablet shelf, so you can prop your class up in front of you on the app of your choice, connect it to Bluetooth and listen straight through the tread.
Subscription Options
​
You'll get one year of iFit for free, but afterward, it's $396/year for a monthly family plan ($39/month if you want to go monthly) or $180/year for a yearly individual plan.
Places to Buy
You can find this machine on NordicTrack's website or Amazon Marketplace.
Previous Models
Though the NordicTrack T Series (T6.5 Si) is the most up-to-date model and the only one they sell on their site now, you can still find the T6.5 S on Amazon. The main difference is that the T6.5 S does not have the 10" HD touchscreen display like the T6.5 Si does. All that means is that if you want to use iFit, you would have to run the app on your tablet, prop it up on the tablet shelf and stream from there. The T6.5 S goes for much cheaper though at around $650 depending on the deals of the day.
Company Information
​
NordicTrack is known for selling reliable treadmills, bikes, rowers and ellipticals. They offer a 30-day trial period in which you can receive a full refund if you aren't satisfied with your treadmill purchase. You can reach their customer support by calling 1-888-308-9616.
FAQs
Does NordicTrack T 6.5 Si have Bluetooth?
Yes, it does. You can sync any Bluetooth compatible device to the treadmill and listen to its audio through the two built-in speakers.
How much does a NordicTrack 6.5 Si weigh?
The NordicTrack T Series (T6.5 Si) weighs only 203 pounds, which is definitely on the lighter side. Many similarly priced treadmills weigh closer to 300 pounds.
Is the NordicTrack T Series a good treadmill?
NordicTrack is known for their high-tech treadmills, and while this machine still features quite a bit of modern technology, it's not as sturdy or durable as other treadmills in its price range. You'll find that it won't be able to handle frequent long distance runs or interval workouts, and it likely won't last as long as treadmills with bigger rollers.