The Colorado based Paleo Meals to Go offer a different type of paleo based meal delivery service. Unlike normal delivery services that provide ready-made meals, Paleo Meals to Go provides true on-the-go meals. Their meals are freeze dried and stored in sealed bags that have longer expiration dates and can be eaten with very little prep.
We were intrigued by this company's different take on "ready-made" paleo meals, and wanted to see how they stacked up against other popular services. We tested their food in taste, appearance, nutrition, convenience, customizability, and price.
Taste
Freeze dried paleo meals were definitely new for me, so I was curious how the taste held up compared to pre-made meals. Paleo Meals to Go sent us four different meals, but for brevity purposes we only tried the Bedrock Beef Chili in our review. One thing I noted about all of their meals is that they're all stew, curry, or chili based. They also offer trail mix and fruit snack-esque packages.
On the packages they recommend pouring in hot water (you can also use cold water), resealing the package, and then shaking it before letting it sit for 10-12 minutes. This allows the water to reabsorb into the meal, which helps out with flavoring. I liked how easy it was to prep a meal, and if you have no stove or microwave access, then you could still eat it without issues.
We used hot water and let our meal sit for 10 minutes before digging in. Upon first bite, I was pleasantly surprised by the taste the beef had. One of my worries with the freeze dried nature of the meal was the loss of taste, or any blandness, especially in the meat. The beef had some kick and was pretty tasty. Also, I liked the texture, and I thought it wasn't overly chewy for being previously freeze dried.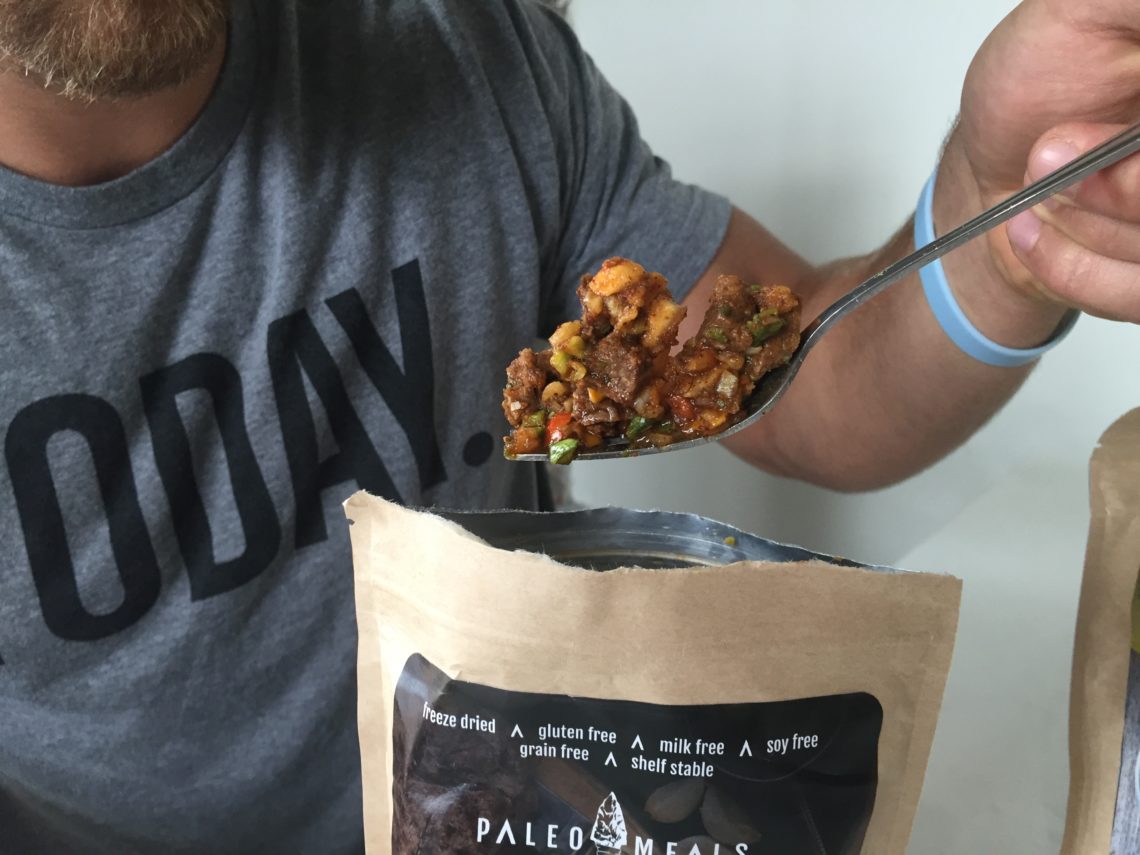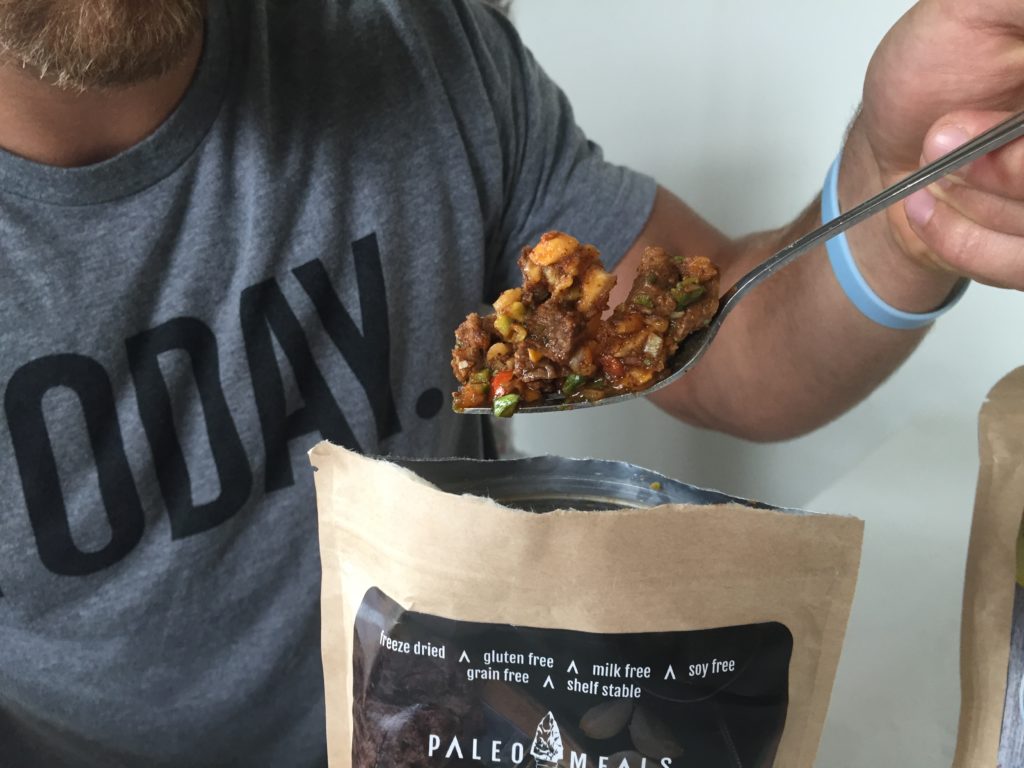 The vegetables were also tasty and complimented the meat well. They were chewy, but not overly done like a bag of frozen vegetables with excessive water in it. Additionally, they held the seasoning well, which was a plus to the beef's bite.
There was one questionable aspect of the meal, and that was the sweet potatoes. In my opinion, they were a little overly chewy, and had a somewhat of a rubbery texture. But the taste was good, so it wasn't a huge deal for me. If you're someone who wants a consistent taste, then you may have to take some time experimenting with using different temperature waters and sitting times.
Paleo Meals to Go Appearance
These are stew, chili, and curry based meals, so if appearance is a huge concern of yours, then you may find an issue with these meals. They're not going to look like they're fresh made if you plate them. But if you pour any of the meals into a bowl, then these meals do look good and like a freshly made stew-based meal.
The bags the meals arrive in are lightweight and have clean packaging. There's a seal at the top of the bag, and the ingredients are all mixed together. In terms of true food appearance, the meat was definitely the star player and looked the most fresh. The beef had a nice glisten to it, and the vegetables looked pretty colorful. Additionally, the sweet potatoes had a good orange appearance to them.
Paleo Meals to Go Nutrition
A positive that Paleo Meals to Go offers is the easy-to-read nutrition labeling and ingredient listing on the back of the package. These meals are designed to be taken and used anywhere, so I thought it was important they listed the nutrition on each package. One worry that always comes with ready-made delivery services is the lack of nutrition labeling, so it was nice they offered every nutritional aspect about their meals.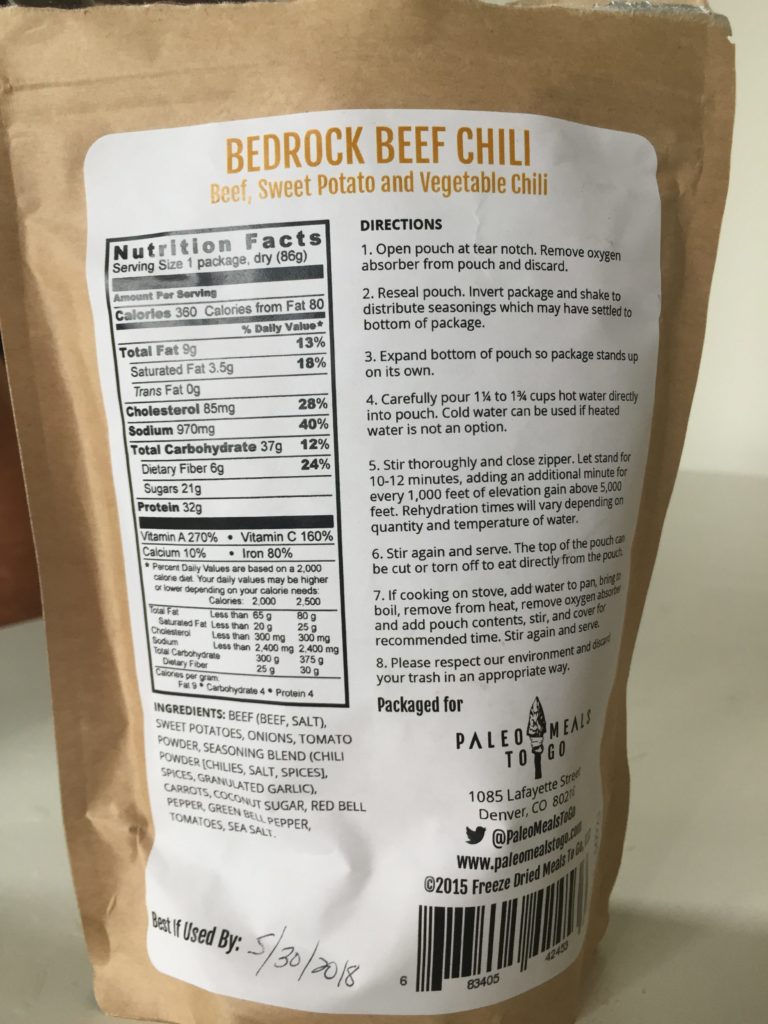 There's also only one service per package, so you don't have to guess about how much you need to eat. This makes it easy for someone who's out in a setting like hiking and needs fuel, but wants to stay on track. The only concern I could see someone having is the somewhat high sodium content in each meal. But the sodium wasn't that high in comparison to other processed frozen options, and when you're out and about, sodium can be beneficial for hydration, so I think this is a small concern.
Paleo Meals to Go Calories
The calories in Paleo Meals to Go were pretty consistent. Of the meals we received, caloric totals ranged from 320-360 calories per meal with high protein content and somewhat moderate-low carbohydrate/fat content. In the fruit snack and trail mix options the calories are a little higher around 640 and vary, but you could definitely split them into two servings.
Price
On their site you'll find meals, fruit snack/trail mixes, and various protein bars from other companies. Below is an example of the price ranges you'll see for Paleo Meals to Go products.
| | |
| --- | --- |
| Product Type | Price Range (Min-Max) |
| Meals | $10.50 – $11.50 |
| Fruit Snack/Trail Mix | $3.50 – $6.00 |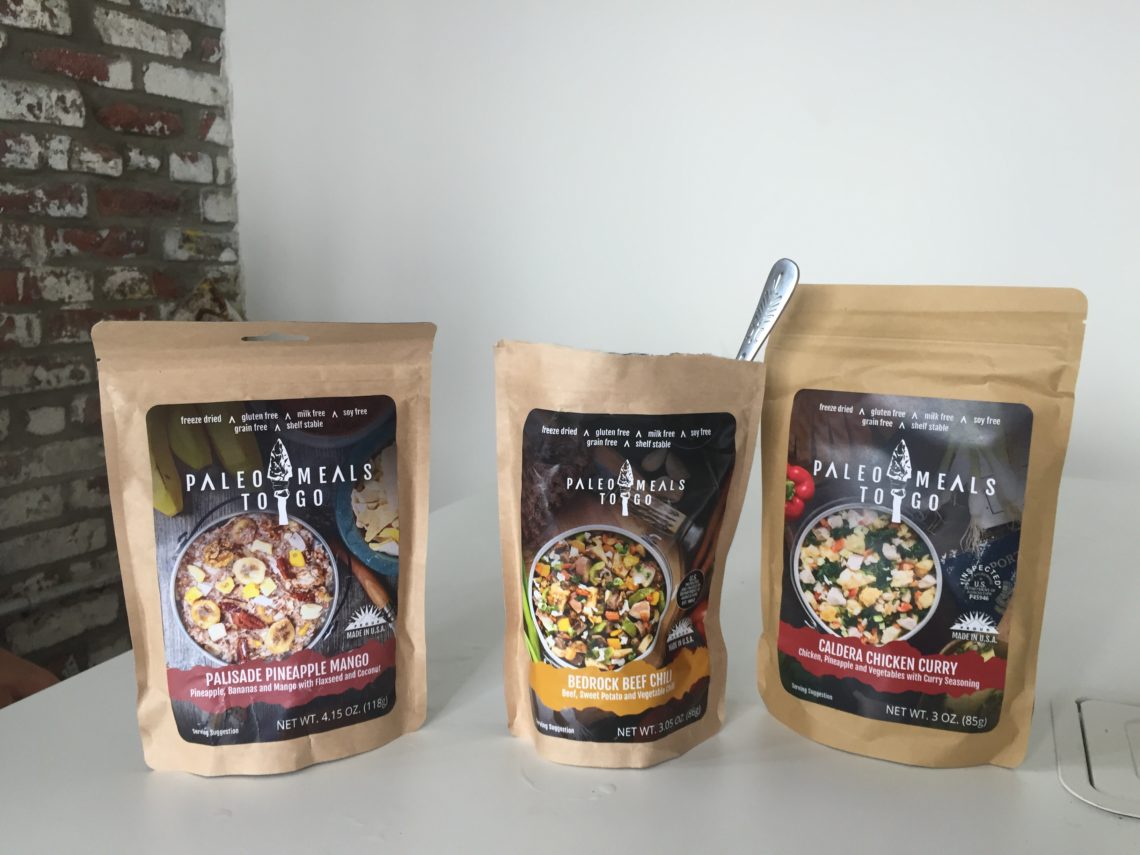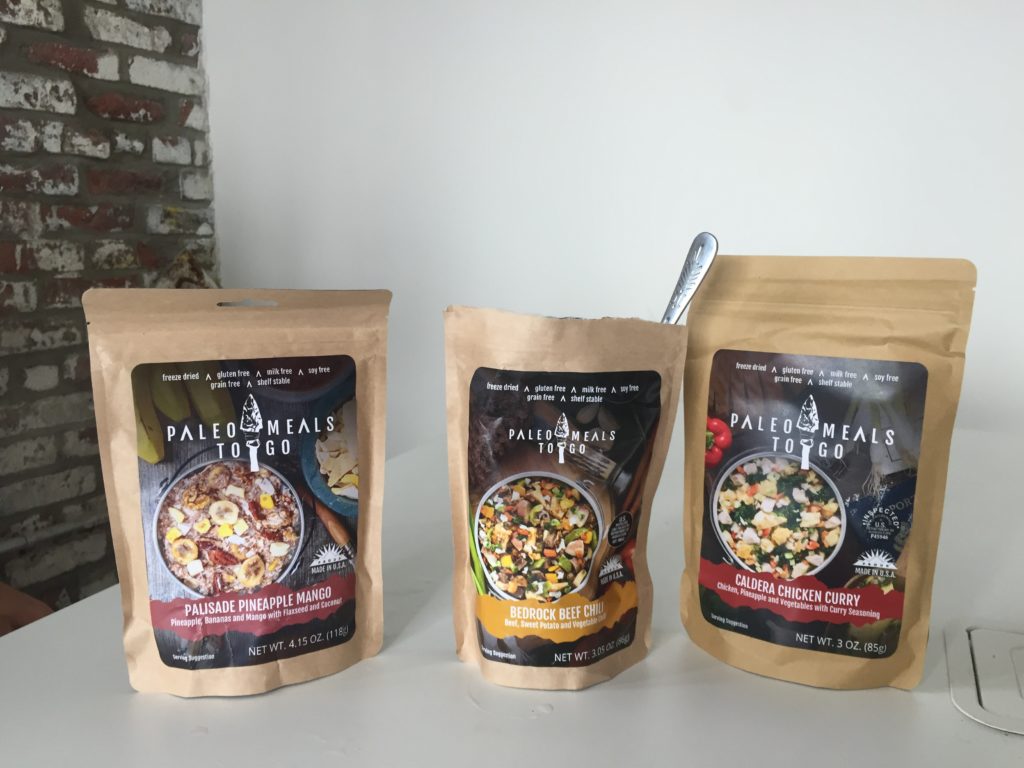 Personally, I think these prices are pretty fair for what their meals entail. They're providing paleo based meals and snacks with a very specific purpose, which is minimalist prep and ease of use. For those following a healthy diet and doing things like hiking, or other activities that don't include kitchens, then I think the price is right. It's more expensive than making your own meals, but for their purpose, I think the price is right.
Convenience
The convenience of Paleo Meals to Go is the biggest selling point in my mind. Their meals are lightweight, easily transportable, and require minimal prep. You can even eat the meal out of the bag if you want to. A lot of food services are convenient, but can sometimes be a pain to prep or bring in a bag. Since their meals are all stew based, then those two factors will never be an issue. Keep in mind, the meal is a freeze dried stew option, so if you have a stove, microwave, and prep time available, then you may want to reach for a fresher ready-made option.
When ordering you simply choose the meals you'd like, and the order will be processed in roughly two days. At checkout, they offer priority shipping, which takes anywhere from 3-5 days and have expedited shipping options. This takes the confusion out of ordering by a certain time, or setting up any recurring meal plan. Also, their meals have a longer expiration date, so you can order and save them for later.
Is Paleo Meals To Go Vegetarian?
Since Paleo Meals to Go only offer set pre-packaged meals, they don't have specific vegetarian options. But the fruit snack and trail mix products don't contain meat, so a vegetarian looking for a paleo on-the-go option could find some comfort in choosing these.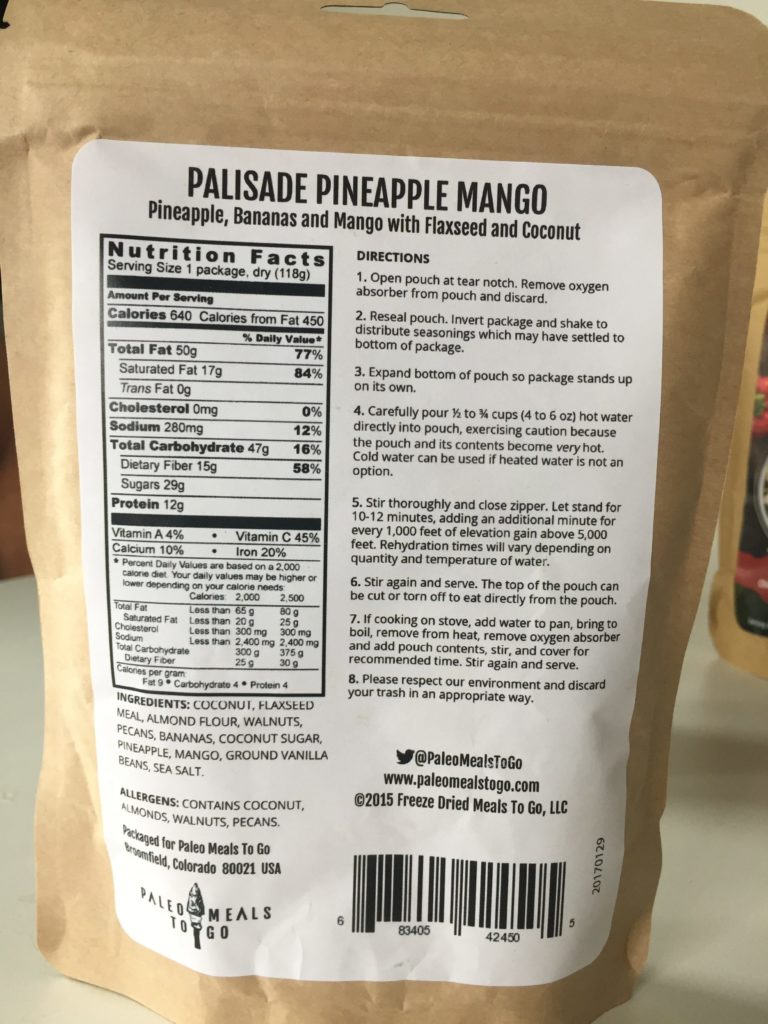 Customizability
One downside to Paleo Meals to Go are the customizability of their products. They have set products, so you have limited choosing in what you'd like at any given time. This service isn't like your typical rotating, or deep paleo menu, due to their meals being designed for certain activities in mind.
If you need an on-the-go minimally prepped meal, then their selection is pretty good for choosing meals that can match your tastes. Yet, there's not a ton of options, so if you're eating them consistently, then you may be re-eating the same meal multiple times (which isn't a terribly big deal if you like the taste).
Is Paleo Meals to Go Good for Weight Loss?
I think Paleo Meals to Go is a viable option for those trying to remain consistent with their diet when they're out and about. Their meals all have nutrition labels, so you know what you're getting and can select options best for you. Since there's limited options, there may be some diet boredom. But in terms of weight loss, these meals could be a useful tool.
Final Word
Out of the meal delivery services we've tried thus far, I think Paleo Meals to Go was one the of most unique. Their freeze dried meals can be consumed straight out of the bag by simply adding water, so this service required the lowest amount of prep. Additionally, the meals tasted good, and could be a viable option for on-the-go individuals striving for a dietary goal.
The only downside to Paleo Meals to Go was the consistency of their taste and the depth of their meal selection. If you're in need of true on-the-go meals, then Paleo Meals to Go could be a good option for you.