Though the fitness industry looks much different than it did in March, the measures various gyms have taken—from Big box and Globo gyms, to group class facilities—are diverse.
Getting Creative with Pod Fitness
South Bay Fitness in Redondo Beach, California, for example, built homemade pods with shower curtains and pipes—much cheaper than putting up plexiglass dividers, which would have cost them more than USD$10,000, the owners said—to isolate their clients.
According to the owners, part of the reason behind the decision to create pods was it seemed a lesser evil to wearing a mask while working out, which can make it difficult to breathe, they said.
But before heading to their already-equipped pod, South Bay Fitness clients must all get their temperature taken and sign a waiver.
24-Hour Gyms
In the Globo gym world, some gyms felt it was safer to cancel their 24-hour gym access policy when they reopened.
Snap Fitness, a Globo gym in Vernon, B.C. is one of them. Their normal 24 hours a day feature was eliminated for a significantly reduced 9 a.m. until 5 p.m. gym schedule. They have also blocked off every other piece of cardio equipment to keep people far enough apart.
On the other side of the fence, HybridAF, a company that provides 24-hour gym access to its member gyms, said they have picked up a handful of new gyms since the pandemic, who are just now choosing to start offering 24 hours a day service to their members as a way to let more people workout each day and still satisfy social distancing requirements.
Common Changes
Beyond staying two meters apart, cleaning equipment more and avoiding fist pumping or hugging your friends, the most common cautionary measures in the group class world, include:
Designated workout spots, marked with tape on the ground.
Limited class sizes: Some are keeping it to just four athletes in their facility at a time, while others are allowing as many as 10 to 12.
Leaving 15 to 30 minutes between classes so people aren't coming and going at the same time.
Requiring clients to sign up before classes and putting in 24 hour notice cancellation policies.
More sanitation than pre-COVID, including the introduction of "sanitation caddies" at each workout station.
A Crunch Fitness location in Florida now requires members to bring their own towel and carry sanitizing spray as they remain six feet apart at all times.
Still Zooming
Dave Henry, the owner of CrossFit London in London, Ontario, still isn't allowed inside his building, but he has recently begun offering parking lot workouts to his clients. That being said, some are preferring to continue to workout at home.
To accommodate both groups—the parking lot group and the living room group—Henry mics himself up and hosts his outdoor workouts on-site, while simultaneously allowing those working out at home to follow along via Zoom. This saves him time from having to coach twice the number of classes.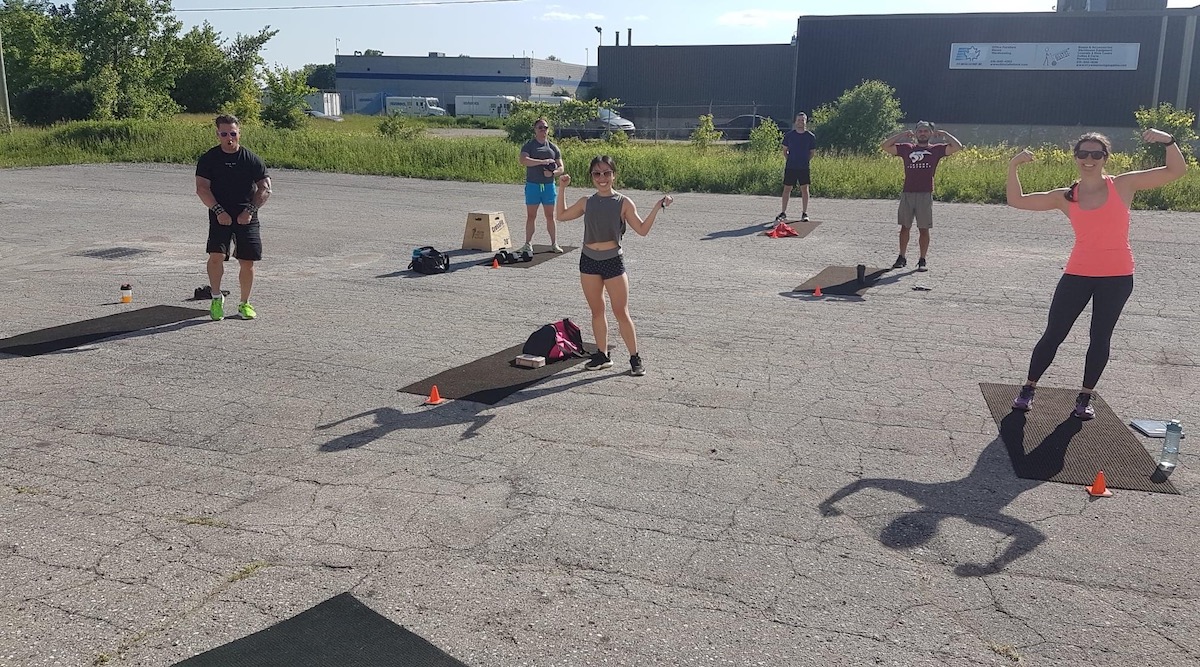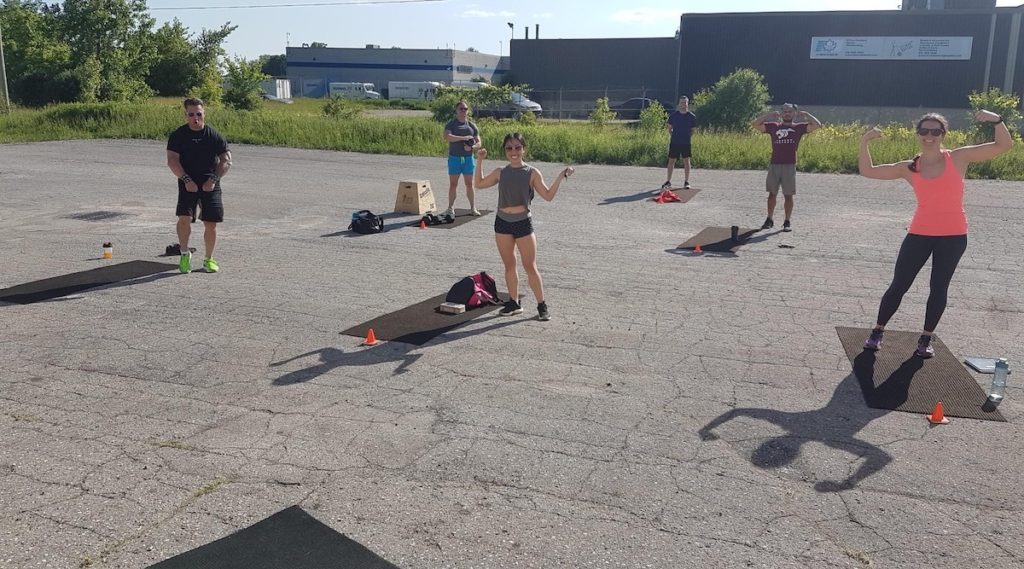 "It's actually been great," Henry said, adding that the Zoom "stream is way better with life people to coach."
He added: "I'm going to push to have a stream only membership, and then a stream and in-person."
Still Closed
Finally, there are those who have remained closed completely.
In some cases, it's because they have closed for good, such as 24-Hour Fitness, which recently filed for bankruptcy protection and closed 100 locations. Meanwhile, in May, the popular Gold's Gym filed for Chapter 11 bankruptcy protection to keep its 700 gyms around.
And in some cases, even when gyms have had the chance to stay open, a handful have decided to wait a little longer.
For example, when the government of British Columbia announced gyms were allowed to open at the end of May, Innovative Fitness chose to remain closed until they felt more prepared.
"We thought we didn't want to rush it….We wanted to ensure that we had everything in place, including the staff training, because at the end of the day it's a new norm. People are going to have to adjust to that." explained Curtis Christopherson, the president of Innovative Fitness.
Clients Happy to be Back
Though the gym right now isn't the gym any gym goer signed up for or fell in love with in the past, clients say they're adapting to the new order.
The consensus among 20 gym goers I spoke with: We're just happy to be back, they say.
"It's great to be back. Trying to lose my COVID pounds," Mike Fransblow said, a member of Madlab School of Fitness in Vancouver, B.C
For Kristin Auger, long-time CrossFit client in North Vancouver, the weirdness of the current gym environment is worth it.
"I have an immunocompromised kid and a mom with health issues. But I also recognize that exercise and community is essential to my mental health, which is a requirement for me to be able to work from home and homeschool and juggle an extraordinary amount of responsibilities," Auger said.
"I would rather go back to the gym in a staggered (and) cautious state than remain isolated from other adults. I think this thing is happening for a long time to come, and the sooner we recognize and adapt, the better."
Featured image: @csagym on Instagram