Perform Better is a strength company that takes the approach of providing a variety of equipment with the thought of "functional fitness" in mind. You'll often see their functional or rehab focused equipment in niche private training gyms, or big box gyms. In fact, I'd guess you've used Perform Better elastic bands at one point or another in your lifting career.
One area of equipment that Perform Better tries to excel in is with kettlebells. In this review, we put the First Place Kettlebell by Perform Better to the test.
What I was most interested in before testing out this kettlebell was how it performed compared to other, more serious kettlebells on the market. Throughout my analysis, I looked at construction, performance, who could benefit, durability, and price. Anything you may be concerned with before buying, I tried to cover.
Construction
Design & Finish
The First Place Kettlebell comes in a solid cast iron, but the company doesn't disclose on the product page if it's first cast. In my tests, the kettlebell felt solid and similar to other first cast bells, but I can't say definitively if their bell uses a first cast iron. Regardless, the handle wasn't welded on and there no additions inserts or plugs, so all-in-all the bell felt very solid.
Perform Better Kettlebell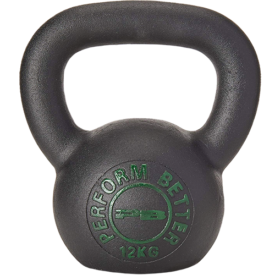 Perform Better Kettlebell
A cast iron based kettlebell that provides a medium sized grip suitable for all fitness levels.
On the outside of the kettlebell, the coating is an in-between between a smooth steel and a powder coated bell. The iron itself feels somewhat finished, so it has a decently rigid texture to it. There's orange lettering on the side of the bell with the branding Perform Better and the weight.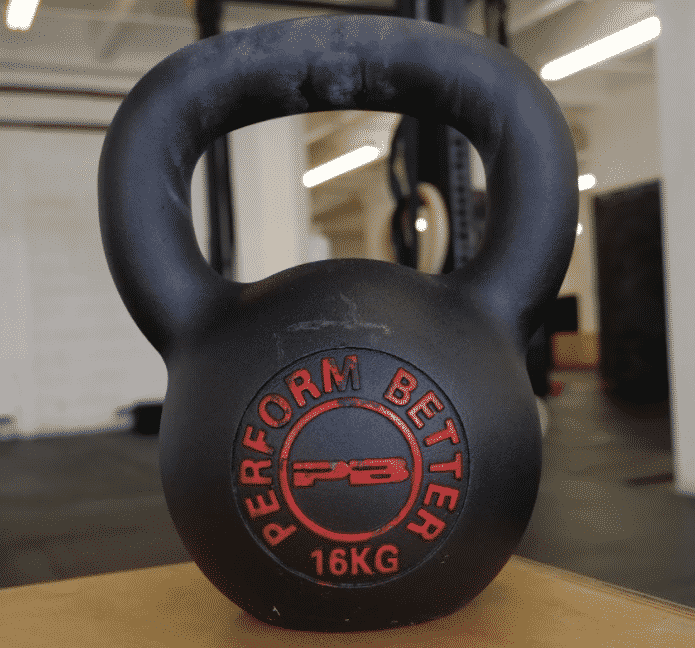 One thing to note, the paint does come off pretty easily when it rubs or bumps other bells and surfaces. The bottom of the bell is flat bottom finished, and it sits very flat on multiple surfaces.
Handle
The handle has the same coating as the outside of the bell, and there's no separation of textures. To me, this furthers my guess that this kettlebell is single cast, as if it weren't, then there's a good chance you'd be able to see potential weld marks on the handle. I liked that the handle was slightly wider and made it easy to fit two hands for swings in.
[Want to find your perfect kettlebell? Check out our comprehensive kettlebell round-up!]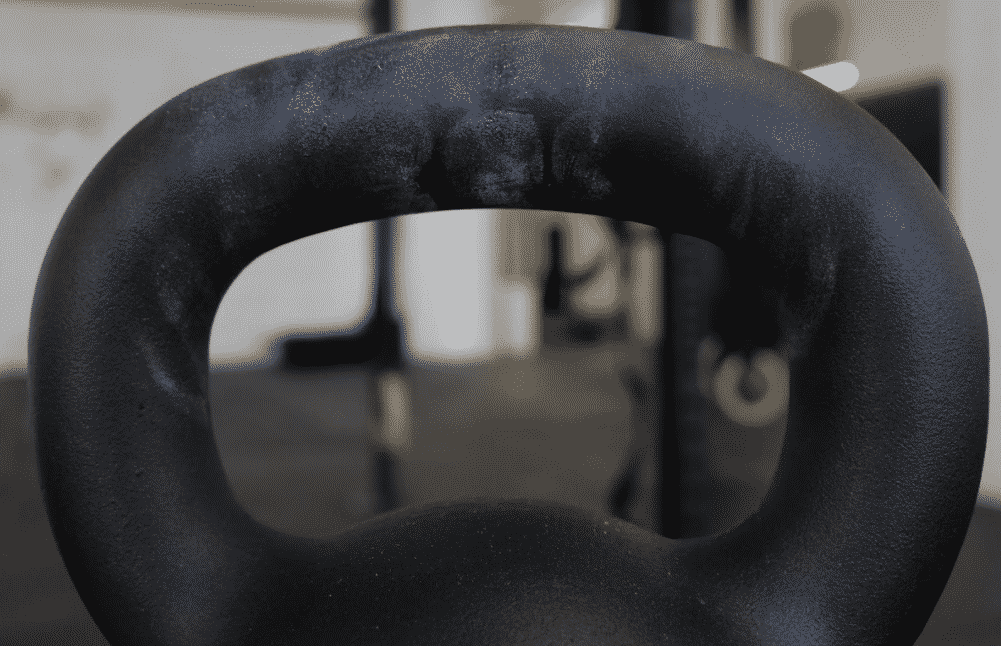 The handle's width was slightly wider than most standard kettlebells, which sits slightly above what a competition kettlebell has to offer of 33mm. I have an 8″ hand and found this bell pretty easy to grip with plenty of room to spare, so smaller handed athletes shouldn't fret about gripping this bell well. 
Performance
To test how this kettlebell's handle takes chalk we performed a few Russian Kettlebell Swings in our video for demonstration. We choose this movement because it's easy and dynamic, so many athletes can and have performed them before. I was most curious to see how the First Place Kettlebell's iron held chalk over long duration swing workouts.
Without Chalk
As mentioned above, I was a fan of the width this handle provided because it made it easy to grip the bell with two hands. This bell's performance was pretty solid without chalk and I didn't notice the bell losing any performance over the course of my workouts. Some iron bells can beat up the hands over long periods if they don't have enough rigidity to really get a grip on them, but this bell did pretty well at resisting that.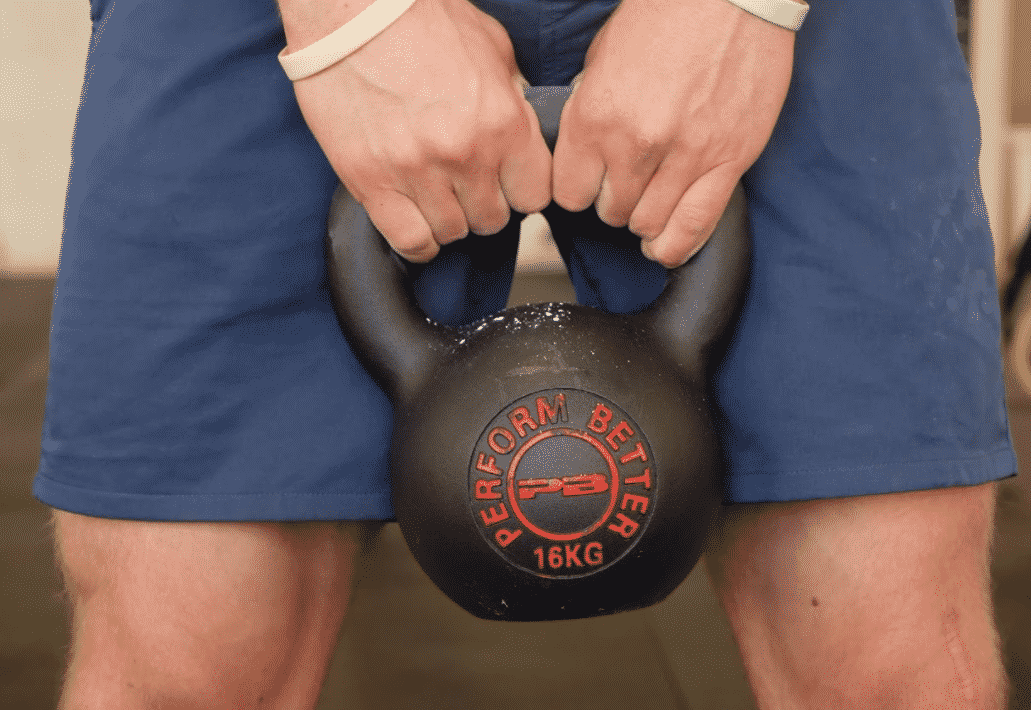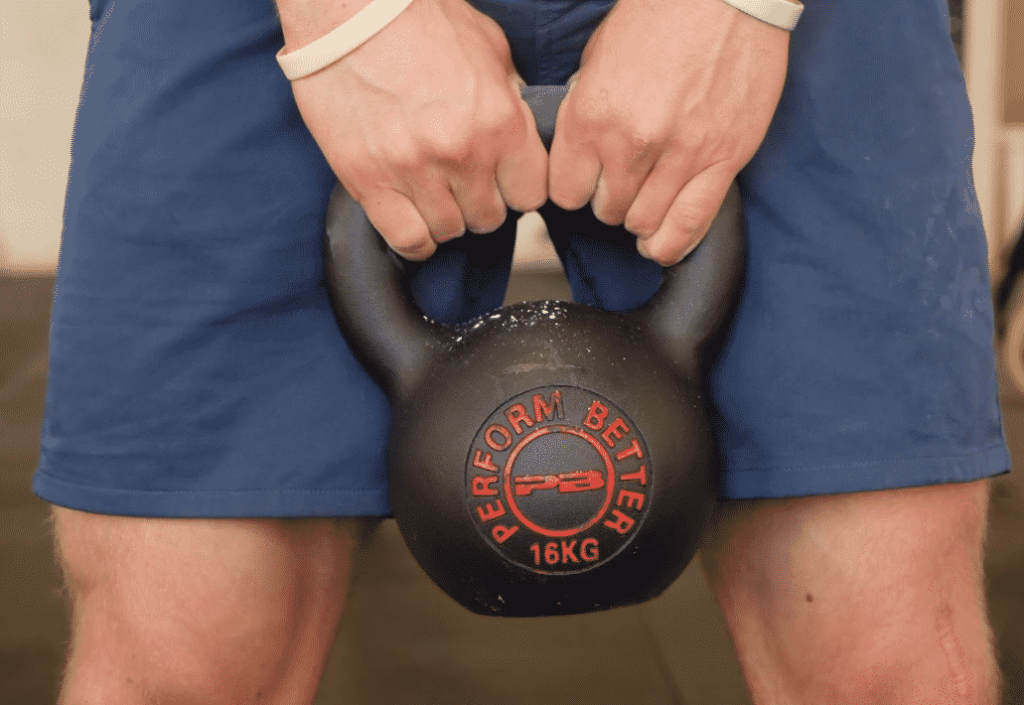 With Chalk
To my surprise, this kettlebell took chalk pretty well. Any iron kettlebell that doesn't offer a powder coating, or slightly more rigid finish, then I get a little more hesitant with assuming it takes chalk. I thought this kettlebell did a solid job at accepting chalk and provided a more "locked in" feeling when using it dynamically or statically. If you're a normal chalk user, I think you'll be happy with how this kettlebell performs.
Who Could Benefit
Kettlebells can benefit every type of strength athlete when programmed correctly, so in reality this kettlebell could be useful for everyone. If I had to pick one niche within all strength athletes, I'd recommend the kettlebell beginner look into this bell.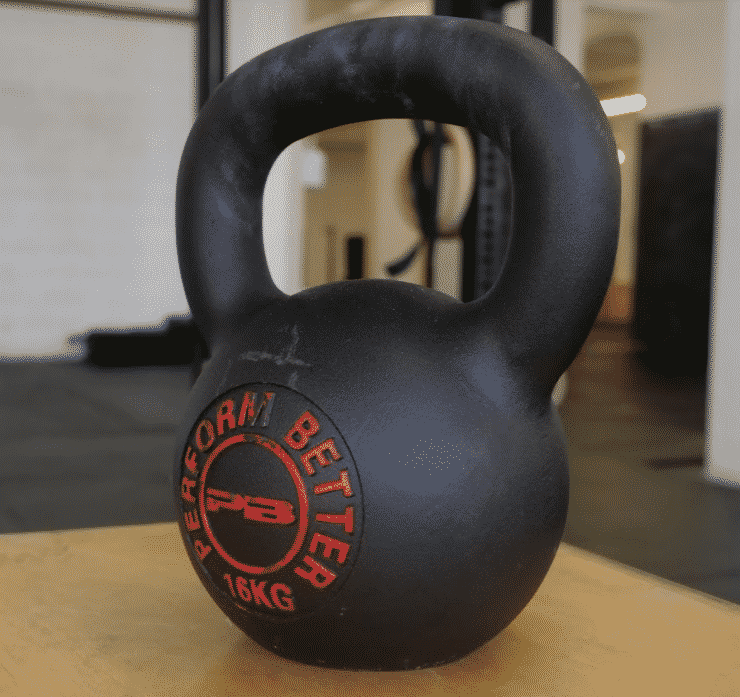 I thought the slightly wider handle and in-between rigid handle was a good compromise for not causing excessive hand wear and tear, while also providing perks other more serious kettlebells offer (a coating that takes chalk).
| | |
| --- | --- |
| Who Could Benefit? | Rationale |
| Kettlebell Beginner | Wider Handle, Decent Grip |
Durability
Over the course of my tests I never encountered any serious durability issues. I thought the bell felt petty solid, and didn't give any signs of early wear and tear of the handle or flat bottom finish. I did have one issue with this kettlebell's aesthetic durability. As you can see in the pictures above, but the paint on the Perform Better branding came off pretty easily. I only dropped it a few times on the gym floor and it chipped up easily.
Price
The price for a 16kg First Place Kettlebell comes in at $62.50. For a kettlebell at this weight, this price is decent and right in the middle of the road. If you're a first time kettlebell buyer, then the price will be consistent with others on the market at this weight. Is is the cheapest option out there? No, but it's a pretty solid bell for the price tag that comes along with it.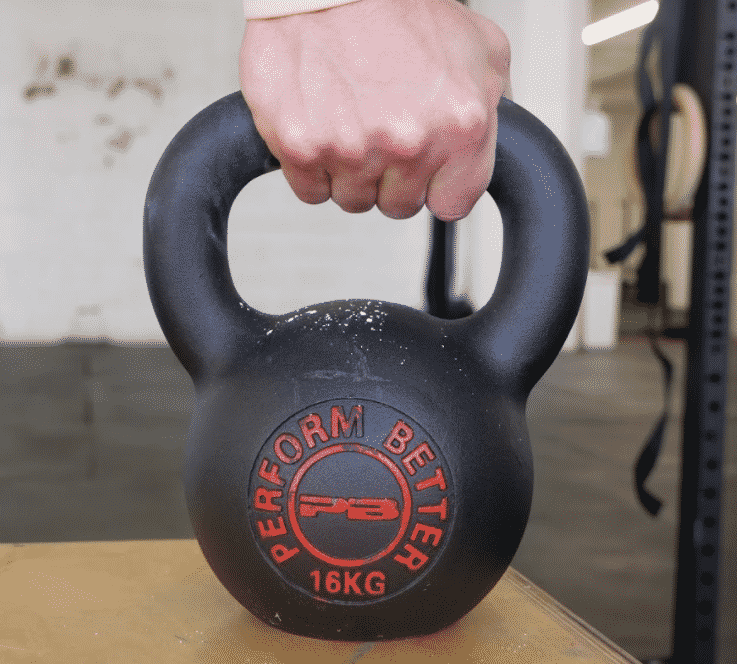 Final Word
All-in-all, I thought the First Place Kettlebell by Perform Better was a consistent kettlebell across the board. I liked the durable construction this kettlebell offered and felt it will last a long duration for your investment. In addition, I was a fan of the flat bottom finish and the bell's rigid surface. My only downfall with this kettlebell was the aesthetics of the paint chipping prematurely, but it didn't hinder the bell's performance.
If you need a decently priced kettlebell that comes with consistent construction features, then the First Place Kettlebell by Perform Better could be a good pick for you.