The shoulder is a shallow ball and socket joint that has the handy ability to move in multiple directions. This allows you to lift humongous weights, throw baseballs and footballs really hard, or throw your arms up in disgust at a referee's decision.
All this mobility is great, but the shoulder needs stability too. The four muscles of the rotator cuff work hard to keep this ball and socket joint in a vertical position no matter what position your shoulder is in.
(Editor's note: The content on BarBend is meant to be informative in nature, but it shouldn't take the place of advice and/or supervision from a medical professional. The opinions and articles on this site are not intended for use as diagnosis, prevention, and/or treatment of health problems. Speak with your physician if you have any concerns.)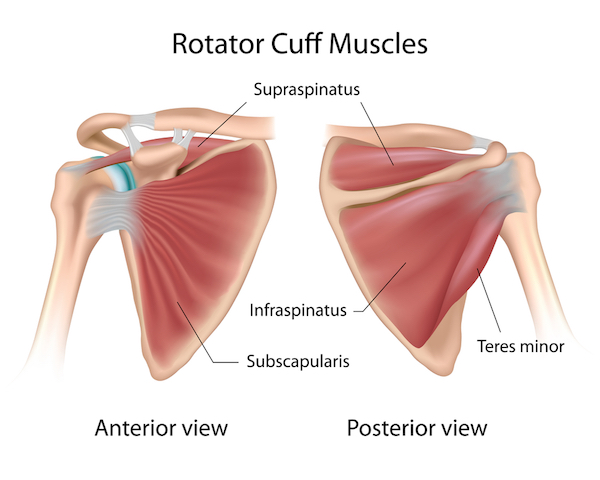 What Is the Rotator Cuff?
The rotator cuff is a group of muscles which include
Supraspinatus: It holds the humerus in place and keeps your upper arm stable.
Infraspinatus: Rotates and extends your shoulder.
Teres Minor: Assists with rotation of the arm away from the body.
Subscapularis: Holds your upper arm bone to your shoulder blade.
These muscles surround the shoulder joint, keeping the head of your upper arm bone in the shallow socket of the shoulder and holding your joint in a vertical position.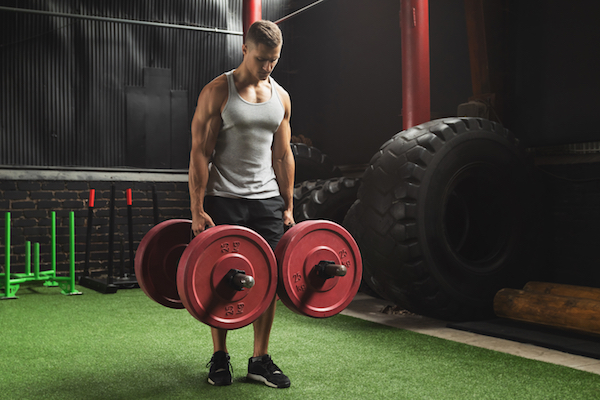 Exercises to Prevent a Rotator Cuff Injury
The best cure for any injury is prevention and the rotator cuff is no different.
Exercises that involve your grip (gripping activates the cuff) and force your cuff to stabilize to keep the ball and socket in a vertical position work great as prevention and strengthening exercises. Here are some good examples:
Also, exercises that encourage good posture and strengthen the muscles between the shoulder blades will keep the shoulder joint in good position helps keep the rotator cuff happy.
Exercises like:
Dumbbell reverse flyes
Seated rows
Cable reverse flyes
Band pull apart variations
[Find guides to these exercises and more in our list of the 10 best exercises for scapular health.]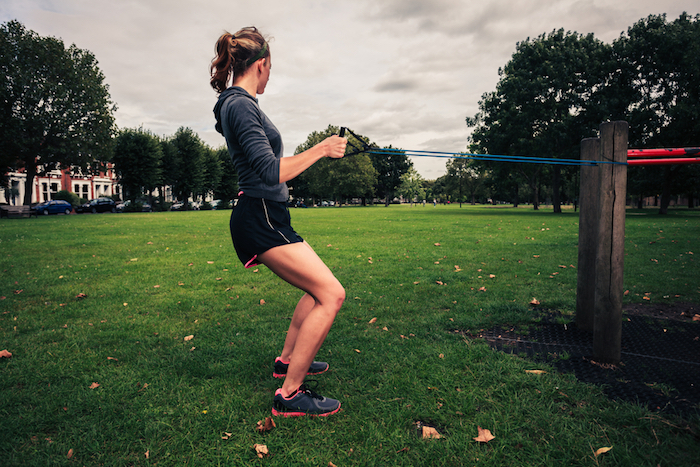 Exercises for Rehabbing a Rotator Cuff Injury
However, if it's too late to prevent an injury and you're trying to strengthen an injured rotator cuff, take a leaf out of strength coach Andy Van Grinsven's book, who is 6 months post op and has regained almost full function of his cuff.
"My Post-op Rehab include 'activation' drills, but these will depend on one's shoulder history," he explains. "These exercises aren't cure-alls for everybody, so please clear them with your physical therapist first. I'll usually pick five or six of these below and warm up with them or sprinkle them in between warm-up sets of other exercises."
Band-resisted Rows:1-2 x 15
Band-resisted Supinated Extensions: 1-2 x 15
Scapular Wall Slides: 2×8-10
Banded "No Money":2×15
KB Arm-bars:2×8-10/side
Scapular Push-ups elevated on a bench: 2×8-10
Lacrosse Ball SMR on Pecs:30s/side
Pec Stretch off wall: 5 "big breaths" per side
Lat Stretch with band: 5 "big breaths" per side
[Learn more: The Benefits of Using Bands and Chains for Accessory Exercises.]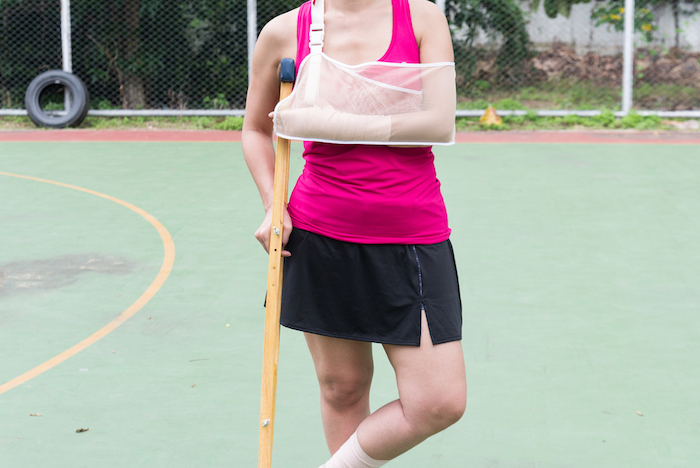 How to Train When Recovering from a Rotator Cuff Injury
When the rotator cuff is hurt, all the fun and cool stuff you can do comes to a screeching halt. We strongly urge you to listen to your physician or physical therapist when rehabbing an injury.
There are a few tips that tend to be repeated when folks are rehabbing from a rotator cuff injury.
When one side of your body is injured, unilateral strength training on the non-injured side leads to muscle specific sparing effect on the injured limb, a process called cross education.(1)(2)
Cross education is the process of strength transfer from the non-injured side to the injured, which is attributed to neural adaptations. This helps recovery and reduces the strength and muscle sucking effects of your limb being immobilized.
Of course, strength gains won't be equal on both sides, but it's still a smart way to get a head start on training. Which is a good idea: the University of Copenhagen found that just 2 weeks of inactivity in a limb can lead to a 33 percent loss in strength, and researchers also found that the fitter the individual, the quicker they lost muscle mass.(3) (Likely because they had more muscle to lose, but still.)
So evidence suggests that people who work around injuries will heal faster even when one side is immobilized. Furthermore, keeping active will keep you in a better frame of mind too.
It's a win-win.
[Read more: How to Stay Sane When Training With an Injury.]
Van Grinsven, who underwent surgery for a torn supraspinatus and posterior labrum, found the following exercises were useful while his arm was in a sling. They're important because they may help strengthen the muscles that are immobilized due to cross education, plus they act as core work — and many traditional ab exercises are hard to do with your arm in a sling.
Upper Body
Lie on your back underneath a barbell in a squat rack with your knees bent to 90-degrees. Grab the bar with one hand and pull your chest toward the bar.
Firmly grip one dumbbell with our entire back on a bench and press and reach.
1-arm landmine press (half-kneeling, standing)
Set up with the barbell a few inches away from your shoulder and press and reach away from your body.
Set up with your arm fully extended and firmly grip the handle. Row towards your hip keeping your shoulder down and chest up.
1-arm half-kneeling vertical rows
Hold the resistance in same hand as the knee which is down, squeeze that glute and row towards your hip without leaning back.
Lower Body
Chain-resisted Bulgarian Split Squat
If you don't have access to chains, holding a dumbbell at arms length will work.
"I was able to hold the safety squat bar with my left arm and cradle the right arm," says Van Grinsven. "Weight was moderate to light, because the pressure could be painful."
Set up with the band around the top the hips and walk away from the anchor point until tight. As a lot of hip hinge exercises hold the weight in both hands (except the single leg variations) and this is a great variation if holding weight isn't possible.
While working around an injury as serious as a rotator cuff, it's not all sunshine and rainbows. There will still likely be pain and discomfort.
"I knew the difference between soreness and outright pain, and sometimes it felt like a lightning strike," says Van Grinsven. "Those were easy to differentiate. Like anything, your body will tell you when you've gone too far. Listen to it."
Keeping an open line of communication with your doctors during the recovery process is important as well.
"I would text my PT to ask questions if I was unsure," he adds. "Open communication was key with my recovery and making sure I didn't overdo it. Should you choose to override your surgeon or PTs instructions, you could do permanent damage to the surgery site."
Using common sense while working around an injury makes sure the recovery process is smoother.
Wrapping up
There's no doubt shoulder injuries are devastating and it's easy to write yourself off or coast through rehab. However, if you want to recover faster and retain as much strength as possible, then cross education and shoulder friendly lower body training will help.
(Editor's note: The content on BarBend is meant to be informative in nature, but it shouldn't take the place of advice and/or supervision from a medical professional. The opinions and articles on this site are not intended for use as diagnosis, prevention, and/or treatment of health problems. Speak with your physician if you have any concerns.)
Featured image: Andrey Popov/Shutterstock
References
Andrushko JW, et al. Unilateral strength training leads to muscle-specific sparing effects during opposite homologous limb immobilization. J Appl Physiol (1985). 2018 Apr 1;124(4):866-876.
Hendy AM, et al. Cross education and immobilisation: mechanisms and implications for injury rehabilitation. J Sci Med Sport. 2012 Mar;15(2):94-101.
Vigelsø A, et al. Six weeks' aerobic retraining after two weeks' immobilization restores leg lean mass and aerobic capacity but does not fully rehabilitate leg strength in young and older men. J Rehabil Med. 2015 Jun;47(6):552-60.