The Good Kitchen is a food delivery service oriented for the health conscious consumer. They offer ready-made meals designed to provide you with organic and locally sourced ingredients. In addition, they offer you the option to add on various a la carte items to meal plans, and have a children's meal plan.
All of The Good Kitchen's Meals are non-GMO, and free of food additives, so they're a good option for the health driven strength athlete. We compared The Good Kitchen to other healthy food delivery services and assessed their meals in taste, appearance, nutrition, convenience, customizability, and price.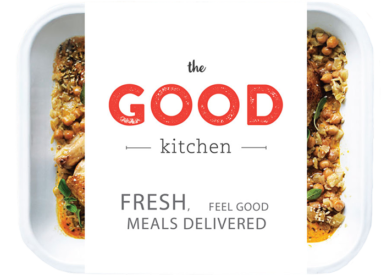 A straightforward delivery service with an impressive variety of meals and a great bulk delivery option.
Why We Like The Good Kitchen
Solid nutrition profiles with minimally processed foods and ingredients. 
Tasty options with some variability, so tastes remain fresh every week.
Decently priced when buying in bulk ($11.00 per meal for 21 meals). 
What We Didn't Like About The Good Kitchen
Calories were on the lower end, may not be great for bulking athletes.
While TGK is competitively priced with urban meal options, the meals are still slightly more expensive than cooking your own prepped meals. 
Taste
We received five meals from The Good Kitchen, but for brevity purposes, we included two meals within our review. The meals we included were the Primal Italian Chicken Sausage & Eggs With Cheese Grits and Beef Barbacoa With Chili Dusted Sweet Potato. To keep this review consistent with our others we heated these meals up in the microwave, per the packages instructions.
The first meal we tested was the Italian chicken sausage & eggs with cheese grits. Chicken sausage can go either way with flavoring, but I thought their sausage did a good job at capturing an Italian taste without losing the bite of the chicken. Additionally, the texture was pretty consistent and the meat didn't have an overly chewy taste like pork sausage can get when microwaved.
Next, we tried and the eggs and cheese grits alone and in combination with each other. As I suspected, the eggs were good, but somewhat bland alone. It's hard to keep an egg's original texture and bite after being reheated. But if you combine the eggs with the cheese grits, then they had a good texture and flavoring. If you're not a fan of mixing foods, then you'll be pleased with the flavor and texture of the cheese grits alone. They have a nice cheesy bite, and a dense texture, so they capture the true essence of what grits should be.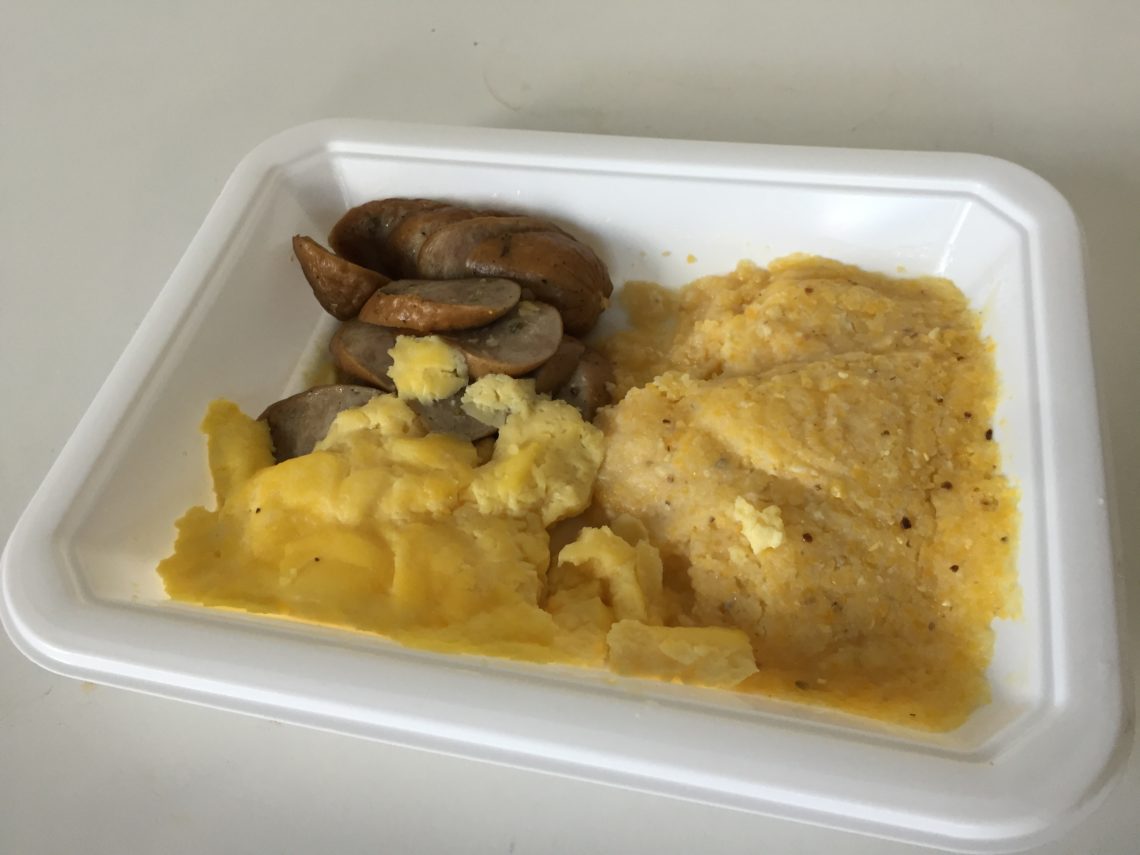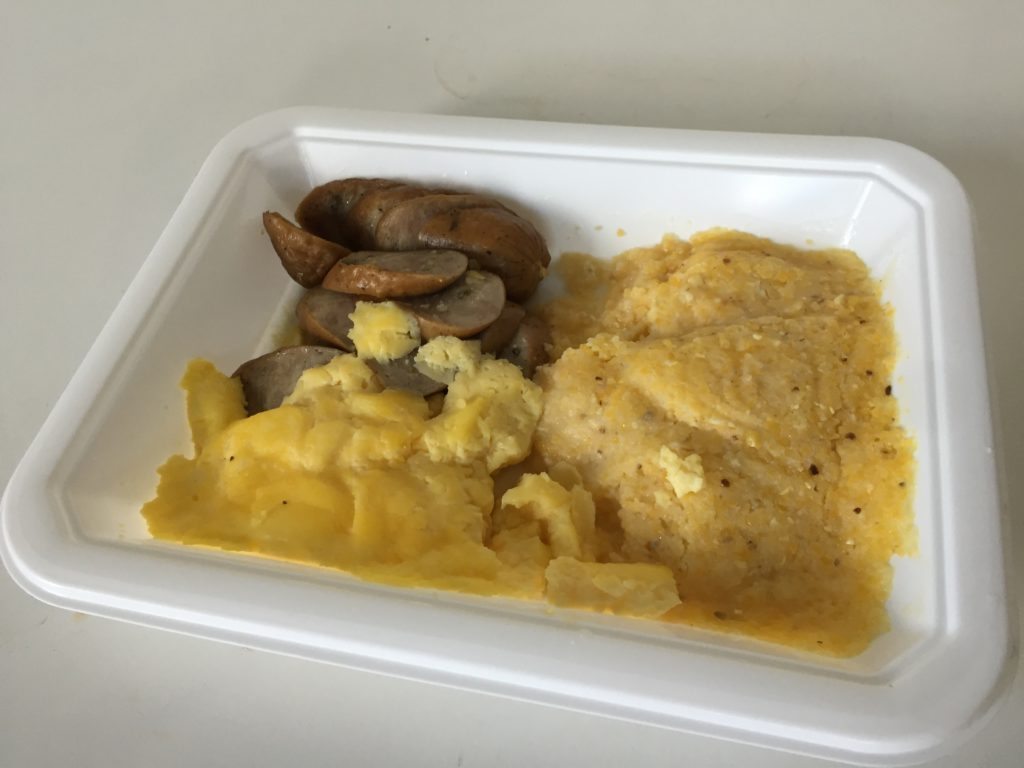 The second meal we tested was the beef barbacoa with chili dusted sweet potatoes, and we found it had similar attributes in taste and texture as the first meal. I liked the beef barbacoa for it's texture and composition. Beef barbacoa can sometimes get rubbery when reheated, but I thought The Good Kitchen's beef did a good job at staying true to it's form. My only beef with their beef was the flavoring, I thought it was somewhat bland, but that wasn't necessarily a bad thing.
If you combine the beef barbacoa with the chili dusted sweet potatoes, then you'll find that their flavors complement each other very well. The subtly blander taste of the beef mixed with the spicy chili dust did a good job balancing each other out. Stand alone, the sweet potatoes were great, and the chili dust gave them a unique bite that left your mouth watering.
Appearance
When it comes to appearance, I thought The Good Kitchen did a fairly good job at packaging their meals. The meals arrive in one single plastic container and have a plastic film that's vacuum sealed over them. When meals are packaged like this I have two immediate standout features I look for. First, how does the company do at separating ingredients. Second, are they packaged in a way that prevents them from getting messy while traveling.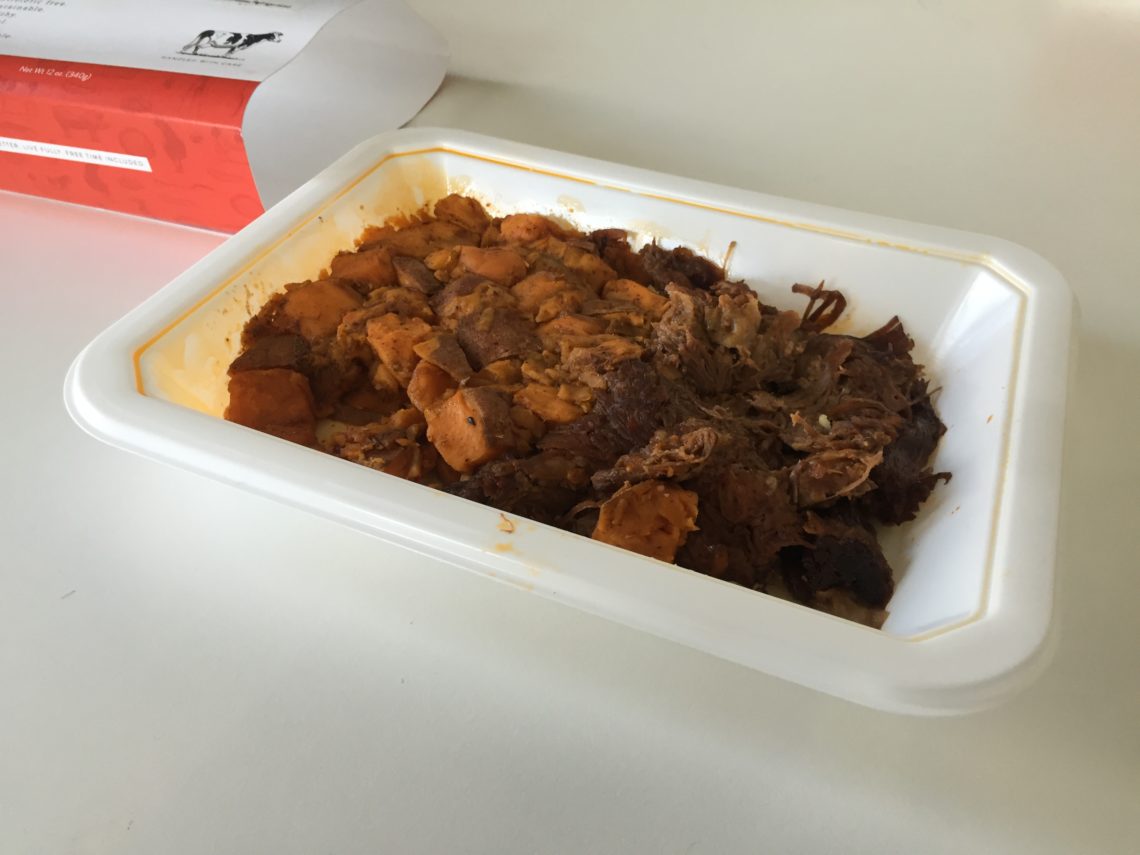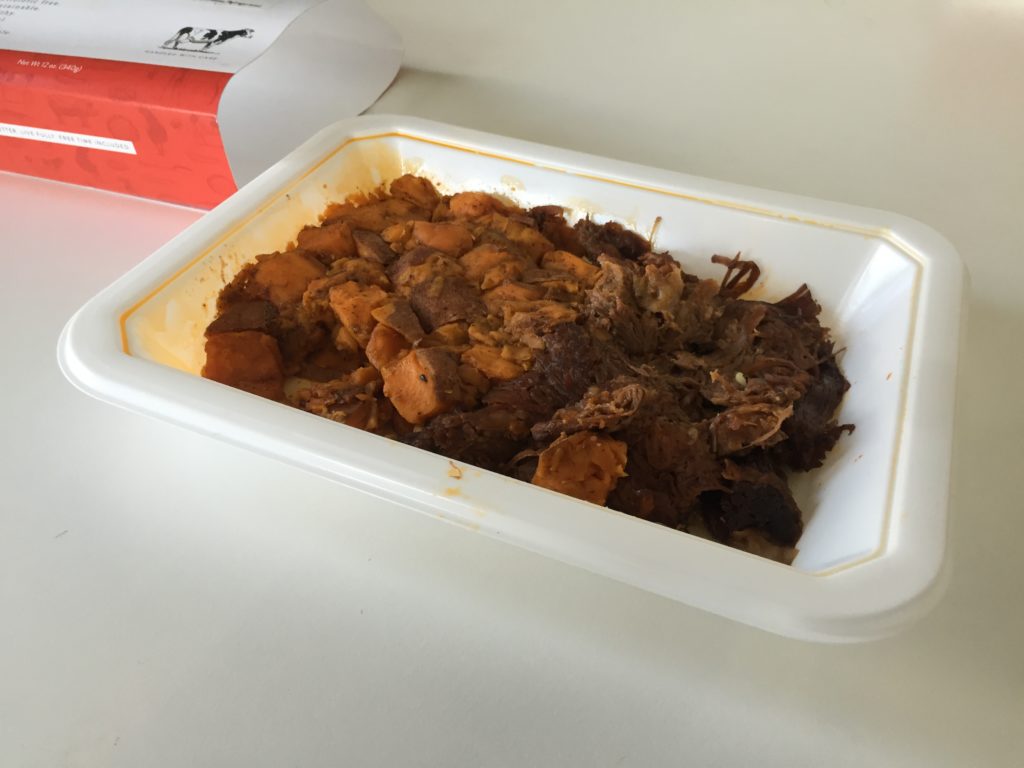 The Good Kitchen's foods all make contact with each other, so the picky eater may have some issue with foods mixing. Otherwise, I thought they did a pretty good job at keeping the foods in their respective space for coming one container. Unlike some companies that utilize one container packaging, their packages have a vacuum seal, so the meals traveled well and didn't become overly messy in transit. Whether plated or in their tray, I thought the meals looked appetizing before and after prep.
Nutrition
The Good Kitchen's meals did a good job at providing you with easy to read/find labels, but lacked in some respects. On the back of every meal, you'll find nutrition facts with caloric and macronutrient breakdown, which is a positive for athletes. Also, this is ideal for anyone tracking calories/macros for a specific goal in mind. In addition, they list each meal's ingredients, so there's no guesswork behind where macros/calories are coming from.
The only issue I had with The Good Kitchen's nutrition was the variance in total calories and meal macro totals. Every meal is pretty consistent, but does vary slightly. We found (from the five meals we received) calories varied between 250-410, and macros respectively of meal composition between 5-15g. While these aren't huge margins, athletes who need very specific meals may have trouble remaining consistent with The Good Kitchen's options.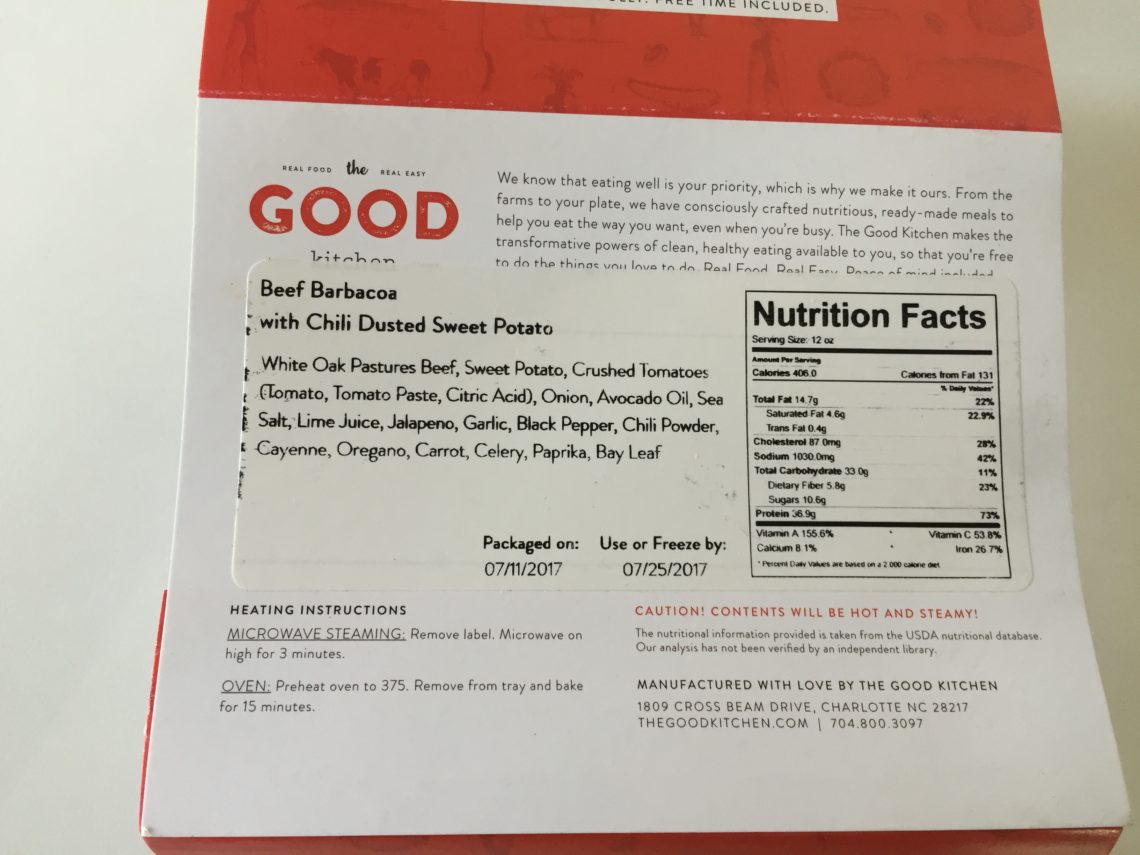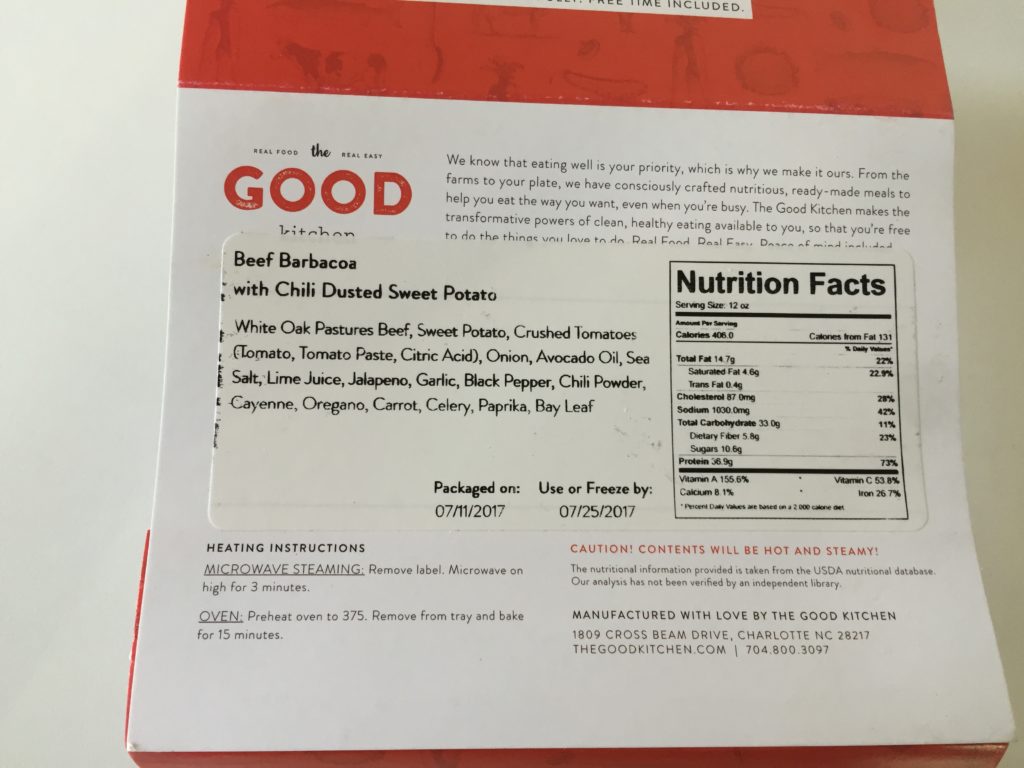 Calories
As mentioned above, The Good Kitchen's total caloric values varied slightly between meals. From our meals, we experienced a variance of 250-410 calories, which is a small degree of difference between them. This is good for those who need somewhat consistent meals, but don't need to be pinpoint accurate in their tracking.
The downside to these sized meals is that their caloric totals are a little low for the athlete that needs ample calories on a daily basis. I think putting on weight, or maintaining a higher bodyweight would be difficult with this service.
Price
Like other services, as you buy more of The Good Kitchen meals, then the price per meal decreases. To give you an idea, we've attached the pre-set three meal options, plus the minimum and maximal custom order meal amount.
| | |
| --- | --- |
| Meal Plan | Price + Price Per Meal |
| 10 Meals | $130.00 – $13.00/meal |
| 14 Meals | $182.00 – $13.00/meal |
| 21 Meals | $231.00 – $11.00/meal |
| 5 Meals | $70.00 – $14.00/meal |
| 35 Meals | $284.65 – $8.10/meal |
I think The Good Kitchen's meal prices could be very good, or a little high depending on what your order size is. If you only need a few meals, then you'll be paying a little more than you would for most lunches in metropolitan areas, or if you cooked your own.
But if you buy higher meal options like the 35 meal plan, then you'll be saving money in regards to other meal delivery services. I think $284.65 for 35 meals is possibly one of the better deals I've seen with food delivery services. The free shipping is also a nice feature of each meal plan.
Convenience
I liked how convenient it was to order The Good Kitchen meals. When visiting their site, you'll select your meal plan and the meals you want included. If you don't want to choose meals, then The Good Kitchen will select meals for you based on their selection and your tastes. You can select weekly, bi-weekly, and other order options for your subscription, and billing is at the same time every week/order.
When placing an order, you have until Wednesday at 2 P.M. EST for a delivery that will ship out the following Monday (so place your order on Wednesday of the week prior to when you want your order). Every order ships on Monday and you'll receive your meals either Tuesday or Wednesday. If you're further away from The Good Kitchen's headquarters (aka those who live on the East/West coast), then you'll most likely receive meals on Wednesday.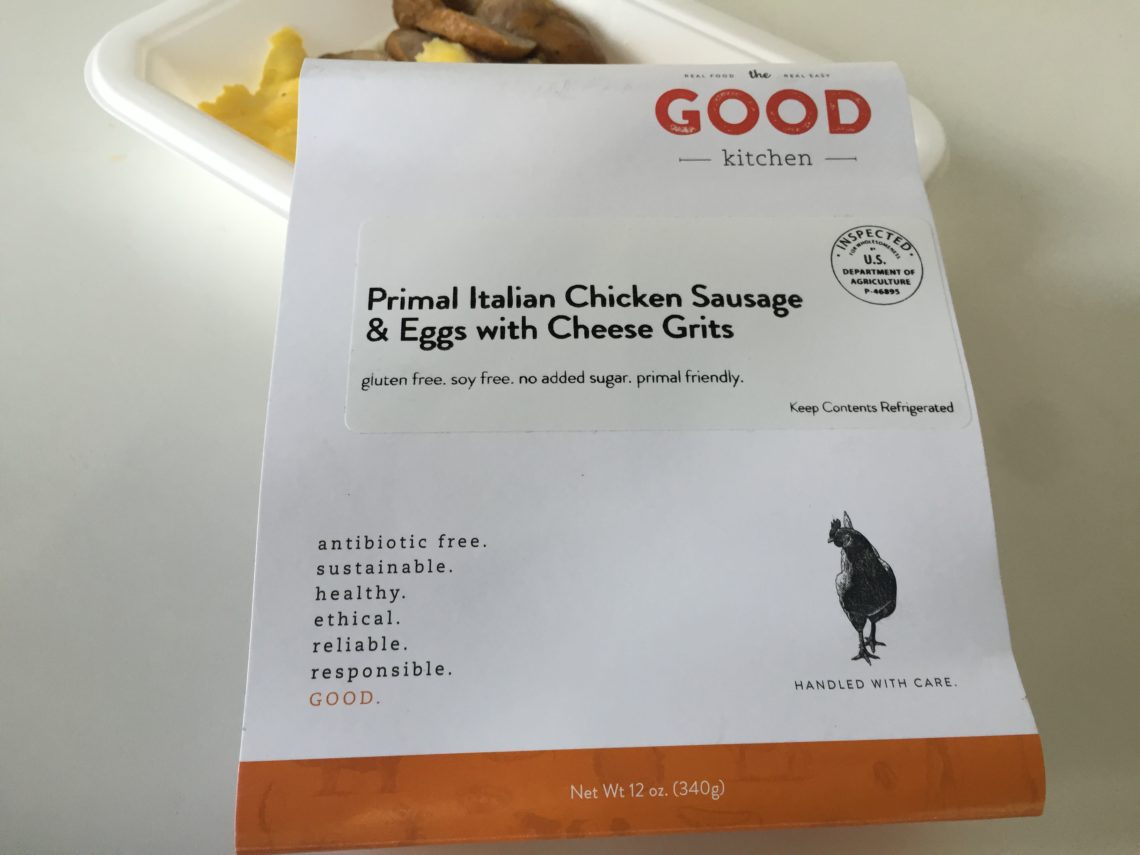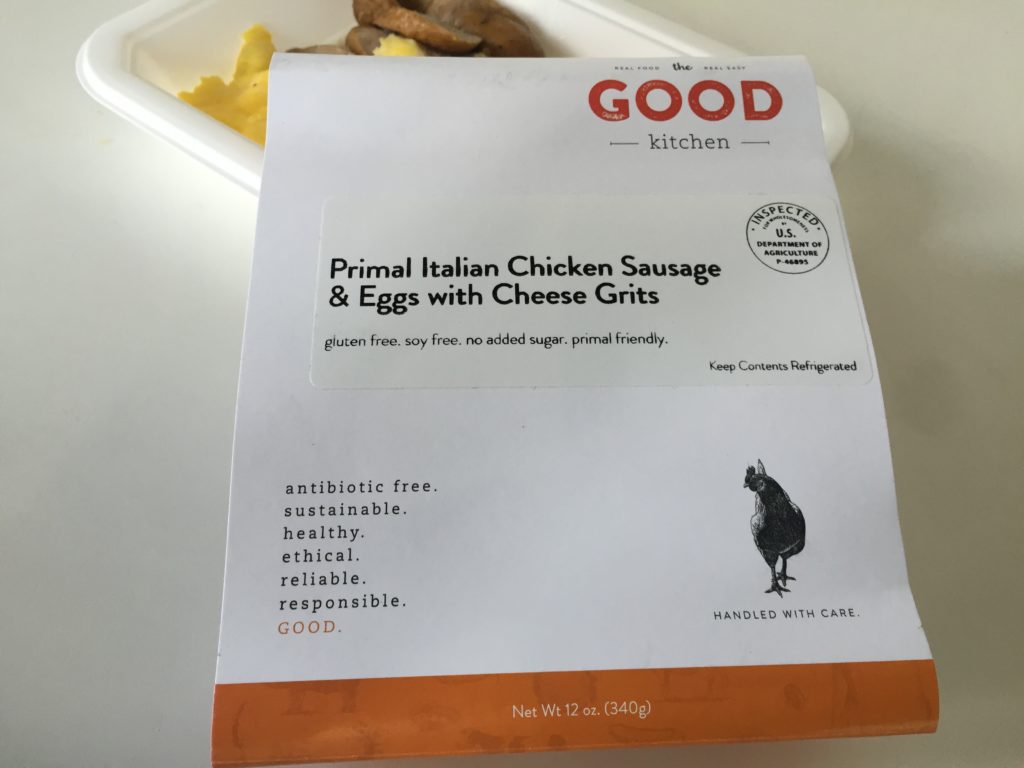 Vegetarian
The Good Kitchen primarily offers meals with meat in them, and has limited options for vegetarians. If you're a vegetarian, then it's recommended to call and ask about dietary restrictions and options such as lack of meat.
Customizability
The Good Kitchen does a pretty good job at providing you with the ability to customize your plan. They have a decently in-depth menu (plus a la carte items), so if you're placing a large order, then chances of having a repeat meal will be limited. This is good for those who like a lot of variety. Also, their menu is impacted by readily available ingredients, so you're consuming in-season options on a regular basis.
If you want the same meal on repeat, then you can select as few meals as you'd like for each plan, which is good for those who want true consistency in their diet.
Good for Weight Loss?
This question is completely dependent on your dietary goals and needs, but I think The Good Kitchen is a viable choice for weight loss. They offer smaller sized meals, so caloric totals per meal are already lower than other options out there. For this reason, someone who needs to consume lower amounts of calories on a daily basis may find it easy to do so with The Good Kitchen.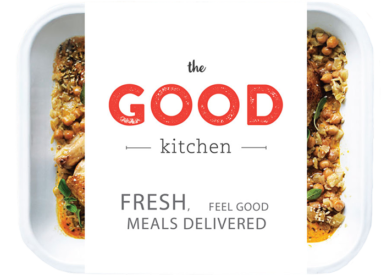 A straightforward delivery service with an impressive variety of meals and a great bulk delivery option.
Final Word
The Good Kitchen provided healthy natural meals that came with a unique taste. I liked how they combined similar ingredients that meshed well together, such as the beef barbacoa and chili dust sweet potatoes. In addition, I thought their meal pricing was somewhat fair and on the lower end when it came to bulk orders.
Their pricing was great for bulk orders, but slightly expensive when ordering lower amounts of meals. Also, I thought their meal sizes were a little small, especially for athletes who need ample amounts of calories and macros.
All in all, I think The Good Kitchen could be a good choice for the strength athlete ordering in bulk looking for natural meal options.
Order direct from The Good Kitchen HERE and use code BARBEND to receive 15% off your first order.