"It doesn't matter to me," is what 73-kilogram weightlifter Rahmat Erwin Abdullah told the commentators at the 2022 World Weightlifting Championships (WWC) when asked if he was concerned about being placed in the B Group. Shortly thereafter, Abdullah set a new clean & jerk World Record of 200 kilograms (440.9 pounds).
Abdullah's astonishing performance out of Group B came as a shock and sets the tone for the remainder of the men competing in Bogotá, Colombia on Dec. 9. Check out his achievement right here:
[Related: Li Fabin Sets Clean & Jerk World Record of 175 Kilograms]
The 22-year-old from Indonesia is making a name for himself as the dark horse of the highly-competitive Men's 73-kilogram division; Abdullah pulled a similar stunt during the Tokyo Olympic Games in 2021, where he snagged the bronze medal from Group B.
"B" Group sessions consist of weightlifters who are strong enough to qualify for the competition, but whose entry Totals don't meet the cutoff for Group A; typically, where most medal-winning performances are found. Large weightlifting events with hundreds of athletes will create as many Groups as needed to make the competition flow smoothly, instead of packing all athletes into one long session.
Abdullah lifted 152 kilograms in Tokyo (which he matched in Bogota) and jerked 190 kilograms. Roughly a year and a half later, he pulled it off again, stealing a World Record in the process from Tokyo Olympic Champion Shi Zhiyong of China.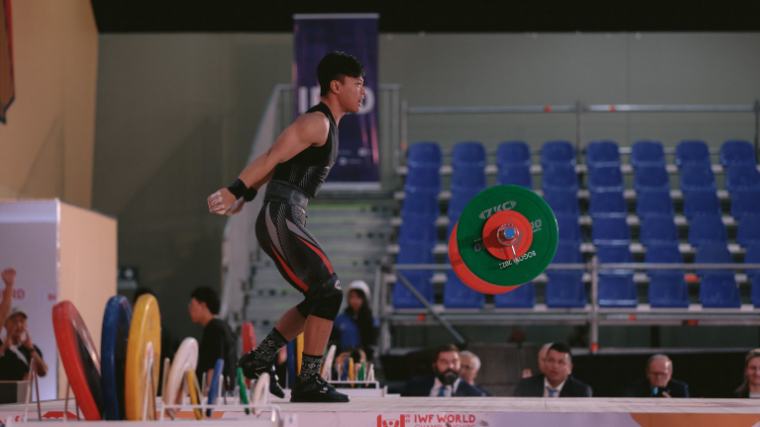 Notably, despite setting a new World Record in the clean & jerk, Abdullah has not yet been crowned World Champion. The Men's 73-kilogram Group A will commence on Dec. 9, 2022, at 7:00 p.m. Eastern Standard Time (EST), the results of which will ultimately determine where Abdullah falls in the rankings.
Regardless, he's made quite the statement for the other athletes. Zhiyong, the previous owner of the record (198 kilograms set in 2019), will not be able to reclaim his title at Worlds as he is registered to compete in the 81-kilogram category.
However, Abdullah may push Zhiyong to clean & jerk well over 200 in the 81s to further their budding rivalry — time will tell. The Men's 81-kilogram Group A session will take place on Dec. 11 at 4:30 p.m. EST.
Catch the Action
Worlds is firing up. If you want to tune into the best lifting the sport has to offer from your own home, grab a ticket to the live stream from the Weightlifting House website. The 2022 WWC runs from Dec. 5 to Dec. 16, 2022, in Bogotá, Colombia.
Featured Image: William Johnson / BarbellStories