The third weight category to compete at the rescheduled 2020 Tokyo Olympic Games was the Men's 67-kilogram weight class. Group B competed on Saturday, July 24, 2021, at 10:50 p.m. EST. Group A competed on Sunday, July 25, 2021, at 6:50 a.m. EST.
Men's 67-Kilogram Results
Chen Lijun (China) — 332 (145/187) (Gold, Olympic Record)
Luis Mosquera Lozano (Colombia) — 331 (151/180) (Silver)
Mirko Zanni (Italy) — 322 (145/177) (Bronze)
Myeongmok Han (South Korea) — 321 (147/174)
Talha Talib (Pakistan) — 320 (150/170)
Adkhamjon Ergashev (Uzbekistan) —312 (139/173)
Mitsunori Konnai (Japan) — 307 (135/172)
Goga Chkheidze (Georgia) — 302 (133/169)
Deni (Indonesia) — 301 (135/166)
Jonathan Antonio Munoz Martinez (Mexico) — 298 (135/163)
Tojonirina Alain Andriatsitohaina (Madagascar) — 285 (130/155)
Ruben Katoatau (Kiribati) — 245 (105/140)
Muhammed Furkan Ozbek (Turkey) — Did Not Finish (142/X)
Bernardin Ledoux Kingue Matam (France) — Did Not Finish (135/X)
Note: the above stats are structured as — Total (Snatch/Clean & Jerk)
View this post on Instagram
[Related: The Full 2020 Tokyo Olympic Games Weightlifting Roster]
2020 Tokyo Olympic Games — Men's 67KG
Here are the fourteen athletes in the Men's 67-kilogram category who competed in Tokyo:
67-Kilogram Roster
Group A
Chen Lijun — China
Luis Javier Mosquera Lozano — Colombia
Bernardin Ledoux Kingue Matam — France
Deni — Indonesia
Mirko Zanni — Italy
Mitsunori Konnai — Japan
Myeongmok Han — South Korea
Talha Talib — Pakistan
Muhammed Furkan Ozbek — Turkey
Adkhamjon Ergashev — Uzbekistan
Group B
Goga Chkheidze — Georgia
Tojonirina Alain Andriatsitohaina — Madagascar
Jonathan Antonio Munoz Martinez — Mexico
Ruben Katoatau — Kiribati
Mosquera is the lone returning medalist from the 2016 Rio Olympic Games, having earned bronze in the 69-kilogram class (new weightlifting categories were approved by the IWF in 2018). Heading into the Games, three different athletes held world records in this class.
Huang Minhao of China, who was not present in Tokyo, held the snatch world record scored at a 2019 Olympics Test Event. Pak Jong-ju of North Korea — also not present in Tokyo — held the clean & jerk world record, scored at the 2019 IWF World Championships. Lijun held the total world record, scored at the 2019 Asian Championships.
67-Kilogram World Records
Snatch — Huang Minhao, 155 kilograms (341.7 pounds)
Clean & Jerk — Pak Jong-ju, 188 kilograms (414.5 pounds)
Total — Chen Lijun, 339 kilograms (747.4 pounds)
Session Recap
When Group B concluded, only Chkheidze had locked in a total above 300 kilograms. French athlete Matam initiated the snatches with a successful 132 kilograms, while Konnai of Japan would have a harder time, barely securing 135 on his third try, narrowly keeping him in the competition.
Four-time World Champion Lijun would open successfully at 145 kilograms but proceed no further, joining Zanni of Italy.
Talib of Pakistan and Rio bronze medalist Mosquera of Colombia were the only two athletes to touch 150 kilograms, with the latter leading the pack at the conclusion of the snatch portion with a 151-kilogram lift, just a single kilogram shy of the Olympic Standard.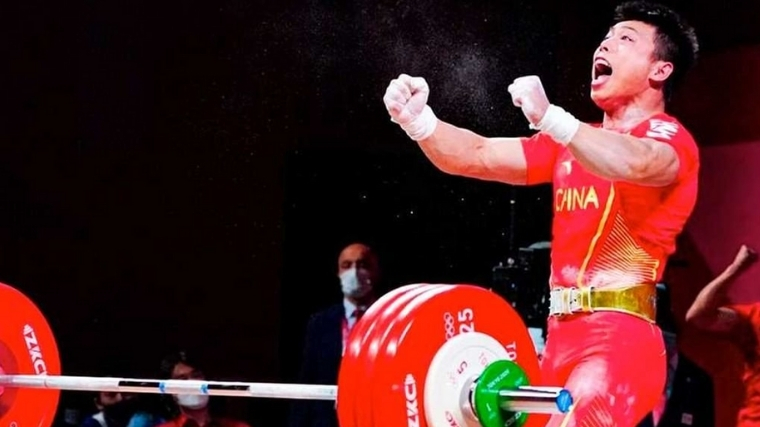 In the clean & jerk, Konnai redeemed his rocky start by securing 165 kilograms as the first lift. Zanni's first jerk at 172 kilograms was overturned by the jury, compelling him to make a massive jump to 177, which he completed on his final attempt to remain in medal contention.
Ozbek failed to stand up all three of his cleans, disqualifying him from posting a total. Myeongmok made his final lift at 174 kilograms with only one second to spare on his clock due to an untied shoelace.
With six kilograms to make up, Lijun successfully opened with 175 kilograms, a weight that snatch leader Mosquera matched with a power clean. Mosquera went on to miss his second at 180, made it on his final attempt, but dropped the barbell before being given a down signal. In an extremely rare occurrence, he was retroactively awarded the lift by the jury despite his error.
Lijun came back from behind in a big way on his second clean and jerk at 187, usurping Mosquera's gold medal and claiming a new Olympic record of 332 kilograms, only one ahead of the Colombian silver medalist. He declined to take a third attempt.
[Related: New ITA Report Reveals Doping Violations, Corruption, and Cover-Ups in Weightlifting]
The Games Continue
The next two sessions will feature the Women's 55-kilogram and Women's 59-kilogram categories. Groups B and A for the Women's 55-kilogram class will compete on Monday, July 26, 2021, at 12:50 a.m. EST and 6:50 a.m. EST, respectively.
Group B for the Women's 59-kilogram class will compete on that same day at 10:50 p.m. EST. Group A for the Women's 59-kilogram class will compete on Tuesday, July 27, 2021, at 2:50 a.m. EST.
Feature image: Stephen Galvan for the IWF