As you might have heard, the 2020 SBD World's Strongest Man competition has officially announced its location and dates. Although WSM is making its return to Bradenton, Florida, where Martins Licis captured the title last year, 2020 will have a couple of unusual distinctions.
First, there will be just four days of events. The qualifying rounds will take place on Wednesday and Thursday the 20th and 21st of May, then there's a rest day, then the finals will take place over Saturday and Sunday the 23rd and 24th of May.
This is a new format that WSM is calling their "high-tempo accelerated schedule." They tested this kind of schedule in 2019 when there were three days of qualifying rounds, followed by all the finals taking place on one day.
This year will most likely have the same number of events (five qualifying and five final events — sources are pretty sure of this but it's yet to be confirmed), but they're spread out so that there are two days of qualifiers, a rest day, and two days of finals.
The new schedule provides a more condensed and drama-packed experience for our spectators.
https://www.instagram.com/p/B6jLN-CFfII/
The second piece of news is that for the first time in WSM history, all of the events will be staged in a central location.
Both the qualifying rounds and the finals will all take place at the Premiere Sports Campus at Lakewood Ranch.
WSM tells us that the Premiere Sports Campus "will feature ample seating for spectators" and should prove a welcome change to audience members who last year had to clamor around the barriers of the events to get a good look. If you were short and you weren't early, you were out of luck. (Everything being at one venue, of course, will also make it easier for fans to book their accommodation.)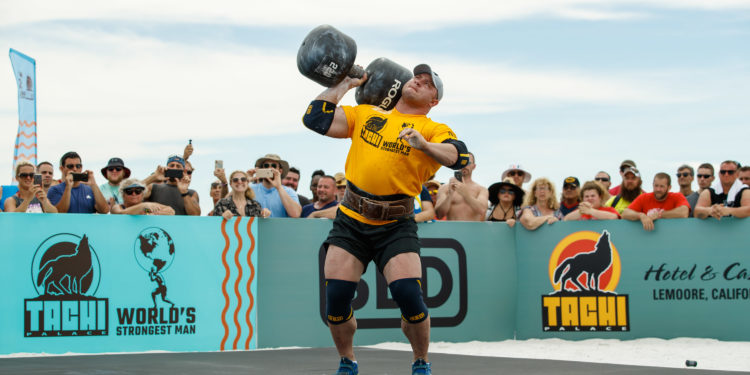 Martins Licis is the reigning champion, but don't expect a back-to-back title run to come easy. Although the competitors' list is not yet finalized for 2020, you can bet second and third place finishers Mateusz Kieliszkowski and Hafthor Bjornsson will be trying their hardest to claim the WSM title.
After all, when Hafthor Bjornsson came third, he did so with a torn plantar fascia. Kieliszkowski won the 2019 World's Ultimate Strongman competition with a torn bicep. There's not a lot that can stop these guys at full strength. We'll be on the edge of our seats.
2020 SBD World's Strongest Man Competition Quick Hits
Where: The Premiere Sports Campus at Lakewood Ranch in Bradenton, Florida.
When:

Qualifying Round: Wednesday, May 20th and Thursday May 21st.
Final Round: Saturday, May 23rd and Sunday May 24th.

Who's Competing: To be determined, but expect the biggest names in strongman to show up ready to impress.
Sponsor: 2020 is being officially sponsored by SBD Apparel.
Editor's note: A previous version of this article noted there were six qualifying events and six finals events, but it's actually more likely to be five of each this year.
Feature image from Martins Licis Instagram page: @martinslicis