In 2017 the World's Strongest Man competition was held in Botswana, in 2018 it was the Philippines, and we have to say that we were glad when it was announced the 2019 event would be held close to home in Bradenton, Florida.
It looks like the organizers enjoyed their time there, because sources at World's Strongest Man have confirmed that this year's competition is returning to Bradenton, Florida, and will take place from Wednesday, May 20 and Sunday, May 24.
That's a little earlier than last year's event, which was held in mid June, and while last year's venue was announced about a month before the competition was held, this year fans have a nice four months to book their tickets and hotels before the biggest event in strongman kicks off.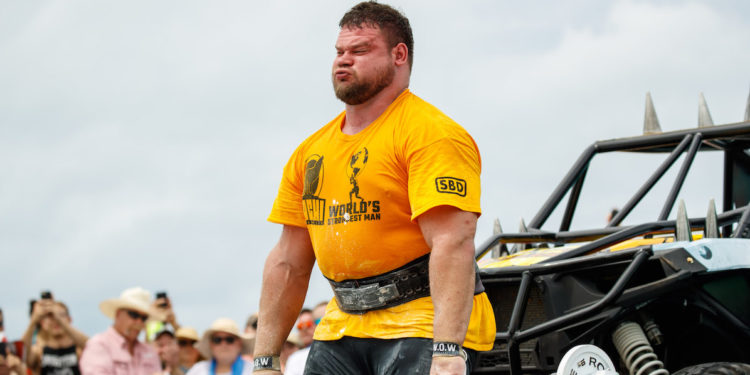 It's also been announced that SBD Apparel has signed as the title partner, so it's officially called the 2020 SBD World's Strongest Man Championship.
Bradenton is a city of 60,000 people that's under an hour's drive from Tampa. Last year, the events were held at various locations around town, but the finals were all centered around Manatee Public Beach. Our sources inside World's Strongest Man have told us that this year, they're more likely to hold all the events in one location, possibly in an arena style. But the event is still a ways away, and these particularities are far from being confirmed.
The full list of athletes is yet to be announced, but there's no doubt that the biggest names in the sport will be present.
In 2019, Martins Licis won his first title, and it was the first year he had ever stood on the podium. (He came 4th in 2018.) Notably shorter than most of his opponents at 6'3″ (maybe even 6'2″), Licis decisively won two of the events and finished with an astounding 8-point lead ahead of Mateusz Kieliszkowski (who went on to win the 2019 World's Ultimate Strongman) and 2018's champion Hafthor Bjornsson (who placed third despite competing with a torn plantar fascia).
Strongman fans have a lot to look forward to until the event, with the Arnold Strongman Classic kicking off this Saturday in Santa Monica and the Arnold Sports Festival taking place in Ohio from March 5 to 8.
Featured image courtesy of World's Strongest Man
FAQs
When is the 2020 World's Strongest Man?
The 2020 World's Strongest Man competition will take place between May 20 and 24. The event will see the top strongman athletes from around the world competing, with Latvian-American Martins Licis defending his title.
Where is the 2020 World's Strongest Man?
The 2020 World's Strongest Man will be held in Bradenton, Florida. A city of around 60,000 people, it's under an hour's drive from Tampa. While in 2019 the finals were held on Manatee Public Beach, we don't currently have the precise locations of the events.