On July 28, 2021, the 2021 CrossFit Games for Individual competition kicked off in Madison, WI. Day One consisted of four grueling events that featured the longest swim in Games history, too many muscle-ups, the return of Pig flips, a sprint, the Games' debut of wall walks, and Mallory O'Brien becoming the youngest Games event winner at age 17.
Despite the second-place blemish in Event Four, returning four-time champion, Tia-Clair Toomey-Orr held a firm hold on the top of the leaderboard after racking up three event wins. The men's leaderboard was much closer at the end of Day One, but Brent Fikowski held a narrow lead over Justin Medeiros and Jonne Koski.
In Event Five, which challenged athletes to perform a combination of rope climbs, sandbag carries, and time on ski ergs, Royce Dunne won heat one for the men, but his time could not hold off Patrick Vellner from taking the overall win.
Here were the results:
Individual Event Five — Top Five Men
Patrick Vellner — 11:53.08
Brent Fikowski — 12:01.27
Royce Dunne — 12:01.53
Justin Medeiros — 12:05.77
Henrik Haapalainen — 12:09.89
Individual Event Five — Top Five Women
Laura Horvath — 11:41.55
Gabriela Migała — 11:56.87
Haley Adams — 12:03.29
Kristin Holte — 12:13.69
Kristi Eramo O'Connell — 12:14.22
[Related: 2021 NOBULL CrossFit Games Results and Leaderboard]
Individual Event Five
Four rounds for time:
Four 20-foot rope climbs
Ski erg — Men: 500 meters | Women: 400 meters
42-foot sandbag carry — Men: 200 pounds | Women: 150 pounds
There was a time cap of 15 minutes. The weight of the mens' sandbags was the heaviest ever used at a CrossFit Games.
Men's Division
As has been the case in the majority of Individual events thus far at the Games, the men's heats were scheduled first. In heat one, the field was more or less synchronized through the first set of rope climbs. After the first round of ski erg, Travis Mayer was the first man to the sandbag carries. Each sandbag's shape took on that of a Husafell stone; a popular strongman implement used for loaded carries.
Mayer maintained his lead to the second round of sandbag carries. On his tail were Royce Dunne, Zach Watts, and Cole Sager. Those four men traded routinely traded the lead as Chandler Smith made his way into the mix. By round four, Dunne settled in as the heat leader and finished it first with a time of 12:01.53. Sager finished in second at 12:18.30 and Mayer behind him at 12:22.32.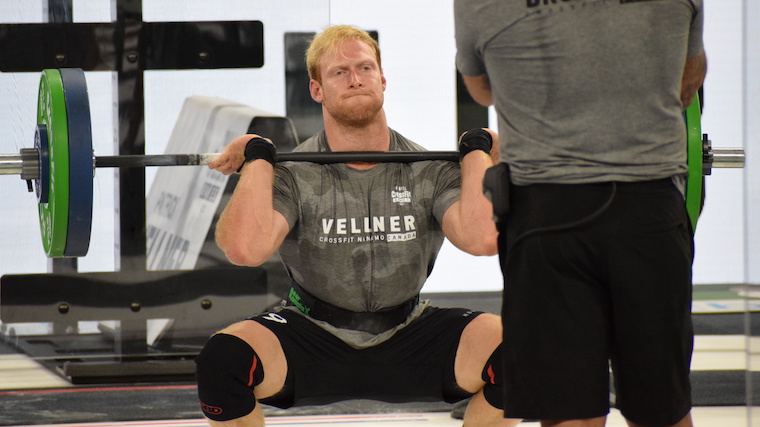 Heat two featured the top half of the men's leaderboard. Similar to heat one, the field held parity through the first round of rope climbs and ski ergs. Jayson Hopper emerged as the first man to the sandbags, but it was a tight race as the second round began. Notably, this event featured 16 total rope climbs — four more than any previous CrossFit Games event.
Vellner — who was fifth on the overall leaderboard coming into the event — took over the lead on the second sandbag carry and was the first man to start round three. By the final ski erg, it was a race between Vellner and Fikowski. Vellner made his way to the sandbag first and posted an event-winning time of 11:53.08. Fikowski was in at 12:01.27. Medeiros finished third in the heat and fourth overall in the event.
Women's Division
Seventeen athletes competed in heat one for the women. Thuridur Helgadottir, Sam Briggs, Jacqueline Dahlstrøm, and Jessica Griffith got out to a slight lead after the first four rope climbs, but it was a tight field on the ski ergs. Dahlstrøm was the first woman to the sandbags.
Helgadottir and Dahlstrøm traded the lead back and forth through the second round of the ski ergs as Briggs and Griffith stayed tight on their heels. Round three saw Helgadottir to the rope climbs first. Laura Clifton and Ellie Turner made their presence felt as they pulled within a rep of the leaders.
It seemed as though each athlete's pace in heat one held stable until the end as Briggs battled back to post the fastest heat-one time of 12:33.31. Helgadottir barely missed a heat win — just sixth-tenths of a second behind Briggs at 12:33.91. Dahlstrøm remained steady to a third-place time of 13:03.61.
View this post on Instagram
Heat two saw Laura Horvath and two-time Fittest Women on Earth® Katrin Davíðsdóttir and Annie Thorisdottir to the ski ergs first. Horvath has claimed the lead for herself on the first sandbag carry and jogged back to the rope. Haley Adams leaped into the mix for the lead by the second round of ski erg.
By round three, Horvath had a two-rep lead in the rope climbs and was pulling away from the field. Dani Speegle fell to last place in the heat by round three and was limping with what appeared to be an ankle issue — she did not finish within the time cap.
Horvath did not give up the lead and won the fourth event of her Games career with a time of 11:41.55. Gabriela Migdała pushed her way up the ranks with a time of 11:56.87 to place second in the event. Adams put a dent in Toomey-Orr's overall lead with a third-place finish in the event with a time of 12:03.29. Toomey-Orr ranked sixth overall in the event.
The Games Continue
There are four more events taking place on July 30, 2021. In total, Individual athletes will compete in 15 events by the end of the Games. All times are in Eastern Standard Time (EST):
IE6 (Men): 2:40 p.m. – 3:12 p.m.
IE6 (Women): 3:16 p.m. – 3:48 p.m.
IE7 (Men): 3:52 p.m. – 4:28 p.m.
IE7 (Women): 4:32 p.m. – 5:08 p.m.
IE8 (Men): 5:30 p.m. – 5:58 p.m.
E8 (Women): 6:00 p.m. – 6:28 p.m.
IE9 (Men): 7:46 p.m. – 8:10 p.m.
IE9 (Women): 8:16 p.m. – 8:40 p.m.
Featured Image Courtesy of CrossFit