On the evening of Friday, Oct. 21, 2022, reports began to circulate that athletes received email guidance from Rogue regarding an amendment to the planned scheduling for the 2022 Rogue Invitational.
On Saturday, Oct. 22, the Rogue team confirmed to BarBend via e-mail that the fourth annual Invitational, initially scheduled to run from Oct. 28 to 30 at the Dell Diamond stadium in Texas, will kick off with an unspecified CrossFit athletic challenge the Thursday prior on Oct 27.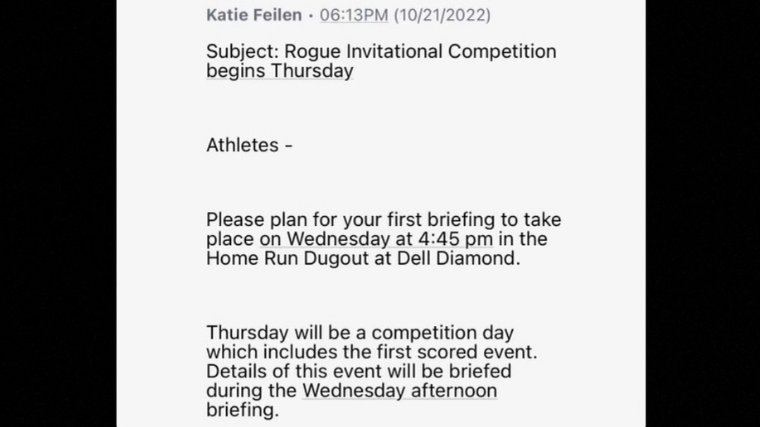 The Rogue Invitational team also confirmed to BarBend that competitors were made aware of Thursday's challenge as early as Sept. 23. The team emphasized that competitors were afforded sufficient advance notification and that no athlete had to alter their preparations.
[Related: "It's Not Worth It" — Samuel Cournoyer Withdraws From 2022 Dubai Fitness Championship]
Rookie Invitational competitor Anikha Greer, 19, told Morning Chalk Up that despite first catching wind of the change "a few weeks ago," she was excited by the prospect of an extra day on the field.
According to Morning Chalk Up's coverage, athletes were reportedly notified by Rogue organizers to pack trail shoes, indicating that the event on Thursday may take them outside the walls of the Austin-area stadium.
2022 Rogue Invitational | Current CrossFit Schedule
The Invitational will host some of the biggest names in functional fitness and strength sports alike, including multi-Games competitors Laura Horvath, Kara Saunders, and 2021 CrossFit Games champion Justin Medeiros. Martins Licis, who won the strongman portion of the Invitational in 2021, is also set to return.
Here is a breakdown of the current CrossFit event schedule from Friday to Sunday:
Friday, October 28
Opening Ceremonies: 11:45 a.m.
Competition: 12:00 p.m.
Competition: 3:30 p.m.
Competition: 6:00 p.m.
Saturday, October 29
Stadium Gates: 8:15 a.m.
Competition: 9:00 a.m.
Competition: 12:30 p.m.
Competition: 5:00 p.m.
Sunday, October 30
Stadium Gates: 9:00 a.m.
Competition: 10:00 a.m.
Competition: 3:45 p.m.
Award Ceremony: 4:30 p.m.
Note: All times listed in CST. For a comprehensive breakdown of the weekend itinerary, refer to Rogue's event schedule.
2022 Rogue Invitational | Strongman Schedule
Reigning champ Licis will compete for another consecutive title at the Invitational's strongman competition as well. Expect to see some tremendous lifting by legends of the sport like Hafþór Björnsson as well.
Here's a breakdown of the six challenges on the plate in Austin:
Friday, Oct0ber 28
Event 1 — Tower of Power: 12:00 p.m.
Event 2 — Cyr Bell Ladder: 3:25 p.m.
Event 3 — Rogue Husafell Sandbag Carry: 6:00 p.m.
Saturday, October 29
Event 4 — Rogue-A-Coaster Pull: 9:00 a.m.
Event 5 — Yoke Carry, Overhead Log Lift Medley: 3:10 p.m.
Event 6 — Stones Over Hitching Post: 8:45 p.m.
Note: All times listed in CST.
Four Days of Fitness
At the time of this article's initial publication, it is unclear whether Rogue will provide the means for attendees to spectate the shadowy Thursday challenge. If it is open to the public, the reveal may negatively impact fans who had based their travel arrangements around the presumption that the Invitational was a three-day challenge.
Regardless, the fourth Rogue Invitational is sure to provide more than enough high-quality entertainment — and phenomenal athletic performances from the competitors themselves.
BarBend will update this article as more information is made available.
Featured Image: @rogueinvitational on Instagram