Canadian CrossFitter Samuel Cournoyer will no longer compete at the 2022 Dubai Fitness Championship (DFC), set to occur from Dec. 2-4, 2022, due to financial reasons. According to the official roster, Moritz Fiebig of Germany will take his place.
This is the second time Cournoyer's plans to compete in the Individual division have fallen through in 2022. The Canadian was in a qualifying position following the "Q" for the Rogue Invitational. Still, he forgot to weigh his weight plates per the instructions for the online qualifier and was dropped from a qualifying position.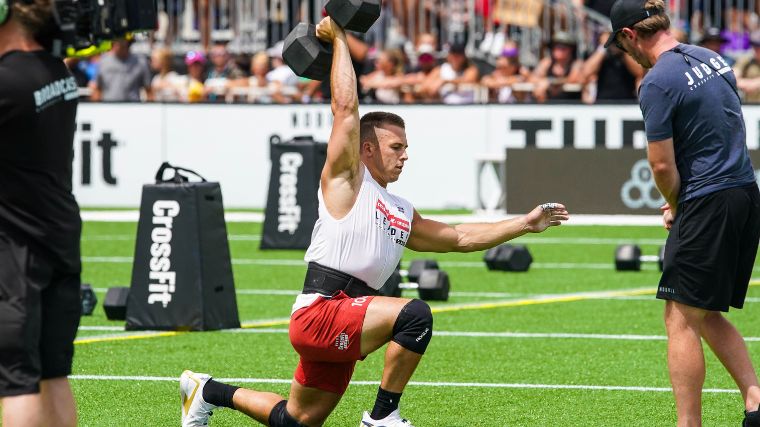 In a message to BarBend over Instagram, Cournoyer said the trip to Dubai proved too costly. "It would cost me a minimum of $6,000 just to get there and live there for 10 days. It's not worth it."
2022 Dubai CrossFit Championship Prize Money
The RX prize money is as follows:
1st: $50,000
2nd: $30,000
3rd: $20,000
4th: $10,000
5th: $5,000
6th: $2,500
7th-20th: $500
By many measures, Cournoyer is an elite competitor. He finished seventh worldwide during the 2021 CrossFit Open and third at the 2021 CrossFit Atlas Games Semifinal. He's competed as an Individual three times at the CrossFit Games, finishing in 35th (2019), 10th (2020), and 23rd (2021).
He would have faced stiff competition at the DFC — an elite show that attracts top talent. Ricky Garard and Lazar Đukić, who finished in third and eighth place, respectively, at the 2022 Games, will both be in attendance. So will Jonne Koski and Brent Fikowski, who placed 15th and 16th, respectively.
By his account, if Cournoyer were to compete at the 2022 DFC and rank any lower than fourth, he'd lose money.
Making His Way Back to Individual Competition
Cournoyer is a 2022 CrossFit Games Team champion (with Rich Froning and CrossFit Mayhem Freedom). He seeks to make his return to Individual competition for the 2023 season.
After initially qualifying via his 10th place finish through Dubai's online qualifier and subsequently accepting his invitation, his name has been removed from the DFC leaderboard and replaced by 2022 individual Games athlete Moritz Fiebig. Fiebig is coming off his debut at the Games, finishing 36th. Fiebig competed at the Dubai CrossFit Championship (DCC) in 2021, ranking 15th in a field of 19 male athletes.
Fiebig placed 21st in the DFC online qualifier and is the first athlete, male or female, to receive a backfill invite to the 10th edition of the DFC (which was called the Dubai CrossFit Championships in 2018, 2019, and 2021).
The next logical competition for Cournoyer is 2023 Wodapalooza in Miami — he took third place in January of 2022. He is set to participate in the Team portion of the event, but an Individual showing doesn't seem to be in the cards.
There are only two paths to qualify for Wodapalooza's Elite division: be one of the 40 Games-qualified athletes (in the male athlete and female athlete divisions), or through their online qualifier. Cournoyer qualified for the Rogue Invitational and the DFC, which hold online qualifiers similar to Wodapalooza's, making it a logistical challenge for athletes looking to compete in more than one of these events.
Since Cournoyer didn't compete in the 2022 Games as an Individual, he is not allowed to compete as an Individual Elite at Wodapalooza — though he did inquire about an exception.
"I'm trying to get an Individual invite for Miami [Wodapalooza] but [haven't gotten an] answer," Cournoyer tells BarBend. "I'm already doing the Team division for fun, but I want to do the Individual, too."
Certainly, Cournoyer's competitive resume is strong enough, with a Wodapalooza podium finish last year and a Games victory with his team. At this point, it seems unlikely that the young Canadian will compete in a live Individual competition until the 2023 Semifinals.
Additional reporting by BarBend's Lead CrossFit Analyst, Brian Friend.
Featured image by Patrick Clark.