The last day of the Qualifying stage at the 2022 World's Strongest Man (WSM) contest is in the books and the Final roster is set. The 10 athletes who advanced to the Final are as follows:
2022 World's Strongest Man Final Roster
Tom Stoltman — Group 1 Winner
Mitchell Hooper — Group 2 Winner
Oleksii Novikov — Group 3 Winner
Martins Licis — Group 4 Winner
Luke Stoltman — Group 5 Winner
Gabriel Rhéaume
Brian Shaw
Trey Mitchell
Maxime Boudreault
Eythor Ingolfsson Melsted
Day Three consisted of the Wrecking Ball Hold event and the Stone-Off.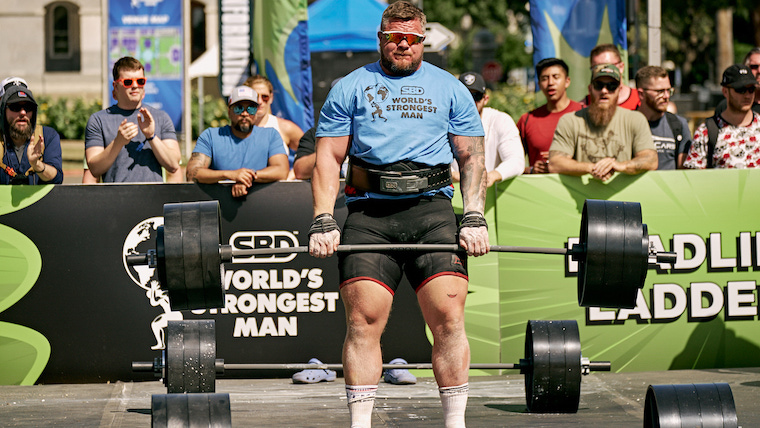 [Related: 2022 World's Strongest Man Results and Leaderboard]
Wrecking Ball Hold
Each strongman attempted to hold 228 kilograms (500 pounds) for as long as possible.
Group 1
Kevin Faires — 1:35.18
Andy Black — 1:26.92
Gabriel Rhéaume — 1:24.10
Manuel Angulo — 1:11.66
Aivars Šmaukstelis — 57.44 seconds
Tom Stoltman — 4.63 seconds
The battle in Group 1 was between Šmaukstelis, Rhéaume, and Faires, who were vying for spots in the Stone-Off. Šmaukstelis had the biggest deficit to make up; he needed to turn out a big performance to keep his contest life intact. He was third to attempt, but failed to beat Angulo or Black, which left no space for him to move up the leaderboard.
Rhéaume posted a solid time of a few seconds fewer than Black. It wasn't enough to fend off Faires, who won the event and secured his advantage in the Stone-Off against Rhéaume.
Group 2
Mark Felix — 2:20.49
Bobby Thompson — 1:21.33
Brian Shaw — 1:06.13
Konstantine Janashia — 1:01.38
Gabriel Peña — 48.27 seconds
Mitchell Hooper — 6.40 seconds
Mark Felix is a legend in static grip events and he proved why in Sacramento. His time of 2:20.49 felt like it went on for hours as the crowd collectively had to take multiple additional breaths to keep cheering. It was a spectacle to see Felix score a Wrecking Ball Hold world record despite having no path to the Stone-Off.
Once Peña released the wrecking ball with a subpar time, it left only the narrowest of space for Janashia to get to the Stone-Off, but only if he could beat Felix's world record. He fell short and guaranteed Shaw a place in the Stone-Off against Thompson.
Thompson and Shaw posted the times they needed to rank second and third overall in their group, respectively, and prepare to battle in the Stone-Off.
Group 3
Trey Mitchell — 2:06.46
Mika Törrö — 1:53.17
Grzegorz Szymanski — 1:46.49
Oleksii Novikov — 1:38.63
Adam Bishop — 1:31.35
Rob Kearney — 1:01.95
Kearney, Bishop, and Mitchell were within two points of each other coming into the event. Kearney had the biggest hurdle to climb as he needed to beat Mitchell by at least two ranks. Mitchell and Bishop were separated by half a point and just needed to stay next to each other in the standings to battle in the Stone-Off.
A disappointing run from Kearney shut the door on his Final hopes. Mitchell came up clutch to score the winning time in the event and overtake second place in the group, which ultimately proved the difference in his Stone-Off against Bishop.
Group 4
Maxime Boudreault — 1:33.93
Pavlo Kordiyaka — 1:31.33
Martins Licis — 1:25.63
Nedžmin Ambešković — 1:12.47
Gavin Bilton —1:07.15
Shane Flowers — withdrew
Kordiyaka, Boudreault, and Bilton were in the same position as the trio from Group 3 — within two points of each other heading into the Wrecking Ball Hold. Bilton had to overcome the two point deficit. However, it was not his strongest event and he wasn't able to beat Ambešković's time. That left no space between him and Kordiyaka or Boudreault and his Final aspirations were dashed.
Kordiyaka posted a solid time but it wasn't long enough to stave off Boudreault. The Canadian took the event win, and, with it, the advantage in the Stone-Off.
Group 5
Kelvin De Ruiter — 1:45.65
Evan Singleton — 1:40.34
Eythor Ingolfsson Melsted — 1:03.42
Jean-Stephen Coraboeuf — 1:00.70
Kim Ujarak — 36.24 seconds
Luke Stoltman — did not make an attempt
Melsted and Coraboeuf were hard-locked to clash in the Stone-Off against each other entering the Wrecking Ball Hold. The question was who would have the initiative of lifting first? Melsted had the luxury of knowing the time he had to beat and held on just long enough to edge out the Frenchman.
Stone-Off
The six Atlas stones, in order, weighed: 150 kilograms (330.7 pounds), 160 kilograms (352.7 pounds), 160 kilograms (352.7 pounds), 180 kilograms (396.8 pounds), 180 kilograms (396.8 pounds), and 200 kilograms (440.9 pounds).
Group 1: Rhéaume def. Faires
Rhéaume controlled the pace as he had the initiative against Faires. It did not seem like Faires was fatigued by attempt two on stone six. Unfortunately for Faires, he repeated the same mistake that caused his ousting from the 2021 WSM contest struck again — he failed to push the stone over the bar and it toppled back toward him. He attempted to recover but ran out of time.
Group 2: Shaw def. Thompson
If ever there was a worst time for disaster to strike, it was during the Stone-Off. Shaw had the initiative and cleared the first stone. However, something was wrong with Thompson's tacky during his first lift and he could not solve whatever the problem was.
View this post on Instagram
The whistle blew and Thompson fumed off the stage, clearly indicating that something was awry with his tacky. Later in the night, Thompson took to Instagram and explained that he didn't choose a "high enough grade" of tacky.
Group 3: Mitchell def. Bishop
This was a battle for the ages and both men lived up to the hype. They both made easy work of the first five stones and the clash on the sixth stone was as grindy as it gets. They threw the stone back and forth as though it was a casual endeavor they'd partaken in dozens of times before.
The first blip of adrenaline came from a slip by Bishop that caused him to drop the stone. However, he was able to lift it again within the time limit to continue the battle. It was not without cost, though; fatigue set in. Mitchell having the advantage of lifting second paid off as Bishop was unable lift the stone first despite they having scored equivalent reps.
Group 4: Boudreault def. Kordiyaka
Boudreault and Kordiyaka put on an incredible showing against one another. The intensity was similar to the Mitchell-Bishop battle, but Kordiyaka and Bouldreault's pace was much faster moving to the sixth stone and they never let up. Boudreault was clearly in his element, hyping up the crowd following his lifts.
Ultimately, it came down to Kordiyaka running out of steam. Boudreault mentioned in the post-event interview that he still had several reps left in the tank. It was an impressive showing by the Canadian.
Group 5: Melsted vs. Coraboeuf
Coraboeuf and Melsted cleared the entire line of stones to get stone number six. The difference for Coraboeuf did not appear to be the weight of the stone but rather the height of the bar. He successfully lifted the sixth stone but couldn't find the leverage to get it up and over the bar. He eventually had to drop it as the whistle blew and Melsted got the nod to the Final.
[Related: 2022 World's Strongest Man Log Lift Results — Boudreault and Luke Stoltman Hit Double Digits]
2022 World's Strongest Man Final
The Final will take place on May 28-29, 2022, following a rest day for the athletes on May 27. The Final will consist of six events total: Knaack Giant's Medley, the Deadlift, and the Flintstone Barbell on May 28, and the Bus Pull, Reign Total Body Fuel Power Stairs, and Atlas Stones on May 29.
Featured image @theworldsstrongestman on Instagram