Vibrant Health and MacroLife Naturals are two of the underdogs in the supplement industry, but that gives them something of an edge — both companies want to prove themselves.
Their greens powders are both outstanding. In an industry where even the most expensive brands can offer little in the way of nutrition, Green Vibrance and Macro Greens offer an extraordinary array of vitamins, minerals, herbs, and digestive benefits — and they're both very inexpensive to boot.
So, which one deserves your money? We think the answer is pretty clear.
Buy Green Vibrance and Macro Greens on Amazon
Taste
Green Vibrance: It's milder than a lot of greens powders, but it's still not enjoyable. it doesn't contain anything approaching artificial or natural sweeteners, so if that's what you're after then this could be a good choice for you. But it's grassy and has a slightly peppery aftertaste which few will savor.
[Read our full Green Vibrance review!]
Macro Greens: This is the clear winner for taste. Somewhat similar to Athletic Greens, it's creamy and fruity, bringing to mind a mixed berry yogurt. It's not a very strong flavor either, so while it's enjoyable on its own, it's versatile enough that it could easily be mixed with a smoothie, milk, or juice.
[Curious about Macro Greens? Check out our in-depth Macro Greens review.]
Winner: Macro Greens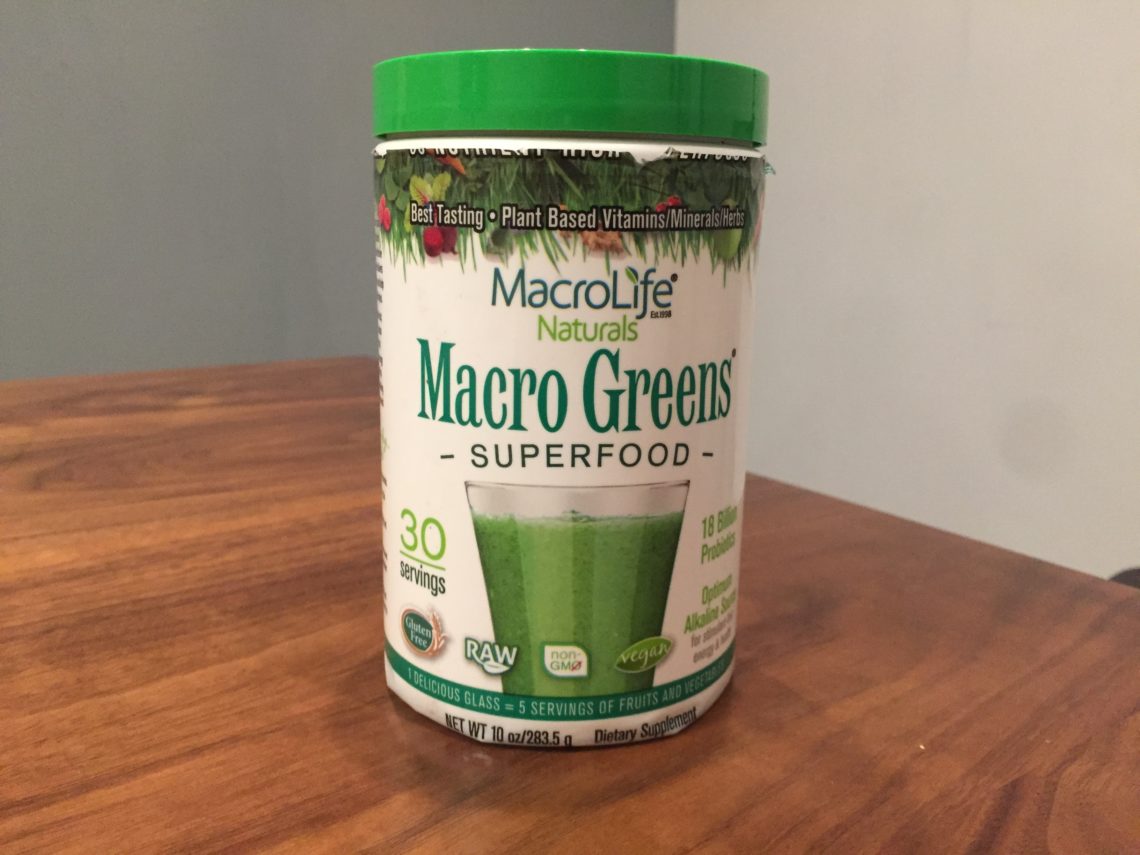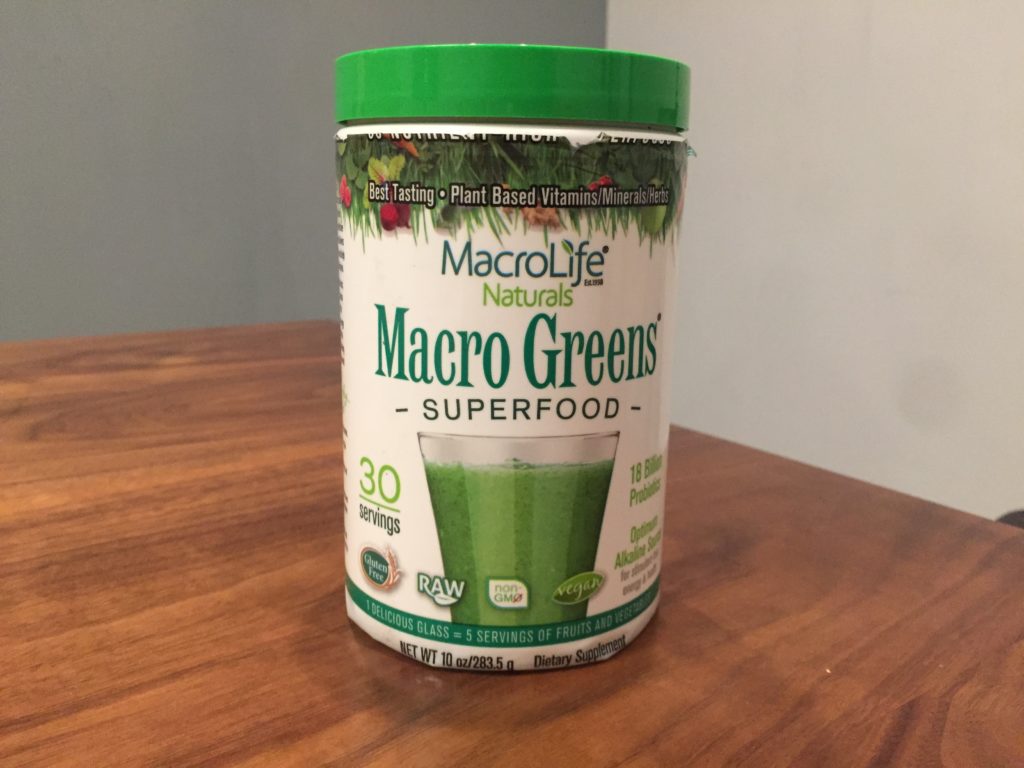 Ingredients
Green Vibrance: Few greens powders have as wide a variety of ingredients: there are seven kinds of grasses, nine kinds of vegetables, two kinds of algae, twelve kinds of probiotic bacteria, and several varieties of enzymes, adaptogens, roots, and herbs.
What might be most impressive is that Green Vibrance lists exactly how much of each ingredient can be found in a serving, which makes it easier to determine if you're getting an effective dose.
Macro Greens: There are almost thirty-eight ingredients that come from a wide variety of sources. It has spirulina, chlorella, barley grass, five kinds of probiotic bacteria, and several kinds of fruit, herbs, and roots, including adaptogens.
The list is great, but there are fewer ingredients when compared to Green Vibrance, and fewer strains of probiotic bacteria and enzymes, which probably means it's less effective for digestive health. It also doesn't list the amount of each ingredient it contains, so it's not the clear winner as far as ingredients go.
Winner: Green Vibrance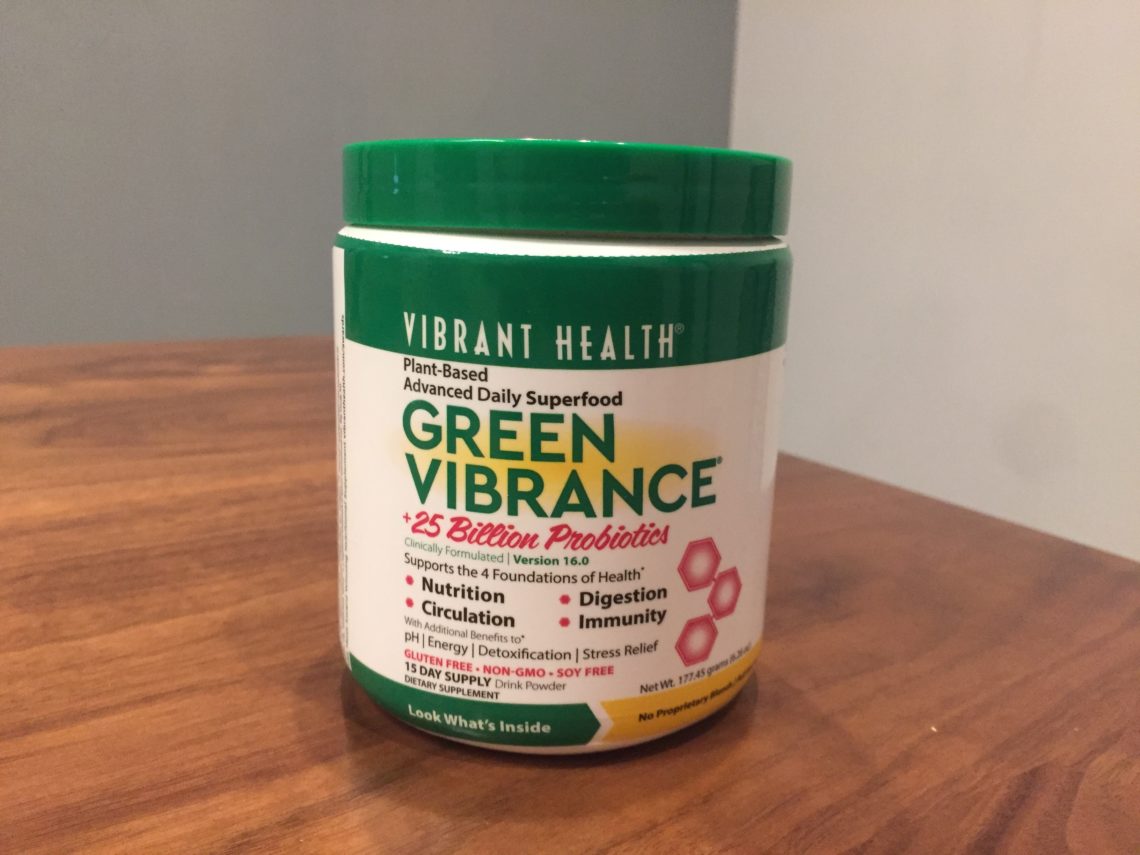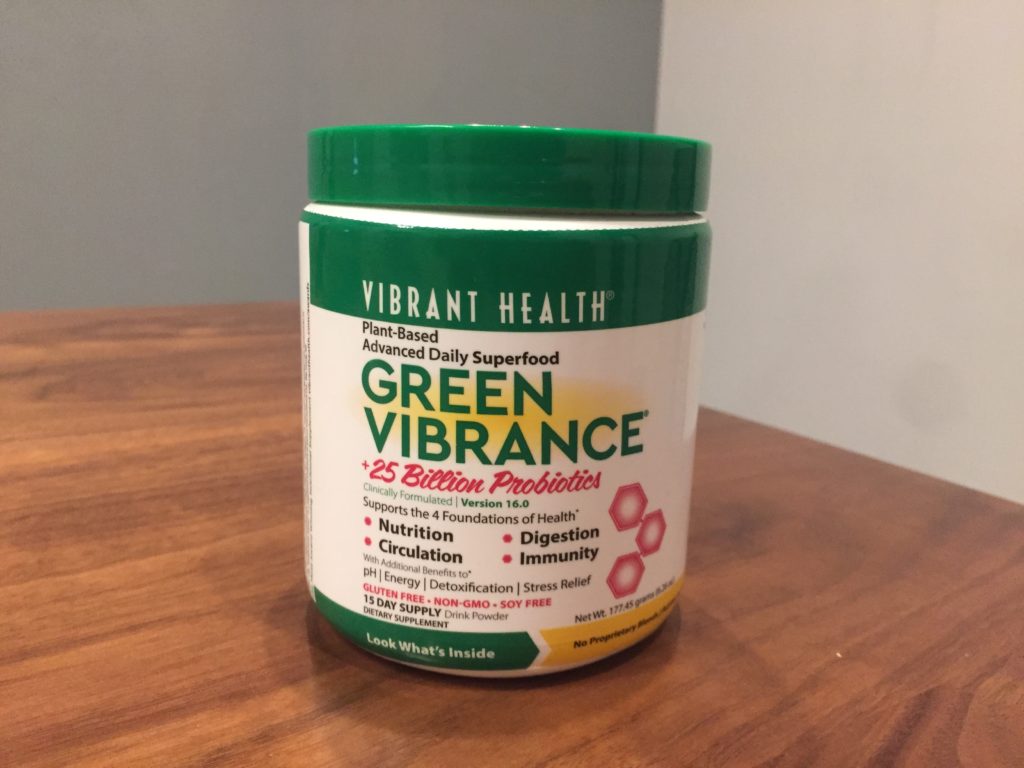 Price
Green Vibrance: At $65 for 60 servings ($1.08/serving) it's pretty cheap for a greens powder.
Macro Greens: At $65 for 90 servings, or 72 cents per serving, it's very cheap. Many greens powders charge three, four, or even five dollars per serving without providing as many benefits.
Winner: Macro Greens
Effectiveness
Green Vibrance: The most notable benefit of Green Vibrance is the extremely high amount of probiotic bacteria: 25 billion from twelve different strains, which is the most we've ever seen in a greens powder.
It's also extraordinarily high in vitamins and minerals: one scoop has 250% of the RDI of vitamin D3, 80 percent of your vitamin C, 70 percent of your selenium, 60 percent of your vitamin K, 40 percent of your Vitamin B12, and 20 percent of your iron. There are also a lot of ingredients that are linked with cognitive benefits, like sunflower lecithin and astragalus.
Macro Greens: After Green Vibrance, this is actually the second most potent probiotic supplement we've seen in the greens powder industry: 18 billion bacteria from five different strains. There's also 790 percent of your daily Vitamin C, 50 percent of your daily vitamin B12, and 8 percent of your iron.
Unlike Green Vibrance, it contains a dose of milk thistle extract, a very popular greens powder ingredient that's linked to liver health. (That's why it gets called a "detoxifier.") But it's lower in grasses, algae, probiotics, and most vitamins and minerals.
Winner: Green Vibrance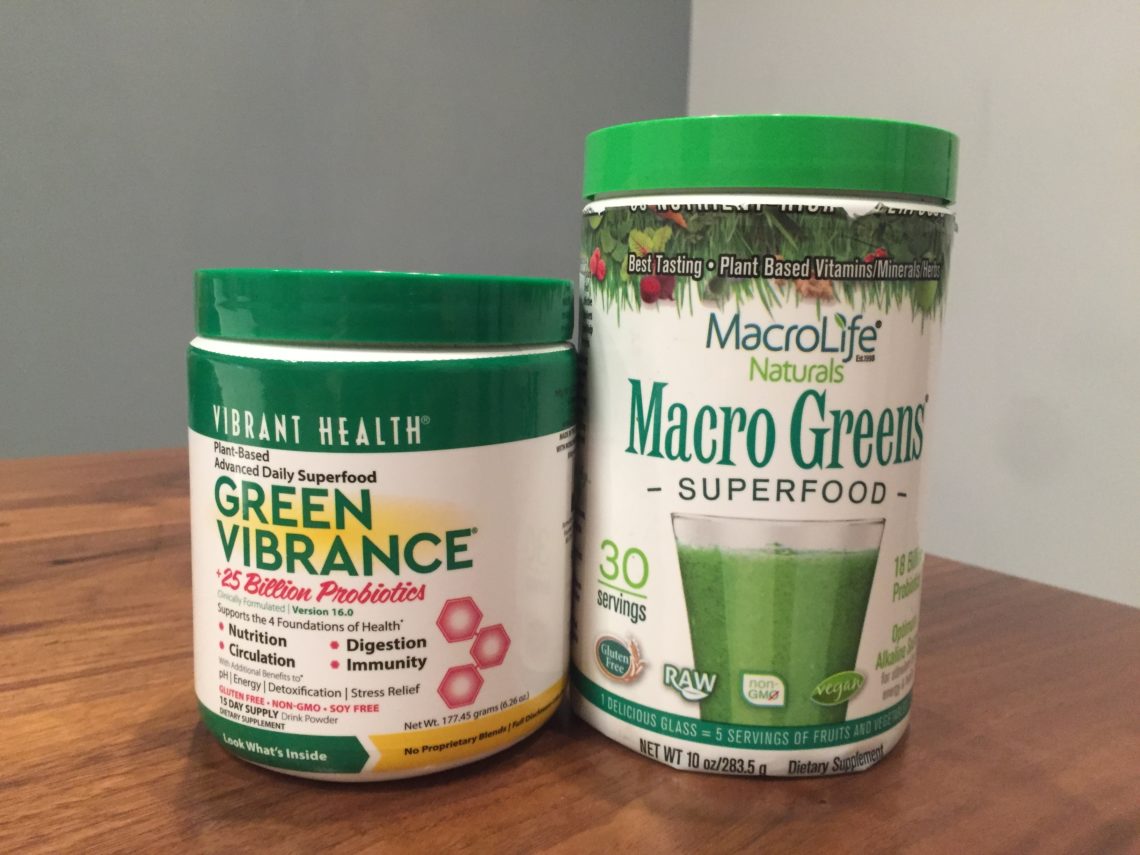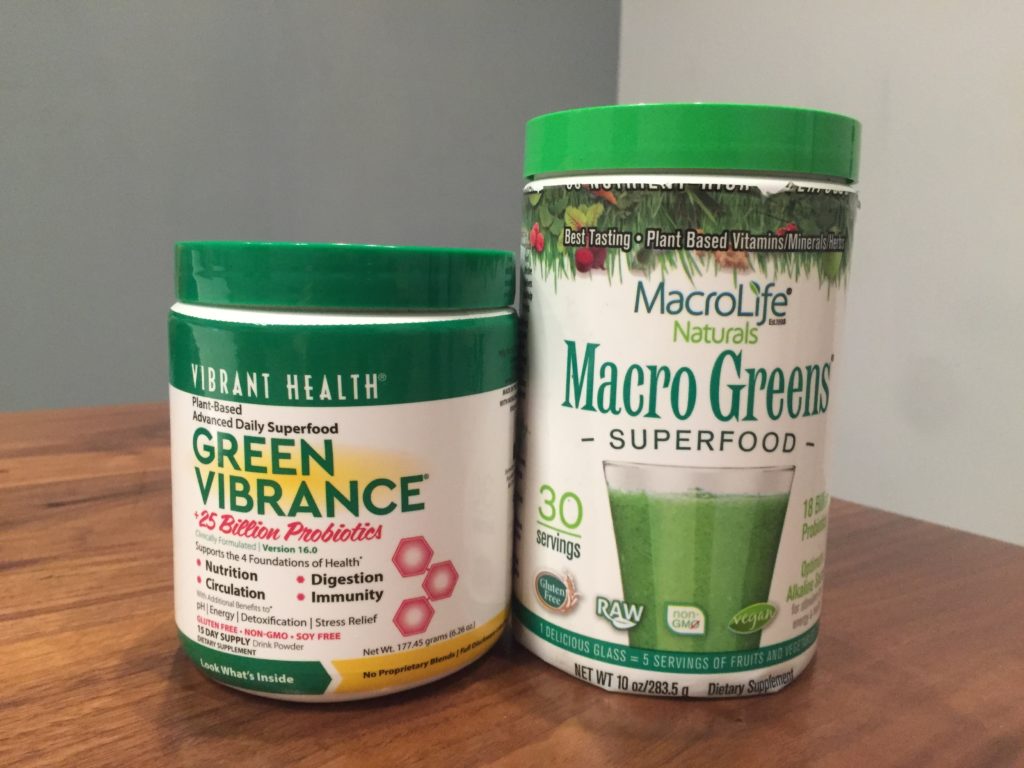 The Overall Winner: Green Vibrance
These are both extraordinary products — neither is a loser, here. Macro Greens tastes better and is about two thirsd the price, so if you want the cheapest greens powder that's the most effective, we actually have named Macro Greens as the best value for money greens powder we've reviewed.
But Green Vibrance has more vitamins, more minerals, and more probiotics — and as far as greens powders go, it's still very cheap. For those reasons, Green Vibrance comes out on top.