Macro Greens Superfood has a lot of labels: gluten free, raw, non-GMO, vegan, alkalize, energize, vitalize, best tasting. But do any of these have any measurable impact on its nutritional value?
A product of MacroLife Naturals, Macro Greens Superfood contains 38 ingredients with plenty of antioxidants, enzymes, vitamins, and minerals. After giving it a thorough review, it turned out to be one of the most inexpensive, delicious, nutritious, and probiotic-packed green superfood drinks.
Best for the Money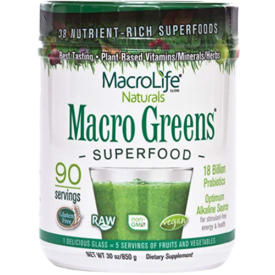 One of the tastiest and most nutritious greens powders on the market, this also delivers more probiotics than almost any of its competitors — and it's very inexpensive.
MacroLife Macro Greens Ingredients
There are about thirty-eight different ingredients here that are split up into seven categories.
"Nutrient Rich Super Food Blend," (1,735mg) which primarily consists of organic barley grass juice powder and organic spirulina powder.
"Non-Dairy Probiotic Cultures," which delivers 18 billion probiotic bacteria from five different strains.
"Antioxidant Proprietary Blend," (1,430mg) that includes acerola, milk thistle, and green tea extract.
"Adaptogenic & Metabolic Herbs," (2,808mg) a blend of berries and herbs like horsetail, astragalus and echinacea.
"Natural Fibers Proprietary Blend" (1,225mg) of apple pectin cellulose powder, apple fruit powder, and certified organic flax seed meal.
"Natural Plant Enzymes," (200mg) a blend of four digestive enzymes protease, cellulase, amylase, and lipase.
"Harmonizing & Support Herbs" (1,475mg) that's mostly comprised of aloe vera leaf powder and watercress leaf powder.
(We tried 47 brands: check out our best green superfood powder picks!)
That's a pretty broad variety, and it's very cool that in addition to the plant-based ingredients, there are so many probiotics — 18 billion is a very hefty serving and really increases the value of the product.
One serving contains 40 calories, 1.5 grams of fat, 6 grams of carbohydrates, 1 gram of fiber, and 1 gram of protein.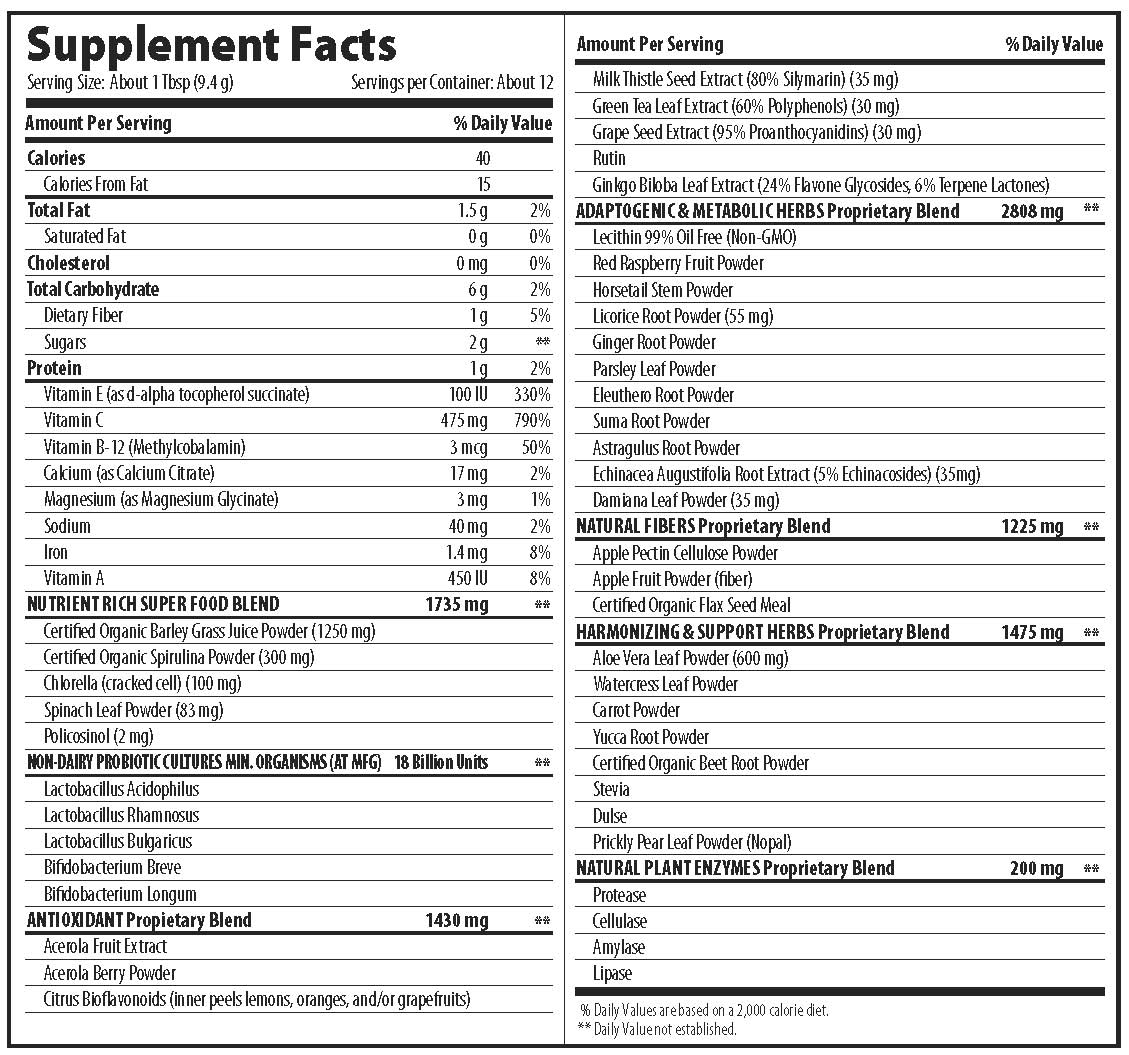 Image from MacroLife
MacroLife Macro Greens Benefits & Effectiveness
OK, so what does the product claim to do? It claims to deliver vital nutrients and to provide "antioxidants, enzymes, vitamins, minerals, amino acids, 18 billion probiotics, plus an herbal blend that supports multiple systems."
Here are the pros: first of all, it quantifies a lot of its claims, which is rare in the greens powder industry. For example, instead of just saying that it contains probiotics, it tells you how many: 18 billion. Which is a lot. Greens powders typically range between 2 and 25 billion, but very few contain as many as Macro Greens. That's a big benefit, and given it also contains several kinds of digestive enzymes, it's very likely to improve your digestive health and nutrient absorption.(1)(2)
It also provides a lot more nutrition information than many of its competitors. We know it contains 790 percent of your recommended intake of Vitamin C, 330 percent of your Vitamin E, 50 percent of your Vitamin B12, 8 percent of your daily iron, and 8 percent of your Vitamin A. There's a small amount of magnesium (1 percent), calcium (2 percent), and sodium (2 percent.)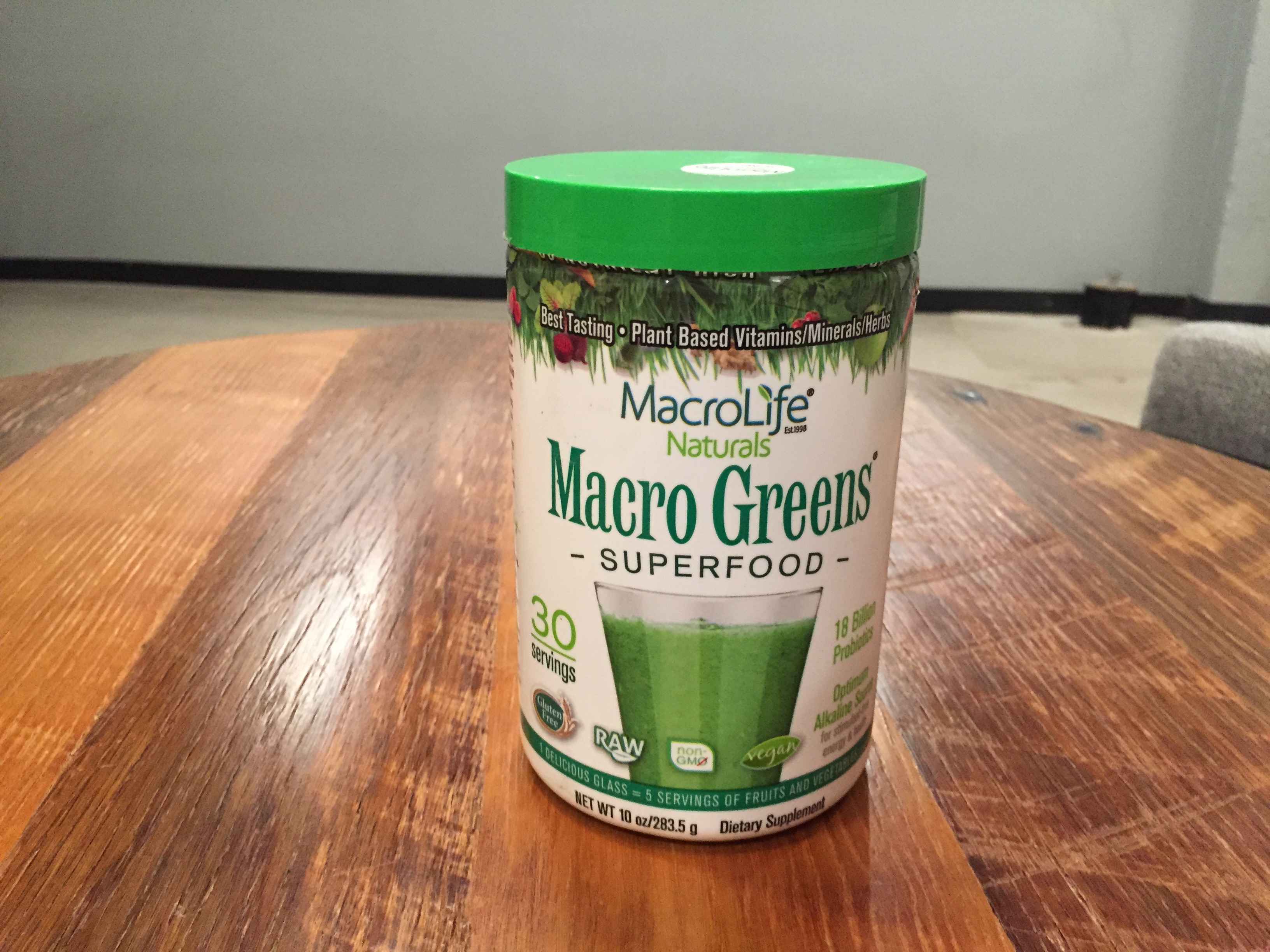 The good news is that this greens powder is considerably more nutritious than many of its competitors (and much cheaper, too).
What I didn't like: Macro Greens Superfood states that one glass equals five servings of fruits and vegetables. While I do think this is more effective than a lot of other greens powders, there's still not much magnesium or B-vitamins and there's only a gram of fiber, so I wouldn't say this equates to a cup of kale in every respect. Nonetheless, I'm impressed with the product.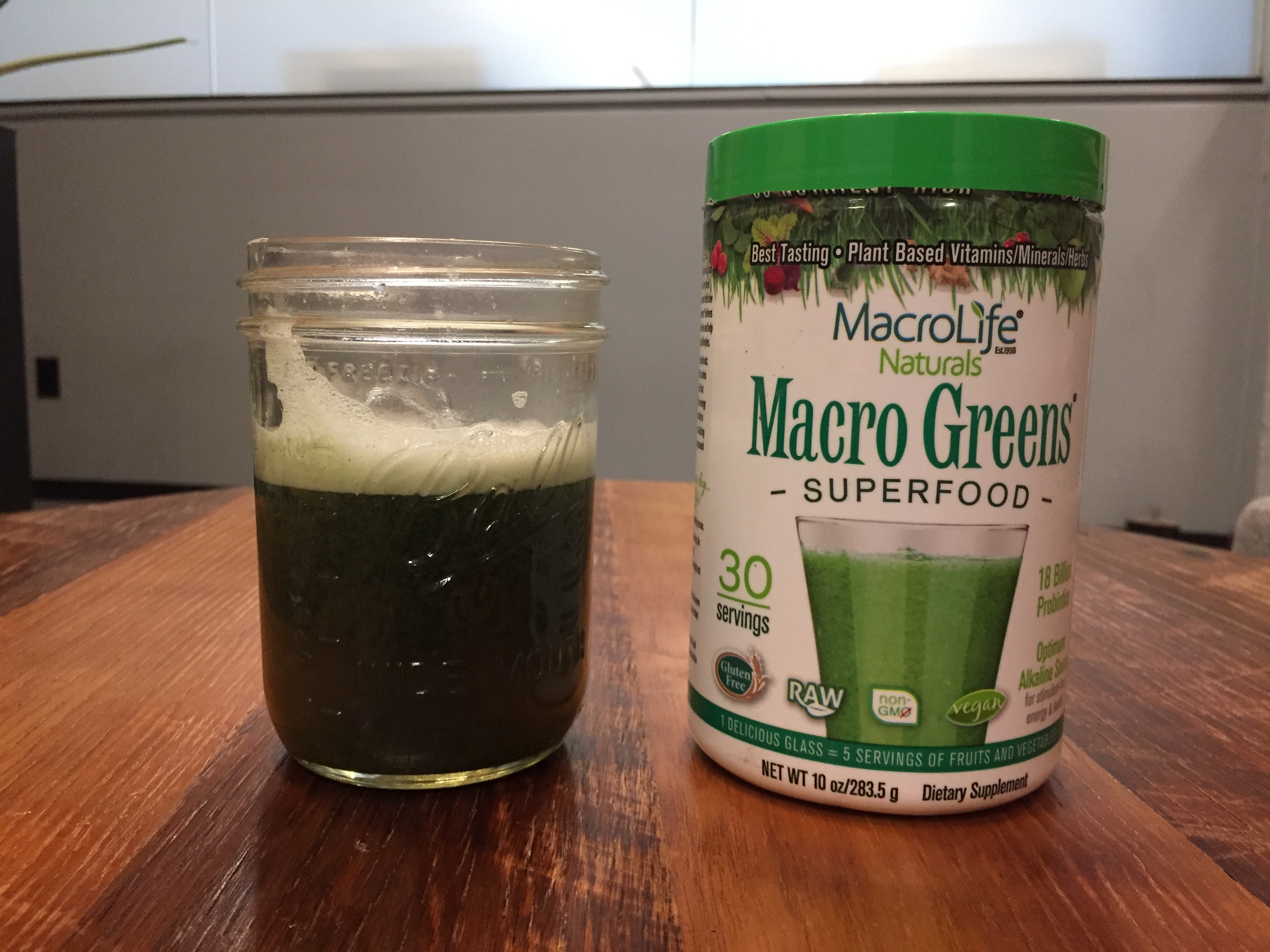 Price
At $65 for 90 servings, or 72 cents per serving, it's extremely well-priced. Most greens powders cost more and offer a lot less — or they'll claim to provide more nutrition without backing up their claims.
Best for the Money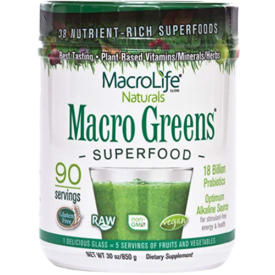 One of the tastiest and most nutritious greens powders on the market, this also delivers more probiotics than almost any of its competitors — and it's very inexpensive.
Compare that with Athletic Greens ($4.23/serving), Onnit's Earth Grown Nutrients ($2.30/serving), Patriot Power Greens ($1.96/serving) AI Sports Nutrition Red & Greens XT ($1.33/serving), Emerald Balance ($1.30/serving), Vitamineral Green ($1.16/serving), Green Vibrance ($1.08/serving), ORAC-Energy Greens ($1/serving), PharmaFreak Greens Freak ($1/serving), Sun Warrior's Supergreens ($0.55/serving), and Amazing Grass's Green Superfood ($0.52/serving).
MacroLife Macro Greens Taste
Very tasty — it tastes a lot like a milder version of Athletic Greens, which is one of the best-tasting greens powders I've tried. It's quite mild, and although it's dairy-free it tastes both creamy and a little bit fruity, almost like a berry yogurt. It's definitely one of the tastiest greens powders I've tried, but it's mild enough that it can disappear into any smoothie.
The Takeaway
While I'm irked by the claim that this equals multiple servings of fruits and vegetables, it's still an outstanding product in its field. It has more vitamin C, B12, E, probiotics, and digestive enzymes than the majority of other greens powders, and it's incredibly cheap and tasty.
Overall I think it's a quality product and I've been consuming it myself every day. Given how many greens powders we have at BarBend, that's some high praise.
References
1. Kechagia M, et al. Health benefits of probiotics: a review. ISRN Nutr. 2013 Jan 2;2013:481651.
2. Oben J, et al. An open label study to determine the effects of an oral proteolytic enzyme system on whey protein concentrate metabolism in healthy males. J Int Soc Sports Nutr. 2008 Jul 24;5:10.
Macro Greens Superfood
Per Serving - $0.72