And then there were two.
For the second consecutive day, Team USA has won a world championship and set a new World Record at the 2017 Youth World Championships in Bangkok, Thailand. On Saturday it was Harrison Maurus' turn to stand at the top of the podium after CJ Cummings was victorious on Friday.
The men's 77kg group A has just come to a conclusion, and the 17 year old Maurus finished 2nd overall in the snatch, 1st in the clean & jerk (with a new Youth World record), and 1st in total. His results are shared below. In World Championships, medals are awarded for the snatch, clean & jerk, and total, whereas the Olympics only awards medals in the total.
Snatch – 2nd place with 140KG (308lb)
Clean & Jerk – 1st place with 192KG (422lb), which is a new Youth World Record
Total – 1st place with 332KG (730lb)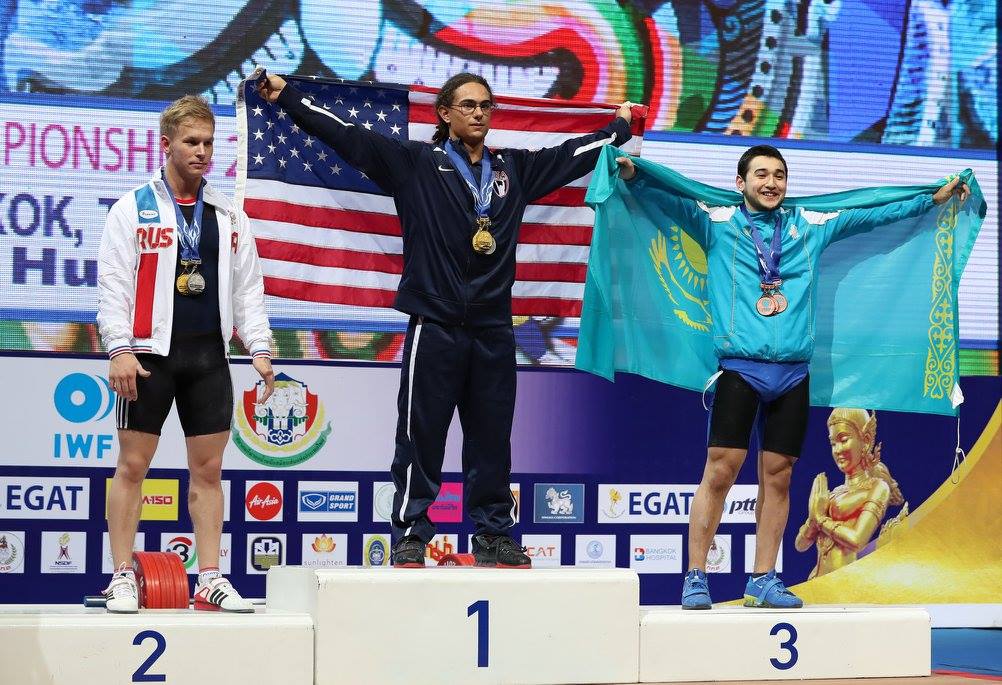 Image: IWF
Maurus' World Record clean & jerk is below. This lift also breaks Chad Vaughn's longstanding American Senior Record in the clean & jerk, which previously stood at 190kg.
And another angle here:
After an unusually difficult snatch portion of the competition where he was only successful on his opening attempt, Maurus locked up his world championship on his opening attempt in the clean and jerk with 175KG (385lb). He successfully lifted 184KG (405lb) on his second attempt before going after a new world record to finish his competition.
Over the past year, American and International weightlifting fans have become accustomed to seeing Harrison winning medals in big time competitions. At last year's Youth World championships in Malaysia, he won three silver medals. He also placed second overall at the Junior Pan American championships. He closed out 2016 by winning a silver medal at the American Open in Orlando where he out lifted athletes — some who were close to twice his age — by significant margins.
The competition runs through April 10th and you can follow all the action by watching the live stream here.
While not unprecedented, this is the first World Championships of any age category that USA Weightlifting (USAW) has won multiple championships since the 1969 Senior World Championships in Warsaw, Poland. At that event, Bob Bednarski won gold in the light-heavyweight category while Joe Dube emerged victorious as the Superheavyweight Champion.
Featured image: @usa_weightlifting on Instagram