The 2017 IWF Youth National Championships are currently underway in Bangkok, Thailand. They started April 3rd and will continue through the 10th, and you can check out the live stream here. Living up to — and exceeding — the hype, American CJ Cummings defended his Youth World Championship and broke his own Youth World Record clean & jerk with 185kg.
The hype behind 16 year old Cummings' performance has been brewing since he became Youth World Champion in 2016.
The men's 69kg group A has just come to a conclusion, and Cummings finished second in the snatch, first in the clean & jerk (with a new Youth World record), and first in total. His results are shared below. In World Championships, medals are awarded for the snatch, clean & jerk, and total, whereas the Olympics only awards medals in the total.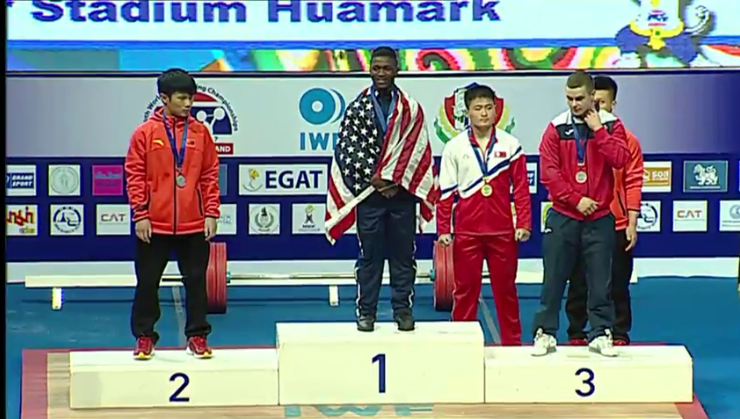 Image screenshot from IWF live stream.
Snatch – Second place with 137kg
Clean & Jerk – First place with 185kg, which is a new Youth world record
Total – First place with 322kg
Cummings' first place total earns him the title of 69kg 2017 Youth World Champion. In addition, Cummings set a new clean & jerk record with his final 185kg lift, shown below.
As Cummings went for his third clean & jerk attempt, it seemed like everyone in the venue stopped in silence. The complete silence to the final uproar was truly special to be tuned into and watching.
If you were watching, Cummings actually had first in the total locked up after his second clean & jerk attempt at 177kg.
Cummings went 2 for 3 in the snatch, successfully completing his first 133kg attempt, his second 137kg attempt, and missing his final 140kg attempt (which would have tied him for first).
We're still waiting to see 77kg Harrison Maurus compete tomorrow morning.
Feature image from @usa_weightlifting Instagram page.