The Brooklyn-based Magic Spoon has keyed into an important component of the human condition: growing up kind of sucks. You have to pay bills, you have to go to work, you have to go to the gym, and you don't get to eat heaping bowls of refined carbohydrates for breakfast anymore.
Until now.
OK, Magic Spoon isn't refined carbohydrates — that's kind of the point — but the eating experience is pretty darn close: it's a crunchy "cereal" that's high in protein, low in carbs, and free from artificial ingredients, wheat, gluten, cane sugar, corn syrup, and soy.
The marketing makes it clear that they're not only selling a macro-friendly breakfast that can fit into just about any diet, they're selling an idea: nostalgia. Childhood. Fun. The boxes are decorated with colorful characters like cowboys riding dragons, and slogans like "Hold Onto the Dream," "Why Did We Grow Up, But Our Cereal Didn't?" and "The Childlike Cereal for Grown-Ups." Magic Spoon promises that this isn't just a tasty health food, it's also a guilt-free way to relive the good old days.
The cereal comes in four flavors — Cocoa, Fruity, Frosted, and Cinnamon. Here's what we thought.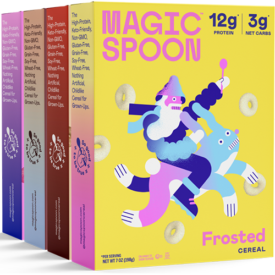 A low carb, high protein, all natural "cereal" that's grain free and actually tastes good.
Magic Spoon Nutrition
Astoundingly low carb and even friendly to ketogenic diets, here's what comes in a serving of three quarters of a cup. (The calories and macros don't change between flavors.)
Calories: 110
Protein: 12g
Carbs: 8g (3g net carbs, 0g sugar)
Fat: 6g (5g saturated)
Calcium: 27%
There are no other vitamins or minerals listed, just the (pretty hefty) serving of calcium.
Magic Spoon With Whole Milk
Note that if you mix one cup of cereal with half a cup of whole milk, the macros will be:
Calories: 220
Protein: 20 grams
Carbs: 10 grams net
Fat: 12 grams
That's roughly half of the calories (108 of them, to be precise) coming from fat, so you could argue that it's still friendly on ketogenic diets, which requires fat to constitute at least 50 percent of one's calories.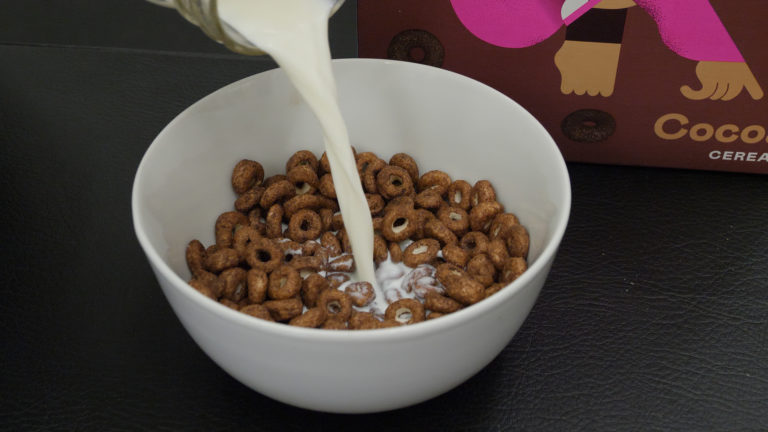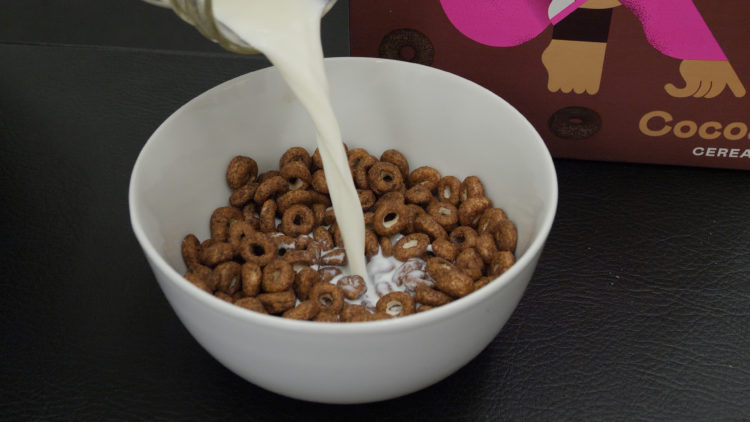 Magic Spoon With Almond Milk
That said, many prefer to mix this with almond milk or another low sugar plant-based milk. For a cup of cereal mixed with a half cup of unsweetened almond milk, you're looking at:
Calories: 140
Protein: 13 grams
Carbs: 4 grams net
Fat: 7 grams
Magic Spoon Ingredients
The first ingredient is a protein blend comprised of milk protein isolate and whey protein isolate (which also comes from milk).
Then there's coconut oil, tapioca flour, and a sweetener blend of allulose, monk fruit extract, and stevia extract. Then there's chicory root fiber, natural flavors, and salt.
The ingredients largely the same across all flavors. There's some vegetable juice in the Fruity one, some cinnamon in the Cinnamon one, and some cocoa in the Cocoa one, but otherwise it's all the same. Note that it's made in a facility which processes wheat, other tree nuts, and peanuts, so if you have extraordinarily sensitive allergies, it might give you pause.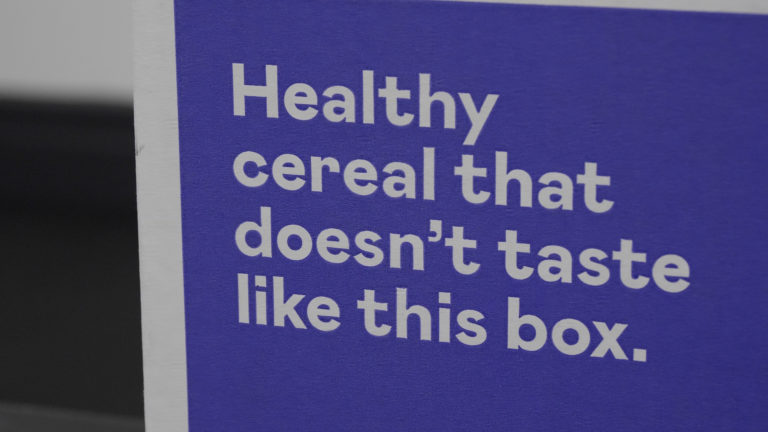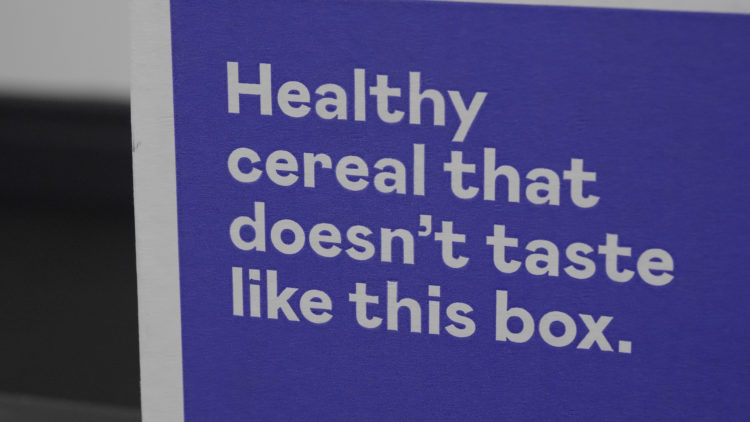 Magic Spoon Benefits & Effectiveness
Low carb, high protein, nothing artificial, keto friendly, this cereal-that-isn't-cereal ticks a lot of boxes.
A lot of the magic comes from the sweetener blend. There's a decent chance you've already heard of stevia and monk fruit, plants that provide a lot of natural sweetness for next to no calories. The allulose takes center stage as well: it's a low-calorie monosaccharide sugar that's found in figs, maple syrup, and raisins, but it has very few calories and it doesn't seem to impact blood sugar, based on the research we have so far.(1)(2)
That's the good news; the bad news is that when ingested in high quantities, allulose can cause indigestion among certain people. That's not the case for everybody; I ate four bowls while writing this review and had no issues, but my colleague Jake also had four bowls and experienced a good degree of discomfort. It goes without saying that if you stick to a normal, one-bowl serving it's a lot less likely to cause problems, but folks with very sensitive stomachs may think twice.
The other ingredients have a few sneaky potential health benefits.
Coconut oil: A source of medium chain triglycerides, a type of fat that may benefit gut health and reduce fatigue associated with the keto diet.(3)(4)(5)(6)
Chicory root fiber: A prebiotic fiber, meaning it not only reduces the amount of net carbohydrates but it may improve gut health by nourishing probiotic bacteria in the digestive tract.(7)
Tapioca flour: Normally considered a source of nothing but starch, it's been found that tapioca flour also contains resistant starch, which may have beneficial effects on insulin sensitivity and inflammation.(8)
All up, unless the allulose winds up being a problem — and again, for most people it probably won't — there's not much to complain about with the ingredients. So what does it taste like?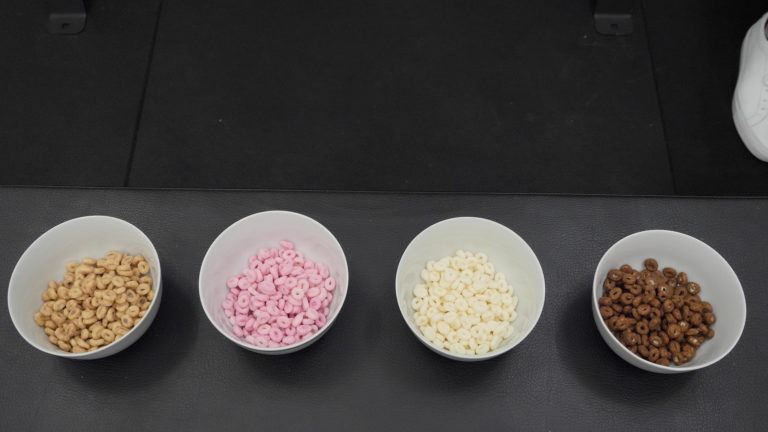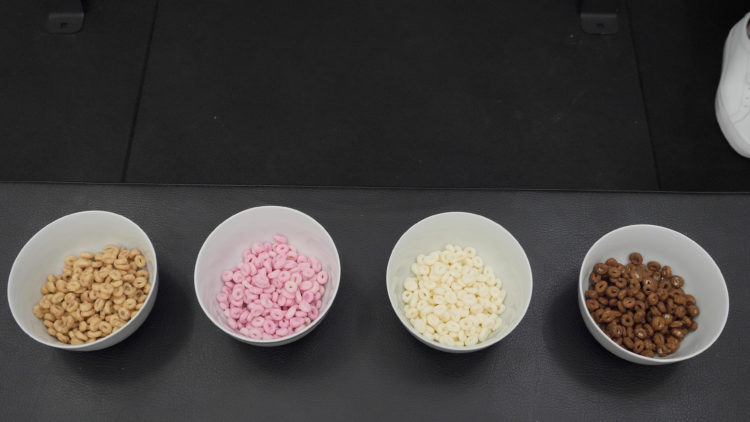 Magic Spoon Taste
This stuff looks, smells, and crunches like regular cereal, even in milk. OK, the crunch isn't exactly the same — this stuff sticks to the teeth just a little more than conventional grains, but not to a problematic degree. It's fun to eat. And the flavor?
Cocoa
The best flavor of the four. It's decently fudgey and very reminiscent of Cocoa Puffs, with a slightly maltier finish. This flavor contains actual cocoa combined with natural flavors, and it all came together to make a taste that's astonishingly similar to mainstream cocoa cereals.
Frosted
These bright white rings taste more like vanilla pudding, so it's a solid corollary to the chocolate flavor. A big fan of vanilla myself, Frosted flavor tastes saltier than I was expecting but it's much less noticeable once it's doused in milk. Note that it's significantly sweeter than the Cocoa flavor.
Fruity
This one receives the poorest reviews online, and while I'll admit it's the least enjoyable, I still liked it. It tastes a lot like Froot Loops, but the aftertaste isn't too far away from fluoride, like bubblegum toothpaste. I've enjoyed several bowls of this flavor after filming the review, I still liked it, but it needs a bit more work.
Cinnamon
A perfectly enjoyable flavor, Cinnamon tastes less like Cinnamon Toast Crunch and more like, well, cinnamon — it's more of a spicy sweet flavor with molasses undertones. It's great with whole milk, just note that the cinnamon taste is sharper than you might expect.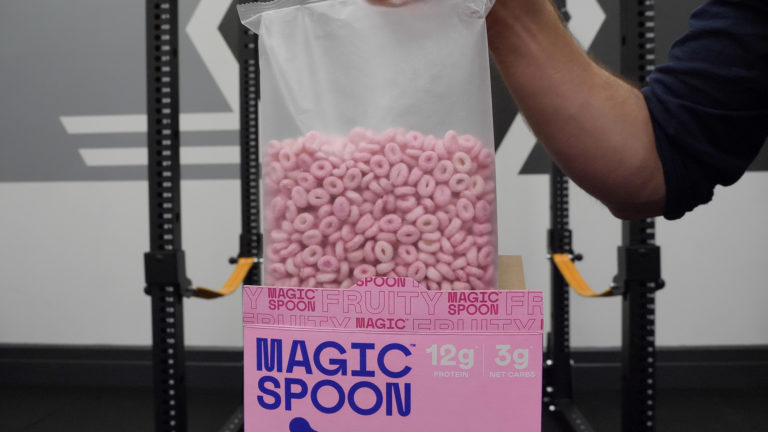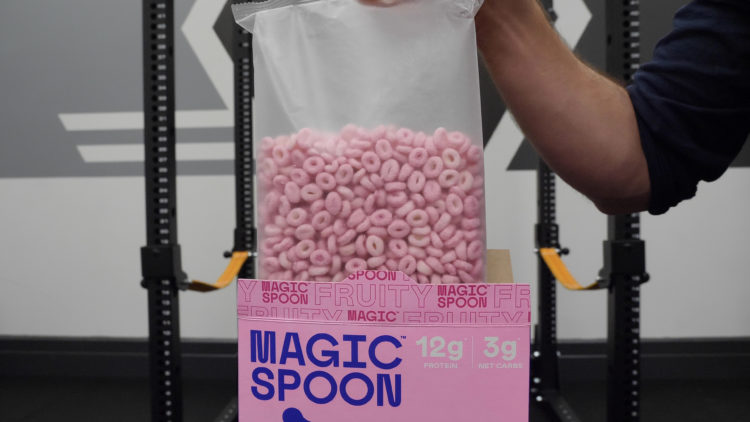 Magic Spoon Price
Currently, you need to buy four boxes at a time for $39 so a little under $10 per box. Each box contains 7 servings of ¾ of a cup (5.25 cups in total) so the cost comes down to $1.40 per bowl.
Is that expensive? Compared to regular cereal, sure. On a per meal basis? $1.40 per meal is very inexpensive, especially given the macros, and it's cheaper than their competitors. Whether or not the price is worth it is up to you, but note that you can subscribe to one shipment a month and get a 10% discount. Which is a great upside.
Magic Spoon Pros & Cons
Pros
Very tasty
Terrific macronutrients
No artificial ingredients
Cons
Not everyone can digest allulose
Lower in vitamins and minerals than regular cereal
Pretty expensive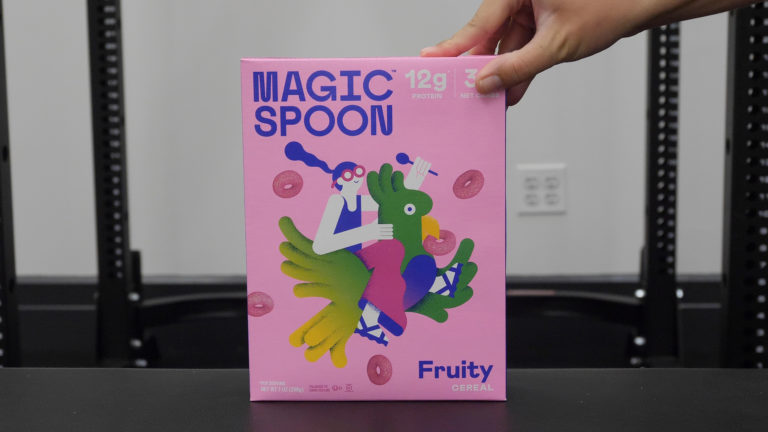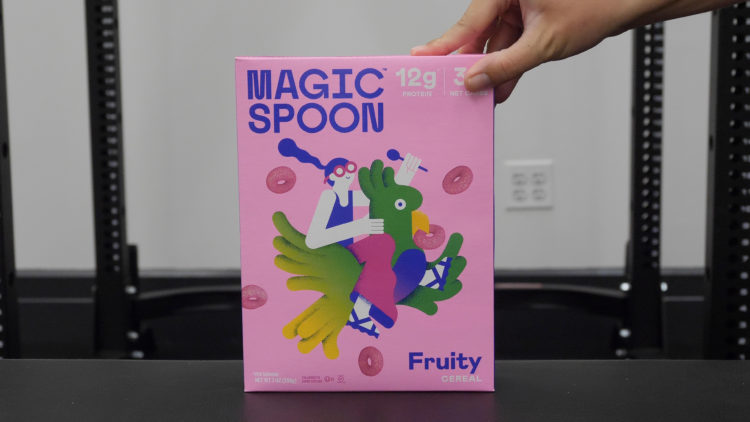 Wrapping Up
We had to delay publishing this review because the first shipment of cereal was eaten before we could film it. That's how good this cereal is. It is, and I say this with no hyperbole, an astounding, triumphant accomplishment. It's crunchy, it's sweet, it's macro friendly, it's keto friendly, and on top of all of that there are no artificial ingredients.
The price is hard to swallow, sure, and the allulose might be tricky for those prone to digestive issues. But in the BarBend office, nothing has ever bene eaten so quickly and by so many people as Magic Spoon. We love it. This is a hard "yes."
References
1. Hossain A, et al. Rare sugar D-allulose: Potential role and therapeutic monitoring in maintaining obesity and type 2 diabetes mellitus. Pharmacol Ther. 2015 Nov;155:49-59.
2. Nishii N, et al. Effects of D-allulose on glucose metabolism after the administration of sugar or food in healthy dogs. J Vet Med Sci. 2016 Dec 1;78(11):1657-1662.
3. Harvey CJ, et al. The Effect of Medium Chain Triglycerides on Time to Nutritional Ketosis and Symptoms of Keto-Induction in Healthy Adults: A Randomised Controlled Clinical Trial. J Nutr Metab. 2018 May 22;2018:2630565.
4. Yeh YY, et al. Relation of ketosis to metabolic changes induced by acute medium-chain triglyceride feeding in rats. J Nutr. 1976 Jan;106(1):58-67.
5. Harvey CJDC, et al. The use of nutritional supplements to induce ketosis and reduce symptoms associated with keto-induction: a narrative review. PeerJ. 2018 Mar 16;6:e4488.
6. Ota M, et al. Effects of a medium-chain triglyceride-based ketogenic formula on cognitive function in patients with mild-to-moderate Alzheimer's disease. Neurosci Lett. 2019 Jan 18;690:232-236.
7. Carlson JL, et al. Health Effects and Sources of Prebiotic Dietary Fiber. Curr Dev Nutr. 2018 Jan 29;2(3):nzy005.
8. Snelson M, Jong J, Manolas D, et al. Metabolic effects of resistant starch type 2: A systematic literature review and meta-analysis of randomized controlled trials. Nutrients. 2019;11(8).