So far, 2018 has been a great year for cross-training shoes with two new releases from Nike alone. In late December and early January we had the release of the Nike Metcon 4, then on April 1st we had the drop the of the Nike Free x Metcon. The Nike Metcon 4 is the fourth iteration in the popular Metcon line, while the Nike Free x Metcon is the first of its kind.
Both shoes are designed for functional fitness workouts, but they come with a few stark differences. These differences provide the shoes with different purposes, which will translate to how they'll promote one's performance and goals. Over the last month(s), I've been testing both models to perfectly define which shoe would serve what athlete best.
Reebok Nano 9

Reebok's 9th edition of their Nano training shoe incorporates popular design elements of previous models with updated features and a fit that will appeal to most athletes. Flexweave technology supports a sturdy yet breathable shoe with RopePro grip that comes in handy on everything from box jumps to rope climbs. We also appreciate the wide toe box.

Allbirds Tree Dashers

These environmentally friendly athletic shoes provide light stability and comfort for a variety of workouts and activities.
[Interested in other cross training shoe models? Check out our best cross training shoe round-up to find your perfect fit!]
In this cross-training shoe comparison article, we'll discuss a few important points. First, we'll describe differences in construction, then we'll move into stability, comfort, and sizing differences. Hopefully by the end of this article you'll have a better idea of what shoe would serve your needs best.
Construction
Outer Shoe Material
Nike Metcon 4
The Nike Metcon 4 is composed of a sandwich mesh material that encloses the mid and forefoot. There are rubber tri-stars on top of the mesh that give these shoes a slightly more rigid feeling, which are used to resist wear and tear on things like rope climbs. On the big toe, there's an additional piece of leather to promote the shoe's performance when doing toe drag focused movements (burpees, etc.).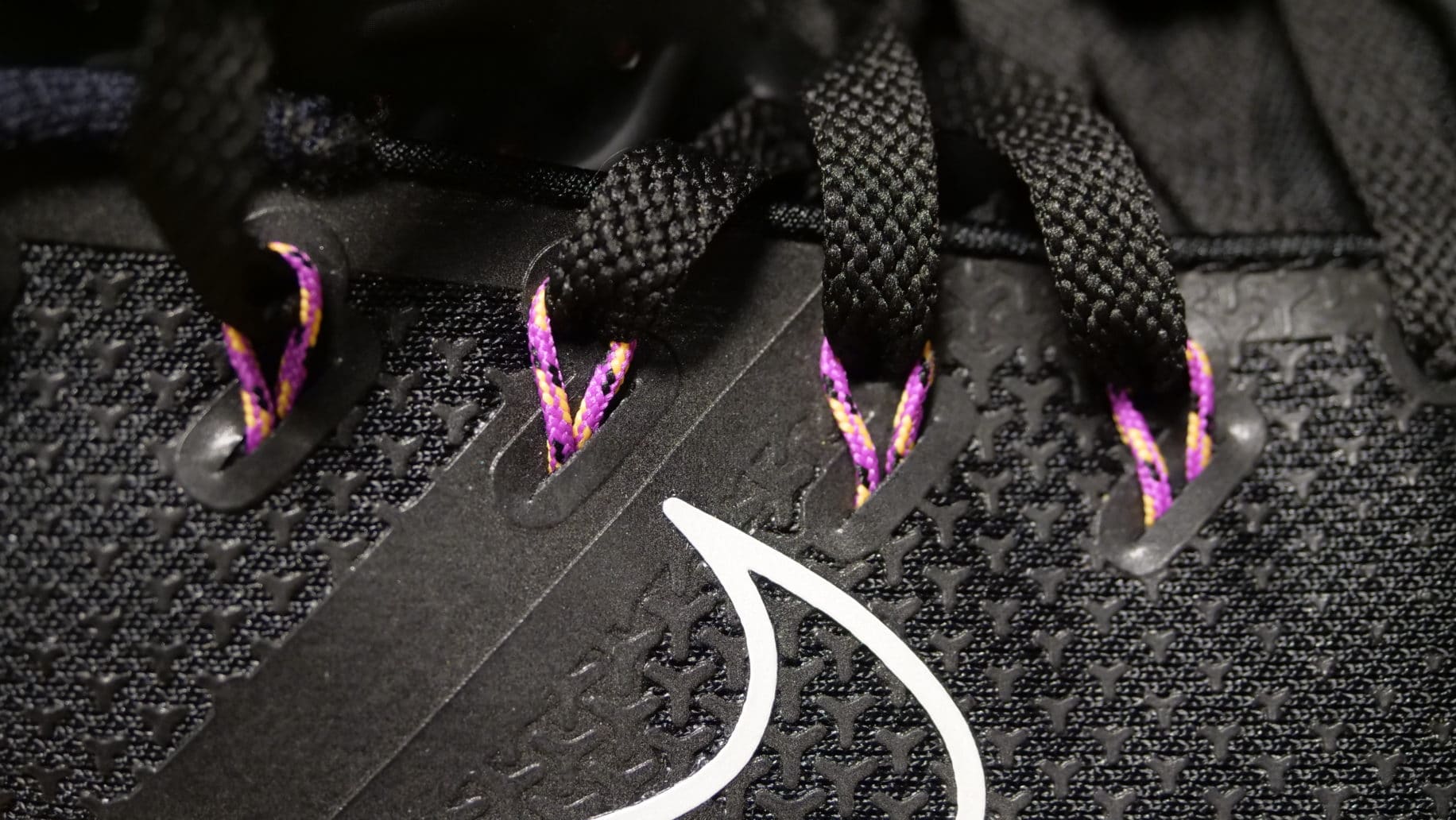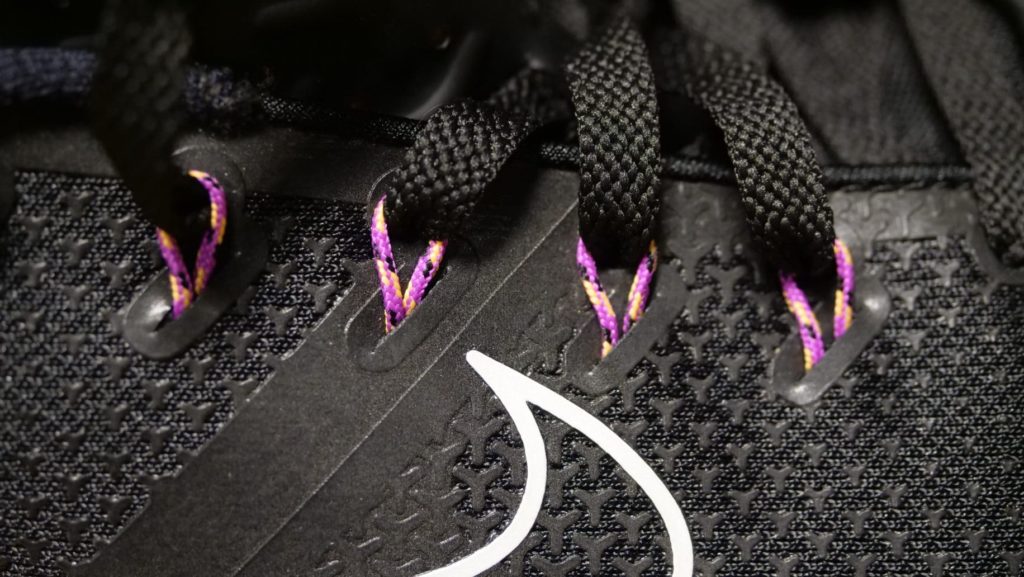 Going up the shoe, there are six eyelets that have slits within the sandwich mesh. Four of these eyelets include Nike's signature Flywire. The Flywire are the loops you see around the laces, and these will wrap from each side and under the shoe. The midsole on the toe sits slightly lower, but features a small lip to prevent early durability problems.
[Check out our full Nike Metcon 4 review HERE.]
Nike Free x Metcon
The Nike Free x Metcon has a mesh around the mid and forefoot that is slightly more stretchy compared to the Metcon 4s. Compared to the Metcon 4s, this mesh is looser and form fits the foot a bit better. On the side of the shoe, there are five eyelets, and three of them utilize Nike Flywire. The other two eyelets are attached within the plastic wing wrap that goes around the heel.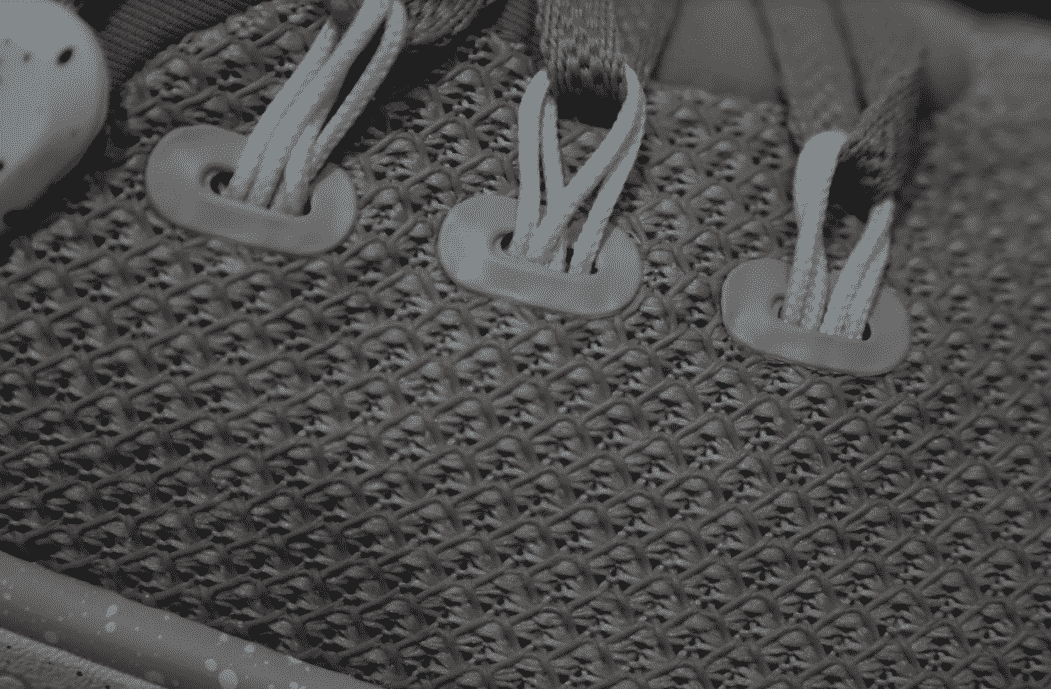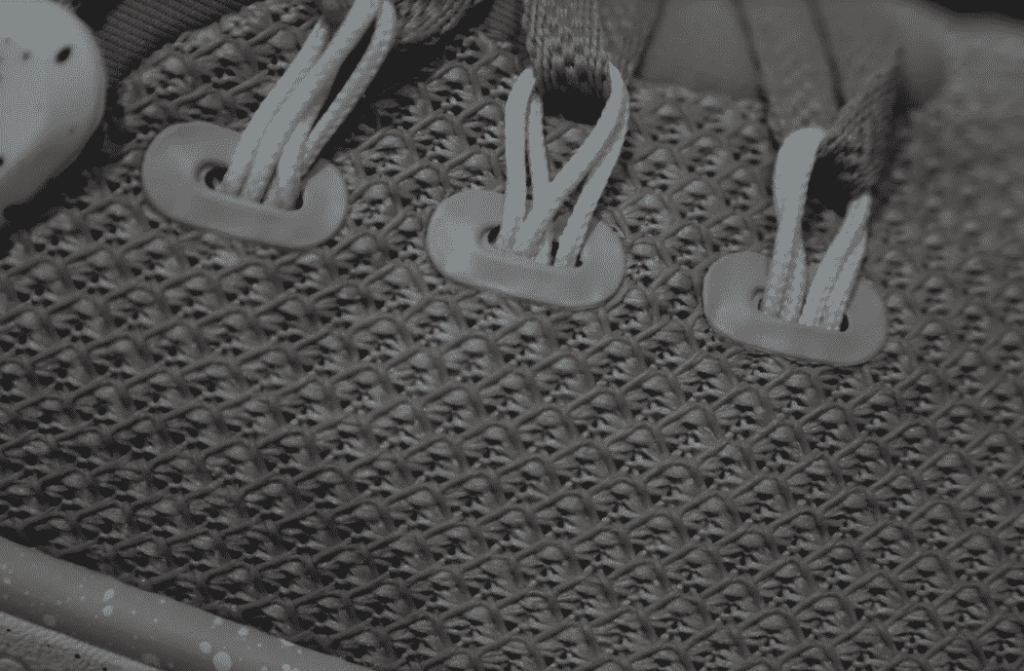 Towards the toe, there's an extended piece of midsole, which is used to support toe drag movements. These shoes don't include the additional leather material, so I think this is a decent way to compensate for the lack of toe drag durability.
[What did we think of the Nike Free x Metcon? Read our full thoughts in this article!]
Heel Construction
Nike Metcon 4
Possibly the biggest difference in shoe construction is the heel of each model. The Nike Metcon 4's midsole sits a bit lower and has a very tough layer of TPU. This provides this shoe with a very firm and stable heel, and honestly, one of the hardest heels I've ever used in cross-training shoes. In the video, I point it out, but you can physically hear how hard the TPU layer is.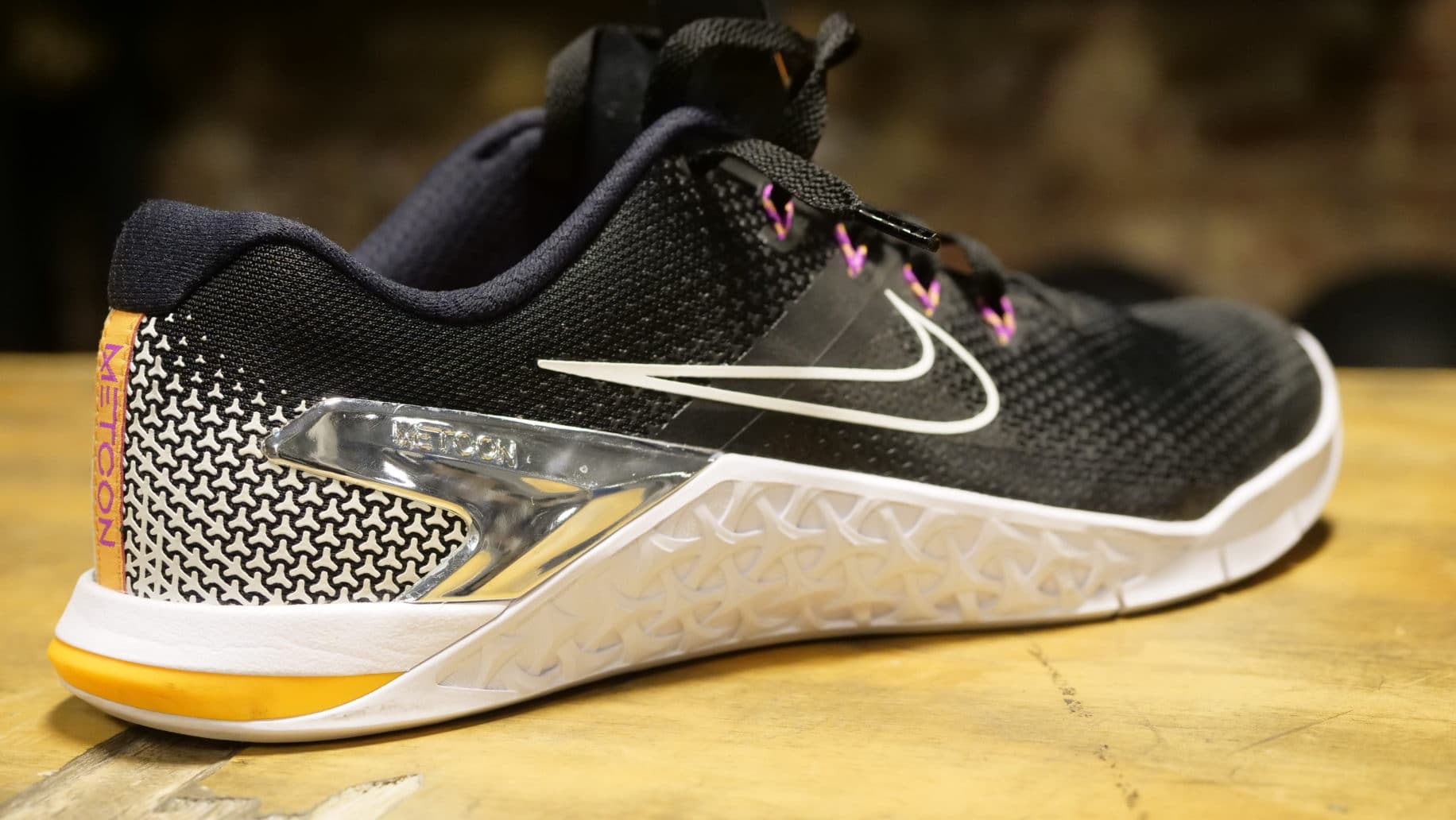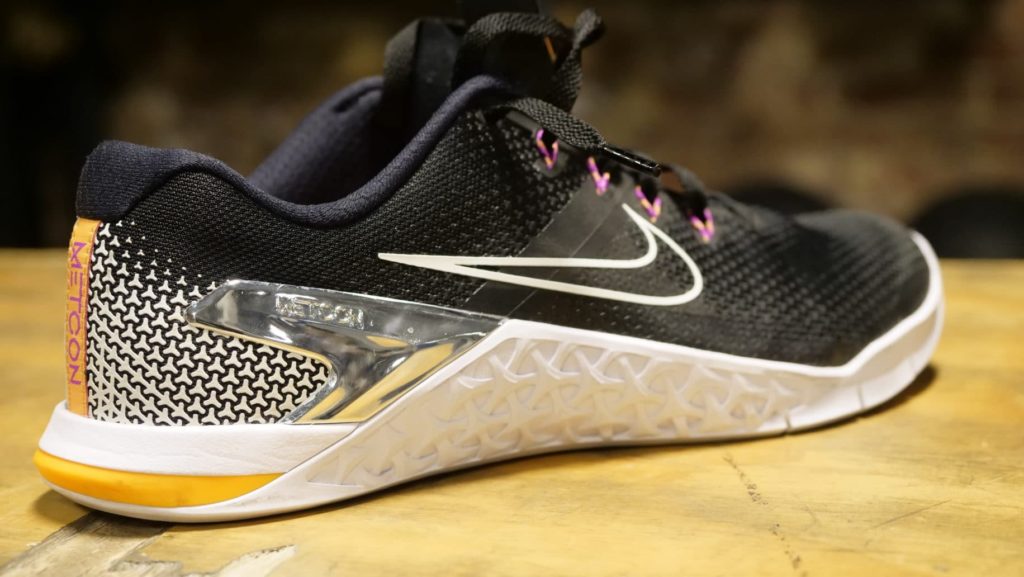 To support the heel, there's the standard heel clip that's come customary to the Nike Metcon models. The boot of the shoe sits a bit lower compared to the Free x Metcon model, but it's very stable, so I don't think you'll ever feel lack of security in the heel. Additionally, the Metcon 4 is constructed with a standard tongue and boot design.
Nike Free x Metcon
Compared to the Nike Metcon 4, the midsole of the Free x Metcon comes up much higher on the heel. The midsole is composed of a dual-density rubber, which provides stability, but also has a tiny bit of give to it. Similar to the Metcon 4, the Free x Metcon also has a TPU layer in the heel, although, I thought it was much less tough and was a decent hybrid between stable and comfortable.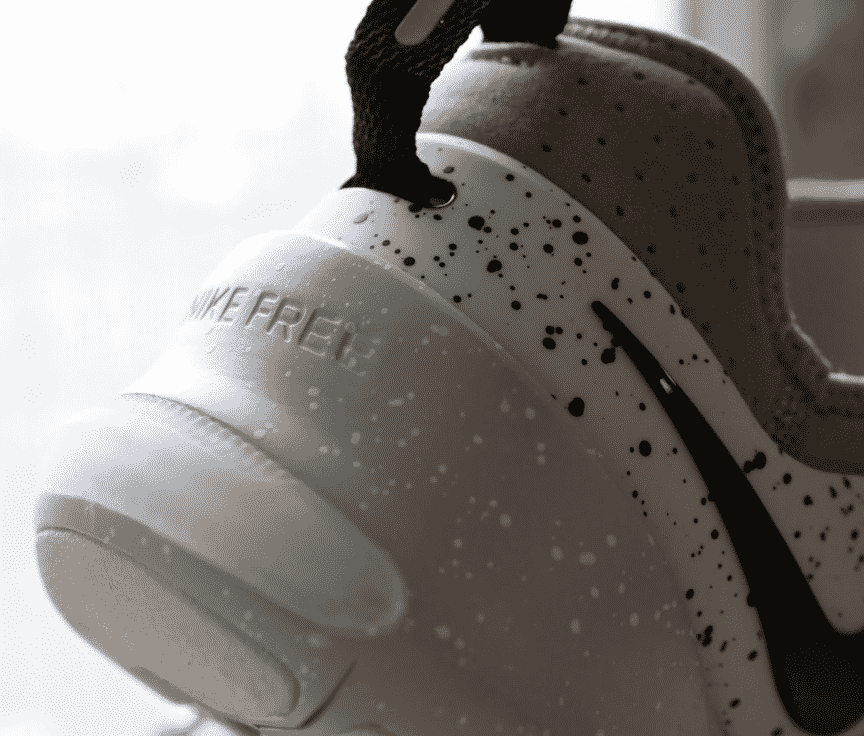 There's a plastic wing that wraps from the lateral and medial mid-foot to around the heel. In my opinion, I think this is a nice compromise for the lack of heel clip. The bootie of the Free x Metcon is one piece, which gives it a sock-like feeling. I think the boot is comfortable and provides a little give, so it's not overly restrictive like some bootie shoes can come with.
Outsole & Midsole
The Nike Metcon 4 
The outsole of the Nike Metcon 4 is relatively simple. From heel-to-toe, this shoe is covered with Nike's sticky rubber material. These cross-like points of contact create a solid base and provided plenty of grip in multiple gym settings. I thought the outsole was pretty firm and matched what the heel's stability well.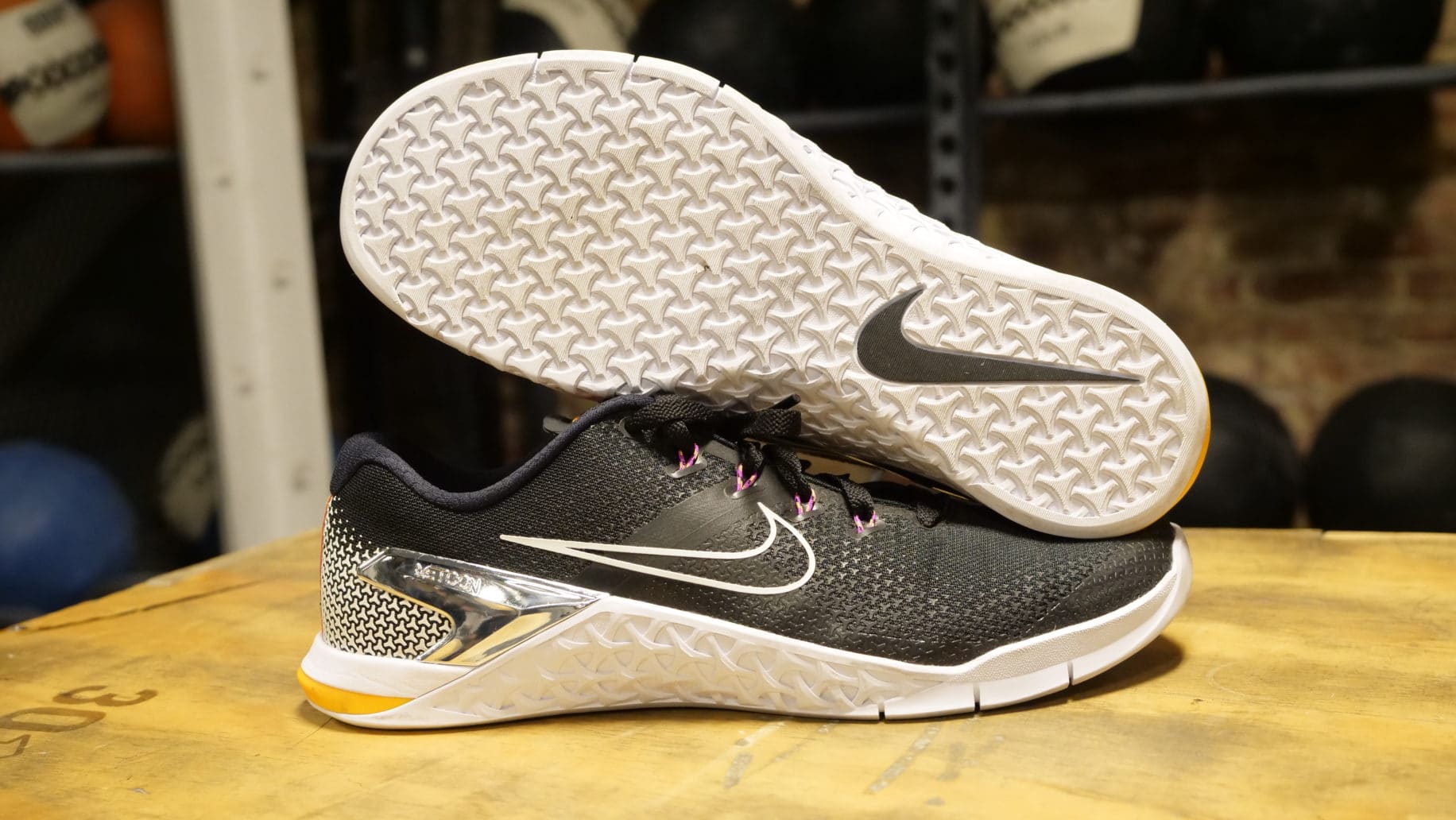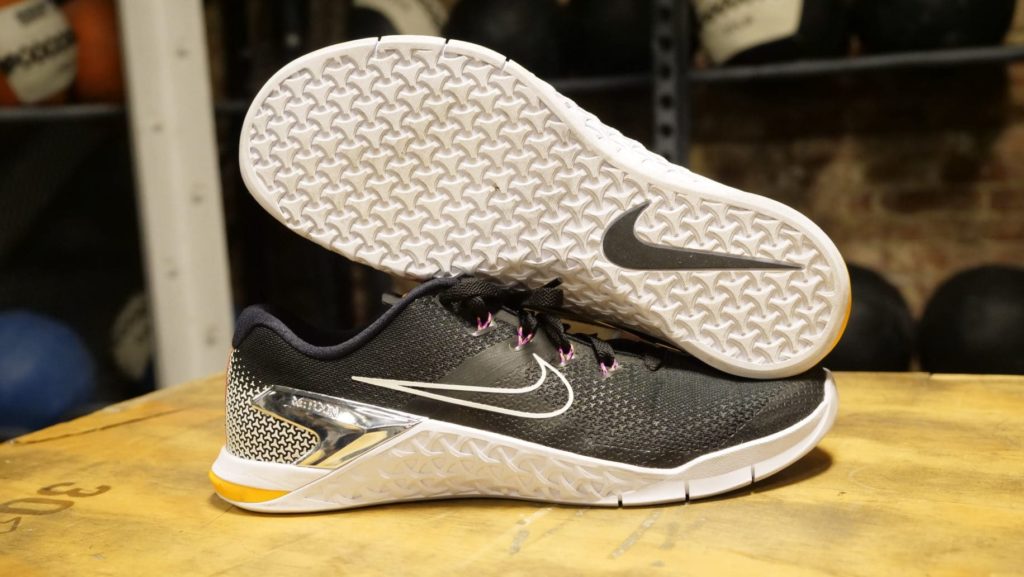 On the mid-foot, there's the standard Metcon extended rubber outsole that wraps up the lateral and medial sides of the shoe. This has become a standard construction feature to support rope climbs, holding things between the feet, and enhancing durability.
The Nike Free x Metcon
Like the heel on the Metcon 4, the biggest construction difference for the Free x Metcon is the outsole. On the forefoot and heel of this are tri-star grooves that both project and indent into the shoe. The projected tri-star grooves are a little more firm and provide a decent amount of grip and stability. Then, the tri-star grooves that indented compress a decent amount and promote the shoe's angle for comfort. Towards the toe are flex grooves on the outsole, which give the shoe natural comfort and flexibility.
At the very edge of the toe and heel is an extra portion of rubber outsole. These portions are pretty firm and provide a decent push off and sit back platform for the toe and heel. Similar to other Metcon models, there's the additional rubber midsole that wraps up the shoe on the lateral and medial sides.
Stability
Squats, Deadlifts, Power Cleans
To test each shoe's ability to remain stable in workouts, I performed squat, deadlifts, and power cleans. Did I max out in each shoe? No, but I used ranges of weight I felt were comparable to a majority of gym-goers. Below are the lifts and ranges I used in weight with each shoe model.
| | |
| --- | --- |
| Nike Metcon 4 | Nike Free x Metcon |
| Squat: 315-365 lbs | Squat: 275-315 lbs |
| Deadlift: 405-455 lbs | Deadlift: 365-405 lbs |
| Power Clean: 185-205 lbs | Power Clean: 185 lbs |
Throughout all of the tests, both shoes performed well, and I have no personal gripes on either model. In fact, I didn't notice any compression of the outsole and midsole on both shoes with the weight I used. That all being said, I think they're both solid options, but there is one clear winner when it comes to stability.
To no surprise, the Nike Metcon 4 provided the most stability under heavy weights. I actually took a full month to lift in these and kept my lifters put away to truly test these shoe's outsoles. If you plan on going heavy, then I feel confident saying that the Nike Metcon 4 is a good bet. Conversely, if you want a shoe for more casual workouts, then the Free x Metcon will serve you nicely. 
Comfort
Similar to my stability testing, I thought both of these shoes were comfortable options. I did notice one shoe pull away slightly more than the other, and that was the Nike Free x Metcon. These shoes are designed to be a comfortable option for the athlete that wants to wear their shoes outside of the gym. I performed a couple tests to assess each shoe's comfort.
Commute Test
Through the full month of April, I rocked the Free x Metcons on my commute to test their comfort (which is composed of about a mile of walking around NYC). I did a similar test for 2-weeks in February with the Nike Metcon 4s.
Personally, I loved how the Free x Metcons felt for long walk, going up stairs, and standing. Their outsole provides just enough give to make walking for long periods comfortable. The Nike Metcon 4s were comfortable, but the Free x Metcons were much easier to wear for long durations.
Running & Pick-Up Basketball
My next test was composed of treadmill running and a couple games of pick-up basketball (full disclosure, I'm not good at basketball). For long runs or cardio based workouts, I recommend getting the Free x Metcons, they limited the tough heel strike the TPU heel can have on the Metcon 4s.
In terms of quick bursts of speed, I think both shoes are solid options. Obviously, the Free x Metcon model helps with hard heel strikes, but the Metcon 4 wasn't incredibly uncomfortable for sprints, or agility focused movements (aka my terrible layups and basketball game).
If pure comfort is your first concern and you want a shoe you can wear for long periods out of them gym, then I'd recommend looking into the Nike Free x Metcon.
Sizing
Nike Metcon 4 Vs. Nike Free x Metcon
Both shoes fit comfortably, but there are a couple differences worth noting between the two, which I've included below in a table and description.
| | |
| --- | --- |
| Nike Metcon 4 | Nike Free x Metcon |
| Slightly tighter fit | Mesh and bootie provide a little give |
| Feel much lower to the ground | The outsole provides natural movement |
First, the Nike Metcon 4 fits a little more snug and is slightly slimmer. The sandwich mesh has less give to it and the shoe hugs the foot really tight. This is a positive in terms of stability, but if full toe splay is a concern for the wider footed athlete, then they should keep this in mind, as it can feel slightly tight.
Second, the Nike Free x Metcon fits a bit wider, as the mesh stretches a tad more. In addition, the outsole and flex grooves provide this shoe with a better feeling of natural maneuverability. As pointed out in the video, you can see how the toes react to flexion.
Price
Both shoes come in at a price point that's somewhat similar. The Nike Metcon 4s are priced around $130.00 and the Nike Free x Metcons are $120.00. If price if your main concern, then obviously one is cheaper than the other, but I'd recommend choosing the shoe that matches your needs best.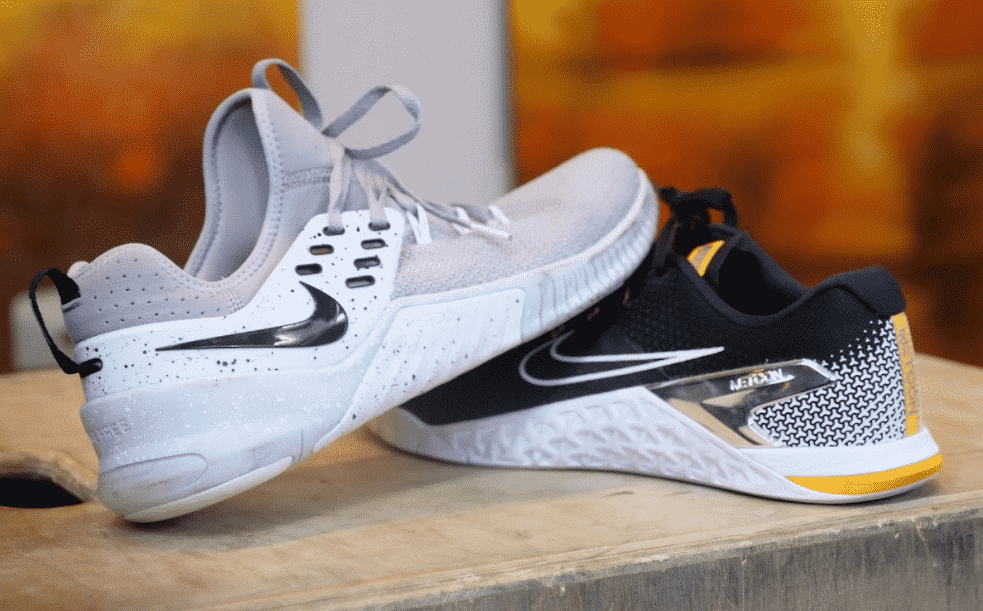 Winner
This article has no overall winner, as these shoes are designed for different performance characteristics. I personally like both shoes and utilize them for different activities. Below I've included a brief descriptive table to illustrate this.
| | |
| --- | --- |
| Nike Metcon 4 | Nike Free x Metcon |
| Best for heavy/serious workouts | Best for cardio/every day use |
| Stability: 10/10 | Stability: 8/10 |
| Comfort: 7/10 | Comfort: 10/10 |
If you need a cross-training shoe that's extremely stable and can support heavy weight, then reach for the Nike Metcon 4. For those interested in a comfortable shoe for getting in the casual workout, then reach for the Nike Free x Metcon.