Nike versus Adidas, a common battle you hear when it comes to shoes worn on a day-to-day basis, and on the platform. Both companies have been making weightlifting shoes for quite some time, and both companies continue to inovate their models to match the appeals and needs of athletes in all strength sports.
In this article, we'll be analyzing the newer Nike Romaleos 3 versus an older Adidas shoe, the AdiPowers. Both shoes have proven to be popular in strength sports, but is there a clear winner? To help us choose a winner we'll break down the shoe's heel height, construction, security, durability, and price.
Weight
Nike Romaleos 3 and Adidas AdiPower
Both of these shoes are somewhat similar in weight, and can match a variety of activities. The Nike Romaleos 3s come with two soles similar to the 2s and will have two different weights depending on which is being used. If you're using the stiffer sole, then the shoes weigh 15 oz and for the lighter sole 13 oz. The Adidas AdiPowers are slightly heavier and come in at a weight of 16.2 oz.
[Read our full reviews on the Nike Romaleos 3 and the Adidas AdiPower.]
| | |
| --- | --- |
| Shoe Model | Shoe Weight |
| Nike Romaleos 3 (Lighter Sole) | 13 oz. |
| Nike Romaleos 3 (Stiffer Sole) | 15 oz. |
| Adidas AdiPower | 16.2 oz. |
Nike Romaleos 3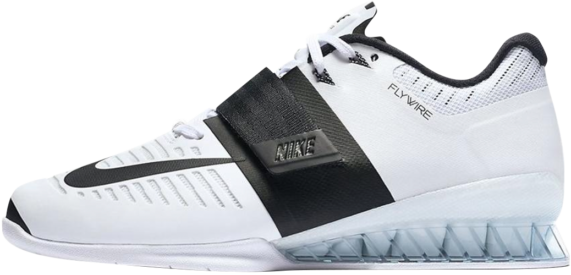 A lightweight lifting shoe that utilizes Nike Flywire, a .75" TPU heel, and large single mid-foot strap to support performance.
Both of these shoes are popular in the weightlifting and functional fitness worlds, and both can help an athlete with slow foot turnover, as they're both lighter options. For those who want the lightest shoe possible, then the Nike Romaleos 3 will be your best, but more than likely you won't feel too much of a difference in weight between both of these shoes.
Winner: Tie
[Curious about more models? Check out our best lifting shoe round-up to find the best shoe for your strength sport needs.]
Heel Height
Nike Romaleos 3 Vs. Adidas AdiPower Heel
Both shoes offer a .75" heel, which is standard for a weightlifting shoe and tends to match a variety of needs. Often times, when athletes make the transition from regular shoes to lifters they'll organically select a .75" heel, so each shoe could be useful for a lifting shoe rookie.
[Search prices and color schemes on Nike Romaleos 3 here.]
| | |
| --- | --- |
| Shoe Model | Heel Height & Material  |
| Nike Romaleos 3 | .75″ & TPU |
| Adidas AdiPower | .75″ & TPU |
Each heel is comparable in material and has TPU, a highly durable plastic that's resistant to abrasion and early wear and tear. Outside of heel height, early breakdown of the heel itself won't be an issue on each shoe. With each shoe offering the same heel height and TPU plastic, we have to rank this category as a tie.
Winner: Tie
[Take the guess work out of finding your perfect shoe. Take our weightlifting shoe quiz to find the best shoe based on your lifting needs.]
Security
Nike Romaleos 3 Vs. Adidas AdiPower Security
Shoe security is another consideration athletes like to factor when purchasing a new shoe. Straps, laces, and BOA systems are ways companies ensure their shoe has the security required to match an athlete's needs. Additional security can help keep the shoe secure under heavy loads when the ankle is moving further into flexion. Also, you don't want the shoe's tongue to come loose and cause any form of instability around the ankle.
| | |
| --- | --- |
| Shoe Model | Strap Type/Placement |
| Nike Romaleos 3 | Strap Over Mid-Foot |
| Adidas AdiPower | Strap At Top of Tongue |
Winner: Nike Romaleos 3
Durability
Nike Romaleos 3
The Nike Romaleos 3s were constructed lighter than the Romaleos 2s and offer a light leather and mesh mixture with Nike's signature Flywire material. They're designed to be slightly more flexible in nature, so they're lighter than their previous renditions. Similar to the Romaleos 2s, the 3s come with two soles, one lighter and one heavier.
One issue some athletes have pointed out with the Nike Romaleos 3 is the lightweight tongue. This shoe's tongue is made out of a piece of leather and may rip when pulled the wrong way.
Adidas Adipower

A consistent weightlifting shoe that offers the Adidas TORSION System through the mid-foot with a .75" TPU based heel.
Adidas AdiPower
The Adidas AdiPower shoe is constructed with a mixture of PU coated leather, nylon, and mesh. This provides the shoe with a lightweight flexible feeling, while allowing breathability. Construction is one area the AdiPower's tend to have an edge on the Nike Romaleos 3. They're an older model and have proven in most cases to stand the test of time with durability.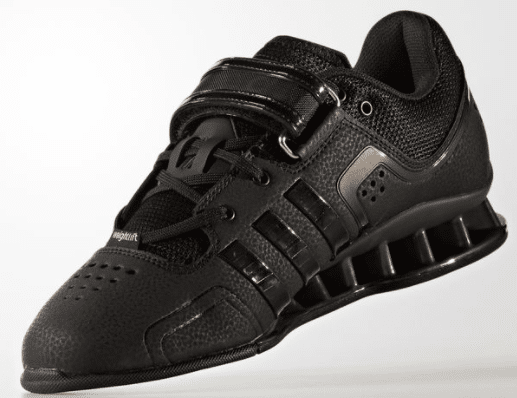 Image courtesy adidas.com.
Patrick Kern, 105kg+ weightlifter and coach, gave us some insights on the AdiPower's durability and said, "I bought the AdiPowers in 2013, and aside from some fraying on the insides of the toebox, they have been magnificent in taking the wear and tear I put on them."
Winner: Adidas AdiPower
Price
Nike Romaleos 3 Vs. Adidas AdiPower Price
In terms of price, the Adidas AdiPower takes the edge over the Nike Romaleos 3. They've been around longer, so it makes sense that they're slightly cheaper compared to the newer Romaleos 3. The price between the two shoes will vary depending on the color schemes you'd like, but in most cases the AdiPowers are significantly cheaper.
Below are few price ranges you can expect to see between the shoes. One thing to note, since the Romaleos 3 are still within two years of original manufacture date, then they're still under Nike's original manufacture date warranty.
| | |
| --- | --- |
| Shoe Model | Price |
| Nike Romaleos 3 | $149.95 – $199.95 |
| Adidas AdiPower | $125.00 – $175.00 |
Winner: Adidas AdiPower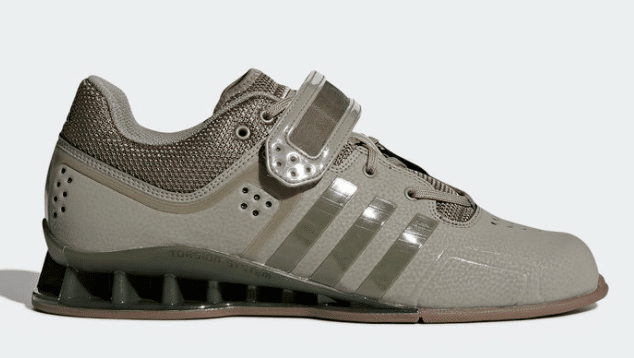 Image courtesy Adidas.com.
Overall Winner: Adidas AdiPower
The Adidas AdiPower takes the overall win based on the judging criteria above. Don't get me wrong, both of these shoe models are great options and will serve an athlete well in the gym, but I have to take the AdiPower because of its proven track record with durability. If the Nike Romaleos 3s didn't have some complaints with early wear and tear, then they may have won, especially with the prices dropping and being more comparable to the AdiPowers. Simply put, they're still a great shoe, and certainly worth considering and may only get better as production runs increase and work out some early kinks.
Feature image courtesy Roguefitness.com and Adidas.com.