The Sole SB900 ranks among the best exercise bikes on the market for its high quality and great price point. While it doesn't offer advanced features, like touchscreen displays or pre-programmed workouts, consumers on the hunt for a durable bike that can help them work up a good sweat will find the Sole SB900 to be ideal for daily home gym use.
The sturdy chrome plated frame and near silent magnetic resistance makes this bike a welcome addition to at-home athletes looking for something that performs well without waking up the rest of their family in the early mornings and late nights. If you're not interested in advanced technology and just need a solid cardio machine, the Sole SB900 could be the pick for you.
Main Takeaways
The Sole SB900 has a tablet holder to support

streaming fitness classes

from third-party apps.

The Eddy Current Magnetic Resistance makes for an impressive, near silent ride. 

This bike has self-generating power, so you don't need to plug it into a wall or use batteries.
Sole SB900 Exercise Bike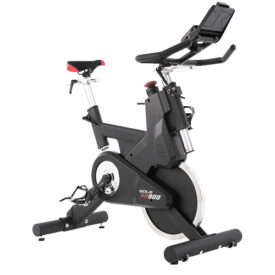 The Sole SB900 is a durable and high quality addition to any home gym, featuring stat tracking, an adjustable seat and handlebars, quiet magnetic resistance and front wheels for easy portability. Its display is simple and you won't find any added technological distractions within its console.
Sole SB900 Bike Highlights
​
The Sole SB900 is high quality, durable, quiet, and sturdy. It's not super technologically advanced, nor does it offer some welcome features like cooling fans. If you're the type of biker who loves pre-programmed workouts and high-tech touchscreen displays, you may not find this bike to be your most viable pick. But if you're looking for a quality bike that will last for years, help you build muscle and cardio conditioning, and keep quiet while you ride at home, this bike should certainly be on your short list.
Who Should Buy the Sole SB900
Riders who need a bike that's quiet enough for early morning and late night home use.

Bikers who enjoy class streaming and want a tablet holder for easy viewing.

Customers who want a durable bike at a lower cost.
Who Shouldn't Buy the Sole SB900
Anyone who wants all the latest technology in an indoor bike.

Users who prefer to have built-in cooling fans on their machine.

Riders who want to have pre-programmed workouts in their console.
Price
​
This bike goes for $999.99, which is about middle of the road when it comes to indoor bikes. It's a pretty high-quality bike with a smooth and silent ride, so we find the price to be well justified here.
Overall Build and Quality
​
The Sole SB900 is definitely made for riders who want a solid build without all the fuss of added technology. You'll still be able to track your stats and prop up a tablet for some fitness class (or Netflix) streaming, but you won't have any sort of fancy display screen distracting you from your session. The seat and handlebars are adjustable, the drive is quiet and the frame is sturdy — a great combination for users of all sizes who are working on building out their home gym.
Features
​
The Sole SB900 will track all your stats on its simple display screen, but if you want to track your heart rate, you will need to buy and sync a separate chest strap. This ride is meant to replicate a road feel, but keeps transitions between resistance levels smooth and seamless. You won't find any pre-programmed workouts here, but you will be able to prop up your tablet on the tablet holder if you want to stream a workout class separately.
Stats Tracking and Metrics
​
You can track your time, RPM, distance, speed and approximate calories burned on the simple display screen.
Display
​
The LCD display on the Sole SB900 is pretty small — measuring only 3" x 4" — and keeps tracking and features to a minimum so as not to distract from the workout itself.
Included workouts
​
Unfortunately, this bike does not come with any programmed workouts, so you will have to be okay with riding solo or using a third party app to stream fitness classes on a tablet.
Workout Apps, Compatibility
​
and Subscription Options
You'll find a tablet holder behind the display screen, so you can prop up your own device and stream fitness classes from a third party app if you prefer to follow along to a coached workout as you cycle.
Ride Feel and Comfort
The Sole SB900 is meant to replicate the feel of a road bike, offering a smooth ride and cushioned seat to get in all your miles at home.
Heart Rate Monitoring
​
Though this bike does not come with a heart rate monitor, it is chest strap compatible, so you can sync your own ANT+ chest strap and follow along throughout your workout.
Fans
There are no cooling fans on this machine, so you'll have to set up a floor fan nearby if you want to keep cool during your session.
Speakers
This bike is equipped with 2" speakers, so you can plug in your phone through the audio port and blast some tunes straight from the bike.
Water Bottle, Cup Holders, Tablet and Phone Holders
​
You will find both a tablet and water bottle holder on the Sole SB900.
Bluetooth and Audio Options
​
Though there is no Bluetooth connectivity, you can plug your phone into the audio port if you want to listen to music or a podcast through the bike's speakers.
HDMI, USB and Other Inputs
​
You will find an iPhone compatible port for audio on this console, so you can listen to all the audiobooks, podcasts and music you need to power through your at-home workout.
Product Specs
​
The Sole SB900 weighs in at 160 lbs and features a 48 pound flywheel. The frame is chrome plated and will hold up to decades of use if you take care of it. This is an upright bike, so you won't have much back support, but the seat and handlebars are adjustable, making it a versatile option for users of all shapes and sizes.
Bike Type
This is an upright bike, so if you're looking for a little more back support during your ride, you may be better off opting for a recumbent bike.
Resistance
This bike features Eddy Current Magnetic Resistance at a 1-100 variable. The magnetic resistance makes for a next-to silent ride, and all resistance levels can be adjusted with a knob to replicate incline or decline.
Pedals
This bike has dual sided pedals, which means you can choose between standard pedals with a toe cage you can use with running shoes and toe clip SPD pedals that require separate riding shoes.
Seat and Handlebars
The seat and handlebars can be adjusted both vertically and horizontally to accommodate riders of all heights.
Dimensions
This bike is an average 42″ x 21″ x 40″, which is fairly small, so you won't be taking up a ton of room with this machine like you would be with a treadmill.
Weight Capacity
​
This bike can support users who weigh up to 300 pounds, which is about the average weight capacity for indoor bikes.
Portability
The Sole SB900 is portable via its front wheels, so you'll find it's fairly easy to maneuver if you want to change workout locations.
Electrical Requirements
This bike uses self-generating power, so you just need your leg power instead of a power outlet to get the electronics working.
Warranties
​
With your purchase, you will receive a lifetime warranty on the frame, 3 years on parts, 3 years on electronics and 1 year on lin-home labor.
Noise
Since the Sole SB900 uses eddy current tension to create resistance, this bike is virtually silent and makes for a great addition to home gyms.
Places to Buy
You can purchase the Sole SB900 through Sole Fitness.
Company Information
​
Sole Fitness first sold their equipment to hotels, but they have progressed to sell to individuals for home use as well. Along with bikes, they also make rowers, treadmills, ellipticals and climbers.
Sole Fitness equipment has a 30-day trial period, and if you aren't satisfied at the end, you can receive a full refund. To reach their customer service, call 866-780 SOLE (7653).
FAQs
Does the Sole SB900 have Bluetooth?
The Sole SB900 is not Bluetooth compatible. However, it is compatible with ANT+ chest straps if you want to sync a heart rate monitor for use throughout your workout.
Is it easy to move the SB900 around?
Yes. The two front wheels make maneuvering the SB900 super easy on firm surfaces, like hardwood floors, tiles and hard carpets. However, if you're trying to use the front wheels on a softer surface, it may be a bit more of a challenge.
Can you take classes on the Sole SB900?
There are no pre-programmed workouts on the Sole SB900, but it does have a tablet holder, so technically you can take classes while you are on the Sole SB900—you just need to use a third party app to stream them through your tablet or mobile device instead.