A fantastic year of Olympic lifting was capped off with the 2022 International Weightlifting Federation's (IWF) World Weightlifting Championships (WWC). This year's World Championships, held in Bogotá, Colombia, also marks the beginning of the professional weightlifter's campaign toward the upcoming 2024 Olympic Games in Paris.
Bogotá 2022, which began on Dec. 5 and ended on Dec. 16, was one for the record books — and that's not just because of all the new World Records set (and broken) over the course of the competition. The world's best weightlifters moved to new weight categories, ignited old rivalries, battled altitude sickness, and gave the fans a show to remember.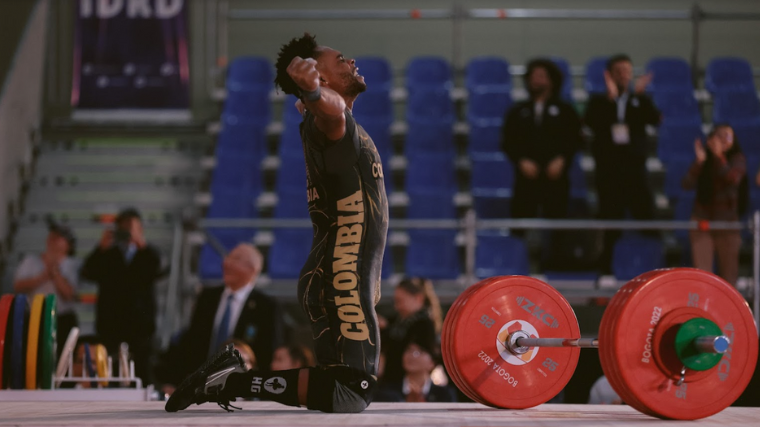 [Related: The Best Pre-Workout Supplements for Muscle Growth & Strength]
Here are the full podium results from the 2022 World Weightlifting Championships, plus some standout moments that colored the competition.
2022 World Weightlifting Championships | Women's Results
The women at the 2022 World Championships displayed calm, collected competence across the board, but weren't afraid to make some noise when they needed to. Here are the Women's results in every weight category at the 2022 WWC.
Note: The athlete's Total, the metric by which they are ultimately ranked, is bolded. Their best snatch and clean & jerk are included in parentheses.
45 Kilograms
Thanyathon Sukcharoen (THA) — 182 (82/100)
Chayuttra Pramongkhol (THA) — 180 (78/102)
Manuela Berrio (COL) — 170 (77/93)
49 Kilograms
Jiang Huihua (CHN) — 206 (93/113)
Saikhom Mirabai Chanu (IND) — 200 (87/113)
Hou Zhihui (CHN) — 198 (89/109)
55 Kilograms
Hidilyn Diaz (PHI) — 207 (93/114)
Rosalba Morales (COL) — 199 (89/110)
Ana Gabriela López (MEX) — 198 (90/108)
59 Kilograms
Yenny Álvarez Caicedo (COL) — 234 (101/133)
Kuo Hsing-Chun (TPE) — 232 (102/130)
Maude Charron (CAN) — 231 (103/128)
64 Kilograms
Pei Xinyi (CHN) — 233 (105/128)
Wamalun Rattanawan (THA) — 227 (101/126)
Nathalia Mosquera Llamosa (COL) — 224 (101/123)
71 Kilograms
Loredana Elena Toma (ROU) — 256 (119/137)
Zeng Tiantian (CHN) — 253 (113/140)
Angie Palacios Dajomes (ECU) — 252 (116/136)
76 Kilograms
Sara Samir Ahmed (EGY) — 261 (113/148)
Mattie Rogers (USA) — 247 (109/138)
Kim Suhyeon (KOR) — 245 (108/137)
81 Kilograms
Liang Xiaomei (CHN) — 270 (118/152)
Wang Zhouyu (CHN) — 266 (115/151)
Tamara Salazar Arce (ECU) — 262 (114/148)
87 Kilograms
Solfrid Koanda (NOR) — 260 (113/147)
Eileen Cikamatana (AUS) — 249 (109 140)
Tursunoy Jabborova (UZB) — 241 (112/129)
+87 Kilograms
Li Wenwen (CHN) — 311 (141/170)
Emily Jade Campbell (GBR) — 287 (122/165)
Duangaksorn Chaidee (THA) — 286 (126/160)
2022 World Weightlifting Championships | Men's Results
Boldness was the modus operandi for the male weightlifters at the 2022 WWC. From big jumps in weight to big celebrations after bagging the gold medal, the men put on a show and then some. Below are the overall medalists from each Men's category at this year's World Championships.
Note: The athlete's Total, the metric by which they are ultimately ranked, is bolded. Their best snatch and clean & jerk are included in parentheses.
55 Kilograms
Theerapong Silachai (THA) — 265 (117/148)
Ngô Sơn Đỉnh (VIE) — 260 (117/143)
Kim Yong-Ho (KOR) — 260 (115/145)
61 Kilograms
Li Fabin (CHN) — 312 (137/175)
Eko Yuli Irawan (INA) — 300 (135/165)
He Yueji (CHN) — 296 (136/160)
67 Kilograms
Francisco Mosquera (COL) — 325 (143/182)
Chen Lijun (CHN) — 324 (148/176)
Wichuma Weeraphon (THA) 323 (143/180)
73 Kilograms
Rahmat Erwin Abdullah (INA) — 352 (152/200)
Rizki Junyiansiah (INA) — 347 (155/192)
Alexey Churkin (KAZ) — 343 (153/190)
81 Kilograms
Li Dayin (CHN) — 372 (171/201)
Rejepbay Rejepov (TKM) — 366 (164/202)
Woo Jae Kim (KOR) — 357 (162/195)
89 Kilograms
Keydomar Vallenilla Sanchez (VEN) — 385 (175/210)
Brayan Rodallegas Carvajal (COL) — 381 (170/211)
Liu Huanhua (CHN) — 381 (166/215)
96 Kilograms
Lesman Paredes Montaño (BRN) — 397 (185/212)
Nurgissa Adiletuly (KAZ) — 383 (174/209)
Jhor Torres Moreno (COL) — 380 (171/209) 380
102 Kilograms
Fares Ibrahim El-Bakh (QAT) — 391 (174/217)
Reza Dehdar (IRI) — 390 (177/213)
Samvel Gasparyan (ARM) — 389 (175/214)
109 Kilograms
Ruslan Nurudinov (UZB) — 397 (177/220)
Giorgi Chkeidze (GEO) — 389 (170/219)
Rafael Cerro Castillo (COL) — 388 (174/214)
+109 Kilograms
Lasha Talakhadze (GEO) —466 (215/251)
Gor Minasyan (BRN) — 462 (212/250)
Varazdat Lalayan (ARM) — 461 (215/246)
2022 World Weightlifting Championships | Highlights
Bogotá capped off a fantastic year for weightlifting by hosting the largest World Championships in the history of the sport, with over 700 athletes from all over the world having attended. With so many high-caliber lifters on site, standout moments were bound to happen — and they happened in spades.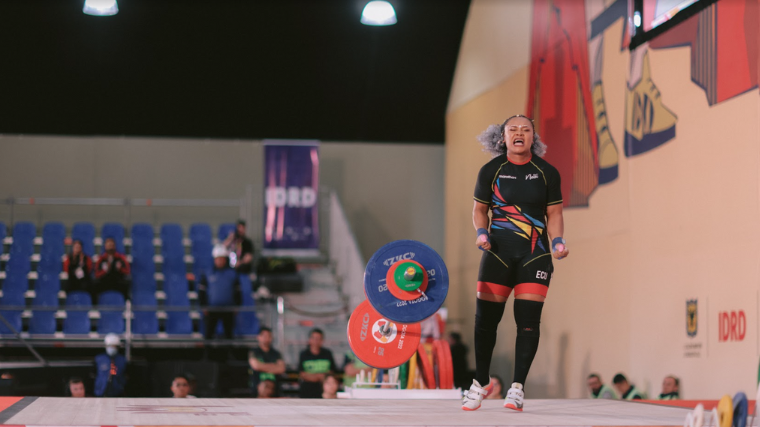 Here are just a few of the athletes and moments that made the competition in Colombia one for the history books.
Sergio Massidda (61 Kilograms)
The Men's 61-kilogram category is historically quite competitive, but Italian weightlifter Sergio Massidda made his third Worlds appearance noteworthy in a category that saw the first new World Record set.
The 2021 Junior World Champion placed 9th at his prior Worlds in 2019 and seemed determined to claw his way to the podium this year. Massidda was one of only three lifters in the A Group to jump in weight on all six of his attempts — whether he made them or not.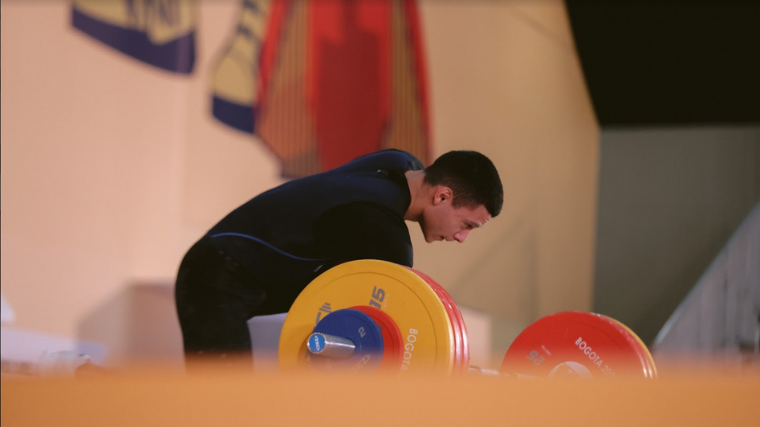 This included a nail-biting third snatch at 135 kilograms after missing his first two, and a long-distance shot at 164 kilograms in the clean & jerk, well above anything he's made on the international stage beforehand. Despite only going two-for-six on the day, Massidda's brazen courage paid off; he ranked 4th overall.
Yenny Álvarez (59 Kilograms)
You can never count out the power of competing on your home turf. In one of the WWCs most competitive sessions overall, Colombian lifter and local favorite Yenny Álvarez seized an opening to win her first World title.
Having placed second overall at Worlds in 2021, Álvarez began her lifting against some seriously stiff competition — 2020 Olympic Champion Maude Charron, five-time World Champion Kuo Hsing-Chun, as well as China's dual athletes Luo Shifang and Luo Xiaomin — all of whom lifted as much or more than Álvarez in the snatch.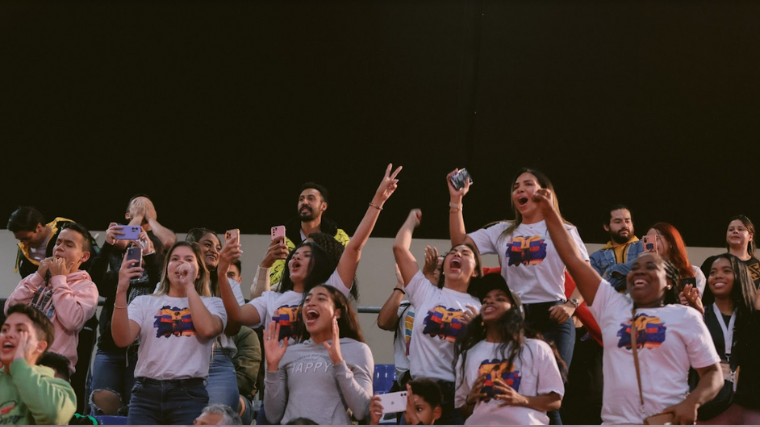 But when Hsing-Chun, the presumed favorite, suffered a knee injury, an opportunity for the gold medal emerged. With the stadium on its feet, howling in support, Álvarez mustered more strength than she had ever produced to clean & jerk 133 kilograms, winning the gold medal in the jerk and the overall title of World Champion.
Francisco Mosquera (67 Kilograms)
"It's the gold or nothing," was the situation for Colombian lifter Francisco Mosquera as uttered by the session commentators as he took to the stage for the final lift of the Men's 67-kilogram Group A session.
182 kilograms was the weight on the bar, and Mosquera had to do it if he wanted to stand on the overall podium. He had missed it once already on his second attempt; miss again, and Mosquera would find himself in 4th place.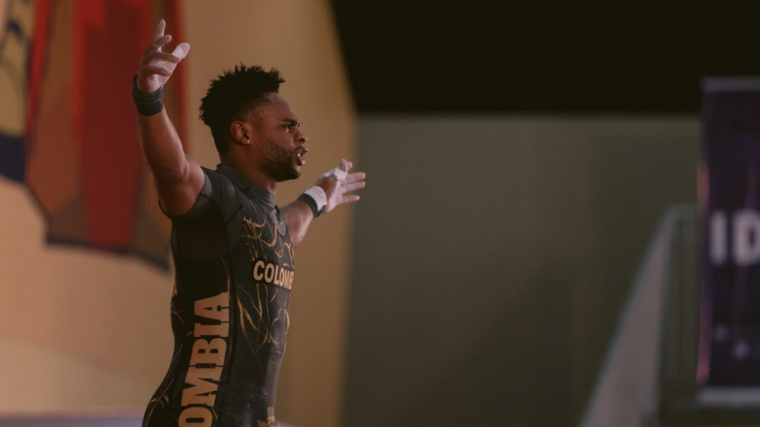 With the home-field advantage in his pocket and a finger to the heavens, Mosquera ascended the steps to the platform and then clean & jerked 182 kilograms to win his first World title since 2017. Weightlifters are often faced with ultimatums that will decide whether or not they walk away with a medal — rarely is it, "the gold or nothing."
Men's 73-Kilogram
Two of the three Total medalists in the Men's 73-kilogram category at the 2022 World Weightlifting Championships came out of Group B. Commentators acknowledged this highly unusual occurrence, but they also called a large portion of the Group A clean & jerks a "bloodbath."
No 73-kilogram weightlifter made all six of their competition attempts. Four out of 11 athletes went zero-for-three during snatches; two withdrew before clean & jerks commenced. Not a single Group A 73-kilogram weightlifter successfully lifted their third clean & jerk.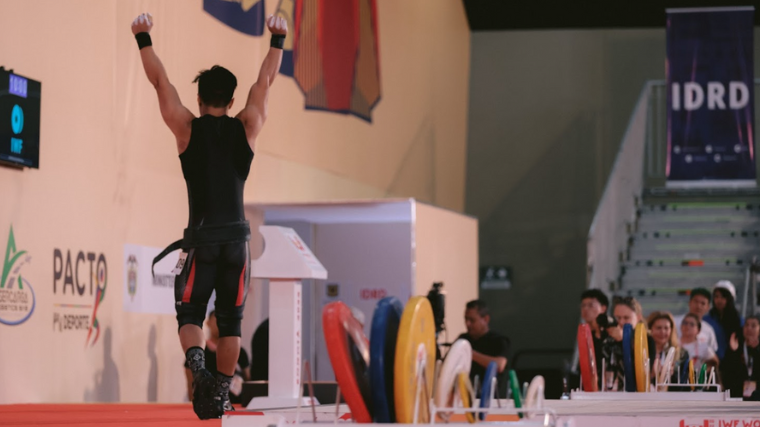 With the scoreboard coated in red, two of the highest-performing lifters from Group B — Kazakhstan's Alexey Churkin and Indonesia's Rahmat Erwin Abdullah — snuck their way onto the podium. The latter, Abdullah, did so in spectacular fashion. He set a new World Record clean & jerk of 200 kilograms from the B Group, eight kilograms more than anyone in Group A.
Pei Xinyi (64 Kilograms)
The Women's 64-kilogram category may have been disavowed by the International Olympic Committee for Paris, but that doesn't make it any less exciting to watch. Team China proved that the 64-kilogram women have plenty to offer when they rolled out their newest powerhouse athlete, 17-year-old Pei Xinyi.
In her first international appearance outside of China, Xinyi commanded the attention of the stadium when she set three new back-to-back-to-back Youth World Records in the snatch (her third attempt was 105 kilograms), ultimately exceeding the previous record by seven kilograms.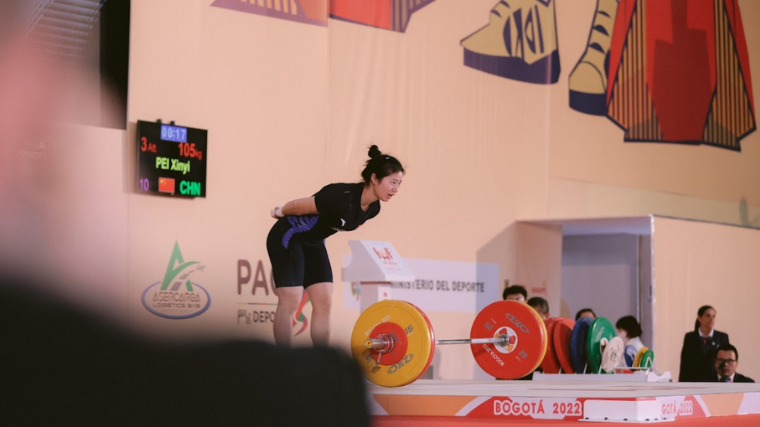 What's more, she did it weighing only 59.3 kilograms; had she competed in the 59s, her best snatch would fall only five kilograms short of the Senior World Record held by Olympic Champion Kuo Hsing-Chun.
Xinyi spun a similar tale in the clean & jerks, finishing with 128 kilograms, three ahead of the previous Youth record. Her 233-kilogram Total was only one kilo shy of the 59-kilogram winning Total. She won the 64-kilogram division with room to spare.
Women's 71 Kilogram
When soon-to-be World Champion Loredana Toma began her snatches with the heaviest successful opening attempt (113 kilograms) in the history of the 71-kilogram class, it set the tone.
The Women's 71s at the 2022 WWC were a battleground that featured some of the best overall weightlifting of the year: The A-Group showcased perhaps the strongest and most competent performances from any individual session.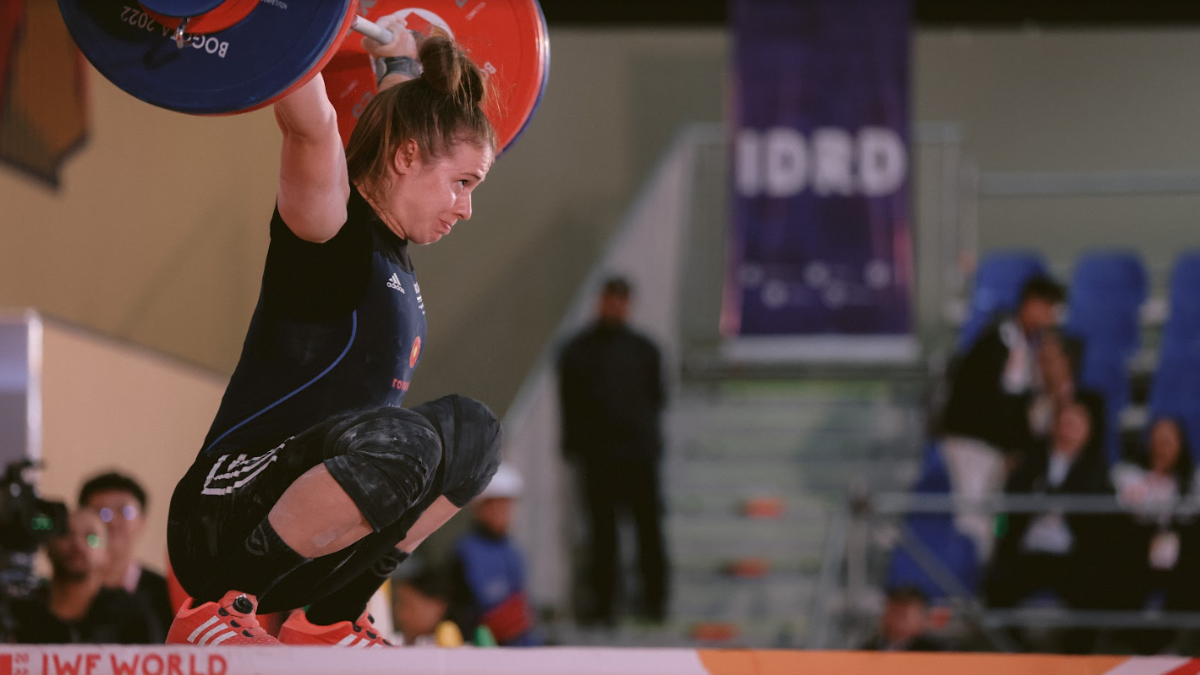 104 kilograms was the gold-medal snatch weight in the 71s one year ago; in 2022, 10 out of 11 competing athletes snatched more than that. Four athletes — Angie Dajomes, Liao Guifang, Toma, and Zeng Tiantian — lifted more than the silver-medal Total from the Women's 76-kilogram class at the Tokyo Olympics.
Moreover, the women in the 71s performed with exceptional grace and clarity of purpose. They were smart during the snatches, but worked hard when it mattered during the clean & jerks.
Karlos Nasar (89 Kilograms)
Karlos Nasar, the prodigal son of modern Bulgarian weightlifting and the widely-predicted winner of the Men's 89-kilogram category, was nowhere to be found on the overall podium when the competition ended. The 18-year-old athlete failed all three of his snatches, which prevented him from registering a Total.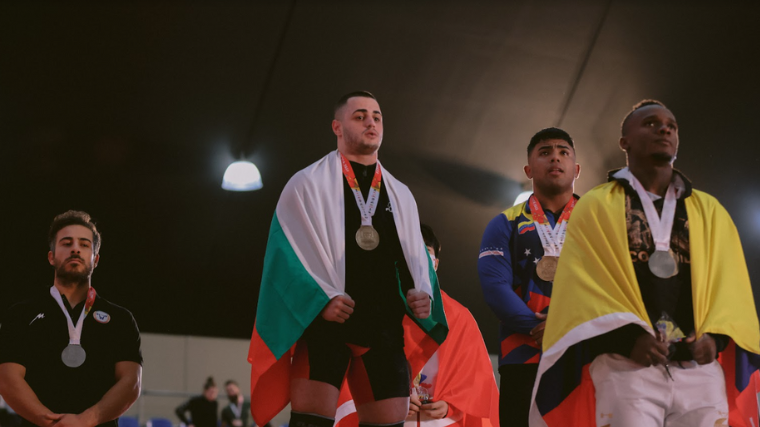 Session commentators would remark that Nasar, in the month leading up to the WWC, had clean & jerked 225 kilograms as many as eight separate times. A story that seemed deeply absurd until, on his final attempt, Nasar sent 220 kilograms flying overhead to confirm his latest World Record.
Nasar's extraordinary claims were a bit harder to deny afterwards; he may not have won his second consecutive World title, but he proved that he has more than what it takes to do so in 2023.
Liang Xiaomei (81 Kilograms)
A new World Record was, for a moment, literally in the palm of 81-kilogram Liang Xiaomei's hands. Toward the tail end of a very competitive Group A session, where Xiaomei battled against the likes of 2020 Olympic Champions Wang Zhouyu (her teammate) and Neisi Dajomes, Xiaomei made a very bold clean & jerk attempt.
Having already secured the 81-kilogram gold-medal result in the Total (270 kilograms, the highest ever recorded at a World Championships by a margin of over 20 kilos), Xiaomei called for 159 kilograms. 159 exceeded the unclaimed World Standard by a single kilo.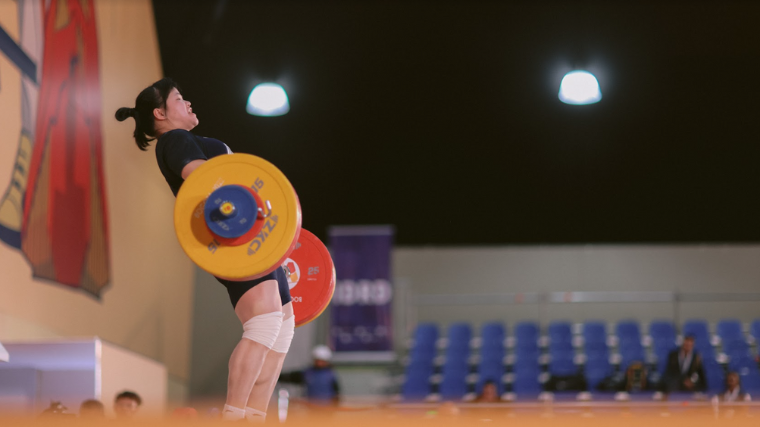 Unfortunately, a timing error in the preparation room forced Xiaomei to jog up on stage with only a few seconds remaining on her clock. She rushed her setup and couldn't clean the barbell. However, based on her dominant performance across her two previous lifts, that record was as close to a sure thing as it gets.
Is Xiaomei a tenured weightlifting competitor with years of high-pressure practice under her lifting belt? If you go by the IWF records, not at all: She's competed on the international stage only once, six full years prior at the 2016 Junior World Championships.
That she was seconds away from lifting a weight that no active 81-kilogram athlete could dream of in the last four years is commendable, to say the least.
The Loaders
The barbell at the 2022 World Weightlifting Championships may fly in the hands of the athletes, but it's the competition's loading team that puts in the most work at Worlds. The lifting platform in Bogotá sat atop a four-feet-and-some-change stadium riser that you had to use a staircase to ascend. Unless, of course, you've got some serious hops.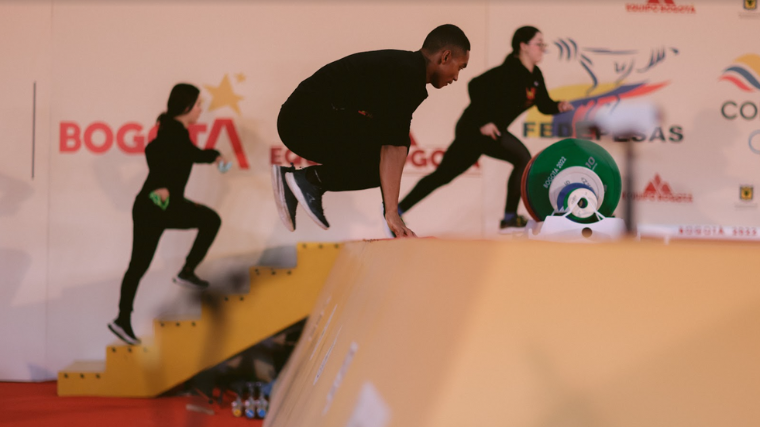 With the athleticism of a Division-1 track outfit and the speed of a NASCAR pit crew, loaders were seen bounding up the stairs or even leaping atop the riser as if untethered from the constraints of gravity. The loaders' task was to make quick work of all adjustments to the weight on the barbell as the athletes called for their various attempts.
Commentators noted that many of the loaders at Worlds were former athletes themselves; evident by their lightning-fast turnaround time when the athletes called for ever-heavier weights.
World-Class Weightlifting
The competition in Colombia platformed some of the best weightlifting of the past few years; with over 700 athletes in attendance, the 2022 WWC was also the largest World-level competition in the sport's modern history.
A large turnout and heaps of strong performances help to buoy the sport heading into 2023. The qualification period for Paris 2024 has officially begun — only time will tell if those perched on the podium at Worlds have what it takes to make it to the Games.
Featured Image: William Johnson / BarbellStories