Forearms — the calves of your upper body. The forearms are one of the most underrated muscles, often because they can be so darn difficult to grow. But because of this, forearms often sit neglected as athletes give up on being able to make them pop.
But the fastest way to maintain smaller, weaker forearms is to neglect them. Although they might be frustrating, your forearms aren't a lost cause. Developing a real standout set of forearms takes a bit more intention than doing your regular exercises and hoping for the best. Finding a key exercise to directly target them is a surefire way to establish your aesthetics.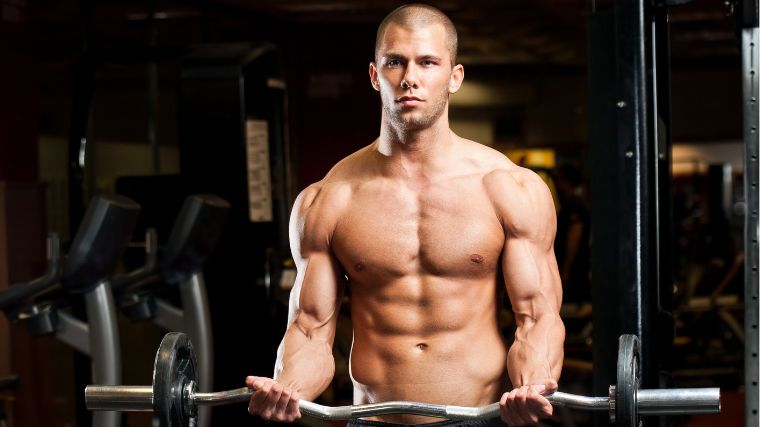 The barbell wrist curl makes forearm training accessible. It's a straightforward, simple-to-execute movement that fits neatly into any routine. Here's how to do the barbell wrist curl.
How to Do the Barbell Wrist Curl
The barbell wrist curl is a quick and easy exercise to perform. Find your way to the barbell rack and follow these simple steps.
Step 1 – Load Selection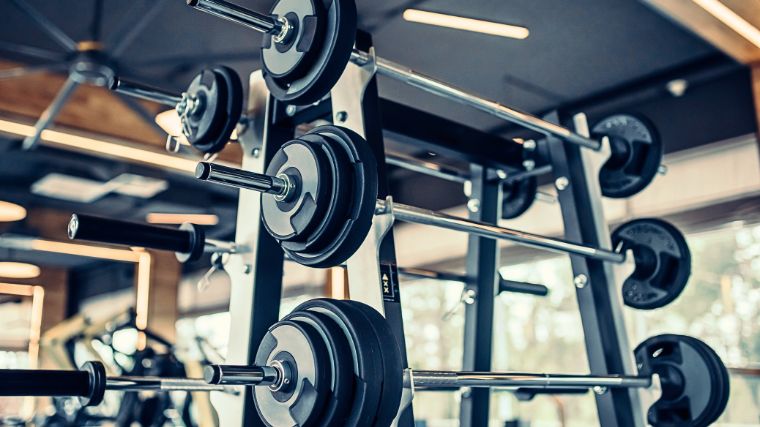 Perform your barbell wrist curl using a standing diameter bar. Either a preset or loadable barbell works fine here, but avoid larger or thicker diameter bars until you're accustomed to the movement. Choose a weight that allows you to fully flex your wrist as far as it goes.
Coach's Tip: For added grip training, select a weight that allows you to open and close your palm successfully during each repetition. But don't allow the bar to roll out of your fingertips!
Step 2 – Grip Placement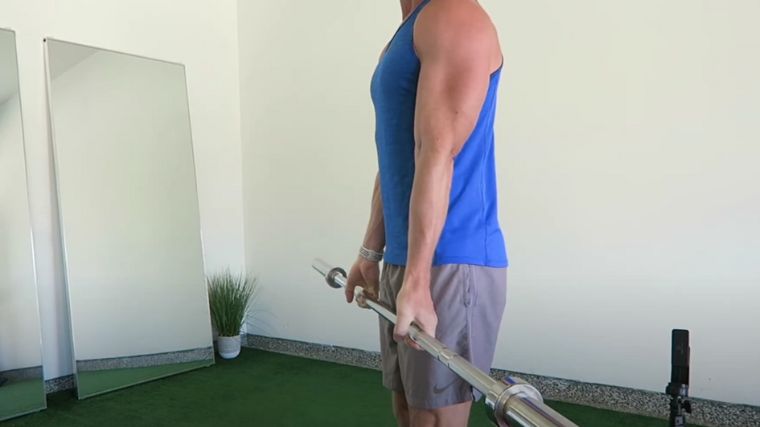 Set your shoulder blades back and down with your shoulders flexed to approximately 45 degrees. Think of a very mild shoulder raise here. Your palms should be facing up with your forearms pointing straight ahead without jutting out left or right. This is your grip placement.
Coach's Tip: Aim to maintain a straight line between your wrists, elbows, and shoulders.
Step 3 – Curl Your Wrist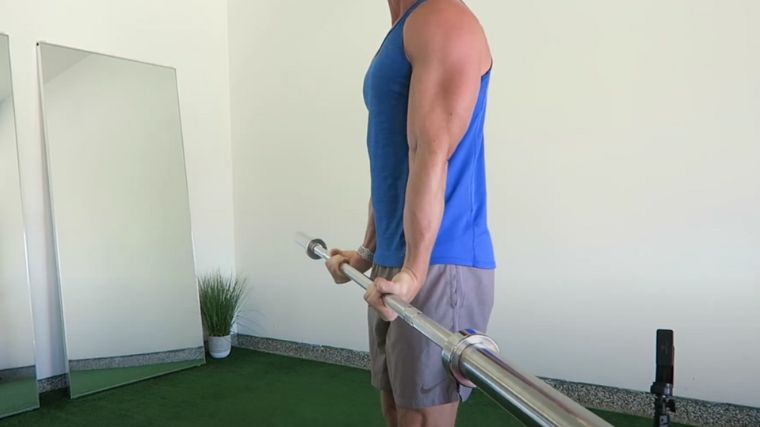 Step backward to walk the barbell out of the rack. Assume a hip- or shoulder-width stance and slightly hinge over. This isn't a dramatic hinge — just enough to prevent the barbell from resting against your thighs.
Squeeze the barbell tight and flex your wrists to curl upwards. Slowly lower the barbell back to the starting position with a straight wrist. Perform for repetitions.
Coach's Tip: Utilizing eccentric control and a solid pause in the fully contracted position are excellent muscle-building tools. Try them out if you struggle to maintain tension on your forearms.
Barbell Wrist Curl Variations
The barbell wrist curl is a great way to build your forearms. Here are some variations to complement your gains.
Behind-the-Back Barbell Wrist Curl
The behind-the-back barbell wrist curl is a simple twist on the standard technique. Although the muscles of the forearm are worked similarly, placing the barbell behind your back makes it easier to perform if you're struggling with shoulder mobility.
This might also be a good option if you don't want to maintain an intense hinge to accommodate your body during the conventional barbell wrist curl.
Dumbbell Wrist Curl
The dumbbell wrist curl allows you to break the load of a barbell apart between both arms. Going unilateral in this way is fantastic for keeping your strength and muscle growth consistent. It also helps to accommodate the uniqueness of your limb lengths and body size.
[Read More: 5 At-Home Workouts for Strength, Muscle Growth, Power, and More]
However, the diameter of a dumbbell bar is often different from a barbell. Take this into consideration and choose a weight that still allows you to perform the wrist curl with the proper technique.
Towel Wrist Curl
Using a towel to perform wrist curls offers a double whammy of stimulation. Choose a towel long enough to be threaded through a kettlebell. While holding the loose ends of the towel in your hand, begin the wrist curl technique as normal.
The towel consistently challenges your hand squeeze to prevent slippage. The wrist curl itself builds your forearms, but the subtle sway of the weight attached to the towel offers a greater challenge to your control. Altogether, your grip and forearms are left smoked.
Barbell Wrist Curl Alternatives
The barbell wrist curl is a key part of your forearm-building repertoire, but it isn't alone. Here are some useful alternatives for different goals, equipment availability, or preferences.
Farmer's Carry
The farmer's carry is one of the most time-tested, best forearm exercises out there. It's an isometric exercise for both your hands and forearms, and the raw amount of load that you're able to use helps to generate a ton of stimulation for growth.
[Read More: The 15 Best Shoulder Exercises For Building Muscle ]
Grab the heaviest set of dumbbells or bars you're safely capable of carrying and simply go for a walk.
Collar Squeeze
One of the simplest ways to train your forearms is by grabbing a barbell collar and going to town. There are even specialized pieces of equipment that allow you to progress your collar squeezing resistance.
The same muscles that are responsible for curling your fingers and holding onto the barbell during wrist curls are going to squeeze against the collar. Each repetition pumps up your forearms, priming them for potential growth.
Cable Wrist Roller
One of your most old-school options is to perform the cable wrist roller. If you're not lucky enough to have access to the machine itself, it's easy to rig up on your own.
[Read More: The 7 Best Cable Machines]
All you need to do is tie a thin rope around a plate and attach the opposite end to a pipe. Grip the pipe in each hand and begin rolling the rope by using a hand-over-hand motion. You'll feel your forearms light up and have a brand new avenue for growth to explore.
Barbell Wrist Curl Tips
It's easy to start going through the motions with your barbell wrist curls without focusing on your mind-muscle connection. To maximize gains, use a pause, control the eccentric, and aim to progress your load over time.
Pause for Gains
The best thing for your barbell wrist curls is to maintain the quality of your movement. If you find yourself getting a bit bouncy with your technique, adding a pause goes a long way.
Pausing at the top and bottom of each rep helps ensure that each repetition goes through a consistent range of motion and tension. Try adding pauses to maximize your time under tension and your potential for muscle growth.
Control Your Eccentric
The eccentric portion of an exercise is when you are lengthening a muscle under load. For many exercises, the eccentric is the lowering portion, like lowering down into a back squat or barbell wrist curl.
By controlling the eccentric portion of your lift, you're keeping high-quality tension on your muscles instead of letting gravity yank the weight down. Try counting to five slowly as you lower each rep. It's okay if you need to start this approach with less weight. You'll build it back up in no time.
Progress the Load
The barbell wrist curl has a very short range of motion, but that doesn't mean it has a small loading potential. Start your wrist curl journey with lighter weights and higher reps to make sure that you're working with stellar form. But don't stop there.
Going heavy with good technique minimizes the amount of repetitions you need to see growth. It also helps to carry over to raw grip training for other exercises — think deadlifts — where you'll have to hold onto very heavy weights.
Barbell Wrist Curl Sets and Reps
The barbell wrist curl is the perfect opportunity to build grip strength, forearm size, and endurance. Here's how to train for each.
For Strength: To build hand and grip strength perform two to three sets of six to eight repetitions. Rest for two to three minutes between each set.
For Muscle: To build forearm size, perform two to four sets of 12 to 15 repetitions. Rest for 90 seconds between sets.
For Endurance: To build forearm and grip endurance, perform three to four sets of 15+ repetitions. Rest for approximately one minute between sets.
Benefits of the Barbell Wrist Curl
The barbell wrist curl contributes to a few different adaptations, from grip strength to forearm size. Here's why you should add these to your forearm-building strategy.
Larger Forearms
One of the biggest and best benefits of adding the wrist curl to your workouts is building bigger forearms. Pumping up your limbs goes a long way towards rounding out your physique. With a big set of pipes, matching forearms helps to complete the aesthetic.
While other isometric or grip-based exercises slowly start to build up your forearms, there's nothing quite like a direct approach. Instead of waiting what seems like years for deadlifts or rows to build some muscle, hit your forearms head-on with the wrist curls.
Improved Grip Strength
The grip is part of a ton of really important exercises. From pull-ups and deadlifts to Olympic lifting, a solid grip ensures that you don't ever miss a repetition. While grip training is as straightforward as holding onto heavy weights as long as possible, there are also more dynamic options.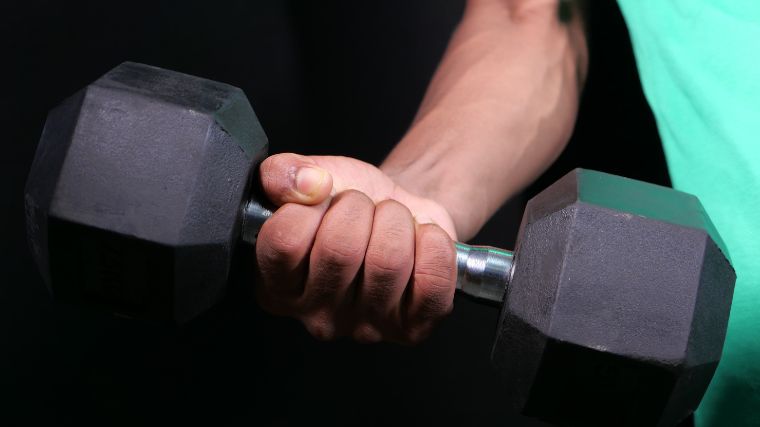 [Read More: The 10 Best Grip Strengtheners On the Market]
Using a concentric-focused exercise like the barbell wrist curl is a perfect match. It chips away at ever-improving grip strength while simultaneously building muscle.
Easy to Program
Training the barbell wrist curl is an amazingly easy lift to program. Relatively speaking, it is a small muscle group and doesn't take an enormous amount of time. This means it is easily pocketed into almost any workout.
If a fresh grip is required for the day, try performing wrist curls last. If not, prioritize them earlier. No matter what, you should be just fine hitting them a few times per week wherever convenient without the rest of your program suffering.
Muscles Worked by the Barbell Wrist Curl
The barbell wrist curl is going to focus primarily on your forearm muscles. However, if you elect to open your grip a little on each repetition, your hand muscles also get a solid workout.
Forearms
Several small muscles attach between your elbow and just below the wrist. These muscles are collectively known as the forearm flexors and are the focal point of the barbell wrist curl. They are responsible for flexing your wrist and also help with eccentric control.
Hands
The hands play a role in your barbell wrist curl as well. From a pure grip standpoint, the total time under tension simply holding the barbell during the set helps build a serious set of hands.
Slightly opening your palm on each repetition also adds a bit more range of motion. Let the barbell rest on your fingertips before closing your grip to initiate the next repetition to place even more emphasis on your hands and fingers.
Who Should Do the Barbell Wrist Curl
From beginners to bodybuilders and powerlifters, there are plenty of gains to go around with the barbell wrist curl.
Beginners
Your grip is a constant factor when you're trying to make progress as a beginner. There is the option to use straps for an assist, but eventually, you'll need to strengthen your hands and forearms to maximize your training.
The barbell wrist curl doesn't involve a big range of motion, so it doesn't take a high amount of skill. Therefore, it's fantastic for beginners to weave into any program. If you're struggling to hold onto your weights, start working some wrist curls into your training sessions to catch up.
Bodybuilders
A well-rounded physique that meets the judge's criteria is the name of the game in bodybuilding. Odds and ends like the forearms aren't always the most fun to train, but you'll definitely hear about them if they're not up to par.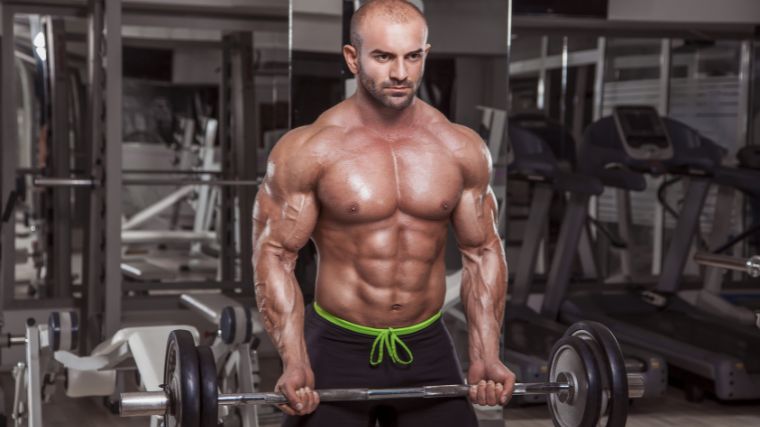 [Read More: The Best Full-Body Bodybuilding Workout for Beginner to Advanced Lifters]
With the laundry list of training you'll need, knocking out a few quick sets of barbell wrist curls is one of the best ways to check the box for your physique needs.
Powerlifters and Strongman Athletes
Powerlifters and strongman athletes need grip strength in spades. The fastest way to miss a lift is to drop the bar — this exercise can help you avoid it.
While the barbell wrist curl may seem more like a muscle builder, progressively overloading the exercise also clearly spills over into grip training. Once you have your form down, load it heavy and bring the load all the way into your fingers with each rep to forge some serious grip strength.
Common Barbell Wrist Curl Mistakes
Although a fairly easy movement to master, there are a handful of mistakes that commonly appear during barbell wrist curl training. Selecting the wrong grip, improper shoulder position, and not making them a priority are some of the biggest culprits.
Improper Grip
The right grip makes or breaks your barbell wrist curl. Selecting too close or too wide of a grip negatively impacts your range of motion. It also potentially contributes to some aches and pains as your straight barbell annoys the wrists as you curl.
Make sure to set your shoulder position first to dictate your hand placement. Let your hands and arms fall and open naturally, set your shoulders, and grip the bar where your hands naturally land.
Shoulder Position
Your shoulder position helps to direct your grip placement. If you round or protract your shoulders during the setup, your hands are likely to fall onto the bar in the wrong place. The same is true if you pull them back too far.
[Read More: The 15 Best Shoulder Exercises For Building Muscle]
Chances are, you'll end up resting the bar on your legs, taking much of the sought-after tension off of the muscle. Find the sweet spot for shoulder positioning, using them to set your grip but not aggressively pinning them. Hinge over as deeply as you need to maintain that optimal arm position.
Not Prioritizing Them
A huge error in training the barbell wrist curl is not emphasizing them in your workout program. Muscles that grow the best are the ones that lead off your session. When you're the freshest and able to put the most intensity into something, you'll see the best results.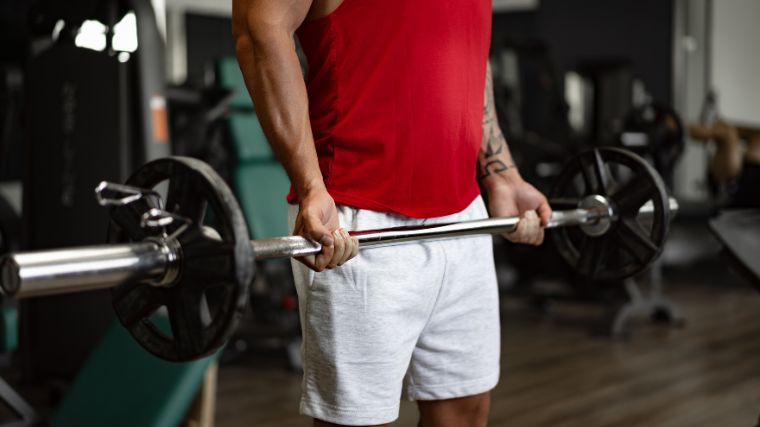 [Read More: Build Bigger, Stronger Arms with These 9 Triceps Extension Variations |
BarBend]
Make sure to give your barbell wrist curls a healthy dose of prioritization. Either lead off a session with them or make sure you're training with adequate frequency to see gains.
It's All in the Wrist
Dealing with stubborn muscle groups is frustrating, but you don't have to give up hope. In the case of your forearms, the barbell wrist curl is an immediately actionable tool to start ramping up your gains.
Tossing in a few sets of barbell wrist curls helps build forearm size, strength, and grip endurance all at the same time. There's minimal impact on the rest of your program, which makes the barbell wrist curl a win-win. Add in some eccentric control and pauses, and remember to hit the weights hard — your forearms will blow up in no time.
FAQs
Still have questions about building massive forearms? We've still got answers.
Featured Image: lithian / Shutterstock