Brooke Wells has been a mainstay athlete in the CrossFit Games for the last eight years, having competed every year since 2015. She's cracked the top 10 three different times, even landing fifth in 2020.
But the Games veteran set her sights even higher for the 2022 NOBULL CrossFit Games. Less than one year after getting Tommy John surgery on her dislocated right elbow, Wells finished in fifth place once again and had a stellar competitive season.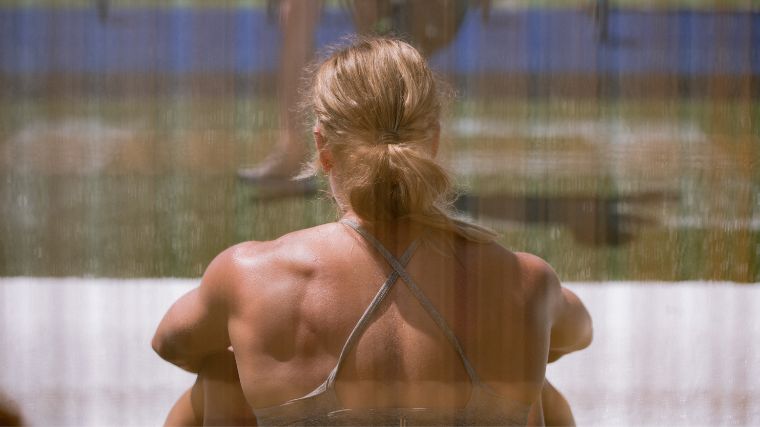 During the 2021 Games, Wells attempted a 190-pound snatch and dislocated her elbow mid-rep. Faced with reconstructive elbow surgery, some athletes might have sat out the 2022 CrossFit season — but Wells took the opposite approach. Wells took fifth place worldwide in the 2022 CrossFit Open just six months after undergoing elbow surgery. Her best finish in the Open prior to that was sixth, which she achieved both in 2018 and 2019.
Wells moved up to fourth place in the 2022 Mid-Atlantic CrossFit Challenge Semifinal and maintained that ranking amidst the fittest on the planet in Madison, WI. She just barely missed the podium in 2022, but seems intent on taking another shot at it next year.
Brooke Wells' Road to Recovery
During a training session with the Buttery Bros a few weeks shy of 2022 Open, Wells talked about her recovery up to that point. To get back into the sport after surgery, she underwent three hours of daily physical therapy for five weeks and had to take an entire month off of training. When she returned to the gym, Wells stuck to aerobic work and single-dumbbell exercises before moving onto the barbell.
Around that time, Wells still wasn't able to perform kipping movements or go heavy with overhead movements — which she said still felt tricky due to the mobility she'd lost in her right arm. Half a year later, Wells was crushing muscle-ups and overhead squats with some of the fittest athletes on the planet in Madison, earning fifth place overall.
Brooke Wells at the 2022 CrossFit Games
Wells was a force to be reckoned with — albeit quietly at first — throughout the 2022 NOBULL CrossFit Games. Though overhead lifts might have seemed worrisome, Wells took sixth and seventh place in Shuttle to Overhead A and B, respectively, announcing to the entire Games that she was back and ready for finishes within the top 10.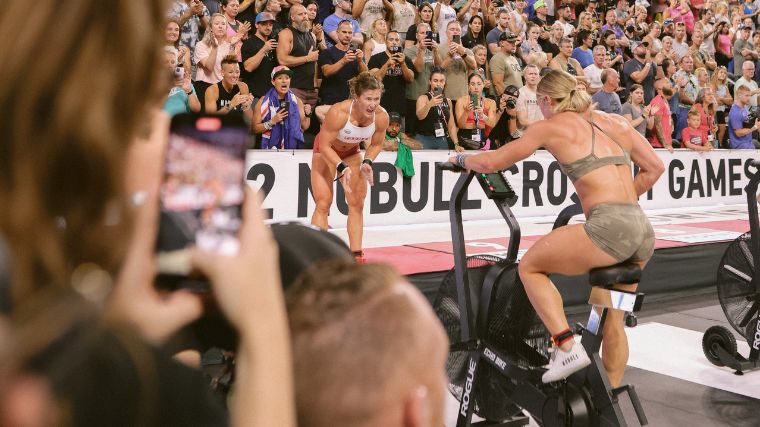 But the third event of the week, Skill Speed Medley, featured pegboards and handstand walks that landed her a 31st-place finish. She completed the event under the time cap, but did not advance to the next round.
Wells bounced back in Event Five, The Capitol, a grueling endurance workout with no time cap in sweltering heat. She overcame pig flips, a 3.5-mile run, Jerry can carries, and an almighty Husafell carry up the steps of the Capitol building to capture fourth place in the event.
View this post on Instagram
Related: [2022 NOBULL CrossFit Games Team Division Results]
In Event 10, the Sandbag Ladder, Wells continued to impress. She thrilled the packed coliseum by powering through seven rounds of increasingly heavy sandbag-to-shoulders. Wells conquered a 220-pound bag before bowing out at the 230-pounder.
But that performance was enough to earn her sixth in the event. Wells continued to show her strength with a third-place finish in Back Nine, another strongman-inspired event featuring yoke walks, heavy front squats, and heavy deadlifts.
What's Next for Wells?
The 2023 CrossFit Open is slated to begin on Feb. 13, 2023. With the 2023 NOBULL CrossFit Games — which will also be held in Madison, WI — undoubtedly in her sights, there's no telling what Wells might accomplish next.
Featured Image: William Johnson (@barbellstories on Instagram)