On Sunday, Aug. 7, 2022, the final day of the 2022 NOBULL CrossFit Games in Madison, Wisconsin, came to a near close and crowned Justin Medeiros as the Fittest Man on Earth®.
With his second consecutive (but extremely hard-fought) win before the age of 25, the young Medeiros appears to be the new crown prince of CrossFit.
As usual, the Individual athlete leaderboard shifted many times since the Games kicked off in earnest on August 3. Here's how things ultimately shook out after the dust had settled on the evening of August 7:
See It All: 2022 CrossFit Games Results & Leaderboard
View this post on Instagram
[Related: The Best Strength Athletes in 2021]
Second-place finisher Roman Khrennikov has qualified for the Games for years, but is making his debut this year due to visa issues. He met his newborn son just days before the start of the 2022 Games, and crushed his way through multiple workouts to earn himself the runner-up spot on the podium.
With a five-year athlete's visa in his pocket, Khrennikov has a clear runway to the podium in 2023 and beyond. In third place was Australia's Ricky Garard, who returned from a four-year suspension to play spoiler, ranking consistently high throughout the five-day Games affair.
Medeiros' 2022 CrossFit Games Performance
As he did in 2021, Medeiros proved that you don't need to win multiple Individual events to take home the overall title. With third and fifth-place finishes scattered throughout the week (but no performance worse than 18th), the man with a mullet demonstrated the value of consistency.
Medeiros at the 2022 CrossFit Games | Results by Event
Here's how Medeiros performed in every event of the 2022 Games.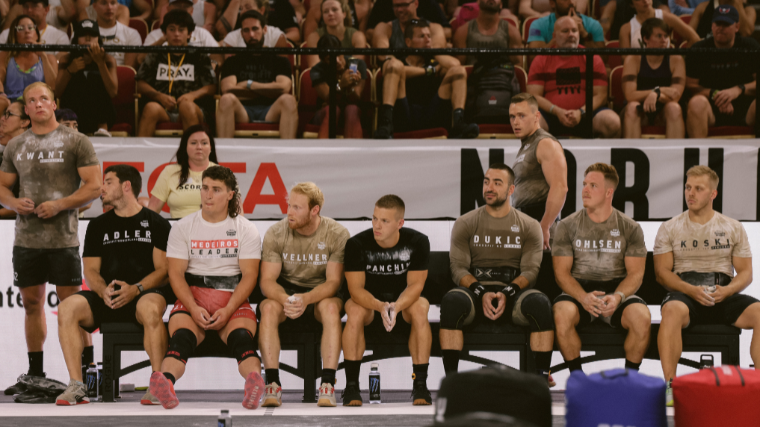 If Medeiros' Games performance this year proves anything, it's that you don't need to be the best in any one discipline to win it all. You need to be consistent all the way through, no matter what the devilish minds behind the Games programming have concocted to throw at you.
The versatility Medeiros displayed in Madison this year encapsulates what CrossFit is all about — being ready for literally anything.
Featured Image: William Johnson (@barbellstories on Instagram)