A quick glance at the top of the 2022 NOBULL CrossFit Games leaderboard may not reveal any huge surprises — with Tia-Clair Toomey and Justin Medeiros back on top. It might seem that this year's Games was all business as usual.
But you'd be remiss to judge this competition by its cover. This year's top-level competition brought us everything from expected victories and fresh blood to single-event triumphs whose replays can still make your heart race. Check out what happened — and relive the best 2022 CrossFit Games moments — below.
Best 2022 CrossFit Games Moments
Tia-Clair Toomey Is Officially the GOAT
With her sixth gold medal, Tia-Clair Toomey became the winningest individual athlete in the history of the CrossFit Games. While it was not her most dominant CrossFit Games win, the 113-point spread between her and second-place finisher Mal O'Brien ensured the 29-year-old Aussie stood atop the podium again, drinking champagne from her shoe and celebrating her continued reign at the top of the sport.
Events like Up and Over featured her multifaceted talent in movements such as muscle-ups and heavy axle bar lunges. It was reminiscent of the famous kettlebell lunge workout that landed her very first CrossFit Games win in 2017. Will the GOAT return for a shot at her seventh title? "That's the question… we'll see," Toomey said when asked by Nikki Brazier.
Mal O'Brien Is the Youngest Woman to Podium at the Games
Mal O'Brien has had eyes on her since regionals last year after she broke from the Teens division as a 17-year-old to join the Individual Women's division. The 2021 Rookie of the Year's gamble paid off — she finished seventh in 2021 and even grabbed an event win.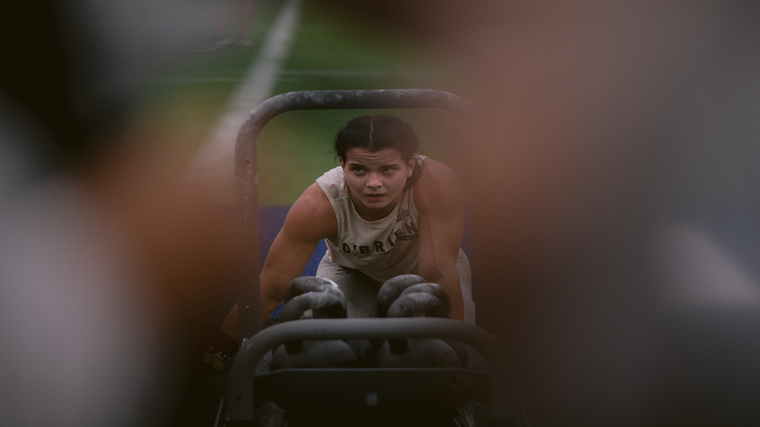 This year, O'Brien came into Madison and put on display the discipline she'd been working on in the off season alongside mentor Mat Fraser. This was evident in events like Hat Trick that required perfect execution and consistency in simple movements like wall ball shots and dumbbell snatches. O'Brien's athletic maturity and poise earned her some time in the leader's jersey and made her the youngest woman in CrossFit history to step onto the podium.
Laura Horvath Pulls Off a Last-Day Blitz to Get on the Podium
Last year's runner-up, Laura Horvath's chances of even cracking the top five looked slim as she entered the last day of competition in ninth place. Horvath struggled on the speedy events in the first two days of competition and received several no-reps on her deficit handstand push-ups that would tank her score in the Echo Press event.
View this post on Instagram
[RELATED: Rebecca Fuselier Shares How She Felt During Her Iconic Moment in "The Capitol" Event at the 2022 CrossFit Games]
On the last day of competition, the Hungarian found another gear in strength-focused events. Rainy conditions struck legless rope climbs from the first event, and Horvath capitalized on what became a sled push and kettlebell clean & jerk couplet.
She snagged first in the event, nearly 40 seconds ahead of Dani Speegle. This catapulted her up to fifth place on the leaderboard, where she'd need to compete with Danielle Brandon and rookie Emma Lawson for a spot on the podium. And that's exactly what she did, taking first and fourth respectively in the last two events to earn herself the third podium spot.
Roman Khrennikov Is the Second-Fittest Man on Earth®
It's a story fit for the silver screen: Russian athlete Roman Khrennikov has missed the CrossFit Games three times since 2018, each time qualifying to compete but being unable to due to visa issues. Khrennikov was finally granted a visa as an athlete and flew to the United States in March 2022 to avoid potential travel shutdowns related to Russia's war with Ukraine (which the athlete has denounced on his social media platforms).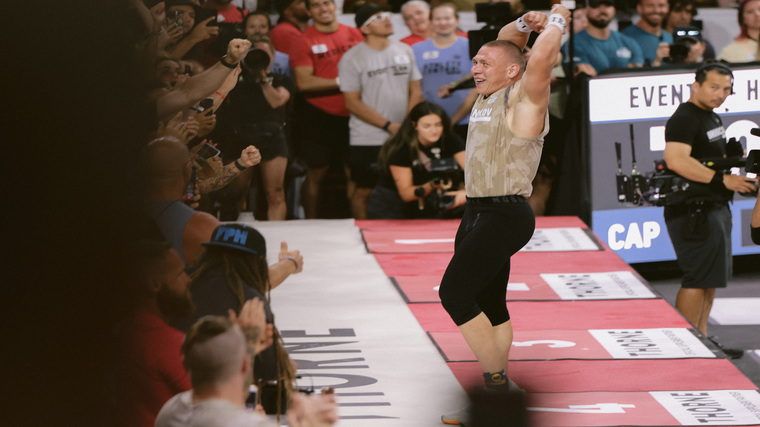 He traveled to the U.S. ahead of his pregnant wife and missed the birth of his son in April. The family was reunited just days before his first in-person CrossFit Games, when Khrennikov got to meet his son and fans finally got to see him perform at the highest level of his sport. Khrennikov delivered with a second-place finish, just 27 points behind returning-champ Justin Medeiros.
Ricky Garard Returns After Four Years — and Reaches the Podium
This isn't the first time Ricky Garard has stood in the bronze medal spot on the CrossFit Games podium — but (pending results) it's hopefully the first time he's done it legitimately. Australia's Garard competed at the 2017 CrossFit Games, but was later disqualified after testing positive for banned substances testolone and endurobol.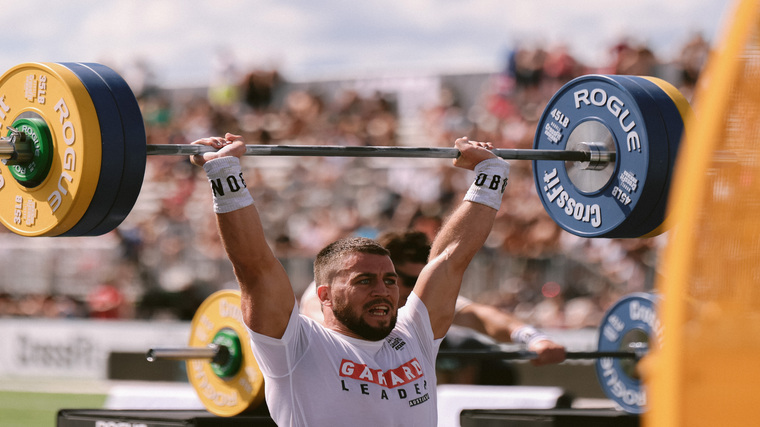 After serving a four-year ban, Garard qualified for the 2022 CrossFit Games and even wore the leader jersey early on in the competition after placing first, second, and third respectively in the first three events. Garard held onto his excellent performance throughout the weekend, earning himself third place overall.
Casey Acree Wins Every Single Event in Men's Upper Extremity
If you wanted a show of domination at the CrossFit Games, look no further than the men's Upper Extremity division. The 2021 Fittest on Earth® in his division earned the title again in 2022. American Casey Acree repeated his first-place finish in spectacular fashion, sweeping absolutely every event.
View this post on Instagram
[RELATED: The Buttery Bros Release Documentary-Style Recap Vlog of the 2022 CrossFit Games]
Acree has asserted his athleticism not only in the adaptive division of the CrossFit Games, but holds his own on the individual leaderboard, as well. He documented himself completing the 2022 Open workouts as an individual athlete, where (if allowed to), he would have placed 1,725th in North America. That's an enviable ranking for an athlete in any division.
The Subiono Brothers Move Up the Teen Ranks
Hawaiian natives Elijah and Kā'eo Subiono have been putting in time at the gym since they were in elementary school. For the second year in a row, each qualified for their respective division in the Teens competition at the Games and both improved on their previous performances.
View this post on Instagram
[RELATED: Rob Kearney Joins Mat Fraser's HWPO Training To Lead Strength-Focused Programming]
The younger Subiono brother, 15-year-old Kā'eo, took sixth in his division, boasting a second-place event finish in Rinse 'N' Repeat and a third-place performance in Carrying Karen. His brother, 17-year-old Elijah, snagged a podium spot this year with an overall third place finish. He also scored two event wins in the Skills Chipper — which included pegboard ascents — and Parallel Elizabeth.
Guilherme Malheiros Surges His Way to 10th Place (After a Rocky Start)
Brazilian phenom Guilherme "Gui" Malheiros won hearts around the world last year when he won the one-rep max snatch event at a staggering 305 pounds, seemingly with plenty of room to spare. The 22-year-old got off to a rocky start with low finishes in the first couple days of the 2022 competition, but found his stride on day four, winning the Hat Trick wall ball and dumbbell snatch sprint.
He then lived up to his own standard on an event that rivaled last year's snatch event: the thrilling Sandbag Ladder. Malheiros cleaned an impressive 340-pound bag and tied the tiebreaker event, giving him a powerful first-place tie with Rookie of the Year Nick Mathew. These late-stage victories surged Malheiros into the top 10 of the overall leaderboard.
The Battle to Conquer the Sandbag Ladder
CrossFit Games programming often includes a "feats of strength" event that gives athletes an individual moment in the spotlight. This year, it wasn't barbells that brought athletes' strength into focus — it was the Sandbag Ladder.
The awkward, unyielding strongman implement gave athletes a unique challenge compared to sleek, swift barbell movements. Athletes gritted their teeth, writhed, and recruited every supportive muscle they could find to wrestle the bag up to their shoulder, where they had to show control, with the unburdened arm outstretched.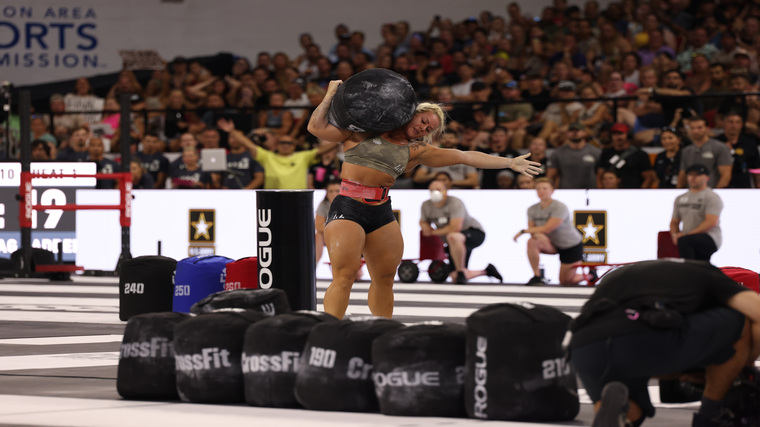 On the women's side, Dani Speegle put on a clinic, winning the event handily and topping out with a 240-pound bag. But perhaps equally impressive was Norway's Jacqueline Dahlstrøm. She matched Speegle with her 230-pound lift — 1.6 times her bodyweight.
The men's competition was no less impressive. The men moved through the bags at 10-pound intervals, single-elimination style until the final four men successfully lifted the last bag on the floor at 340 pounds. With the crowd on their feet, the CrossFit Games staff dollied out one more bag, weighing 350 pounds. Though none of the men were able to lock out the lift, it was an impressive display of grit for Malheiros, Mathew, Brent Fikowski, and Jayson Hopper.
Brooke Wells is Back
Eight-time Games competitor Brooke Wells came back with a vengeance in 2022 after a devastating 2021 Games. In last year's max snatch event, Brooke Wells was sitting in sixth place overall when her elbow gave way under a 190-pound barbell. She left the competition floor, ultimately withdrawing from the competition. Wells had Tommy John surgery a few weeks later to reconstruct the joint.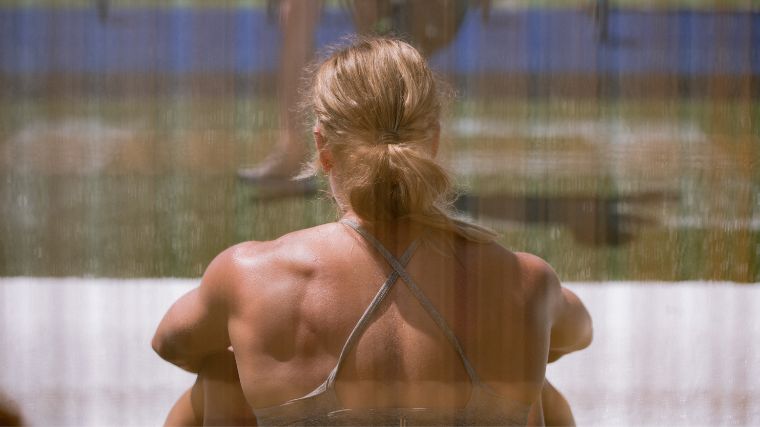 After rehabilitation and getting back to training, Wells finished in an impressive fifth place in the worldwide CrossFit Open. This year, she returned to the Games looking consistent in her strengths, placing high in the Sandbag Ladder (sixth place) and the Back Nine event (third place), which featured heavy deadlifts and yoke carries. She finished in fifth place overall, tying her best-ever finish from the 2020 Games.
Coming up in 2023
What's next for elite-level CrossFit? The Rogue Invitational is back in Austin at the end of October. And you can start your 2023 CrossFit Open planning now, as CrossFit HQ announced it will start on February 13, 2023. The 2023 NOBULL CrossFit Games are set to begin July 31, 2023, once again in Madison, WI.
Looking forward to 2023, eyes will be on Tia-Clair Toomey to see if she'll look to add more gold to her impressive vault. Or will she ride off into the sunset and open the gates for the next generation to take the top spot? Will Justin Medeiros continue to excel toward Rich Froning or Mat Fraser-level dynasties? Time, training, and the 2023 Games will tell.
Featured Image: William Johnson (@barbellstories on Instagram)