The story coming out of Event 11 at the 2021 CrossFit Games was four-time reigning Fittest Woman on Earth®, Tia-Clair Toomey-Orr, setting the record for most event wins at the Games. She is the first athlete to win 30 events, passing the previous record of 29, held by five-time Fittest Man on Earth®, Mat Fraser. She held a huge lead on the women's overall leaderboard — 196 points ahead of Laura Horváth in second place.
On the men's side, the race for the podium remained tight, with four events to go. 2020 CrossFit Games bronze medalist Justin Medeiros was first overall with a 62-point lead over Patrick Vellner in second place. Brent Fikowski wasn't too far back either — just 14 points behind Vellner.
The final event for Day Three of Individual competition was a simple one — establish a max snatch.
Here were the results:
Individual Event 12 — Top Five Women
Tia-Clair Toomey-Orr
Annie Thorisdottir
Laura Horváth
Gabriela Migała
Danielle Brandon
Individual Event 12 — Top Five Men
Guilherme Malheiros
Royce Dunne
Patrick Vellner
Brent Fikowski
Saxon Panchik
[Related: 2021 NOBULL CrossFit Games Results and Leaderboard]
Individual Event 12
Establish a max one-rep snatch.
*Athletes eliminated in the same round competed in a tiebreaker of three snatches for speed and crossing a finish line. Winners scored higher ranks — Men: 225 pounds | Women: 145 pounds
Women's Division
Athletes stepped onto the lifting platform in pairs based on their standing on the overall leaderboard. Each competitor was allowed 20 seconds to successfully snatch each weight to advance to the next round. The opening weight was 160 pounds. The entire 20-woman roster made it through the first round.
The second round had 170 pounds on the barbell. Kristi Eramo O'Connell was the first athlete eliminated and the only competitor unsuccessful in round two. Round three moved the weight up to 175 pounds. Baylee Rayl and Emily Rolfe missed in round three and battled in the tiebreaker. Rayl got the better of Rolfe by three-tenths of a second.
Round four moved the weight up to 180 pounds. Jacqueline Dahlstrøm, Haley Adams, and Kristin Holte fell at this weight and raced in the tiebreaker. Dahlstrøm crossed the line first, followed by Adams and then Holte.
In round five, Emma Tall, Arielle Loewen, Mallory O'Brien, and Barnhart were unable to secure 185-pound lifts. Barnhart ranks 11th, Loewen in 12th, O'Brien in 13th, and Tall in 14th.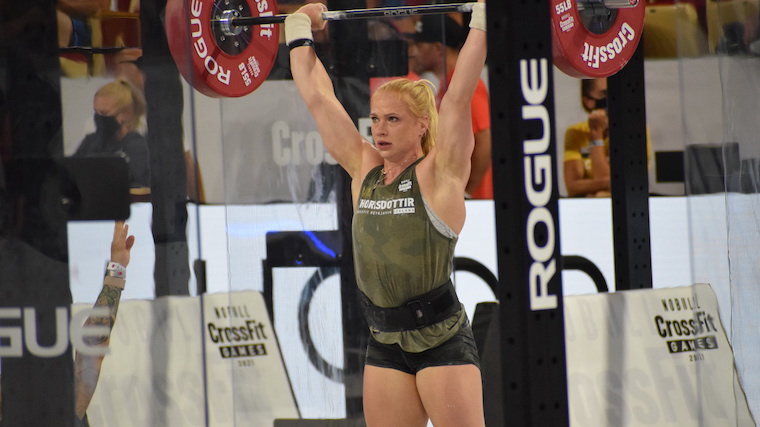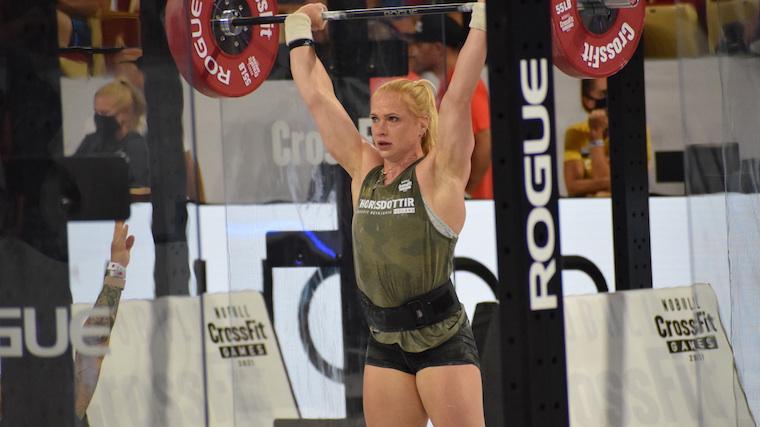 Only 10 athletes made it to round six to attempt 190 pounds — each athlete lifted by themselves. Emma Cary, Thuri Helgadottir, Emma McQuaid, and Katrin Davíðsdóttir all missed, in that order. Danielle Brandon missed her first attempt but hit her second — the first woman to successfully snatch this weight. Gabriela Migała followed with a clean rep, as did Annie Thorisdottir. Horváth and Toomey-Orr both advanced. Brooke Wells missed her first attempt and appeared to suffer an elbow injury — she was escorted out of the arena and did not compete in the tiebreaker.
At 195 pounds, Brandon and Migala fell, but Thorisdottir stood. Horváth was unable to hit the weight, but Toomey-Orr was. Only Toomey-Orr and Thorisdottir were left in the event.
Thorisdottir and Toomey-Orr have won a combined six CrossFit Games. Thorisdottir missed her first attempt at 200 pounds but hit her second with a look of shock on her face. Toomey-Orr matched Thorisdottir, and the weight moved up to 205 pounds. Thorisdottir could not secure 205 pounds — one pound above her max. Toomey-Orr was also unable to hit it, and the two champions moved to the tiebreaker. The hype was palpable in the arena, but a missed first lift for Thorisdottir gave Toomey-Orr the 31st event win of her Games career.
Men's Division
Bayden Brown and Henrik Haapalainen were the first two men to fail the opening weight of 260 pounds. Cole Sager joined them while the rest of the field advanced to the round of 270 pounds.
Noah Ohlsen fell in the second round, as did Jonne Koski. They squared off in a tiebreaker, where Ohlsen got the edge and took the higher rank. Koski was tending to his left shoulder after bowing out of the tiebreaker but appeared to be okay.
In the round of 275 pounds, Jayson Hopper made an aggressive series of three attempts, but could not sustain any of them. He was joined by Lazar Đukić. Hopper beat out Đukić for the higher rank.
Fourteen men made it to the round of 280 pounds. Jeffrey Adler and Travis Mayer could not sustain the weight overhead. Björgvin Karl Gudmundsson also failed two attempts in this round. In the tiebreaker, it went Mayer, Adler, Gudmundsson.
View this post on Instagram
Round five at 285 pounds saw each lifter snatch alone on the center platform. Will Moorad was the first to enter the tiebreaker area. Scott Panchik was the second. Alex Vigneault was the third. Justin Medeiros's listed personal record was this weight and he missed his first attempt. He had to take a few steps forward on his second attempt but stabilized it. The tiebreaker went Moorad, Panchik, Vigneault.
With 290 pounds on the barbell, André Houdet entered the tiebreaker area alongside Saxon Panchik. Brent Fikowski could not sustain the weight after two attempts. Medeiros attempted the five-pound PR but was unable to hit it in two attempts. The tiebreaker went Fikowski, Panchik, Houdet, then Medeiros.
Only three men entered the round of 295 — Royce Dunne, Guilherme Malheiros, and Patrick Vellner. Dunne hit it on his first attempt. Malheiros's form throughout this event was as flawless as it gets and he scored his first attempt. Vellner dropped his first attempt. He went for a second but could not move it overhead.
It came down to a head-to-head battle at 300 pounds between Dunne and Malheiros. Dunne hits a successful first attempt. Malheiros matched it and the weight moved up to 305 pounds. Dunne missed his first attempt, couldn't hit his second, and went for a third, but still came up short. It was all on Malheiros and he continued his streak of flawless lifts. Malheiros goes a perfect nine for nine on attempts to his third event win of the 2021 Games.
The Games Continue
The remaining 20 athletes in each division have only the final day of the competition left to make moves on the leaderboard. There are three events left until a Fittest Man and Woman on Earth® are crowned. Tia-Clair Toomey-Orr stands atop the overall leaderboard for the Women's Division and is en route to a record-tying fifth CrossFit Games title — Mat Fraser is the only athlete with that many Individual Games championships. The three podium spots for the men's division are still in flux going into the final day, but Justin Medeiros has the lead.
Feature image courtesy of CrossFit.