Coming into the 2021 Open, most CrossFit fans probably didn't know much about Emma Cary. Diehard fans will recall that she was the 2019 CrossFit Games 14-15 Girls Champion. Some other fans may have heard of her lifting prowess coming into this season. But now, most of the CrossFit community is well aware of this 16-year-old who took the Open by storm, coming in second worldwide and only being topped by the four-time Fittest Woman on Earth™ Tia-Clair Toomey-Orr. (It's worth noting Cary will turn 17 before the 2021 CrossFit Games.)
And to cap it off, Cary won Open Workout 21.2 worldwide and captured a number of "youngest" Open records.
I was able to catch up with Emma on the eve of the Quarterfinals to go over the Open; her thoughts on competing in the Quarterfinals and Semifinals; and her CrossFit career outlook and long-term goals. Like Haley Adams before her, this teenager is poised for a breakout season coming soon.
Note: The following interview has been lightly edited for clarity and readability.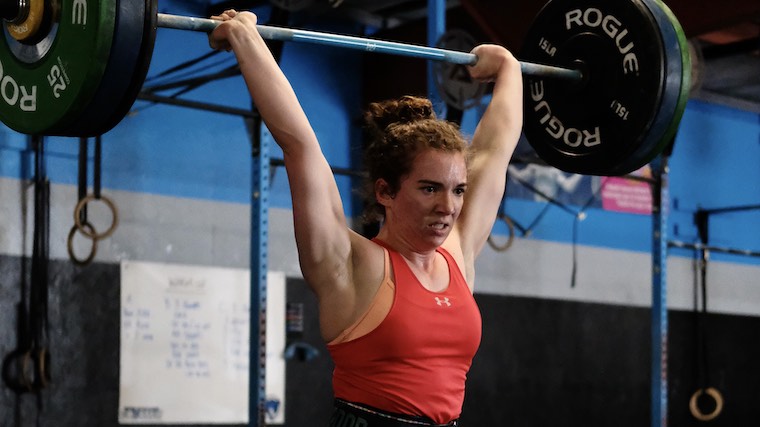 BarBend: How are you doing right now as you get ready to start the Quarterfinals?
Cary: I am doing amazing feeling healthy, happy, and hungry. I'm just so ready to watch hard work pay off.
BarBend: At BarBend, we wrote an article right before the season on you along with a couple of other up-and-coming teenagers (Mallory O'Brien, Dallin Pepper, and Tudor Magda) highlighting your big lifts, but also your overall capacity given how well you've all done in the teenager divisions at the Games. What were your goals going into the Open?
Cary: I had not stated clear placement goals. I did not focus on the Open and didn't really prioritize it in my training. I just kept the focus on the training, focus on training for the Games. As long as I got to the later qualifying stages, I thought I would be OK. But as the Open went on, I saw that I was really making a statement, not just to everybody else, but most importantly to myself. My goals for the Open were more effort, strategy, and mental skills – things that I wanted to practice. I feel like I did that all very well and I am so happy with the outcome, not just in what's reflected on the leaderboard, of course that too. But mostly the improvements as a competitor, not necessarily just an athlete, are what I'm most excited about.
[Related: The 2021 CrossFit Games Season Schedule]
BarBend: Obviously, 21.2 was an amazing workout for you setting the worldwide best time and establishing new records. What were your thoughts as you finished the workout? Did you feel like it could have been the best performance in the world at the time?
Cary: I was so excited when it was announced. I knew that it was going to be an amazing workout for me. I wrote in my journal that I wanted to win and I believed I had the physical ability to do that. And just mentally, I needed to be committed, to being confident and aggressive, and to not back out from a plan that scared me. I wanted to go sub-nine. I kind of started off with that just as a joke.
And then I got to thinking and did some math. I was like, okay, I need to sprint this whole time, but I can do that. It is going to be a crazy pace, but I really think I could hold that. I texted my coach (Matt Torres from Brute Strength) just like, hey, I want to let you know that I'm going sub-nine tomorrow night so when I text you, I did it and you'll know what I'm talking about. And he's like, oh, okay – go get it. And he believed in me, I believed in me and then I got to send that text and that was an amazing feeling. As soon as I finished that workout, all the pain went away and it was just joy for a few seconds. Obviously I didn't know if that will hold as the top time, but I am really, really proud of that. I am proud of the score, but most importantly, I am proud of my effort and my mindset and not being scared to go a little crazy with it. Those few seconds after the workout, I just celebrated going sub-nine and then the pain kind of hit again. And I was like, whoa, that was a tough workout, but it's definitely one of my favorite open memories.
BarBend: The equipment list has been posted along with the competition space dimensions for the Quarterfinal tests. Given what you've seen, what are you excited about?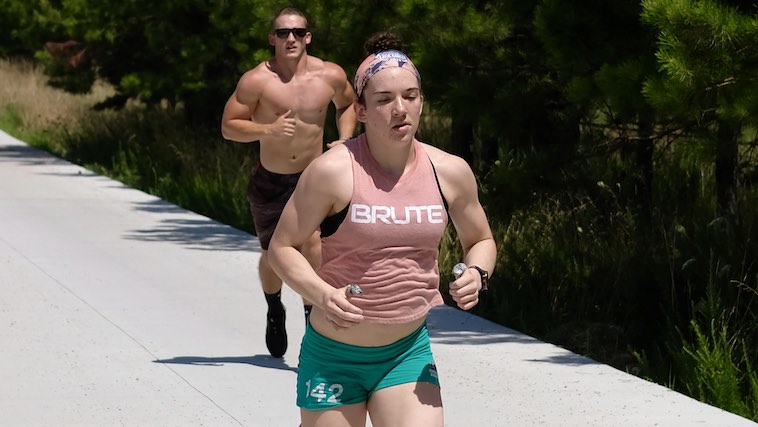 Cary: I am definitely excited to see a rower and wall-ball. That's one of my favorite combinations. I like the dumbbell snatch and burpee box-jump-overs because you can always keep going and this tests how bad you want it. I am confident and want it so I do very well in those kinds of workouts. It looks like we're going to get a few more technical things like rope climbs, maybe even legless rope climbs which I love. I like GHDs. I have really loved everything so far and excited to see a max lift. My favorite lift is an overhead squat, so I'm really hopeful for that. But looking at the camera angle I think it might be a shoulder to overhead, which I love, too. Regardless, I would like a strength event because I think lifting heavy is fun, but also that used to be a big weakness for me. But now I get to be proud of how far I've come.
BarBend: Assuming you are going to qualify for the Semifinals from the Quarterfinals, which of the three Semifinals would you like to go to the most between the Granite Games, Mid-Atlantic CrossFit Challenge, or the West Coast Classic?
Cary: I would love to go to the Granite Games again because it was my first elite competition, first time competing against the elite women. It was one of the defining moments of my career I feel like because it showed me that I do belong out there. But also I have a lot of work to do. I went into the Granite Games really confident but I didn't do quite as well as I wanted. It showed me what I needed to work on and also what I can do once I got strong and that really fired me up. I have worked hard on those weaknesses ever since. I am a completely different athlete physically and mentally. I'm not going to be intimidated this time. Not that I did bad last time, but this time it's going to be so much better. And it is my favorite part of the sport. Seeing hard work pay off and especially when it pays off in a competition. I'm really looking forward to that, but I would also love to go somewhere new. Either way I just want to compete in person again, I am so hungry to be back on the competition floor.
BarBend: Speaking of the Granite Games, it was your first time competing in the elite women division. What are your thoughts about doing it again in the Semifinals competing right next to some of the best women in the world?
Cary: I love the teen division, but obviously it is not forever. So even when I was 15 competing in the teenager division, I knew it was not the ultimate goal. I want to win the Games one day as an individual. The Granite Games gave me my first sense of how good those women are. It was intimidating at first, they were bigger, they were more experienced, but everyone was nice. I had never experienced the community on the national / international scale like that which was so fun.
Even though some of the women were role models I had since I was 10 when I started CrossFit, when I stepped on the starting line none of that mattered. All that mattered was doing my best. All that mattered was controlling what I could control to the best of my ability. That showed me that I do belong out there even though I had a lot of work to do. Of course I still have so much more work to do, but I am excited for it and to see what I'm capable of.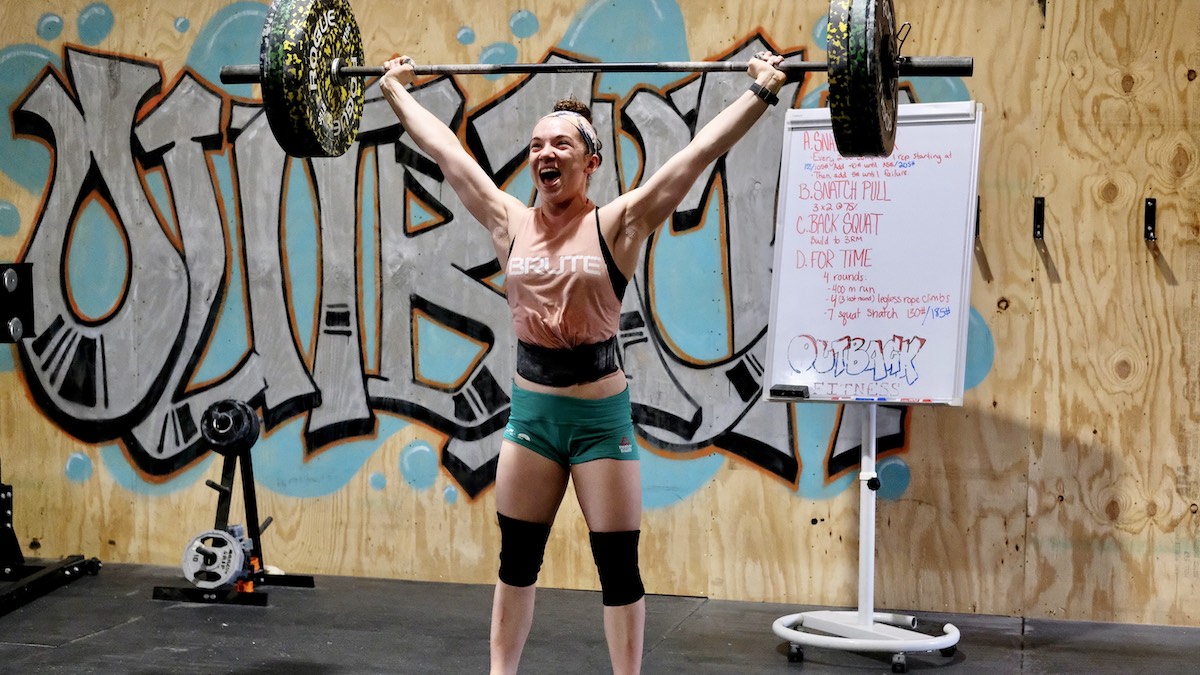 BarBend: Last weekend I saw an interview you had done where you stated that you are going to pass on the Age Group Online Qualifier (AGOQ) and just focus on the Semifinals. This really caught my attention. It has happened maybe a few times with Masters, Josh Bridges most notably in 2018. He went all-in at Regionals (having passed on doing the AGOQ) and it worked out as he made the Games as an individual. You may be the first teenager to try this. What is your mindset behind this decision?
Cary: I don't want to give myself anything to fall back on because I don't really need anything to fall back on. I decided that I am going elite since last May when I set that goal. And I don't want to go back on that. No matter what happens, I don't ever want to be like, oh well, you know, at least I have a spot as a teen. I want to fight until the very end. I want to have pressure because I believe that pressure is a privilege. The more pressure you put on yourself at a competition the better, because that pressure enhances your focus. That makes your reactions better, that makes you more tolerant. I want all of those feelings. I want to know what is on the line, because there's a chance I could fail. And if I don't qualify for finals, I won't have a fallback. And that would be horrible and heart-breaking. But I like that it has also fired me up to go work as hard as I can every single day up until then. I believe in myself so much that I know I can do it. And one quote that I have – if I give my best, I'll be the best. This is something I have believed for so long. No matter what if I keep giving my best, I believe it's going to pay off this year. To me, there's no better way to prove to myself how confident I am than to go all-in on this and give myself no other options.
BarBend: How have you been handling all the media attention that you have been getting early in the season?
Cary: I love it. I don't find it a distraction at all. I find it as an opportunity to share my pattern with other people and maybe I can inspire one person. Maybe I could show them what it looks like to be positive, confident, tough, driven, and hardworking. I want people to know that it's okay to believe in yourself and it is okay to dream big as long as you're working as hard as you can. I get these opportunities to maybe be a role model and I feel so honored to have this attention.
BarBend: What would be a fulfilling outcome for you in the 2021 Games season? What would you be satisfied with?
Cary: Just a few months ago it was just to qualify for the Games as an elite. I would have been so happy to qualify but now the goal is so much bigger. I want to set a goal I can reach, but I also want it to scare me a little bit, because I believe if your goal doesn't scare you it probably is not big enough. Nothing fires me up like a scary goal. I have honestly not set the exact goal yet. I'm going to wait until after the Quarterfinals and into the Semifinals. But it's going to be big, like top 20, top 10, maybe even podium. I am not going to put any limits on myself. I'm going to go big. I know that this is just the beginning and I may fail, but there's also a chance that I think I can succeed, and I'm all-in with success.
BarBend: Along those lines, what are your goals in CrossFit for the next few years and career goals? What would you ultimately like to achieve?
Cary: In 2019, I set a one-year goal, a five-year and 10-year goal. 2024, that sounded like a nice number to win the Games. My goal is to win the 2024 Games and become the Fittest Woman on Earth™. And I don't just want to do that one. I want to be dominant. I have exciting goals in the works, and I'm getting closer and closer to them. It might be sooner, if I choose to set that goal soon. So right now that is the goal and I'm not going to put any limits on that goal. This is what I love to do, I want to do, and I'm going to do it the very best I can.
BarBend: Thank you very much for your time. Best of luck with the Quarterfinals.
Cary: Thanks so much, I appreciate it.
All images courtesy of Katie Kaufman of JKK Images