After Event 10, won by Lazar Đukić and Emily Rolfe, the field was cut to the top 20 athletes in Men's and Women's divisions. Justin Medeiros, and four-time Fittest Woman on Earth®, Tia-Clair Toomey-Orr, ranked atop the overall leaderboard.
Patrick Vellner used Event 10 to hop over Brent Fikowski for second place overall. Laura Horváth, Kristin Holte, and Haley Adams were ranked in that order behind Toomey-Orr, separated by 19 points.
For Event 11, athletes were introduced to the pegboard for the first time at the 2021 Games. It was part of an AMRAP with dumbbell overhead squats and double-unders. Toomey-Orr took the win to set the record for most event wins ever at the Games with 30. Cole Sager won the event for the men — the third event win of his Games career.
Here were the results:
Individual Event 11 — Top Five Men
Cole Sager — 276 reps
Lazar Đukić — 269 reps
Björgvin Karl Gudmundsson — 261 reps
Jonne Koski — 259 reps
Patrick Vellner — 255 reps
Individual Event 11 — Top Five Women
Tia-Clair Toomey-Orr — 231 reps
Danielle Brandon — 225 reps
Baylee Rayl — 215 reps
Mallory O'Brien — 209 reps
Emma McQuaid — 208 reps (T-5th)
Laura Horváth — 208 reps (T-5th)
[Related: 2021 NOBULL CrossFit Games Results and Leaderboard]
Individual Event 11
11-minute AMRAP (as many reps as possible):
One pegboard ascent — 13 feet, three inches (plexiglass)
Seven single-arm dumbbell overhead squats
15 heavy rope double-unders
Men: 70 pounds | Women: 50 pounds
Men's Division
Cole Sager hopped out to an early lead in heat one for the men with 2020 CrossFit Games finalist Jeffrey Adler not far behind him. Scott Panchik was a handful of reps back from the lead around the four-minute mark. He used a strategy of rubbing his shoes on a damp towel prior to the pegboard ascents to achieve better traction.
Sager held the lead through round six and extended it into the double-digit range — he would lap the field at around the 7:30 mark. He would close the heat in first place, completing nearly 12 rounds and totaling 276 reps. Panchik finished in second with 253 reps.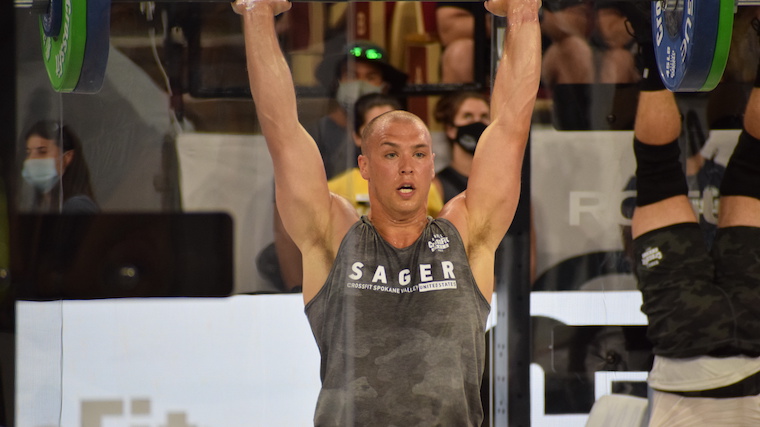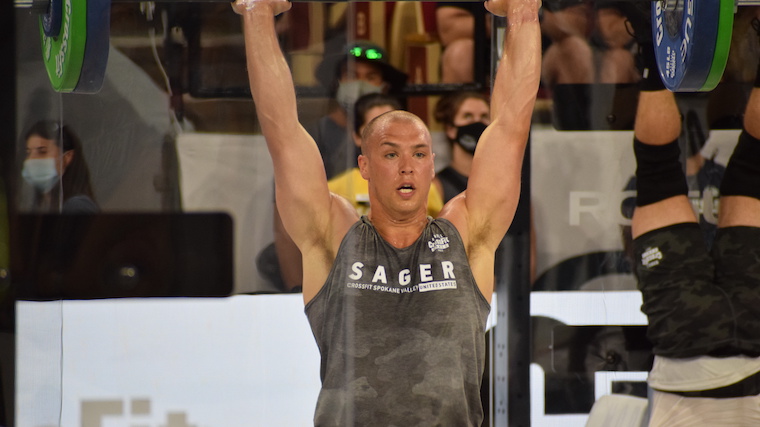 In heat two, Medeiros stumbled out of the gate with two handle bobbles on his first pegboard attempt. Bjorgvin Karl Gudmundsson swapped the lead back and forth with Fikowski in round two with Lazar Đukić and Jonne Koski fighting for third place.
Medeiros's struggles continued with a no rep in the overhead squat and another in the double under prior to the five-minute mark. As Sager did in heat one, Gudmundsson did in heat two — steadily extending his lead with each round. However, at the 8:30 minute mark, Đukić caught up to Gudmundsson and took the lead in the double under. Đukić held on to take the heat with 269 reps. Gudmundsson finished second with 261 reps.
Women's Division
Danielle Brandon, Jacqueline Dahlstrøm, Katrin Davíðsdóttir, Arielle Loewen, and Emma McQuaid got the early boost in heat one. Loewen slipped on the pegboard in the second round and gave up ground to the rest of the field. By round three, Davíðsdóttir led the heat.
By round four, Brandon and Davíðsdóttir seemed to square off in their own head-to-head battle. Baylee Rayl sat comfortably in third place around the 4:30 mark. A missed rep by Davíðsdóttir in round five gave the lead securely to Brandon.
The most pegboard reps at any previous Games was six, according to the broadcast team. That record was shattered well before the time cap — by round eight, Brandon had a double-digit rep lead. She finished first in the heat overall with a total of 225, Rayl finished in second with 215. McQuaid and Loewen finished in third and fourth, respectively.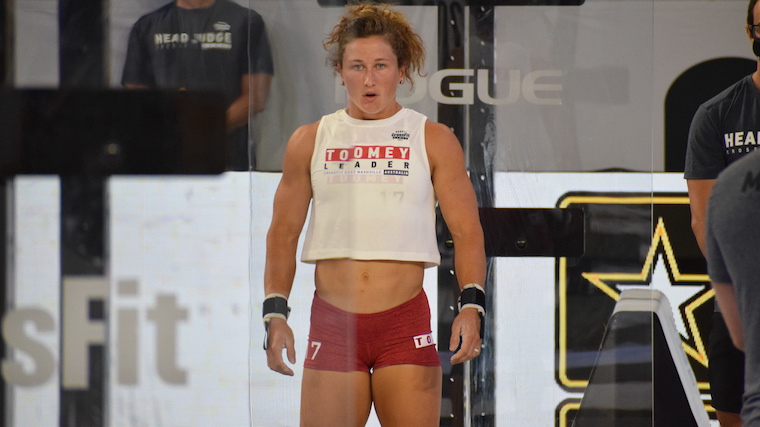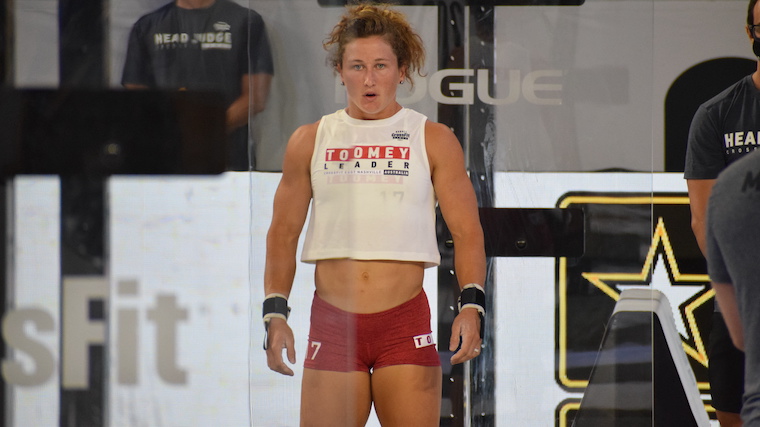 In heat two, Toomey-Orr finished the first pegboard the fastest. However, Holte and Adams held nearly the same pace. Toomey-Orr expanded her lead by about five reps by the third round. Adams slipped towards the bottom of her third pegboard, and it cost her a ton of time — Toomey-Orr's lead moved into the double digits.
Following Adams's blunder, it was Toomey-Orr's round until the end. She finished with a total of 231 reps. Horváth finished second with 208 reps.
The Games Continue
The remaining 20 athletes in both the Men's and Women's divisions will compete in one more event on July 31 and three more on Aug. 1, 2021 — a total of 15 events in the 2021 NOBULL CrossFit Games. Here is the known schedule of events (all times in EST):
Feature image courtesy of CrossFit.