When the Ruck event was announced at the 2019 Reebok CrossFit Games, those with a running and triathlon background—Sam Briggs, Kristin Holte, Tia-Clair Toomey to name a few—likely rejoiced.
Unbeknownst to them, so did Canada's Emily Rolfe.
"I was like, 'Boom! Sweet,'" said the 5-foot-7, 155 lb. Rolfe of her internal reaction to the announcement of a 6-km run with a rucksack that got progressively heavier—from 20 lb. to 50 lb.—as the run progressed.
Twenty-seven minutes and 9 seconds later, it was the unknown 30-year-old Rolfe who topped the women's field, winning the event at her first CrossFit Games.
What might be even more impressive than her win is the fact that Rolfe has no running or endurance background whatsoever. A former national level gymnast, Rolfe said: "Who runs with a pack? The only time I run with a backpack is when I'm late for work."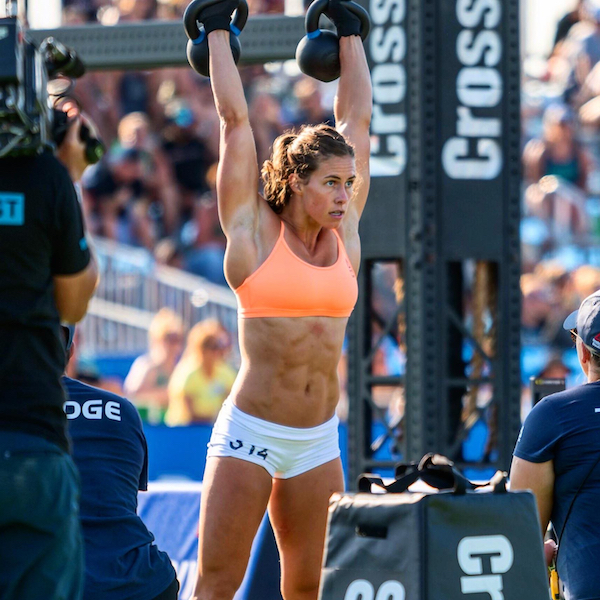 Rolfe, who finished an impressive 19th overall in Madison, comes by her natural abilities honestly, and those abilities that go way beyond just running. Her mother was a Commonwealth Games champion javelin thrower, who qualified to the 1980 boycotted Summer Olympic Games. Meanwhile, Rolfe's father is a former collegiate weightlifter and wrestler. He taught his daughter how to clean & jerk and snatch when she was just 8 years old. She competed in weightlifting for a while, but her love of gymnastics eventually won out.
When you talk to Rolfe, it's immediately obvious that she's not only physically gifted, but she also has a calm and relaxed mind to be able to handle stressful competition. In fact, she comes across as almost nonchalant.
Unlike many athletes, who felt uncertain when CrossFit HQ announced the changes to the competition season last year, Rolfe wasn't concerned. In fact, she opted not to bother competing in the Open last year and calmly waited until the 11th hour at the Granite Games Sanctional event to qualify to the CrossFit Games.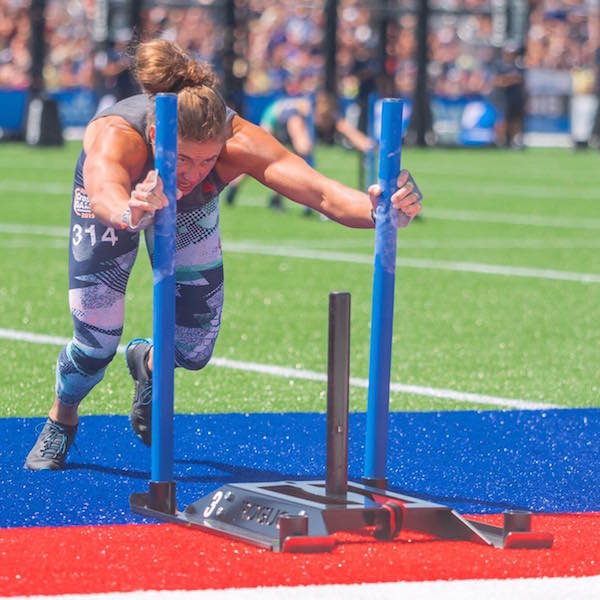 "With all the changes, everything was so knew and nobody really knew what was happening last year, so I decided to skip the Open," she said.
Though she comes across as calm, Rolfe said it's all a facade. Inside, she breathes fire.
"I'm very competitive. I take it very seriously," she said. While she has a full-time job in radiology, her husband and coach Kyle Rolfe, jokes that CrossFit is Rolfe's real job.
Being this competitive, Rolfe knew she needed to work on her mental game in competition, so she hired Brett Piperni last summer to help her with her mindset.
When asked how Piperni, who travelled to Madison with Rolfe, her husband, and her other coach Isaac Payne, helped her perform as well as she did at the Games, Rolfe replied, "Um, everything. He helped me with everything."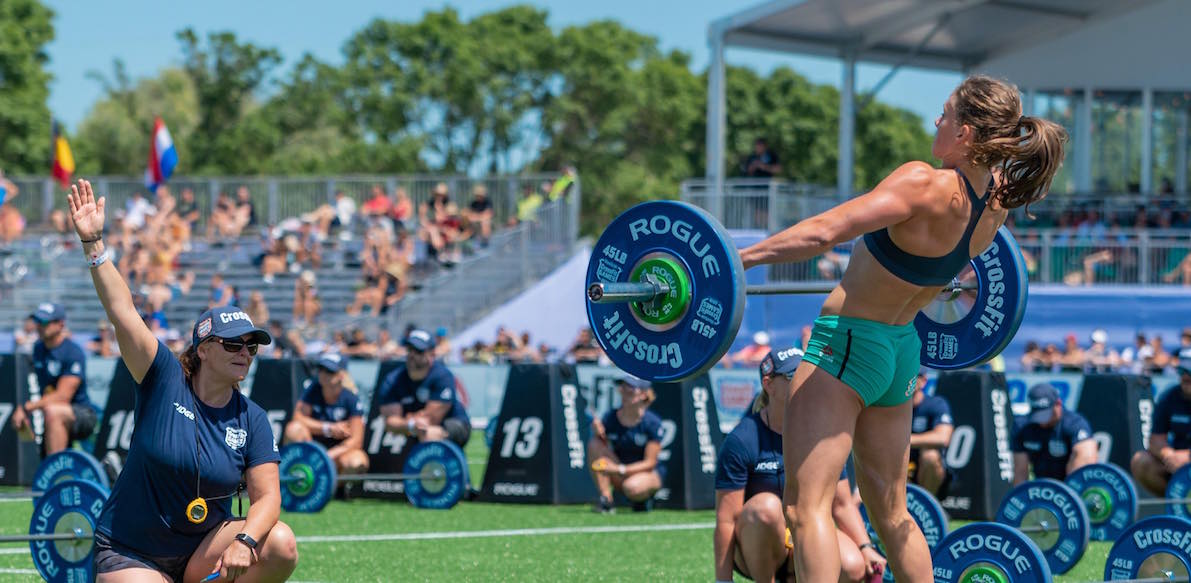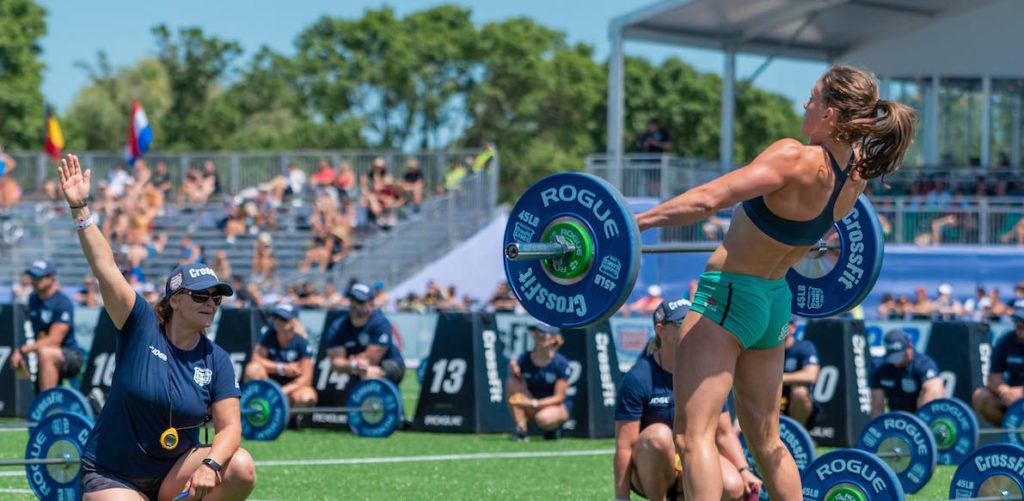 She added: "Brett has helped me with being outwardly calm, but on the (inside) still having that fight and that aggressiveness."
He was able to do this in just five short weeks, as that's all the time Rolfe after qualifying at the Granite Games.
Like many rookies, her initial reaction was to be stoked at her accomplishment and just happy to have the opportunity to compete against the best in the world.
"But Brett got me thinking. He was like, 'No, you don't just want to be there to be there. You want to do well and make a splash,'" she said.
So the biggest step for Piperni was to get Rolfe to a place where she felt comfortable when she arrived in Madison, as opposed to scared and intimidated.
"I looked up to these girls, like the Dottirs, for so long, and now I would be standing beside them trying to beat them," Rolfe said. "(Brett) gave me all these cues to overcome this. I used them and practiced them leading up to the Games, so when I got on the competition floor, I wasn't so shell-shocked."
Through mental cues, self-talk, visualization and breathing exercises, each day Piperni built upon the day before, Rolfe explained.
The first part of this process was about helping Rolfe become more aware of her thoughts.
"At first, I thought it was a bit of hocus pocus, but I actually didn't realize how unaware I was of the negative ramifications of that voice or those thoughts that enter my head," she said. "Through constant documentation of the thoughts that zoomed through my mind all day and how they made me feel, I became more aware and in with myself."
With this newfound awareness, Rolfe was able to "quickly snap out of a negative mindset and replace that thought with something else that was going to help me," she said. Ultimately, this allowed her to change her current state and replace it with "the perfect competition scenario" in her mind.
She added: "(Piperni) literally taught me how to take control of my mind."
By the time Rolfe arrived at the Games, she was confident she could compete with the best.
And she did.
"I (was) able to use that negative nervous energy (now) to my advantage and get all those butterflies flying in the same direction, so to speak. Inside, I (was like), 'I'm gonna destroy this,' and on the outside, (I was) like, 'Hi, I'm new here,'" she said.
This was particularly evident during the Ruck Run.
"In the final bit of the Ruck Run, I had full control of my mental mindset. Even though physically I felt like I couldn't speed up, mentally I was so switched on and in the zone I was able to pull away from the pack," she said.
Rolfe is hoping what Piperni taught her last summer will carry through to the 2020 CrossFit season, starting with the Open.
Her goal: To be the number one athlete from Canada and earn a berth to her second CrossFit Games.
But if she doesn't, that's OK, too, she explained. Regardless of the outcome during the Open, Rolfe plans to attend three Sanctional events in the upcoming months. She has already been invited to a handful, including Wodapalooza CrossFit Festival and the West Coast CrossFit Classic. She also has her sights set on the Dubai CrossFit Championships, "but we'll see how the Open goes," she said.
One thing is for certain: Now that she has had a taste of the CrossFit Games, she wants more.
"It was pretty amazing," she said. "I want to go back. 100 percent."
Images courtesy Mikey Stevenson photography