In Event Six and Event Seven, Individuals battled through 200-meter runs and heavy cleans — both events were the same, with the latter featuring more weight on the barbell. Tia-Clair Toomey-Orr swiftly won both events in the Women's Division. In the Men's Division, Jeffrey Adler won Event Six and finished as the runner-up to Guilherme Malheiros in Event Seven.
For Event Eight, athletes were tasked with completing a course in handstand walk. The course featured a ramp, parallelettes, and stairs. Scott Panchik proved that he is still a force in the competition despite suffering a knee injury in Event One with his second event win of the 2021 Games.
Here were the results:
Individual Event Eight — Top Five Men
Scott Panchik — 2:05.21
Justin Medeiros — 2:15.33
Samuel Cournoyer — 2:19.58
Royce Dunne — 2:39.72
Guilherme Malheiros — 2:45.87
Individual Event Eight — Top Five Women
Danielle Brandon — 1:43.91
Haley Adams — 2:04.47
Brooke Wells — 2:08.08
Tia-Clair Toomey-Orr — 2:54.30
Kristin Holte — 3:00.37
[Related: 2021 NOBULL CrossFit Games Results and Leaderboard]
Individual Event Eight
For time:
There was a time cap of five minutes for both divisions. Athletes had to traverse the course, turn around, and traverse it back.
Men's Division
In heat one, Agustin Richelme paced the field with Tim Paulson in second. Richelme had the floor to himself on the second lap. He scored a no rep on the final section, which hindered his lead. However, he held on to win the heat in a time of 3:00.34. Paulson, Colten Mertens, and Uldis Upenieks were the only other athletes in the heat to finish within the time cap.
Samuel Cournoyer took a commanding lead early in heat two. He ran the first half of the course unbroken. He smoked Richelme's time, finishing in 2:19.58. However, Richelme's time held up against the rest of heat two. Jay Crouch finished the heat second, followed by Chandler Smith and Cole Sager.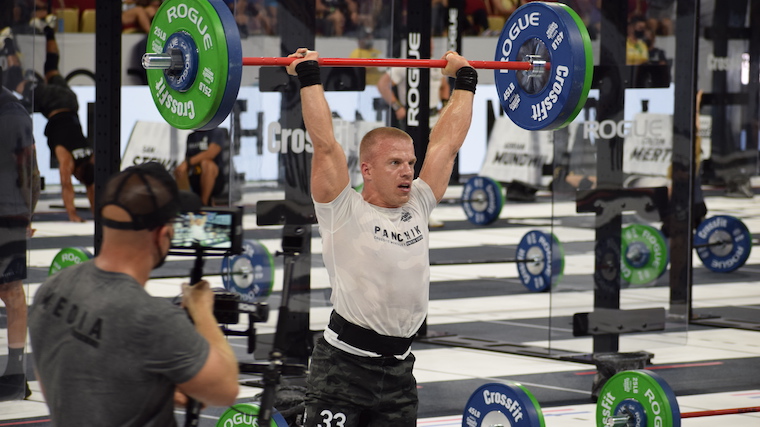 Scott Panchik took an early lead in the event, with Noah Ohlsen close behind. Panchik continued to move steadily along the course, breaking between sections. His strategy paid off with a heat-winning time of 2:05.21. Ohlsen finished second in the heat, followed by Travis Mayer and Lazar Đukić.
The fourth heat for the men featured Justin Medeiros wearing the proverbial overall leader jersey for the first time at the 2021 Games. Jonne Koski held a slight lead in the first half of the course with Patrick Vellner and Björgvin Karl Gudmundsson by his side. They all faltered on the final section, and Medeiros walked past them.
Medieros implemented a strategy of fast breaks between sections, and it scored him a heat-winning time of 2:15.33. Royce Dunne finished in second, and Guilherme Malheiros scored third.
Women's Division
Heat one in the Women's Division saw Sasha Nievas out in front early. It came as somewhat of a surprise because, in Event Seven, the medical staff had to help her off of the field of play with what appeared to be an arm injury. However, she was clearly okay and cruising through Event Eight.
Nievas was the first to reach the final section but struggled to get across. Caroline Connors caught up, but Nievas quickly turned the tide and crossed the finish line at 3:31.66. Michelle Basnett was able to overtake Connors for a second-place time of 4:30.56.
Carolyne Prevost and Emma Cary parried for the early lead in heat two. By the end of the first half of the course, Alessandra Pichelli claimed the lead alongside Baylee Rayl. Rayl was the first to tackle the final parallettes and cleared them on her first attempt to score a heat-winning time of 3:13.07. Mekenzie Riley came out of nowhere to score a second-place time of 3:49.39.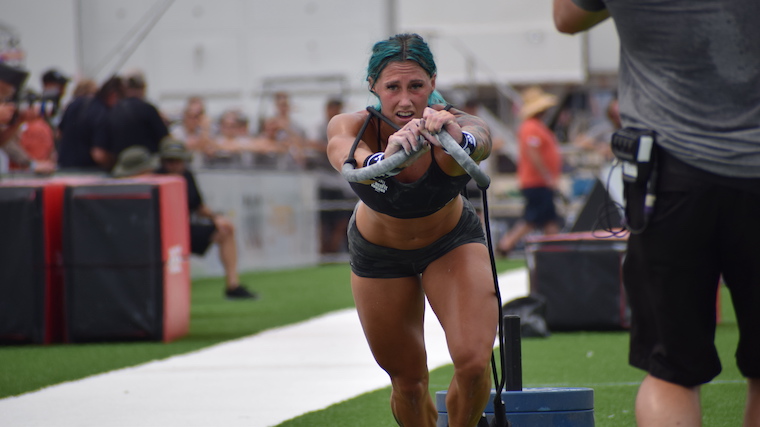 In heat three, Danielle Brandon put on an absolute clinic. She cleared the first half of the course in under 40 seconds and blazed through the back half of the course to score an event-leading time of 1:43.91. Arielle Loewen finished second, followed by Mallory O'Brien and Thuridur Helgadottir.
It was an early battle between the 2020 CrossFit Games finalists Haley Adams and Brooke Wells in the final heat for the women. Laura Horváth was also in the mix, but it was clear that no one would beat Brandon's time.
Adams and Wells finish in that order moments apart from each other. Toomey-Orr cleared the finish line in third place with Kristin Holte right behind her.
The Games Continue
There is one more event taking place on July 30, 2021. In total, Individual athletes will compete in 15 events by the end of the Games. Following Event Nine, the field will cut to the top 30 athletes in both divisions. All times are in Eastern Standard Time (EST):
IE9 (Men): 7:46 p.m. – 8:10 p.m.
IE9 (Women): 8:16 p.m. – 8:40 p.m.
Featured Image Courtesy of CrossFit.