Event Seven of the 2021 CrossFit Games kicked off immediately after Event Six and featured the same workout for both divisions with longer time caps — eight minutes for both divisions — and more weight on the barbells. That meant the athletes knew what to expect on their second pass of 200-meter runs and cleans.
Jeffrey Adler and Tia-Clair Toomey-Orr were the creams of the crop in event six. Guilherme Malheiros blitzed the field in Event Seven to score his second event win of the Games. Toomey-Orr ran back the same performance to score her fifth event win of the 2021 Games. It was the 29th event win of her Games career, tying five-time Fittest Man on Earth®, Mat Fraser, for the most event wins all time.
Here were the results:
Individual Event Seven — Top Five Men
Guilherme Malheiros — 4:51.61
Jeffrey Adler — 4:59.78
Alex Vigneault — 5:23.83
Royce Dunne — 5:37.32
Saxon Panchik — 5:43.34
Individual Event Seven — Top Five Women
Tia-Clair Toomey-Orr — 4:44.93
Laura Horváth — 4:57.22
Gabriela Migała — 5:13.84
Alessandra Pichelli — 5:50.33

Regan Huckaby — 5:52.77
[Related: 2021 NOBULL CrossFit Games Results and Leaderboard]
Individual Event Seven
Five rounds for time of:
200-meter run
one clean (short bar)

Men: 325 | 335 | 340 | 345 | 350 pounds
Women: 210 | 215 | 220 | 225 | 230 pounds
Time cap: eight minutes for both divisions. Each division had four heats.
Men's Division
In Event Six, none of the men in this heat could finish within the time cap. This time around, Zach Watts was able to score a heat-winning time of 5:47.76. He was the only sub-6 minute time, but Colten Mertens and Alexandre Caron also beat the clock. They finished at 6:38.43 and 6:43.23, respectively. Tim Paulson also crossed the line at 7:33.87.
Heat two featured Adler, who scored the best time on this workout in Event Six. History seemed to repeat itself with Adler in the lead early and Bayden Brown trailing him in second. Brown slowed down significantly on the third clean and left Adler alone to clean up this heat. The 2020 CrossFit Games finalist makes the event look routine as he crossed the finish line with a blistering time of 4:59.78. Jayson Hopper finished second with a time of 5:59.74.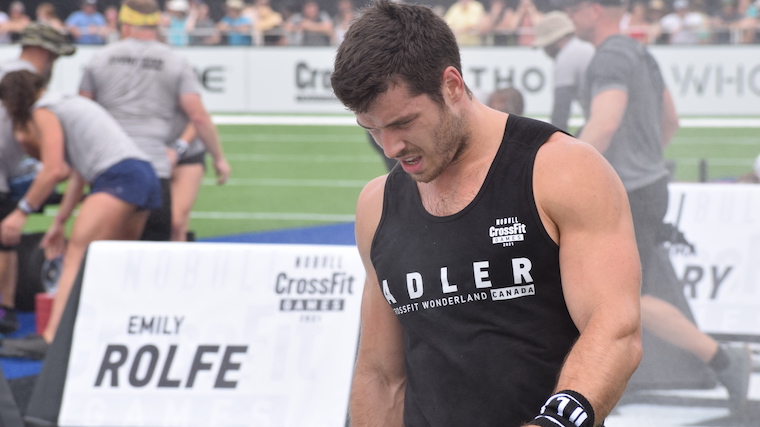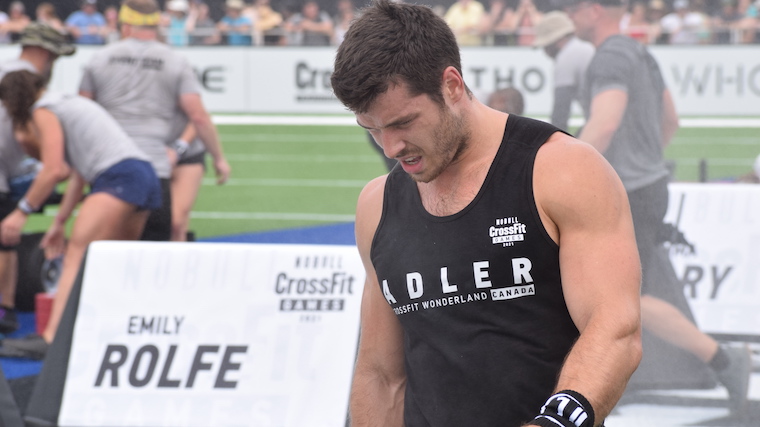 In heat three, Guilherme Malheiros's speed was on display, and he was as he commanded the lead for the majority of the event. He had a bad stumble over a barbell running toward his fourth clean but continued uninjured. Alex Vigneault was in a distant second in heat three. However, it was Malheiros who lapped the field and scored an event-leading time of 4:51.61.
Alex Houdet was the early leader in heat four and held it through the first two laps. It appeared that Scott Panchik's knee was still giving him trouble (he suffered a meniscus issue in Event One).
Saxon Panchik overtook Houdet for the lead by the fourth lap, but it was clear that Malheiros's time would not be beaten. Panchik and Houdet began lap five around four and half minutes. Ultimately, Panchik won the heat with a time of 5:43.34. Justin Medeiros finished second in this heat — five ranks ahead of Brent Fikowski — meaning Medeiros claimed the top spot on the overall leaderboard.
Women's Division
The first heat of the Women's Division saw Sasha Nievas in the lead on the third clean. Alongside her were Alessandra Pichelli and Regan Huckaby. Huckaby converted the fourth barbell the fastest and was the first to the final run but was quickly overtaken by Pichelli. Pichelli scored a heat-winning time of 5:50.33. Huckaby crossed at 5:52.77.
Ellie Turner ran in heat two. She won this heat in Event Six and led the pack early alongside Laura Clifton. By the second clean, Turner slowed down enough to give Clifton the lead, with Sydney Michalyshen not far behind. Clifton won the heat with a time of 6:01.08. Michalyshen finished six seconds later with a time of 6:07.14. Neither of them could beat Pichelli's time.
View this post on Instagram
Heat three for the women saw Migała repeat performance from Event Six. She led the pack at the start of lap three. Emma McQuaid and two-time Fittest Women on Earth®, Annie Thorisdottir, were in second and third, respectively.
Migała lapped the field in the final run and reached the final barbell first. She scored it on her first attempt and crossed the finish line in an event-leading time of 5:13.84.
The final heat for the women featured the overall leader, Toomey-Orr, who also posted the best time in Event Six. Amanda Barnhart, Brooke Wells, and Laura Horváth joined Toomey-Orr at the front of the pack early with Kristi Eramo O'Connell close by. Haley Adams struggled in Event Six and continued to have difficulties cleaning her barbell.
By the third lap, Toomey-Orr and Horváth pulled away from the field. Toomey-Orr wasted no time on her third clean and extended her lead. By 3:19, the returning champion was back in the arena to attempt her fourth clean. Toomey-Orr and Horváth maintain first and second in the heat and score the two time times in the event. Adams did not make it past her first clean.
The Games Continue
There are two more events taking place on July 30, 2021. In total, Individual athletes will compete in 15 events by the end of the Games. All times are in Eastern Standard Time (EST):
IE8 (Men): 5:30 p.m. – 5:58 p.m.
E8 (Women): 6:00 p.m. – 6:28 p.m.
IE9 (Men): 7:46 p.m. – 8:10 p.m.
IE9 (Women): 8:16 p.m. – 8:40 p.m.
Featured Image Courtesy of CrossFit.