Most of the CrossFit community didn't know what they'd get with Guilherme Malehiros on the roster at the 2021 CrossFit Games.
But Brazil did.
Twenty-one-year-old Malheiros grabbed attention from fans across the globe this year in Madison, potentially setting the tone for new domination and future Latin and South American representation in CrossFit. He won three events at the Games, matched only by Patrick Vellner. His first was Event Three, the 550-yard sprint where he edged out Will Moorad by two-tenths of a second. His speed and strength put him at the top again in Event Seven, with a sprint and heavy clean ladder. Through these two events, the Brazil CrossFit community lit up the live stream, CrossFit Games Instagram account, and CrossFit Games Director Dave Castro's Instagram comments, demanding more air time and credit for their native son.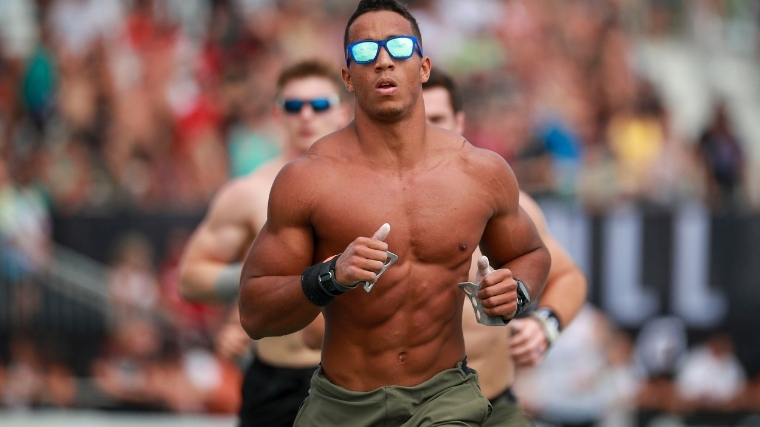 "Why you didn't film Malheiros? He won two events and he never show at the video."
"Wait for the snatch event."
"#whereismalheiros"
Malheiro's fans often wrote "anota a placa," a Portuguese saying that translates to "note the license plate," as he speeds to fame. Or, more relatable: "Remember the name."
Malheiros won Event 12, the highly anticipated one-rep max snatch event. On paper, he out-lifted Royce Dunn by five pounds in the one-up event, but anyone watching, sharp eye or not, could tell Malheiros won it soundly with more in the tank. Each lift — including his final 305-pound snatch — was flawless, snappy, undoubted.
Rising Through the Ranks Near Rio
Malheiros, who trains at Cavaleiros CrossFit outside Rio de Janeiro, Brazil, first came on to the CrossFit scene as a 16-year-old in 2016. He ranked 45th in the world and second in Brazil that year. In 2017, he took second in the CrossFit Games Boys division (16-17). Perhaps more notably from these Games, he snatched 291 pounds — matching Mat Fraser's max snatch in the Games that year (good enough for fifth place in the men's Individual division).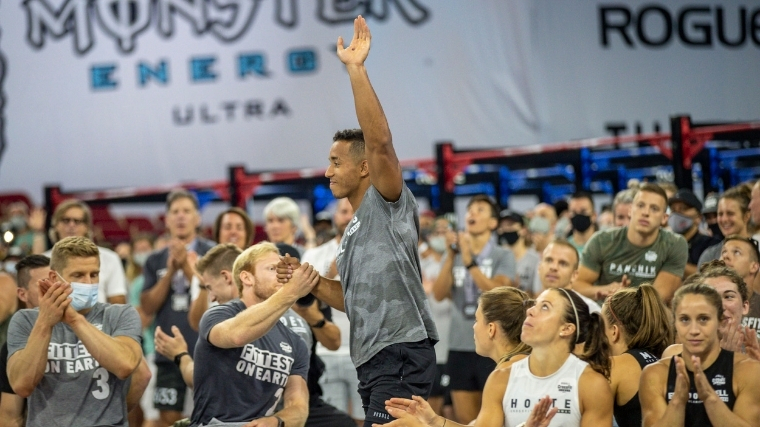 At 19 years old, Malheiros was the Fittest Man in Brazil and found himself at the CrossFit Games in the men's division. He was cut after the ruck event at the 2019 Games, finishing 48th overall. He followed up in 2020 again as Brazil's top CrossFitter out of the Open, but did not participate in the Games due to COVID-19 limiting the field to 30 men.
In 2021, he placed second at the Brazil CrossFit Championship Semifinal event, 12 places behind Argentinian Agustin Richelme, who was cut after two days. After winning Event Seven, Malheiros stated his intentions in a post-event interview, "I didn't come to play, I came to compete."
Filling Fraser's Shoes?
Justin Medeiros won the 2021 CrossFit Games with consistency, only taking first in one event. If Malheiros took time to polish the weaker skills in his set, he could turn his raw potential into some hardware at future Games. This year, the events he won were: a sprint, sprints mixed with heavy low-rep Olympic weightlifting, and a one-rep max Olympic lift.
Who else was really good at sprints and weightlifting? Mat Fraser rings a bell. Trained as an Olympic weightlifter, Fraser dominated the field in 2019 with a one-rep max clean at 380 pounds. (Only Scott Panchik was five pounds behind him.) Across his five-year reign, the now-retired five-time Games winner took several sprint and monostructural events but never truly specialized, improving his knack for conquering chaos each year.
Malheiros has the potential. The events that placed him outside the top 20 finishers were "engine" events — mixes of lighter, cyclical weightlifting, and cardio for longer periods. Let's remember he's only 21. Fraser was 26 years old when he claimed his first CrossFit Games crown.
Diversifying the CrossFit Games Leaderboard
CrossFit made a notable push toward greater representation of its global affiliates in 2019, bringing country winners to the CrossFit Games and spreading Sanctionals across the globe. Still, the leaderboard held many red, white, and blue flags, representative of North America, Europe, and Australia. Outside the 2019 CrossFit Games, which qualified the top finisher in countries containing a CrossFit affiliate, Malheiros is one of fewer than 10 men from Central or South America ever to attend the CrossFit Games. Only six non-American men have ever stood on the podium in the 15 years of the Games — Patrick Vellner, Brent Fikowski, Björgvin Karl Guðmundsson, Lukas Hogberg, Mikko Salo, and Brett Marshall. (Ricky Garard of Australia was on the podium in 2017, but was DQ'd.)
View this post on Instagram
A notable athlete for under-represented countries could be huge for the sport and the CrossFit community. Brazil is home to the second-highest concentration of CrossFit affiliates anywhere globally at 1,177 as of 2019. With a population of 211 million, there is one CrossFit affiliate for every 180,000 people. Compare that to the United States, which boasts one affiliate for every 66,000 people. Most CrossFitters in the U.S. can watch the Games and see someone who looks like them or someone from their nearest big city.
Malheiros could shoulder a momentum shift for fitness and CrossFit fanatics in Brazil and, more broadly, South America. He has a strong start with a loud, supportive fan base and youthful, raw talent.
Featured Image Courtesy of CrossFit