After Event 12, the four-time reigning Fittest Woman on Earth®, Tia-Clair Toomey-Orr, had a virtual lock on a fifth CrossFit Games title. She claimed the record for most all-time event wins at the Games with 30 — she would go on to win 31 — and entered the final day of competition with a 206-lead over Laura Horváth in second.
The men's podium was still up in the air with three events to go. Justin Medeiros held the top spot with a 42-point lead over Patrick Vellner in second place. Brent Fikowski was in third overall with a comfortable 87-point lead over Saxon Panchik sitting one spot off the podium.
For Event 13, athletes tackled a combination of GHD sit-ups, burpees, and got a taste of strongman with yoke carries.
Here were the results:
Individual Event 13 — Top Five Men
Björgvin Karl Gudmundsson — 4:41.17
Patrick Vellner — 4:44.04
Justin Medeiros — 4:46.59
Noah Ohlsen — 4:49.09
Jeffrey Adler — 4:49.49
Individual Event 13 — Top Five Women
Tia-Clair Toomey-Orr — 4:39.35
Gabriela Migała — 4:44.50
Laura Horváth — 4:51.54
Annie Thorisdottir — 4:53.69
Kristin Holte — 4:54.86
[Related: 2021 NOBULL CrossFit Games Results and Leaderboard]
Individual Event 13
Four rounds of:
Eight cheese curd burpees over the hay bale

Men: 100 pounds | Women: 70 pounds

168-foot yoke carry

Men: 605 pounds | Women: 425 pounds

One-minute reset
Time caps by round: two | two | two | three minutes
Men's Division
The field appeared to be even during the first two movements, but then on the yoke carry, Royce Dunne broke away from the field — finishing the yoke carry unbroken. Noah Ohlsen, Jeffrey Adler, and Björgvin Karl Gudmundsson also advanced their yoke into the final section in interval one.
View this post on Instagram
In the second interval, Medeiros, Vellner, and Fikowski were first to their yokes. Gudmundsson's first-round pace paid off — he won the event in 4:41.17. Vellner scored second, Medeiros finished right behind him in third. Ohlsen and Adler finished the event in that round as well.
Women's Division
Many of the women came to the event dressed in leggings to diminish potential irritation caused by hopping over the hay bales. Two-time CrossFit Games champion Annie Thorisdottir was the first to the yoke, but Toomey-Orr eclipsed her pace. Horváth caught up to a few body lengths of Toomey-Orr. The returning champion walked the yoke unbroken to just a few feet of the finish line in the first interval.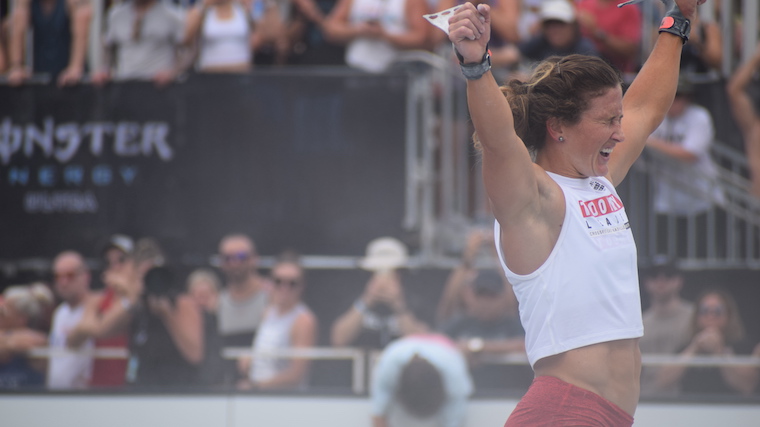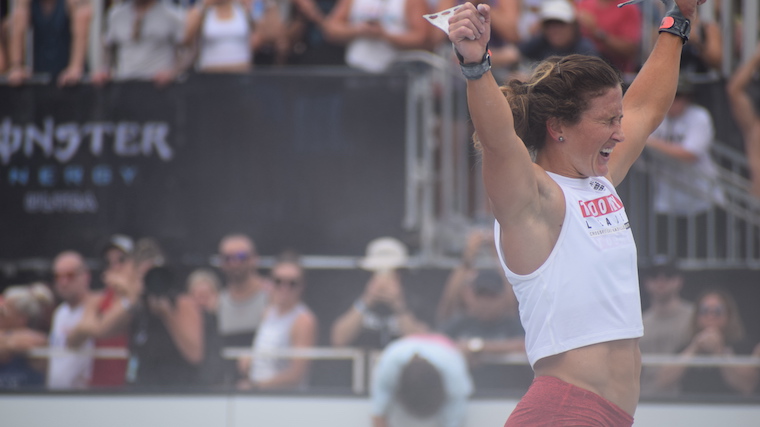 The second interval was routine for Toomey-Orr, winning her eighth event win of the competition. Gabriela Migała beat out Horváth in the second interval to take second in the event. Thorisdottir cut Holte's lead over her by five points in the battle for third place overall.
The Games Continue
There are two events left before a Fittest Man and Woman on Earth® are crowned. It is no longer mathematically possible for Toomey-Orr to lose her top spot on the podium and a record-tying fifth CrossFit Games title. It appears as though Horváth has a comfortable spread points-wise from the field and is likely to secure second overall. Third place is still very much up for grabs in the women's division.
The men's podium is still in flux, but Medeiros maintained his lead despite giving up a handful of points to Vellner. Here are the scheduled times for the remaining two events. All times are in EST:
IE 14 — 1:00 p.m.
IE 15 — 2:50 p.m.
Featured image courtesy of CrossFit.