It's hard enough to possess elite strength, speed, or endurance. CrossFitters need to build up to all of these traits and then maintain them for the duration of their entire careers — which can span over a decade.
For the uninitiated, the sport of CrossFit is a grueling endeavor. High-level contests last days and consist of multiple daily events, ranging from max effort lifts to nearly-unbearable high-rep-fests. Becoming the best and holding that position signifies a level of fitness and mental fortitude few possess.
That brings us to this list, which celebrates some of the most stand-out CrossFit athletes in 2022. The people on the list below preserved through competitive setbacks, some got their chance to shine, and some have maintained a level of excellence deemed untouchable.
Top CrossFit Athletes in 2022
Laura Horvath
Hungarian CrossFitter Laura Horvath started the 2022 season on her back foot. She finished 103rd worldwide in the CrossFit Open, down from 52nd in 2021 and 10th in 2020, and dropped from first in the 2021 Quarterfinals to ninth.
During the Semifinals, the 25-year-old flipped a switch, reversing the backward trend. After finishing second in the online version of the Lowlands Throwdown in 2021, she earned first in the live edition in 2022. Having never won Regionals (her best finish was second in 2018), this was her first win in a traditional qualifying format for the CrossFit Games.
[Related: CrossFitter Chandler Smith Log Pressed 285 Pounds Ahead of 2022 Rogue Invitational]
Then at the 2022 Games, fans witnessed Horvath fight from well outside of the top 10 to ultimately finish as the third Fittest Woman on Earth®. It marks her third podium appearance, but also a slight backstep compared to 2021, where she earned second at the Games.
Her season wasn't over for the year, though. Having accepted the invitation to compete at her third consecutive Rogue Invitational, it was certainly a competition she would be looking to improve at. In 2020 the competition took place online, and Horvath managed to finish fifth. In 2021, following a second-place finish at the Games, she missed the podium, placing fourth.
Clearly motivated, Horvath was lethal at Rogue 2022.
With both women who beat her at the Games (Tia-Clair Toomey and Mal O'Brien) not in the field, Horvath reeled off four consecutive event wins, followed them up with a second, and, having secured 495 of those 500 points in a row, cruised into her second major offseason competition win of her career. (The first was Dubai 2021).
It's not the best season Laura Horvath has ever had, but it's certainly the grittiest (and still extremely successful). Although she finished one spot worse at the Games this year than she did in 2021, she racked up a win at the biggest offseason competition of the year in the Rogue Invitational and remains clearly in the top-five most impressive CrossFitters of any gender in 2022.
Roman Khrennikov
Next on our list is the Russian powerhouse Roman Khrennikov. Although he's qualified for the Games four times since 2018 and competed in the online version of the 2020 Games, 2022 was the first time anyone got to see him lineup in person at the Games against 38 of the other fittest men on earth — and he did not disappoint.
Finishing with 1,157 points, Khrennikov placed second to defending champion Justin Medeiros by a mere 27 points. And although he was in a fight with Ricky Garard for most of the competition, he ended up putting 89 points between himself and the Australian when things were said and done.
He rolled through the qualifying stages as the fifth fittest in Asia during the Open, the fittest in Asia during Quarterfinals, and won the Far East Throwdown Semifinal.
Once at the Games, he showed the combination of consistency and excellence that is typically required to excel. He placed in the top 10 on nine of the 14 scored events, including five finishes of third or better, and events wins on Rinse 'N' Repeat and The Alpaca. And for his four finishes outside the top 10, Khrennikov never placed worse than 15th, which was actually better than eventual champ Medeiros' worst finish of 18th.
Khrennikov is among a legitimate group of contenders who have Medeiros on guard heading into the 2023 season. He'll be 28 next year, has recently moved to Cookeville, TN where he'll have a chance to train with several well-established Games athletes. He will likely be able to compete throughout the 2023 season in the U.S. Although several athletes have a chance, Khrennikov is perhaps the biggest threat to Medeiros' crown next year.
Mallory O'Brien
The youngest athlete on our list this year (she made it on last year's list, too) is also the youngest podium finisher in CrossFit Games history. At 18 years old, Mallory O'Brien is redefining what's possible for young CrossFitters.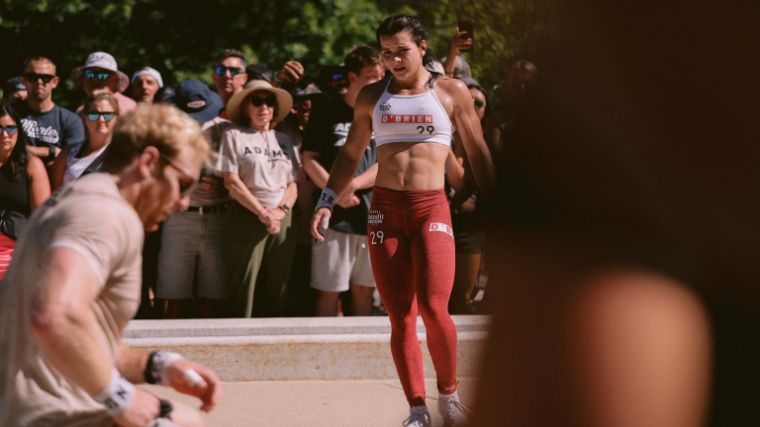 There was speculation at the beginning of the year that she might do something special in 2022. Some even went so far as to say she could challenge the then-five-time defending champion Tia-Clair Toomey for the title. Others laughed at the notion or scoffed it off, but probably few are laughing now.
Not only did O'Brien improve from seventh place in 2021 to second place in 2022 at the CrossFit Games, but she also leveled up across every stage of the season. And while that's remarkable enough on its own, when you look closer you realize there wasn't a lot of room for improvement, and yet she still managed to do so:
| | | |
| --- | --- | --- |
| Mallory O'Brien | 2021 | 2022 |
| Open | 5th | 1st |
| Quarterfinals (NA) | 3rd | 1st |
| Semifinals (GG) | 2nd | 1st |
| Games | 7th | 2nd |
In some regards, O'Brien wasn't as impressive on the women's side at the Games as her male counterpart, Khrennikov, was in the men's division. He had two event wins, while she didn't have any; they matched each other with five top-three finishes; and while Khrennikov's worst finish was 15th, O'Brien had two 15th-place finishes and one 18th-place finish.
On the other hand, Khrennikov never wore the leader's jersey and was only in second place after four of the 14 events, including the final three. O'Brien got off to a great start, claimed the leader's jersey after the second scored event, and wore it for three consecutive events. Following the first event, she was in first or second after every single event for the remainder of the competition.
As the competition wore on, O'Brien eventually fell back behind Toomey by 113 points. However, she created enough of a buffer between herself and late-charger, Laura Horvath, who claimed third to O'Brien.
With confirmation that Toomey plans on going for her seventh Games title in 2023, it will be a very difficult task for O'Brien to improve on her 2022 season success. She is not competing in any off-season competitions, however, and seems set on giving herself the best opportunity to do just that.
O'Brien is working closely with CrossFit legend Mat Fraser. The five-time Fittest Man on Earth® was the master of finding small and clever ways to set himself apart from his competitors. So far in his coaching career, he seems to have shown the ability to pass successful strategies on to the athletes he coaches and trains with, as well.
Justin Medeiros
Justin Medeiros is the only athlete, of any gender, who managed to win two of the four elite-level major CrossFit competitions in 2022 — the CrossFit Games and the Rogue Invitational.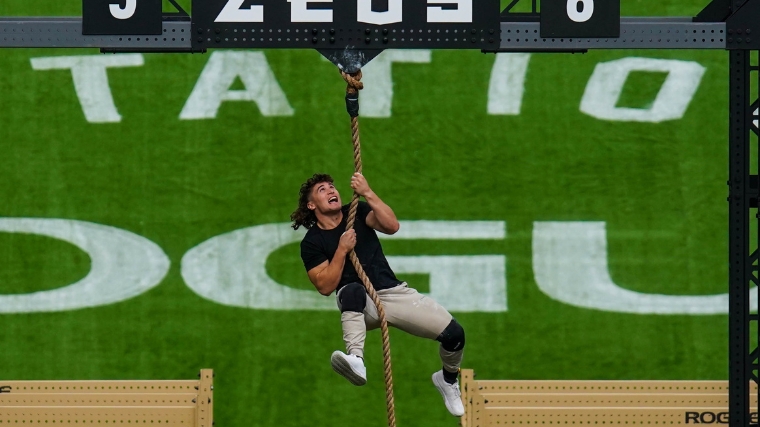 How he achieved those two victories can be sliced one of two ways: Some might say he was lucky to win and that a series of small things went his way for him to get those wins. Others may think the closeness of those victories only adds to his prestige.
Like O'Brien, Medeiros' success this season was not just reserved for the biggest competitions. He improved at every qualifying stage along the way, before matching his Games performance:
| | | |
| --- | --- | --- |
| Justin Medeiros | 2021 | 2022 |
| Open | 57th | 3rd |
| Quarterfinals (NA) | 6th | 1st |
| Semifinals (MACC/Syndicate) | 3rd | 1st |
| Games | 1st | 1st |
Medeiros has now won consecutive CrossFit Games titles at just 23 years old. To put that in perspective, Rich Froning was 25 when he won his second title and Mat Fraser was 27. On the women's side, Annie Thorisdottir was only 22 when she won her second in 2012. Katrin Davidsdottir was 23 when she won her second in 2016, and Tia-Clair Toomey was 25 when she won her second in 2017.
Medeiros is setting himself up for one hell of a career. While 2022 was definitely a better year for him than 2021, with the current landscape of hard-charging men's competitors, 2023 will likely need to be better still if the young two-time champ wants to make it a three-peat.
Tia-Clair Toomey
It should come as no surprise to anyone that the now six-time Fittest Woman on Earth® will make an appearance on any best-list out there.
Although she didn't compete in any of the big off-season competitions as she has in the past, Toomey's résumé within the Games season alone is nearly pristine. She was second in the worldwide Open, first in Oceania for Quarterfinals, and first at the Torian Pro Semifinal, where she won every single event. Of course, she also won the CrossFit Games for the sixth consecutive time — more than any elite athlete ever.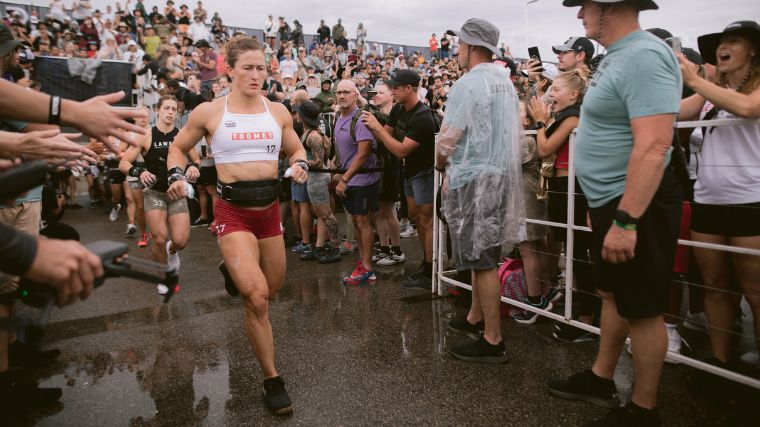 Some were critical of her start at the Games because she was in nine place after two events, eighth after three events, and didn't take the lead until after six scored events. This might be great for anyone else, but it is a slow start relative to previous years for her. It was a bit of a slow start compared to some other years. However, by the end of the sixth event, she had the familiar leader jersey back in her possession and never relinquished it.
Toomey now stands alone amongst men and women with six CrossFit Games titles, one better than Mat Fraser. She has eight total CrossFit Games appearances, having taken second place in each of her first two years before reeling off six straight titles since. She's the most decorated athlete in the history of the sport, and is the top-ranked athlete on either side entering the 2023 season.
Valerie Cohen
Reaching the top of the podium at the CrossFit Games is difficult enough to do once. Doing it twice is an even bigger feat. In 2022, Valerie Cohen took home her second CrossFit Games victory in the Women's Lower Extremity division.
The four-year member and three-year captain of the Ithaca College gymnastics team clearly has the range you need to be a repeat champion. Her gymnastics skills and finesse, her competitive nature, and her interest in weightlifting helped bring Cohen to victory in Women's Lower Extremity at the 2021 NOBULL CrossFit Games in the inaugural debut of the Adaptive Divisions. Cohen won in dominating fashion, recording six of the seven events at the Games en route to a 185-point win.
[Related: Kuwait-Based Perform Athletics Pushes Into CrossFit Market; Signs Ant Haynes and Luka Đukić]
That championship set the stage for Cohen to defend her title in 2022, and she started the year with that goal clearly in mind. She won her division in both the Open and Semifinals.
She continued her winning ways at the Games, this time winning the title by 200 points, as she won six of the eight events. In fact, she won 11 of the 17 events throughout the three stages of the 2022 Games season.
With this overall victory, Cohen became one of the top adaptive athletes in the world. She joins elite company as one of just three adaptive athletes (and the only woman) to repeat as a Games champion.
Calvin Cherrington
As a 64-year-old in 2021, Calvin Cherrington qualified for the Games in the last year of eligibility in the 60-64 division. In 2022, Cherrington had aged another year, but his ambition was locked in.
During his first year of eligibility for the 65+ division, Cherrington got off to a solid start in 2022 with a fifth-place worldwide finish in the Open, followed by a second-place finish in the Age Group Online Qualifier. He backed that up with a second-place performance in the Semifinals. With that, he was heading to the Games as one of the top contenders in his age group.
[Related: Karin Freyová Is a DFC Legend. Can She See Similar Success at the 2023 CrossFit Games?]
The Masters athletes had eight workouts to contend with, totaling 800 points available at the Games. Cherrington racked up 730 of the 800 possible points, beating his closest competitor by 150 points. He won six of the eight events, including four of the last five, to run away with his first CrossFit Games championship. Cherrington's event wins and point totals were the highest amongst all Masters divisions.
The older you get in this sport, the more difficult it is to get the body ready for another competition in short order. But Cherrington showed up in Cookeville, TN in December for the Legends Championship looking to do just that. Standing in his way was the third-place finisher from the Games, and winner of the Masters Finish Collective, Jim Peeper.
With a small field, they exchanged blows throughout the competition. Ultimately, Cherrington edged Peeper out by 24 points, once again winning six of the eight scored events. Cherrington was one of three Masters males to win two of those three competitions. The other two, Bryan Wong (35-39) and Jason Grubb (40-44), are notably younger.
More CrossFit Content
Here's the latest CrossFit content from BarBend just in case you missed out:
Featured Image: Will Johnson of Barbell Stories