The second day of competition at the 2022 Rogue Invitational came to a close on a chilly night inside Dell Diamond in Round Rock, TX with huge jumps on the overall leaderboard. Two-time reigning Fittest Man on Earth® Justin Medeiros concluded the day atop the leaderboard by once again staying consistent across the board.
[RELATED: Check out BarBend's live leaderboard for complete coverage of the 2022 Rogue Invitational.]
At the end of the day, Gabriela Migała stood atop the women's leaderboard, also thanks to solid and consistent finishes. Laura Horvath and Roman Khrennikov, who each ended their day with event wins, climbed their way into second in their respective divisions.
Event Four Workout — "DT With a Spin"
Five rounds for time of:
Echo Bike — 15 calories
12 Deadlifts — Men: 155 pounds | Women: 105 pounds
Nine Hang Power Cleans — Men: 155 pounds | Women: 105 pounds
Six Push Jerks — Men: 155 pounds | Women: 105 pounds
Event Four Results
The Rogue Invitational programmers, Chris Spealler and Josh Bridges, brought in a classic CrossFit Hero WOD and added a twist to it. They threw in a Rogue Echo Bike segment for 15 calories at the start of each of the five rounds. The addition of the Echo Bike taxed athletes' legs even more after a grueling Event Three.
Women's Event Four Results
Laura Horvath — 8:44.62
Alexis Raptis — 8:46.51
Ellie Turner — 8:54.27
Gabriela Migała — 8:56.89
Annie Thorisdottir — 8:59.15
Amanda Barnhart — 9:02.53
Danielle Brandon — 9:04.02
Matilde Garnes — 9:06.42
Emma Lawson — 9:12.94
Olivia Kerstetter —9:13.07
Arielle Loewen — 9:32.10
Emma McQuaid — 9:9.29
Andrea Solberg — 9:42.81
Kara Saunders — 9:45.84
Carolyne Prevost — 9:50.31
Manon Angonese — 9:52.68
Bailey Rogers — 10:32.57
Jacqueline Dahlstrøm — 10:36.23
Anikha Greer — 10:50.40
Men's Event Four Results
Roman Khrennikov — 7:49.76
Samuel Kwant — 7:56.91
Jonne Koski — 8:04.49
Björgvin Guðmundsson — 8:05.50
Justin Medeiros — 8:08.12
Jayson Hopper — 8:09.02
Patrick Vellner — 8:12.44
Cole Sager — 8:13.17
Tim Paulson — 8:15
Ricky Garard — 8:15.17
Jeffrey Adler — 8:19.12
Chandler Smith — 8:20.77
Lazar Dukic — 8:24.12
Henrik Haapalainen — 8:26
Noah Ohlsen — 8:33.39
Saxon Panchik — 8:39.57
Scott Tetlow — 8:40.47
Jorge Fernandez — 8:57.56
Nick Mathew — 9:06.73
Jack Farlow — 9:38.27
Women's Event Four Highlights
Horvath won her second-straight event, though it wasn't as dominating as her win in Event Three. The native of Hungary was pushed by 2022 NOBULL CrossFit Games rookie Alexis Raptis, who made a late charge in the final two rounds and got within a couple of reps of Horvath. Horvath broke just once during the final round on the barbell and finished in 8:44.62, just ahead of Raptis who finished in 8:46.51.
Australian Ellie Turner won her heat with a time of 8:54.27 and ended up finishing third ahead of two-time Fittest Woman on Earth® Annie Thorisdottir, who placed fifth overall.
Migała placed fourth with a time of 8:56.59, which was her third top-five finish of the competition. It kept her in the overall lead, 10 points ahead of Horvath and 15 ahead of 17-year-old Emma Lawson.
Men's Event Four Highlights
Khrennikov, known for his expertise with machines, proved it with his first event win of the competition. He kept his composure and pace throughout each round while other athletes tried to push the Russian. Patrick Vellner pulled ahead at one point, as did Björgvin Karl Guðmundsson, but faded on the Echo Bike in the final round. Khrennikov finished with a time of 7:49.46.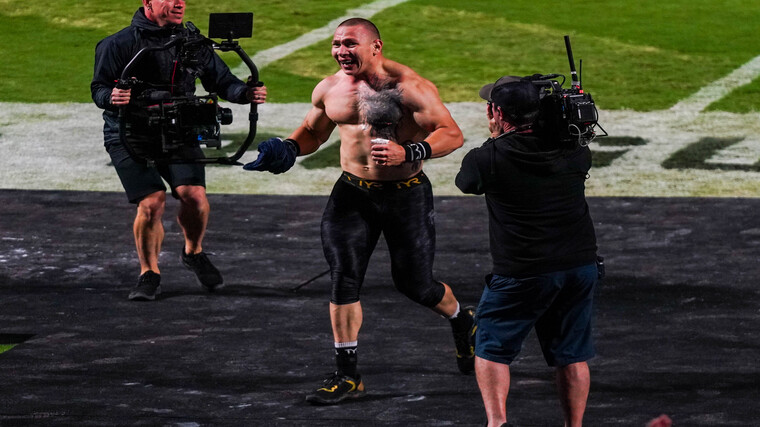 Samuel Kwant, as he so often does, came out of nowhere to take second place in the event with a time of 7:56.91, giving him a fifth, a sixth, and a second-place finish for the day.
Jonne Koski had his best finish of the competition, placing third with a time of 8:04.49, winning the first heat.
Guðmundsson and Medeiros placed fourth and fifth, respectively.
Medeiros had top-five finishes in all four events to give him the overall lead with 350 points as he looks for his second-straight Rogue Invitational title belt. Khrennikov finished the day just 15 points behind Medeiros with 335 points, followed by Guðmundsson with 300 points.
Up Next at the 2022 Rogue Invitational
Another day filled with three events will start at 11:05 AM EST on Oct. 29 for the CrossFit athletes.
You can catch the action as it is livestreamed on the Rogue YouTube channel throughout the weekend. Stay tuned to BarBend's event coverage and results page for up-to-date coverage of all the action.
Featured Image: Patrick Clark / Athlete's Eye Photography