Editors Note: The 2021 NOBULL CrossFit Games are live. Check out the latest results and scores from the Games here.
It's official, Mat Fraser and Tia-Clair Toomey have won stage 1 of the CrossFit Games. Toomey, Fraser, and the rest of the qualifiers overcame the mental challenge of virtual competition and sinister workouts, such as Nasty Nancy, for a chance to compete for the title of Fittest on Earth and $300,000 each in Aromas, California on the week of October 19-25.
[Related: 2020 CrossFit Games Results and Leaderboard]
2020 CrossFit Games Finalists
Though Fraser and Toomey remained in the one spot for the entire weekend, places 2-5 shifted regularly. Here's who will join the reigning Fittest on Earth at The Ranch.
Men:
Mathew Fraser
Noah Ohlsen
Justin Medeiros
Samuel Kwant
Jeffrey Adler
Women:
Tia-Clair Toomey
Brooke Wells
Haley Adams
Katrín Tanja Davíðsdóttir
Kari Pearce
Awful Annie Results
This workout starts with 150-reps each of double-unders and GHD sit-ups, followed by a descending rep scheme of 5-4-3-2-1 with relatively heavy cleans. Fraser won pretty easily in the men's division, which isn't a shock. It was originally reported by CrossFit HQ that Kara Saunders won this event for the women. However, after further review and a time correction, Tia-Clair Toomey is the event winner.
Women:
Tia-Clair Toomey, 8:01
Kara Saunders, 8:54
Brooke Wells, 9:10
Haley Adams, 9:19
Ragnheiður Sara Sigmundsdóttir, 9:28
Men:
Mathew Fraser, 8:46
Brent Fikowski, 9:02
Jacob Heppner, 9:07
Justin Medeiros, 9:09
Samuel Cournoyer, 9:22
Nasty Nancy Results
This proved to be one of the more challenging workouts. Due to reoccurring back issues, David Shorunke withdrew from the Games after event 5.
Women:
Katrín Tanja Davíðsdóttir, 18:16
Kristin Holte, 18:23
Tia-Clair Toomey, 18:26
Haley Adams, 18:53
Brooke Wells, 19:21
Men:
Mathew Fraser, 17:50
Justin Medeiros, 18:19
Chandler Smith, 18:43
Roman Khrennikov, 19:16
Björgvin Karl Guðmundsson, 19:24
Freestanding Handstand Hold Results
To cap off her dominate block three performance, Katrín Tanja Davíðsdóttir made a huge statement by holding a freestanding handstand 41-seconds longer than the runner-up, Kari Pearce.
Women:
Katrín Tanja Davíðsdóttir, 2:54
Kari Pearce, 2:13
Danielle Brandon, 2:12
Haley Adams, 1:59
Melina Rodriguez, 1:59
Men:
Noah Ohlsen, 1:37
Mathew Fraser, 1:35
Samuel Kwant, 1:32
Jonne Koski, 1:27
Adam Davidson, 1:24
Men's Divison
Fraser proved that he's near-unstoppable this year, winning events 1, 3, 5, and 7, and placing second in the freestanding handstand hold. Though runner-up Noah Ohlsen put up an admirable fight, he trailed Fraser by 168 points (no, that's not a typo). To most everyone's surprise, 21-year old Justin Medeiros placed third after taking second in Nasty Nancy and fourth in Awful Annie.
Fraser walked away with Nasty Nancy, an event that had athletes complete five rounds of a 500-meter run, 15 overhead squats, and 15 bar-facing burpees for time. Though, who's surprised? The American crushed every rendition of the traditional WODs, beating the runner-ups of Friendly Fran, Damn Diane, and Nasty Nancy by 47, 12, and 16 seconds, respectively. Despite Chandler Smith taking third in Damn Diane with a time of 18:43, he missed the top five by two points. Samuel Kwant and Jeffrey Adler secured fourth and fifth place with 449 and 420 points.
Women's Division
Katrín Tanja Davíðsdóttir made up some serious ground in the first half of day two by winning Nasty Nancy and the freestanding handstand hold. She finished seventh in Awful Annie but was still able to secure fourth place overall and a trip to The Ranch. Joining her will be Toomey, the division leader, Brooke Wells in second place, Haley Adams in third, and Kari Pearce rounding out the top five. Pearce just made the cut over Norway's Kristin Holte by two points.
Tia-Clair Toomey won Awful Annie with a time of 8:01. In fifth place for Awful Annie was Ragnheiður Sara Sigmundsdóttir, who finished 21st overall.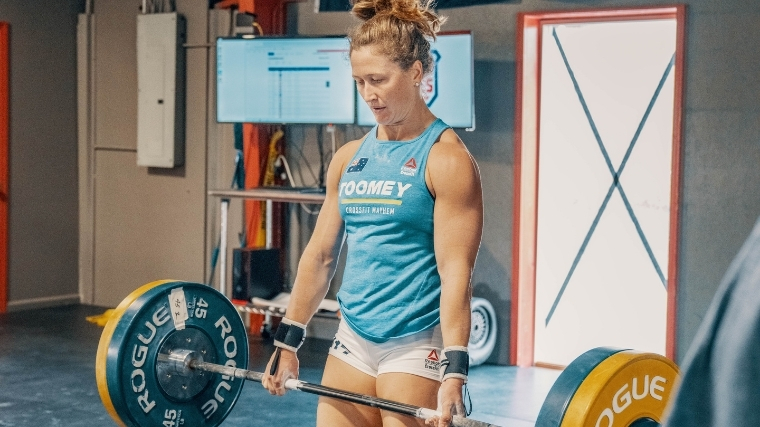 After an eventful weekend, the top five Games finalists have been determined. Now, it's for the athletes to recover, regroup, and prepare for an in-person competition to determine the Fittest on Earth.
Featured image credits, left to right: @katrintanja on IG; @nohlsen on IG; CrossFit (Toomey & Fraser ); @brookewellss on IG; justin_medeiros34 on IG