Editors Note: The 2021 NOBULL CrossFit Games are live. Check out the latest results and scores from the Games here.
Athletes are finished with event five of the 2020 CrossFit Games and it was brutal. Nasty Nancy had competitors do five rounds of a 500-meter run, 15 overhead squats (125lbs for women, 185lbs for men), and 15 bar-facing burpees for time. This event was especially sinister as the 500 meter run taxes the athletes heavily before lifting close to their bodyweight overhead and squatting with it. Once that was over, they had to complete 15 burpees, another stamina-drainer, before running again.
Here's who finished in the top five:
Nasty Nancy Results
Women:
Katrín Tanja Davíðsdóttir, 18:16
Kristin Holte, 18:23
Tia-Clair Toomey, 18:26
Haley Adams, 18:53
Brooke Wells, 19:21
Men:
Mathew Fraser, 17:50
Justin Medeiros, 18:19
Chandler Smith, 18:43
Roman Khrennikov, 19:16
Björgvin Karl Guðmundsson, 19:24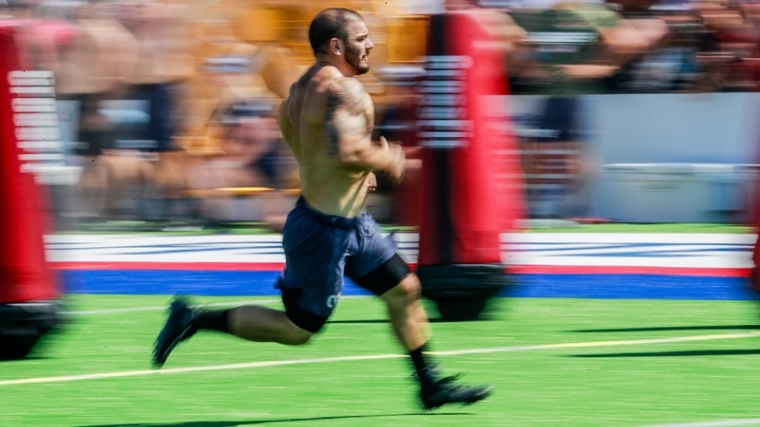 [Related: 2020 Crossfit Games Results and Leaderboard]
For the men, Mat Fraser finished 29-seconds faster than runner-up Justin Medieros. Fraser also dominated Friendly Fran 47-seconds faster than the next in line, so no one is too surprised by his endurance and perseverance. At this point, it's virtually assured that Fraser will be heading to The Ranch in Aromas, California to defend his title of Fittest on Earth. What was surprising, however, was 21-year old Just Medieros trailing Fraser and working his way into the number three spot overall. Win or lose, this is a huge accomplishment for the Games rookie.
Katrín Davíðsdóttir asserted her Games dominance by winning Nasty Nancy in 18:16, which was 10 seconds faster than defending champ, Tia-Clair Toomey. Also besting Toomey in this event is Kristin Holte, who was behind Davíðsdóttir by just seven seconds. Haley Adams and Brooke Wells managed to cinch fourth and fifth place, respectively.
At 6:00 p.m. PST, CrossFit will air the final event — Awful Annie. You can be sure that all of the athletes will give it their absolute best as they train and solidify their spot in the top five for a chance to compete for $300,000 and the title of Fittest on Earth.
Featured image courtesy of CrossFit