Fitness doesn't take a vacation. But boy, can it be hard to find a hotel gym that's worth anything.
If you travel, you know what we're talking about. A hotel boasts a resplendent "fitness center" and when you get there, you're lucky if there are any dumbbells heavier than 25 pounds. And barbells? Forget about it.
We spoke to some of our favorite strength athletes from powerlifting, weightlifting, CrossFit, and strongman/strongwoman to see how they handle situations like these.
Kari Pearce
3X Reebok CrossFit Games Competitor, 2016 Reebok CrossFit Invitational Team USA Competitor
I carry a suspension trainer with me when I travel and I like to incorporate it in workouts.
One of my favorites is Cindy (A 20-minute AMRAP of 5 Pull-Ups, 10 Push-Ups, and 15 Air Squats – Ed) with TRX inverted rows, push-ups and squat jumps.
I also like 10 rounds for time of 10 burpees, 10 single-arm TRX ring rows, and a 200-meter run.
If I have dumbbells, another one I like is a 15-minute AMRAP of 10 dumbbell snatches of 45 to 50lbs, 10 weighted pistol squats, and 50 double unders.
Visit Kari's official website here.
Jennifer Thompson
IPF Word Record Holder in the Bench Press, 63kg Class (142.5kg)
I travel with resistance bands and incorporate them with dumbbell workouts. Hopefully, you are in a hotel that has a gym with at least some dumbbells, but if not, just do these exercises to failure.
Flat bench press
Wrap a band around your back and hold the ends in your hands.
One set of 20 reps with a "light" band.
One set of 10 reps with a light band and a 10-pound dumbbell.
Three to four sets to failure with a "heavier" band. (You can add in dumbbells, but I find the band is enough)
Incline Press
To incline the bench, prop one end up on a "step up" board to roughly a 30-degree angle. Most hotels have these, but if there is no board you can stack up some weights, mats, or a dumbbell. (Be resourceful, just remember you'll have to stabilize yourself with your feet wide on each side of the bench.) Then I do two sets to failure with 20-pound dumbbells.
Decline Press
Set up the bench the same way as the incline, but in reverse with more of a 15-20 degree angle. My decline presses are nearly the strength of my flat bench, so I use a thicker resistance band and perform two sets to failure.
For a finisher, I'll do some pushups to failure with a band wrapped around my back.
Follow Jen Thompson on Facebook here.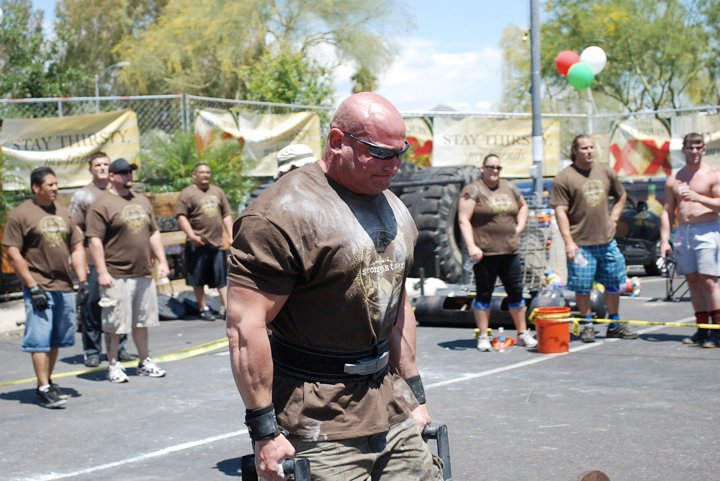 Image courtesy of Mike Gill
Retired 105kg professional strongman, broadcaster for Strongman Corporation.
My training only allows for access to weights. Even my home stuff. I don't really have a plan to train people with out them. The advice I give is to pay a day fee some place.
That said, the most difficult thing you can do with light weights would be overhead squats. It's a great full body movement and it's hard to keep them right.
Read articles from Mike on BarBend here.
2013 USA Weightlifting National Champion, 2011 and 2012 American Open Champion, 4-Time University National Champion
With USAW's Find a Club feature, training while traveling is a lot easier than it used to be. But I have had athletes of mine contact me about changing their programs based on a limited hotel equipment selection. These can be a little trickier based on what is available, but I would usually program circuits looking something like:
DB Goblet Squat 4-5 x 15
DB Press 4-5 10
Weighted Sit Ups 4-5 x 15
DB Lunges or DB Pistol Squats 3-4 x 10 per side
DB Push Up to Row 3-4 x 10-20
Pull Ups 3-4 x 10-20
DB Upright Row 3 x 10-15
DB Front Raise 3 x 10-15
DB Side Raise 3 x 10-15
DB Rear Delt Raise 3 x 10-15
I can't say this will make you super strong, but it's a good way to get a sweat going and keep some sanity.
Read Sam's articles on BarBend here.
Andre Crews
Head Coach at 150 Bay CrossFit
I like to do a 20-minute EMOM of:
10 squats
10 press
10 seated rows
30-second plank
Everything should be AHAFA (as heavy as form allows). In the Instagram video above, I used 50-pound dumbbells since it's they heaviest they had in the hotel. Athletes can easily just use the Dumbbells for bent-over rows if they don't have a row machine.
Check out Andre's muscle-building recipes here.
https://www.instagram.com/p/BWD4TCtjGu8
Charity Witt
GPA Junior Women's World Record Holder, 75kg Class (447.5kg Total); APC Record Holder, 75kg Class (180kg Squat, 174.6kg Deadlift)
Limited time and limited equipment? No worries. Perform these intervals without resting until each round is complete.
5 Rounds
Jump squats with Dumbbell, 1 min
Turkish get-ups, 5 each arm
Box (bench) jumps, 1 min
Burpee to pull-up, 1 min
Dumbbell Power clean and press, 5 reps.
Like Charity on Facebook here!
Featured image via @karipearcecrossfit, @jenthompson132 and @thepowermagazine, @sam_poeth, and @andrewcrews on Instagram.