In December of 2020, Hunter McIntyre and Lauren Weeks won the HYROX World Championships, which took place in Hamburg, Germany. Now, both McIntyre and Weeks are hand-picking their opponents for HYROX's Feb. 20, 2021, Dallas, TX event, which is taking place at the Kay Bailey Hutchison Convention Center.
That's right. The current champs are working with HYROX to pick nine other athletes that they think will pose the greatest threat to their fitness throne. Specifically, McIntyre tells BarBend that he's after fitness and endurance focused athletes such as elite CrossFitters. This isn't too much of a surprise as the two sports have a history of crossover appearances. Both of the champs have competed in CrossFit, as have HYROX athletes Samantha Briggs, who won the CrossFit Games in 2013, and Adam Klink, who has competed in six Regional events.
"Right now, we're looking at people who are up and coming talents or existing talents in the fitness and endurance world," McIntyre says. "I want to bring [HYROX] to the U.S market, and I think the best way to put this thing out there is to have a high-level cash prize and a high-level competition event."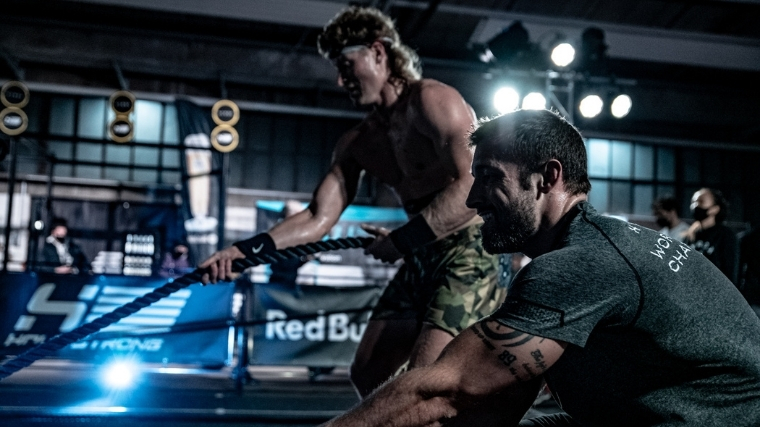 [Related: Burn Fat and Boost Work Capacity With Body Conditioning]
That cash prize McIntyre is talking about? Elite Race winners in both divisions get $10,000. Second place gets $3,000, and third claims $2,000. Not bad for a sport just getting its legs Stateside. After all, this is the fifth-ever HYROX event in the U.S. (and HYROX's second time in Dallas).
That's another reason behind HYROX's invitee system for this upcoming event. McIntyre is hoping to attract the best athletes to come and compete, which, in turn, will attract more eyes (at least, that's the plan). So far, the women's roster is fully stacked, and there are three spots left for the men. McIntyre mentions that he is specifically pumped about Ryan Atkins — a prolific OCR champion who bested McIntyre in the 2020 Spartan Games event — coming out to compete. "He's a stellar athlete," McIntyre quips. As for who else he'd like to see in the final three slots?
"I would love for nothing more than to watch the pillars of CrossFit — Rich Froning, Mat Fraser, Patrick Vellner, Chandler Smith, Brent Fikowski, Noah Ohlsen — show up," McIntyre says. "The worst thing that happens is you lose, and you learn. The best thing that happens is you win and show that you're proven."
Here's a breakdown of both the completed women's roster and the men's roster, as it stands:
Women's Roster
Lauren Weeks
Alyssa Hawley
Corinna Coffin
Viola Oberländer
Faye Stenning
Kristi Eramo
Brooke Bowen
Sarah Harrison
Ehea Scheurch
Lindsey Webster
Men's Roster
Hunter McIntyre
Isaiah Vidal
Grant McCartney
Ryan Atkins
Lukas Storath
Elijah Muhammad
Eric Hinman
What Is HYROX?
HYROX is an athletic race designed to tests a competitor's endurance and strength. Compared to other fitness competitions — such as the CrossFit Games and most obstacle course races — HYROX's format does not change. Each race consists of eight rounds of a one-kilometer (0.6-mile) run followed by a fitness event. This appeals to McIntyre, who likes the idea of having a purer baseline of overall fitness. Whereas the CrossFit Games — which is undoubtedly a supreme test of physical fitness — change year-to-year, HYROX stays the same. Here's the full event list for the Dallas, TX event. Note: there's a one-kilometer run between each event listed below, and the weights listed below are pro weights, which are different from the open wave.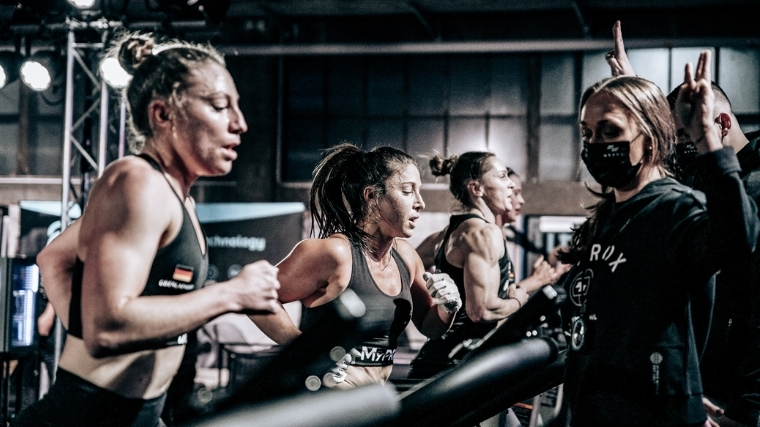 [Related: Fat Loss for Athletes — the Right Way to Approach Calories and Hormones]
HYROX Dallas Event List + Weights
1,000-meter Ski Erg
50-meter Sled Push (275 pounds for the women, 285 pounds for the men)
50-meter Sled Pull (165 pounds for the women, 275 pounds for the men)
80-meter Burpee to Broad Jump
1,000-meter row
200-meter Farmer's Carry (24 kilograms for the women, 32 kilograms for the men, each hand)
100-meter Sandbag Lunge (45 pounds for the women, 66 pounds for the men)
100 Wall Balls (14 pounds for the women, 20 pounds for the men)
CrossFit and HYROX
McIntyre is no stranger to CrossFit. He's competed in the Open six times (2013-14, 2017-2020) and was invited to the 2019 Games. Overall, he finished in 61st place as an individual. You also have HYROX champ Lauren Weeks whose best CrossFit performance was at the 2017 Regionals, where she placed 14th overall. If any two athletes can appreciate the carryover CrossFit brings to HYROX, it's the champs. HYROX World Champion participants Adam Klink and Samantha Briggs also have storied CrossFit backgrounds.
View this post on Instagram
[Related: Can Jogging Actually Help You Get Stronger?]
Briggs is most notably a 2013 CrossFit Games winner, who competed in the 2020 Games and finished in 25th place. In the world of fitness, the 38-year-old stays busy. She competed at the inaugural Spartan Games (as did McIntyre) and placed fourth out of 12 women, just one place behind Weeks. More recently, Briggs also rowed and ran 100 total kilometers (62 miles) for Cancer Research UK. At the HYROX World Championships, Briggs placed fourth.
As for Klink, his CrossFit resume includes six Regional appearances (2013-2018), with his best finish being seventh place in 2018. While he's never competed at the Games as an individual, Klink helped CrossFit Krypton earn second at the 2019 Games in the Team division. in July of 2020, Klink achieved an incredible goal of running a sub-five-minute mile and squatting 500 pounds on the same day. Oh, he also did 50 kipping pull-ups for good measure. And at the 2020 HYROX World Championships, Klink placed fifth out of six competitors.
It's not a surprise that that HYROX attracts top CrossFit competitors. After all, both sports test functional strength and endurance. The main difference, McIntyre points out, is that HYROX serves as a steady baseline, so an athlete can train knowing the events well ahead of time. For example, Lukas Storath — who placed second at the HYROX World Championships, just two minutes behind McIntyre — can train to improve specific parts of his strategy and performance. It's an advantage that other fitness competitions don't afford athletes.
Stay Tuned
With $10,000 and a chance to snag the HYROX titles on the line, HYROX Dallas should be a race worth watching. With over a month to go until HYROX Dallas (when this article was published), the men's rosters have yet to be finalized. We will update this article when more information is made available. We'll also report on the results after the event takes place.
Images courtesy of HYROX