We receive free products and receive commissions through our links. See
disclosures page
.
Your knees can only take so much squatting before buckling. Knee sleeves like Iron Bull 7mm Knee Sleeves ease the pain, providing compression, warmth, and stability during lower-body workouts and heavy lifts. They can even improve your performance thanks to the rebound effect of the elastic, which can give your ascension an added bounce to help you squat more weight.
Iron Bull 7mm Knee Sleeves
Iron Bull 7mm Knee Sleeves
A supportive and versatile knee sleeves that's designed with 7mm neoprene. These are available in a variety of colors and offer maximum support.
Since Iron Bull's 7mm Knee Sleeves are among the more popular models on the market, we thought we'd test them out with heavy squats, weightlifting, and functional fitness WODs. For our review, we took a close look at its construction and factored in its fit, stability, and comfort, not to mention price. Keep reading to find out what we think.
Main Takeaways
Iron Bull's 7mm Knee Sleeves were constructed to emphasize durability and support over comfort. You'll experience a bit more rigidity and a slightly less flexible feel, requiring a longer breaking-in process.
Iron Bull promises high-level compression from the thickness of its neoprene to help prevent injury and protect your joints.
These sleeves are best suited for powerlifters. The sleeves are compliant with the International Weightlifting Federation (IWF) and certified for USA Weightlifting (USAW), United States Powerlifting Association (USPA), and International Powerlifting Federation (IPF) powerlifting competitions.
Iron Bull 7mm Knee Sleeves Video Review
Our Reviews Writer, Jake, got his hands on a pair of these knee sleeves for his video review. Follow along as he breaks down all of the details, and compares these to the competition.
Iron Bull 7mm Knee Sleeves Highlights
Price: $37.50
Sizes: Small, Medium, Large, X-Large, 2X-Large, 3X-Large, and 4X-Large
Material: SCR Neoprene
Thickness: 7mm
Length: 30cm
Certification: USPA, IPL, IWF, and USAW
Compression garments are scientifically proven to boost muscle efficacy and recovery from fatigue. (1) Iron Bull's 7mm Knee Sleeves provide firm compression of lower-body muscles thanks to their thick neoprene construction, which is fortified by double-stitched welded seams running down both sides. The sleeves promise a snug, stable fit that eases the strain on your knees while improving blood flow, which helps bring much-needed oxygen to your muscles. Oxygenated muscles are less likely to give out when you've got a few hundred pounds over your head.
You want some stiffness and rigidity from a 7mm sleeve, but the thickness of the neoprene has a pretty noticeable impact on the flexibility of these sleeves. You'll feel the bulk when slipping them on, and it'll take some to flex through that additional stiffness.
The double-stitched seams do, however, provide a contoured fit. They also provide enough durability to withstand the bursts of high-impact ballistic training, as well as the heavy loads of powerlifting. Lifters, especially, will find a lot to love with these sleeves, which are IWF-compliant and certified for USPA and IPL powerlifting meets.
Pros
Delivers warmth, support, and compression-based benefits with 7mm-thick neoprene
Double-stitched welded seams stand up to everything from Olympic weightlifting to explosive ballistic movements
Can help boost your squat during training
IWF-compliant and certified for USPA and IPL powerlifting competitions
Cons
Slightly less flexible than other models, requiring a longer break-in period
Bulky, boxy feel could impact movement-based workouts
Training With the Iron Bull 7mm Knee Sleeves
We tested the Iron Bull 7mm Knee Sleeves with rounds of squats, lunges, and snatches to get a handle on how its materials and construction contribute its comfort, stability, and durability.
Comfort and Fit
In terms of fit, the sleeves are comparable to other 7mm, double-stitched knee sleeves. We wore them over a pair of long pants and really loved the contoured, tapered fit provided by the double-stitched welding. Though stiff, the sleeves flex along with you to provide the kind of support you'll want during squats and lifts.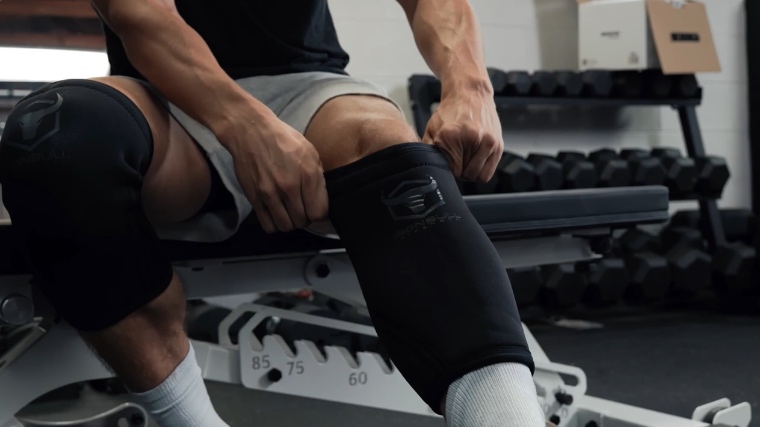 We tested a large pair and found them to be on the shorter side in terms of actual size. They cover roughly an inch or two above the knee. That can be helpful for those who don't want an excess of material, but it might be a dealbreaker for taller athletes used to longer sleeves that reach the thigh and lower calf.
Stability
Out of the box, the sleeves offered plenty of support and rigidity, some of the most we've felt in a pair of 7mm sleeves. That rigidity can be beneficial for lifters, as a little stiffness can help with heavy squats and Olympic lifts. The sleeves' elastic can also provide a little bounce when coming out of your squat, which could help you shoulder more weight.
We love the level of compression provided by the neoprene, but getting that squeeze means losing a bit of flexibility, which can prove challenging during movement-based workouts and high-rep sets. They did a solid job providing warmth and support during heavier squats and snatch training, but the extra stiffness and bulk became more apparent once we transitioned to more WOD-based sessions.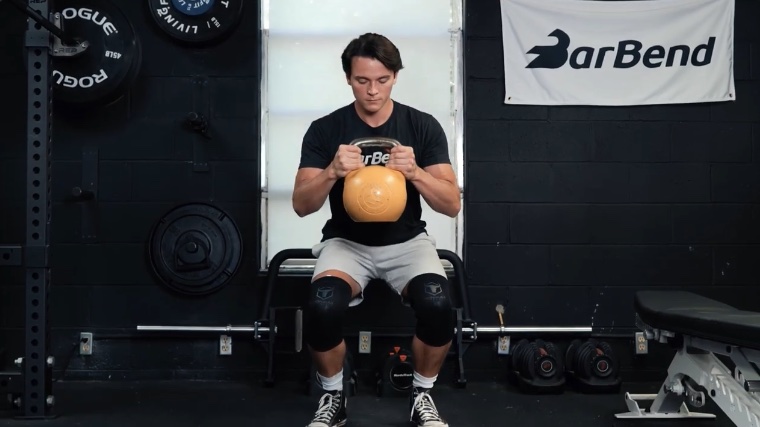 Lifters who are looking for a more hybrid sleeve will likely find these too boxy and rigid. Regardless, you'll want to make time for a break-in period, so spend a few sessions with them before busting them out at a powerlifting meet.
Durability
Lack of support isn't a problem with these sleeves. The neoprene is thick and tough, and the stitching is reinforced across the seams. We're confident in their ability to handle everything from basic lower-body conditioning to power-forward rounds of Olympic weightlifting and ballistic training.
What to Consider Before Buying Iron Bull 7mm Knee Sleeves
Knee sleeves may seem straightforward, but there's a lot to take into account when trying to choose the perfect knee sleeve. Frequency of use, for one. How focused is your fitness routine on the lower body? If you're doing more movement-based workouts, you're going to want a different sleeve than if you're reaching for the barbell. Budget's another major consideration, as sleeves can run the gamut in terms of pricing.
Your Fitness Routine
Knee sleeves come in a variety of sizes to cater to different types of athletes and fitness routines. If you're engaging in higher-rep or movement-based workouts that demand a full range of motion, you'll want to reach for a 3mm or 5mm sleeve. If it's strength and heavy weights you're chasing, a 7mm sleeve with more compression is where it's at.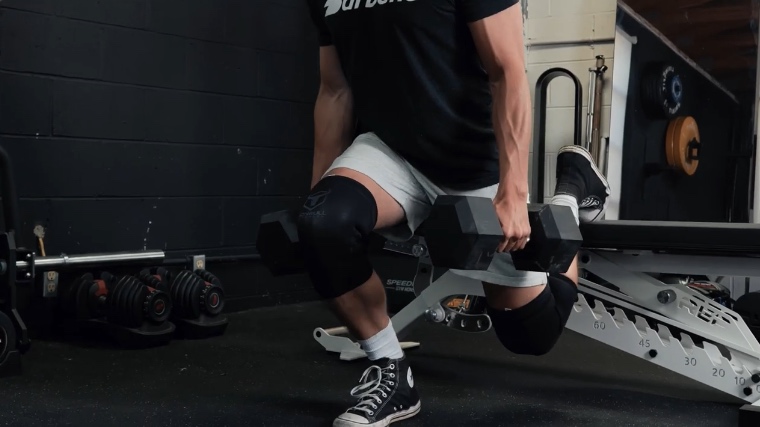 Before buying a pair, consider where you're at in your fitness journey. Do you see lots of sweat-drenched leg days in your future? Is agility and endurance your focus? Are you prepping for your first powerlifting meet? Your answers to these questions will inform the kind of knee sleeves you'll want to slip on.
Price
Knee sleeves can range anywhere from $20 to $80. That's a big gap, and you'll see the difference between a cheap sleeve and a quality one after just a few workouts. Cheaper sleeves generally lack commercial-grade materials and reinforced stitching. They'll get the job done for casual squat sessions, but you won't want to rely on them for explosive movements or powerlifting.
Sleeves on the pricier side — think between $40 and $80 — are built for longevity, strength, and compression, making them ideal for athletes, powerlifters, and CrossFit enthusiasts. That means reinforced stitches, long-lasting elasticity, and anti-microbial linings that ensure you're never the stinky kid at the gym. You'll also want to consider what kinds of warranties are available.
Construction and Durability
The best knee sleeves can take a beating without losing their compression or elasticity. Most knee sleeves are made of neoprene, which is renowned for its flexibility and strength, but you can also find excellent sleeves made from spandex or nylon. Basically, you want a sleeve that won't lose elasticity and begin sliding down your leg after only a handful of squat sessions.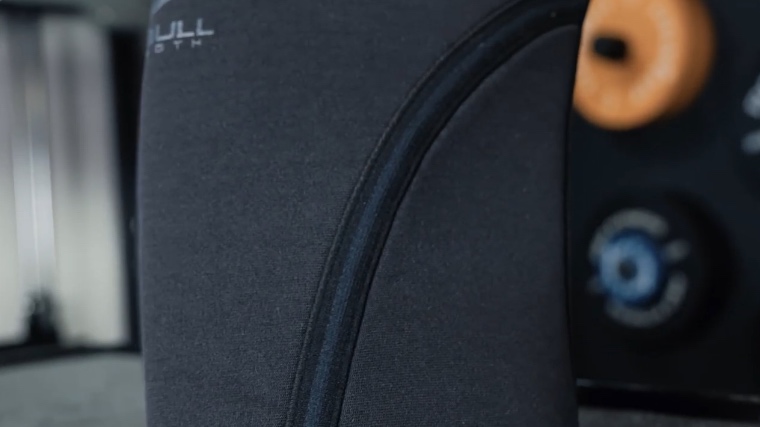 You'll also want to take a look at the stitching. Budget sleeves tend to use a thinner thread and lack reinforcement. If you want your sleeve to last for the long haul, look for models that feature double or quadruple stitching and reinforced or welded seams. Also important are the edges of a sleeve, which will ideally be hemmed or enclosed to help prevent premature fraying.
Iron Bull 7mm Knee Sleeves vs. Other Popular Brands
You'll find no shortage of knee sleeves on the market, many of them woven from similar materials, but there are still plenty of reasons to take a closer look at the intricacies of their design. Some models are cheaper, some have better stitching, and some have more certifications. Below, we'll compare the Iron Bull 7mm knee sleeve to three other similar brands.
| | | | | |
| --- | --- | --- | --- | --- |
| | Iron Bull 7mm Knee Sleeves | Gymreapers 7mm Knee Sleeves | SBD 7mm Knee Sleeves | Rogue 7mm Knee Sleeves |
| Price | $37.50 | $59.99 | $82.50 | $62 |
| Stitching | Double-stitched with welded seams | Reinforced stitching | Double-stitched seams | Contoured seams |
| Sizes | S, M, L, XL, 2XL, 3XL, 4XL | S, M, L, XL, 2XL | XXXS, XXS, XS, S, M, L, XL, XXL, XXXL, XXXXL, XXXXXL | XS, S, M, L, XL |
| Certifications | USPA, IPL, IWF, USAW | IPF, IPL, USAPL | USPA, IPF, IWF, USAPL | IPF, IWF |
| Warranty | 1-year | 1-year | None | None |
Each of the knee sleeves on this list is constructed from neoprene, which has become commonplace in the compression market due to its strength and flexibility. Where the sleeves begin to differ is in their stitching, sizing, certifications, and warranty.
Iron Bull's knee sleeves, which are currently the least expensive of the lot, offer the best bang for their buck. Where other models on this list promise reinforced stitching or seams suited for a more contoured fit, Iron Bull goes the extra mile to prevent premature rips with seams that are both double-stitched and welded. SBD's stitching is similarly robust, but twice the cost and lacking a warranty. SBD does have the upper hand in terms of size variety and offers just as many certifications as Iron Bull. But Iron Bull's price, along with its one-year warranty, cements it as the most cost-effective sleeve on this list.
Places to Buy
You can buy the Iron Bull 7mm knee sleeves through Iron Bull's website or via Amazon's marketplace.
Customer Experience
Iron Bull offers a one-year warranty on its knee sleeves, which is standard. They also offer a 30-day money back guarantee and free shipping in the U.S. for orders over $150.
Company Information
Iron Bull caters to strength seekers with a vast array of home gym gear, strength equipment, sleeves, wraps, weight belts, and apparel. Cultivating community is one of the company's biggest passions, and by joining their Iron Squad you can potentially earn the opportunity to trial new products and provide feedback on the company's support page.
In Conclusion
Iron Bull's 7mm knee sleeves deliver intense compression, joint warmth, and ample support thanks to its durable neoprene construction and double-stitched welded seams. Snug and contoured, we love the fit and the stability they provide during squats, lunges, snatches, and lifts, as well as more explosive movements like jumps and dumbbell push presses. Its top-notch construction can take the strain.
You will notice, however, that it's slightly lacking in flexibility when compared to comparable 7mm sleeves, especially during light WODs and higher-volume squats. If you're focusing on power, though, that additional stiffness might be exactly what you're looking for.
FAQs
What are the benefits of Iron Bull 7mm Knee Sleeves?
Iron Bull's 7mm Knee Sleeves are some of the thickest sleeves on the market, meaning they'll provide more stability than lighter and more flexible 3mm or 5mm sleeves and even many comparable 7mm sleeves. Weightlifters tend to like them for the added support, warmth, and bounce they provide during training. Sleeves of this thickness are also helpful for those rehabilitating achy or injured joints.
Are Iron Bull 7mm Knee Sleeves good for weightlifting?
If your focus is powerlifting, Olympic weightlifting, or something similar, you'll want the added support, rigidity, and bounce provided by Iron Bull 7mm Knee Sleeves. If you tend to pair weightlifting with more movement-based exercises, a 5mm will allow you a bit more flexibility.
Are Iron Bull 7mm Knee Sleeves legal in powerlifting competitions?
The Iron Bull 7mm Knee Sleeves are compliant with the International Weightlifting Federation (IWF) and certified for USA Weightlifting (USAW), United States Powerlifting Association (USPA), and International Powerlifting Federation (IPF) powerlifting competitions.
References
Hong, Wei-Hsien, Lo, Sui-Foon, Wu, Hsin-Chieh, Chiu, Min-Chi, "Effects of compression garment on muscular efficacy, proprioception, and recovery after exercise-induced muscle fatigue onset for people who exercise regularly" (2022). PLOS One. 17(2).