When collagen protein first hit the market as a product athletes and gym-goers alike could get their hands on, Dr. Layne Norton was skeptical of its efficacy. According to the American Journal of Clinical Nutrition, "supplementation with whey protein elicited greater increases in both acute and longer-term muscle protein synthesis than collagen protein supplementation," suggesting that the former is more effective for "skeletal muscle retention." (1)
Norton notes that this is because of how much more leucine is in whey protein versus collagen protein — 4.9 to 0.9. For reference, leucine is the amino acid that promotes energy metabolism for protein synthesis. (2) On Aug. 23, 2023, Norton published a video on his YouTube channel that details the findings of May 2023 research in Medicine and Science in Sports and Exercise related to the efficacy of collagen protein for muscle connective protein synthesis (i.e., promoting the health of connective tissue rather than muscle growth). Check it out below:
[Related: What Did Keone Pearson's Diet Consist Of One Day Before Winning The 2023 212 Texas Pro?]
Spoiler alert: The findings were that neither collagen protein nor whey protein increased muscle connective protein synthesis rates. (3)
Right off the bat, Norton explained the findings of the study showed that whey protein promotes muscle protein synthesis while collagen protein did not, despite the various male and female participants in the study receiving a 30-gram dose of each for post-exercise recovery.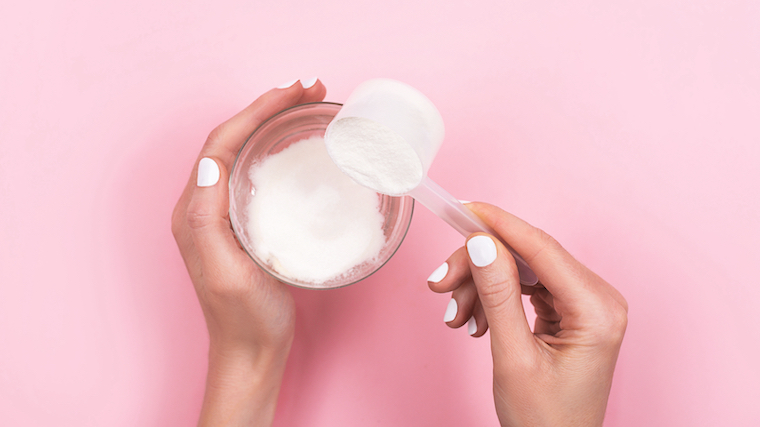 [Related: What Are the Side Effects of Pre-Workout?]
Neither protein increased connective tissue synthesis.
Norton was unsurprised by the results of the study due to the lack of sufficient leucine in collagen protein, explaining that when a protein is broken down during digestion, the composition of that protein is what results in the bloodstream. When absorbing nutrients during digestion, the body doesn't recognize protein but rather the amino acids that comprise that protein. For the purposes of muscle protein synthesis, the requisite amino acid is leucine.
Without the presence of an amino acid in collagen protein that has been shown to promote muscle connective tissue, supplementing with collagen protein will unlikely have such an effect.
References
Oikawa, S. Y., Kamal, M. J., Webb, E. K., McGlory, C., Baker, S. K., & Phillips, S. M. (2020). Whey protein but not collagen peptides stimulate acute and longer-term muscle protein synthesis with and without resistance exercise in healthy older women: a randomized controlled trial. The American journal of clinical nutrition, 111(3), 708–718. https://doi.org/10.1093/ajcn/nqz332

Duan, Y., Li, F., Li, Y., Tang, Y., Kong, X., Feng, Z., Anthony, T. G., Watford, M., Hou, Y., Wu, G., & Yin, Y. (2016). The role of leucine and its metabolites in protein and energy metabolism. Amino acids, 48(1), 41–51. https://doi.org/10.1007/s00726-015-2067-1

Aussieker, T., Hilkens, L., Holwerda, A. M., Fuchs, C. J., Houben, L. H. P., Senden, J. M., van Dijk, J. W., Snijders, T., & van Loon, L. J. C. (2023). Collagen Protein Ingestion during Recovery from Exercise Does Not Increase Muscle Connective Protein Synthesis Rates. Medicine and science in sports and exercise, 10.1249/MSS.0000000000003214. Advance online publication. https://doi.org/10.1249/MSS.0000000000003214
Featured image via Shutterstock/YuliaLisitsa