MuscleTech is one of the most popular and inexpensive supplement companies on the market, ubiquitous in supplement stores and usually mentioned alongside other big names like Optimum Nutrition and MusclePharm.
Owned by Iovate Health Sciences in Delaware, the company sells so many different supplements that they have several different sub brands to contain them: the Performance Series, Lab Series, Essential Series, and Pro Series.
This means they sell a ton of different protein powders but when we decided to try out their casein, we'd heard the most positive things about their Performance Series' Nitro Tech Casein Gold.
And there's plenty to talk about here.
Shop MuscleTech Nitro Casein here!
How We Rate Protein
So what actually goes into a review? We take this stuff pretty darn seriously and there are a lot of metrics to take into consideration.
Nutrition
A big focus in these kinds of supplements is calories per gram of protein. Pure protein, containing no other carbs or fat, has 4 calories per gram so a lot of people like their protein supplement to contains as close to 4 calories per gram as possible.
Other considerations include cholesterol, sodium, sugar, lactose, and micronutrients.
Ingredients
A lot of people only want natural ingredients and while "natural" is a pretty nebulous term, we pay attention to the sweeteners, flavors, and colors used in these products in addition to potentially problematic ingredients like gums, soy, and allergens.
We aren't saying these ingredients are bad for you, only that we highlight them for the benefit of consumers who are following restrictive diets.
When it comes to casein, it's also worth pointing out that a lot of these supplements don't have casein as the first ingredient, they have milk protein. Milk protein is 80 percent casein and it's also cheaper, but some find it a little off putting when a product that's made with milk protein is labeled as a casein protein.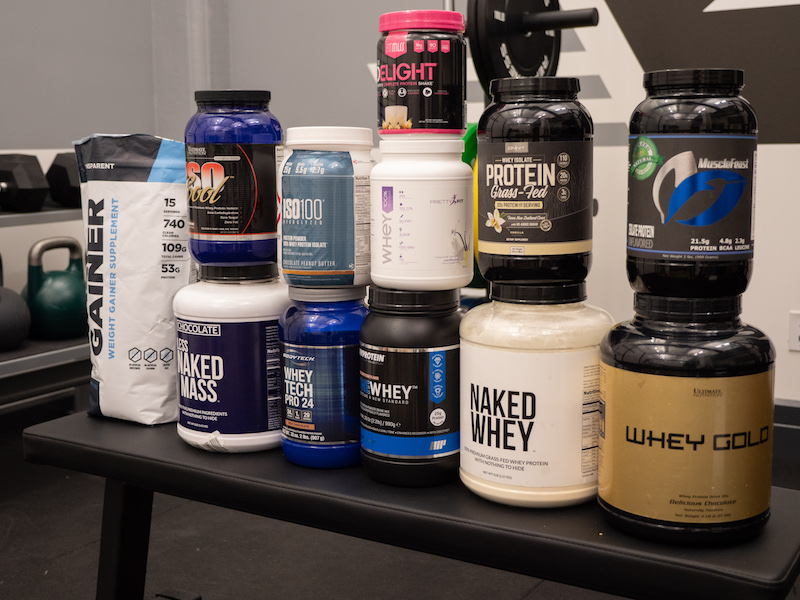 Price
Cost per serving isn't the right way to judge these products — it's cost per gram of protein. It's practically impossible to find a supplement that costs less than 3 cents per gram of protein and when it comes to casein, the average price for big brands is well over 4 cents per gram.
Taste
Let's be honest, this is a pretty fundamental part of whether or not you'll want to consume a protein powder. We've tried enough of them to know if it's smooth, sweet, earthy, mild, milky, or artificial-y tasting.
Whey Vs Casein
There's a lot to talk about here, which is why we already made this awesome article comparing the pros and cons of whey versus casein, plus we put together this video to go along with it.
Long story short, both proteins come from milk but because casein is used to make cheese and whey has traditionally been considered a waste byproduct of the cheesemaking process, whey is usually a little cheaper.
The most significant difference to your body, though, is the fact that whey digests a lot faster. Casein forms clumps and it usually comes in intact micelles, globular like structures that take longer to digest. A widely cited 1997 study that was published in the Proceedings of the National Academy of Sciences of the United States of America, found when comparing whey and casein, the group consuming casein saw amino acids releasing into their bloodstream over a much longer period of time.(1)
Generally speaking, people take whey when they want to get protein to their muscles quickly and they take casein if they're about to go a relatively long period of time without protein, like right before bed. Because it takes longer to digest casein is also a lot more filling, a phenomenon that was confirmed by a 2011 study in Nutrition Journal, so casein might be more useful for folks trying to lose weight.(2)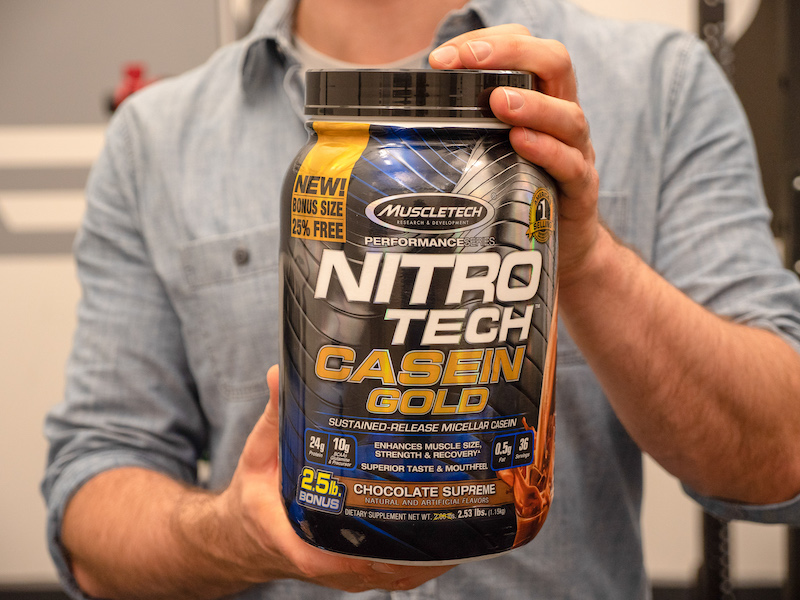 MuscleTech Nitro Tech Casein Gold Nutrition
One scoop contains 110 calories: 24 grams of protein, 2 grams of carbohydrates (1 gram of sugar and less than a gram of fiber), and 0.5 grams of fat. There's no info as to how much of the fat is saturated, but there's 7 percent of your daily cholesterol as well. That's 4.58 calories per gram of protein.
There's also 7 percent of your daily sodium, 6 percent of your iron, and 61 percent of your calcium.
MuscleTech Nitro Tech Casein Gold Ingredients
It's important to note that the first ingredient isn't casein. It's their "Micellar Casein Plus Blend" that contains milk protein isolate, calcium caseinate, and micellar casein. So the majority of the protein is casein, but the sole source of protein isn't micellar casein, something a lot of people prioritize with these supplements.
After that there's salt, natural and artificial flavors, a blend of three kinds of gum (cellulose, xanthan, and carrageenan), then there's soy lecithin and two kinds of artificial sweeteners: sucralose and acesulfame potassium.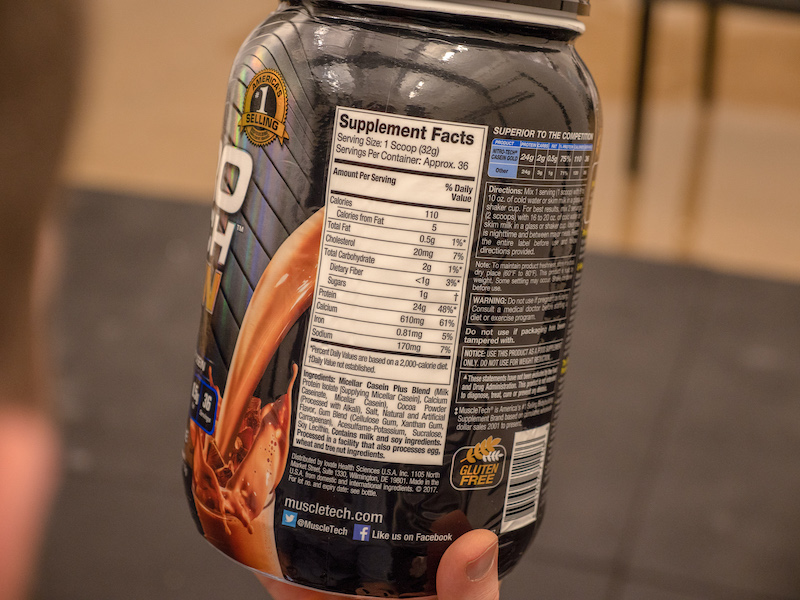 MuscleTech Nitro Tech Casein Gold Benefits and Effectiveness
Again, probably what leapt out at me the most here is that the first ingredient isn't micellar casein. (That's what you call casein when it's encased in an intact "micelle," a kind of globular structure.) This does help to keep this supplement less expensive, and the majority of the protein (over 80 percent) is still micellar casein.
The copy on the protein tub goes to great lengths to convince you that it contains multiple sources of protein in order to be as anabolic as possible, citing a 2006 study published in The American Journal of Clinical Nutrition that found milk protein still releases amino acids into your bloodstream up to 8 hours after taking it.(3) At the end of the day, that they use mostly milk protein isolate instead of micellar casein probably doesn't matter all that much for your goals.
A few other things are worth pointing out: this contains soy lecithin and both sucralose and acesulfame potassium, all ingredients that some people try to avoid. The gums may also cause digestive upset for some folks, but that's a pretty small segment of the population.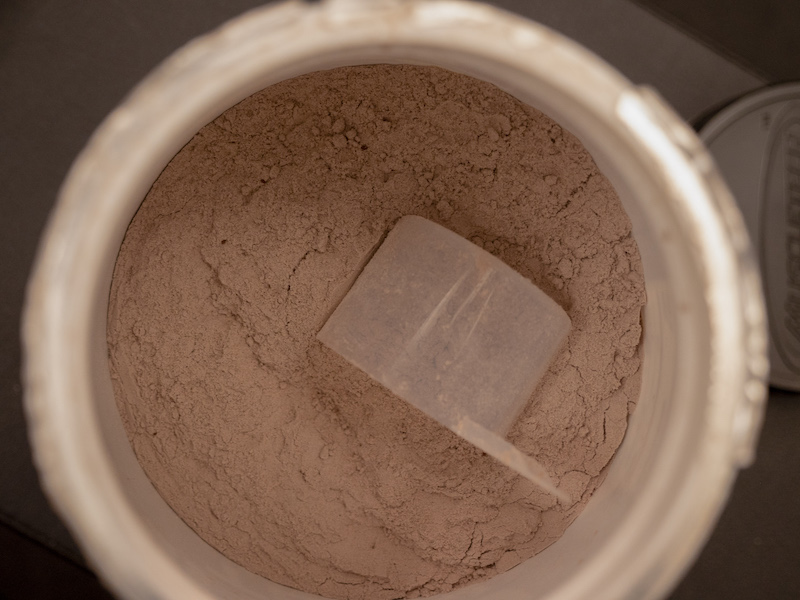 [Read more: Is soy actually bad for testosterone?]
If those ingredients don't bother you there's not much to dislike here: there's more calcium and less fat than you see in most caseins and it's relatively high in iron as well.
MuscleTech Nitro Tech Casein Gold Benefits and Effectiveness
A 2.5-pound tub provides 36 servings for anywhere between $28 and $33. That comes to about 80 to 90 cents per serving or 3.5 cents per gram of protein.
That's very inexpensive; most leading brands of casein cost closer to 5 cents per gram of protein. Again, this is probably because MuscleTech went with milk protein isolate.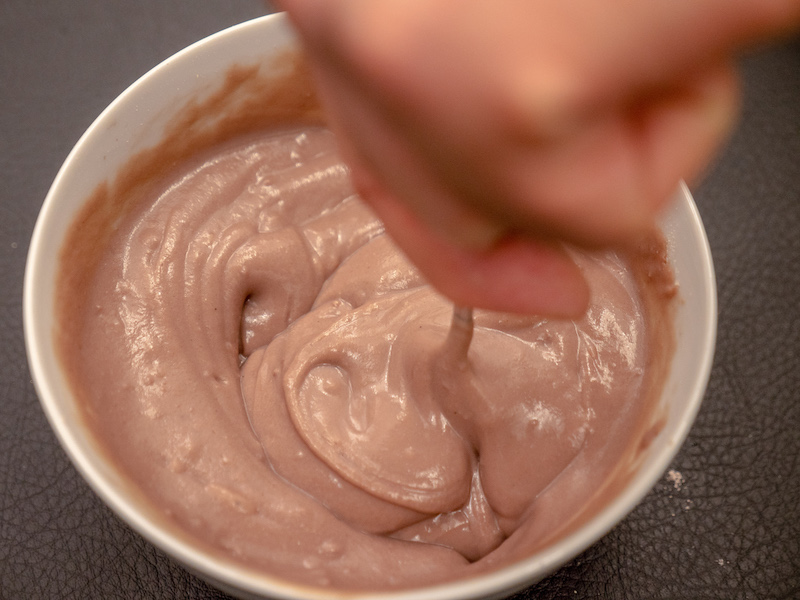 MuscleTech Nitro Tech Casein Gold Taste
We mixed up a pudding — 1 scoop protein to 1.5 scoops of water — with the Chocolate Supreme flavor and the first we noticed was that it had a very smooth, velvety texture.
The taste? It wasn't quite as strong as brownie batter but we're comfortable saying it tasted like chocolate cake batter — not to thick and not too overwhelming. "Velvety" and "milky" were the words that kept coming to mind. Don't expect super dark, earthy cocoa.
The Takeaway
Pros
Very cheap
Super low in fat and carbs
Guaranteed banned substance free
Cons
Main ingredient is milk protein, not micellar casein
Contains soy, gum, and artificial sweeteners
Made in a facility with eggs, wheat, and tree nuts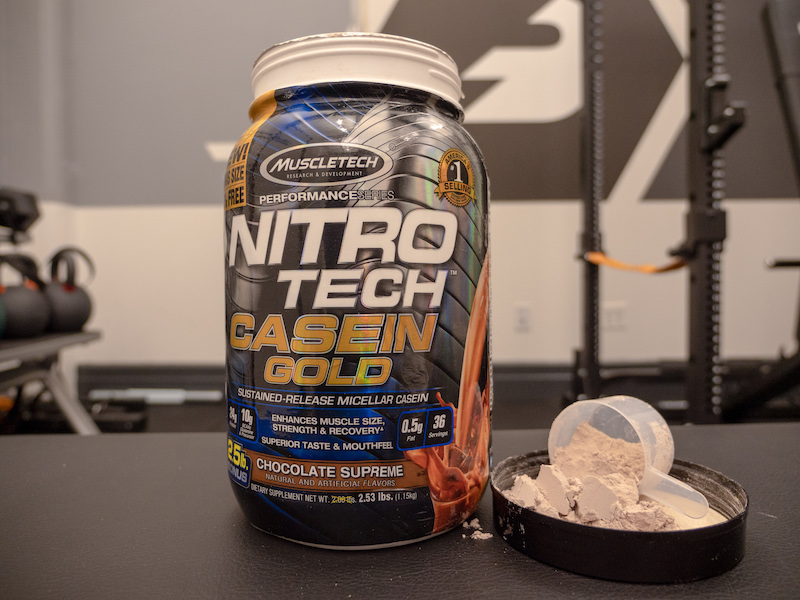 It's hard to ignore the fact that this is one of the cheapest and tastiest casein products we've tried, and the science appears to suggest that it really isn't that big a deal that the protein doesn't all come from casein. Of course, science also suggests that soy and artificial sweeteners aren't unhealthy for the majority of the population either, but there are still plenty of people who would rather avoid them.
If you're not bothered by soy, gum, artificial sweeteners, or milk protein isolate, this is a very cost effective way to get your casein.
References
1. Boirie Y, et al. Slow and fast dietary proteins differently modulate postprandial protein accretion. Proc Natl Acad Sci U S A. 1997 Dec 23;94(26):14930-5.
2. Abou-Samra R, et al. Effect of different protein sources on satiation and short-term satiety when consumed as a starter. Nutr J. 2011 Dec 23;10:139.
3. Lacroix M, et al. Compared with casein or total milk protein, digestion of milk soluble proteins is too rapid to sustain the anabolic postprandial amino acid requirement. Am J Clin Nutr. 2006 Nov;84(5):1070-9.