Based in upstate New York, Nature's Bounty consider themselves something of a combination health and beauty company. Their marketing emphasizes phrases like "we believe beauty and health go hand in hand" and "beauty starts on the inside," and to that end they offer a lot of beauty-focused supplements like biotin, which may help hair and nails, and Vitamin E pills for the skin.
That said, a lot of their supplements are regular health supplements like probiotics and multivitamins, and the Complete Protein & Vitamin Shake Mix contains both. Labeled "an exciting way to get the nutrients you need most," it contains a mixture of soy protein isolate and whey protein concentrate, combined with a a similar amount of carbohydrates and just two grams of fat per serving.
It is marketed as a women's supplement, coming in a pink tub and stating that it's "uniquely formulated (to) address the key nutritional needs of women to help you look and feel your best." I tried Vanilla Bean and found that it's got a solid amount of vitamins and a good amount of ingredients for digestive health as well.
Nature's Bounty Complete Protein & Vitamin Shake Mix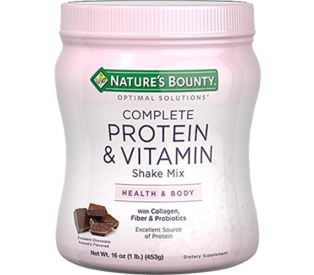 Nature's Bounty Complete Protein & Vitamin Shake Mix
Inexpensive, nutritious, and with a rare focus on digestive health, this is a good meal replacement for women and men alike.
Nature's Bounty Complete Protein & Vitamin Shake Nutrition
One serving has two scoops and 120 calories: 15 grams of protein, 13 grams of carbs (4 grams of fiber, 6 grams of sugar), and 2 grams of fat (1 gram of saturated fat).
On a micronutrient basis, you won't find quite as many nutrients as a dedicated meal replacement for clinical settings, but there's a good 100 percent of the recommended daily intake of nine vitamins: Vitamin C and several B-vitamins, including biotin, plus 200 percent of the RDI of Vitamin D.
There's not a lot going on as far as minerals go. There's 23 percent of your daily calcium, but under ten percent of your iron, magnesium, and potassium, and a lot of minerals (like selenium) don't get a mention on the nutrition label.
Nature's Bounty is one of our favorite meal replacements for women — find out the rest!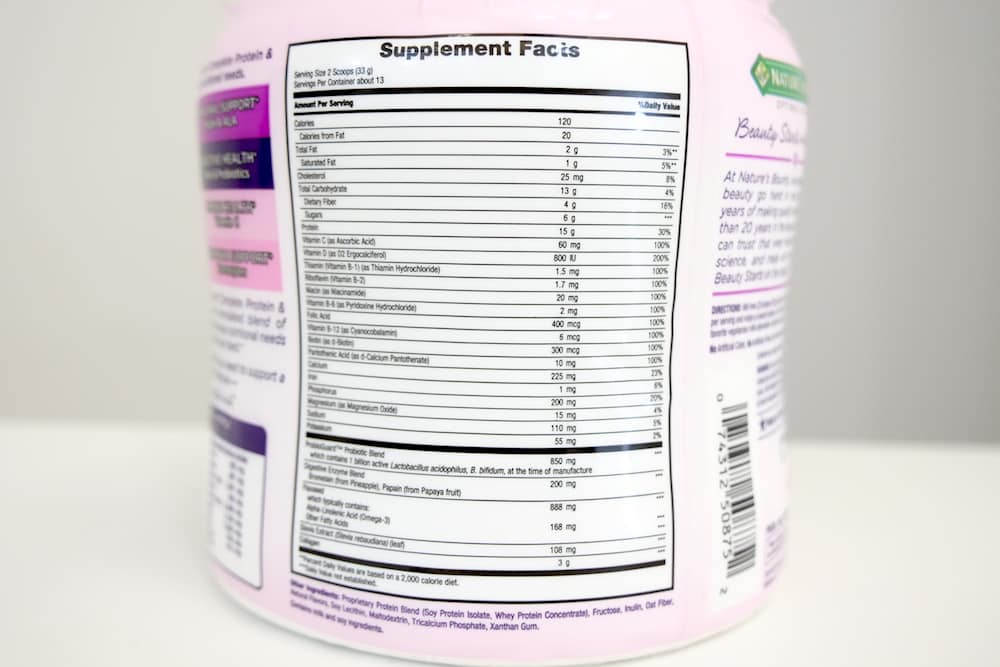 Nature's Bounty Complete Protein & Vitamin Shake Ingredients
The protein comes from soy isolate and whey concentrate, and the fiber comes from a range of ingredients including inulin, oat fiber, and flaxseed.
There's a blend of 1 billion probiotic bacteria per serving which come from two strains: Lactobacillus acidophilus and Bifidobacterium bifidum. There's also a digestive enzyme blend of bromelain and papain.
Note that there are also three grams of collagen, which I'll discuss in the next section.
The rest of the ingredients are mostly natural flavors and sweeteners (like fructose) and some soy lecithin for mixability. There are no artificial flavors or sweeteners in this product.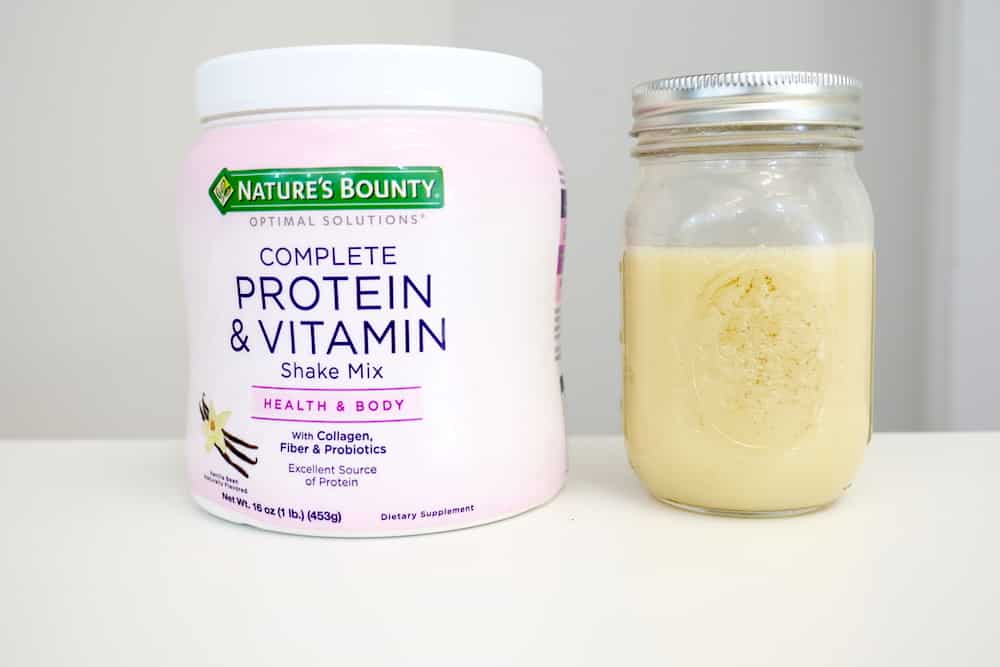 Nature's Bounty Complete Protein & Vitamin Shake Benefits & Effectiveness
The pros: there are a lot of vitamins in this product. I'm especially a big fan of the Vitamin D, a super important nutrient that most people are deficient in, and the biotin will please some consumers since it has some links to hair and nail health, which are emphasized in the marketing.(1)(2) There's no Vitamin A or K though.
As I mentioned, the minerals aren't amazing. The calcium content is solid, an aspect that may be particularly important for women since women have a higher risk of osteoporosis. But the rest of the minerals are disappointing.
One aspect that gets a big emphasis in the marketing is the collagen, since it has some links to skin and joint health.(3) I spoke to Nature's Bounty and found out that it's hydrolyzed collagen, the standard dose of which is typically around 5 to 10 grams. With 3 grams per serving of Complete Protein & Vitamin Shake, it seems to have fallen a little short.
A big positive, however, is the emphasis on digestive health. There's a solid 4-gram hit of fiber, a billion probiotics, and two digestive enzymes. These may improve digestion and absorption of nutrients, and I'm always happy to see these ingredients in a meal replacement shake — the body thrives on more than just vitamins and minerals.
So that's just about everything: a lot of vitamins, a decent amount of calcium, and a solid focus on digestion.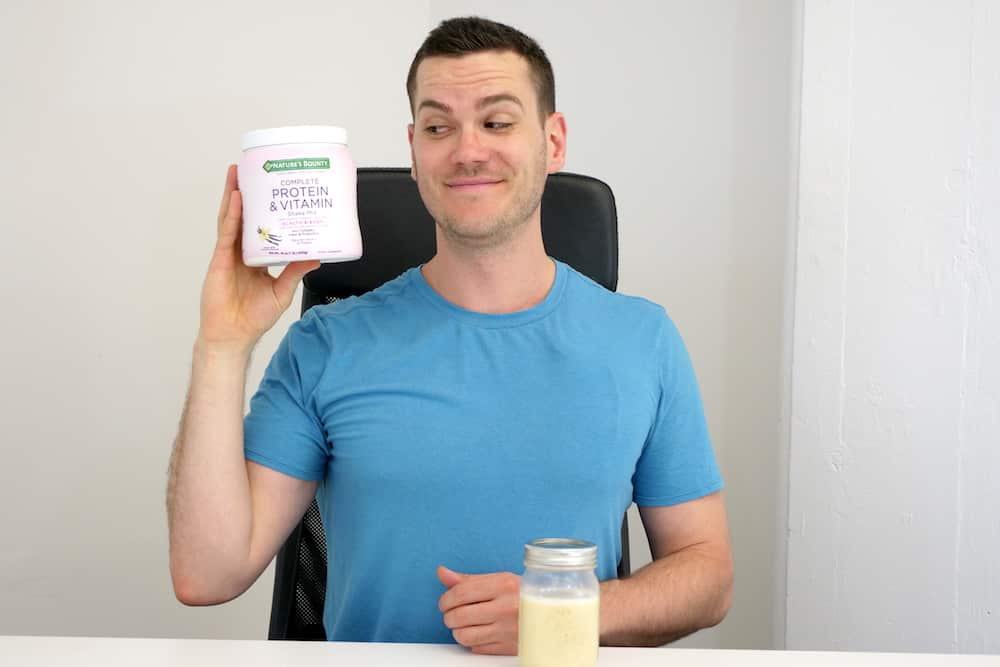 Nature's Bounty Complete Protein & Vitamin Shake Price
The price ranges from $12 to $18 for a one-pound tub. That delivers 13 servings, so you're looking at 92 cents to $1.38 per serving. That's relatively cheap for a meal replacement, which typically hover around $2 per serving. It is worth remembering there are very few minerals in this product when comparing the price, but it's also unusual that it has so many ingredients linked to digestive health.
Nature's Bounty Complete Protein & Vitamin Shake Taste
I mixed two scoops with some ice cold water, in which it dissolved very easily, and the flavor was very mild. It's clear from the taste that there's soy in this product — I'd say it tasted a little like vanilla soy milk with a milder flavor and, interestingly, it tasted a little like there was a dash of rosewater in there too.
The Takeaway
With a lot of vitamins, a good hit of biotin and calcium, plus some bonus probiotics, this is a pretty nutritious shake that's very low in calories and fat. I would have liked to see more minerals and more collagen so it could really deliver on its promises, but it's cheap and all natural, so it should please a lot of customers — male or female.
References
1. Glynis A. A Double-blind, Placebo-controlled Study Evaluating the Efficacy of an Oral Supplement in Women with Self-perceived Thinning Hair. J Clin Aesthet Dermatol. 2012 Nov;5(11):28-34.
2. Hochman LG, et al. Brittle nails: response to daily biotin supplementation. Cutis. 1993 Apr;51(4):303-5.
3. Czajka A, et al. Daily oral supplementation with collagen peptides combined with vitamins and other bioactive compounds improves skin elasticity and has a beneficial effect on joint and general wellbeing. Nutr Res. 2018 Sep;57:97-108.
Nature's Bounty Complete Protein & Vitamin Shake Mix
Per Serving: $1.10