Olympic weightlifting champion Charles Vinci has died at age 85. No official cause of death has been announced.
"Chuck" Vinci is to this day the most recent American male to win an Olympic gold medal in weightlifting — in fact, he won two of them. His first international competition was back in 1955 when he competed at the Pan American Games in Mexico City and won the -56kg weight class. Six months later he went to the Weightlifting World Championships in Munich in what was then West Germany, where he took home silver with a total of 317.5 kilograms. (Remember that back then there were three lifts in the sport: the snatch, clean & jerk, and overhead press, also called the clean & press.)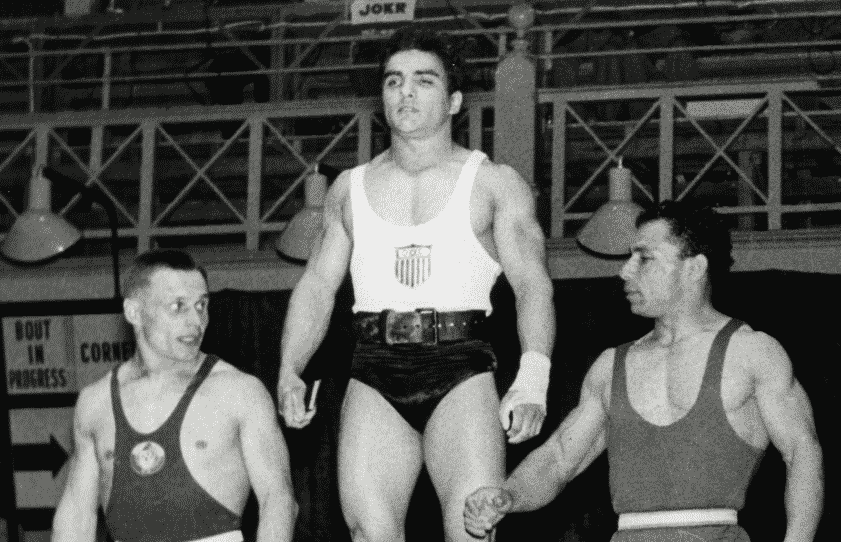 Vinci at the 1956 Olympics.
But it was at the next year's Olympic Games in Melbourne that Vinci really cemented his legacy. The 23-year-old put on an historic performance, totaling 342.5 kilograms (755 pounds) for a world record and decisively beating Soviet silver medalist Vladimir Stogov by 5 kilograms. Fun fact: he was seven ounces too heavy at weigh in, so he got a hair cut to make weight.
There's precious little footage of that Games available online, but we did find his Olympic weightlifting tryouts below, where he totaled 730 pounds with a 230lb press, 270lb clean & jerk, and what we assume was a 230-pound snatch, but we only see the failed snatches.
Over the next four years he won silver at the 1958 World Weightlifting Championships in Stockholm, gold at the 1959 Pan American Games in Chicago, and gold at the 1960 Olympic Games in Rome with a 345kg total. He planned to compete in 1964 but withdrew after tearing a ligament.
It was also said that he could bench press 300lb at 123lb and was a fantastic arm wrestler, capable of defeating men several weight classes above him.
Early in his career, the young Vinci trained at York Barbell Club under former Olympic weightlifter John Terpak and got a job working for legendary strength pioneer Bob Hoffman packaging protein supplements. At a time when there wasn't much money in weightlifting, Terpak noted,
He lifted his heart out for the glory of it, I suppose. There was hardly anything else.
At age 55, Vinci described himself as still able to "play around with 400 pounds" in an LA Times article, and even after he had heart surgery at 79 he told reporters that he was planning to continue lifting weights. "I'm going to do it for the rest of my life," he said.
During his career he set 12 world records. Chuck Vinci died in Elyria, Ohio and leaves behind eight children.