As the official apparel partner of CrossFit (or at least until 2020), it's never too surprising when Reebok releases a good looking training shoe that's meant for both slinging weights and running short distances. One of Reebok's OG cross training shoes is the "Reebok Speed Her TR".
Rebook claims this shoe can "Go from sprints, to weights, to agilities, and back again in one shoe". As a CrossFitter with an occasional hunkering for a runner's high (and a Manhattan sized closet), I'm always looking for a training shoe that is as versatile as my workouts. So when I heard about the Reebok Speed Her TR, I decided to give them a whirl.
Reebok Speed Her TR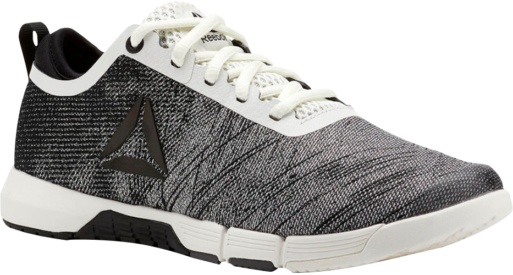 A veratile cross-training shoe that is designed for HIIT work outs and CrossFit style lifts.
Over the last two months, I've been putting the shoe to the test: in the CrossFit box, on my weekly bridge runs, and in day-to-day activities. In this article, I'll take you through this shoe's construction, performance, material, and much more (like how I really feel about the pale pink color option, plus why the toe detailing is my favorite part).
[Interested in the market's best cross training shoes? Check out our comprehensive cross training shoe round-up!]
Construction
The Reebok Speed Her TR's combine a woven textile upper that wraps all the way around the heal with a neoprene collar for comfort. Not quite sure what a neoprene collar would feel like? Imagine the typical thickness and material of a regular sneaker tongue, then think about the sponginess of a foam mattress, and you've got the gist. This collar is low cut around the ankle, which is a total mobility win especially for lateral movements which can result in side-ankle rub if it comes up too high (so go ahead, do those side lunges, irritation free).
Personally, I like the material of the woven textile upper, which is almost-silky to the touch, and it provides a nice firm-yet-flexible combo that makes this shoe so versatile. Plus, the material makes these shoes pretty easy to clean and keep clean.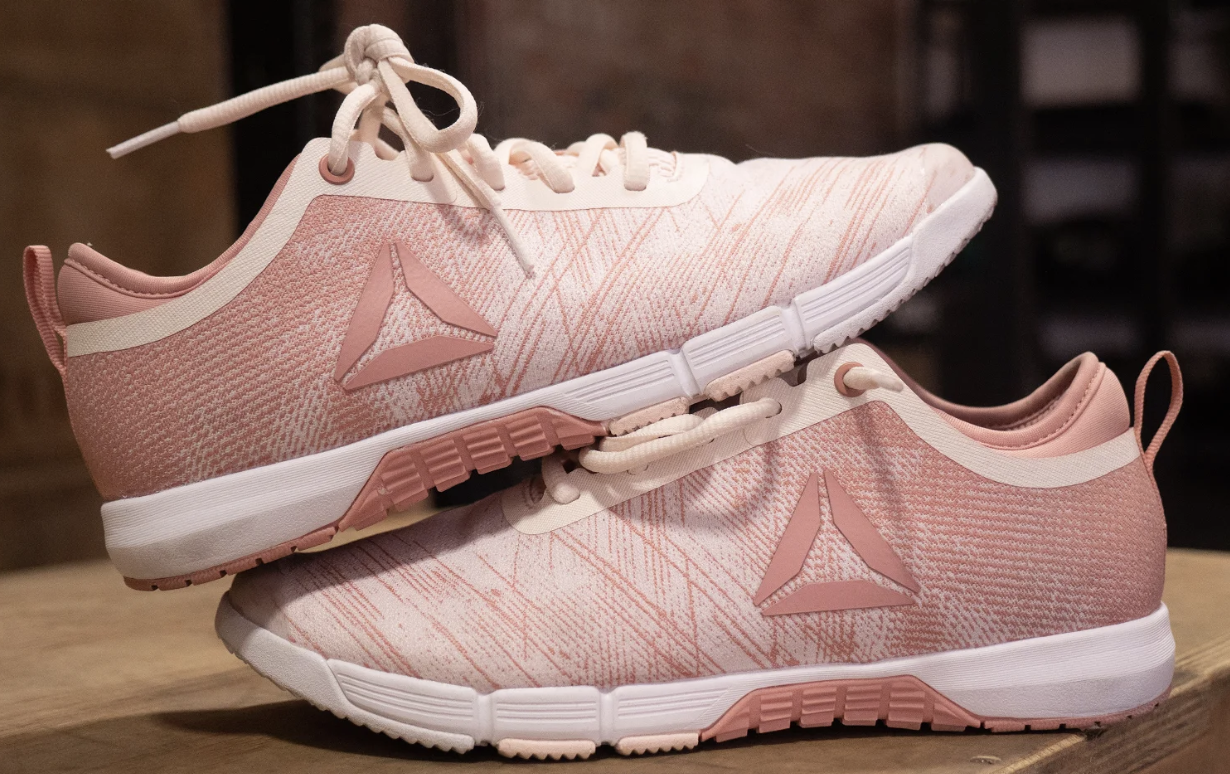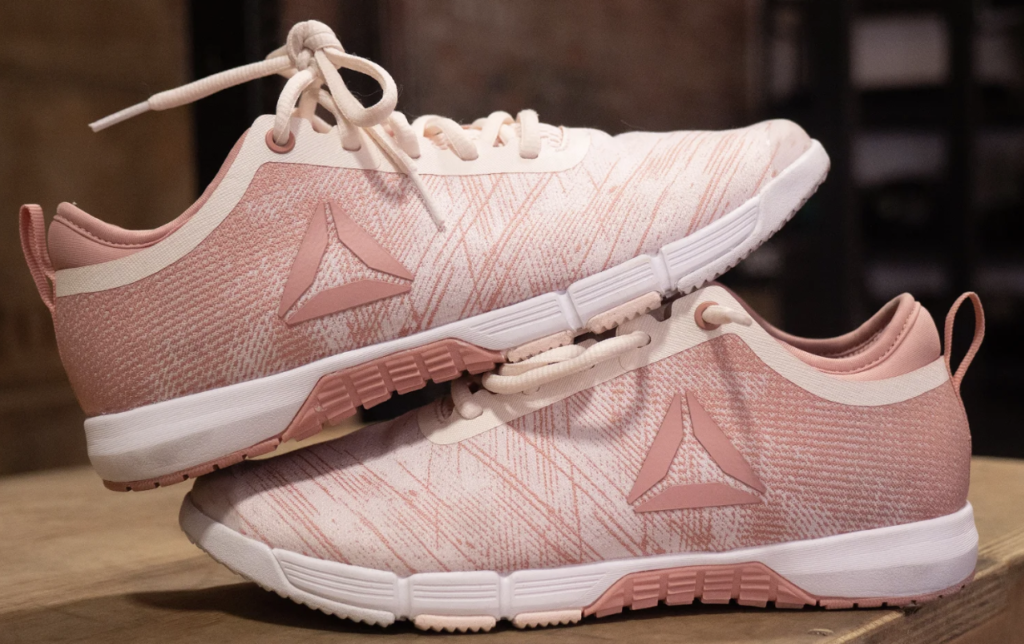 Towards the toe, Reebok added a matte-textured synthetic material to prevent drag in movements like burpees, mountain climbers, skater squats, and other movements with toe-drag. Currently, my CrossFit box is on a gymnastics cycle, which means a lot of toes to bar (or for me, toes-aggressively-slamming-into-bars).
That being said, the material at the tips of the toes has yet to fray, scuff, or show any signs of wear and tear. This relatively small detail was surprisingly my favorite part of the shoe. That's because (in addition to general odor) toe-bed tears and fray have been the reason I've gotten rid of my last three pairs of training shoes.
The tongue is thinner than the collar that hugs your heel, and made of a mesh-like material, which adds an element of breathability (more so than my Nano 7's, which as much as I love them, make my feet sweatier than a floor half-way through a hot-yoga class). The tongue is also noteworthy from an aesthetic standpoint: The underbelly and tongue-top are different colors, which in my "athleisure-minded" opinion is quite cute.
However, while the tongue is breathable, I wouldn't go as far as to call these shoes super breathable, because my foot still got rather hot, and the collar got wet with sweat during most of my workouts. But towards the front of the shoe without the collar, the shoe is a bit lighter, which was a plus for both flexibility and overall breathability.
Just outside the tongue, you'll find eyelets which are reinforced. There are five total eyelets, and the fifth (closest to the ankle) is extra-reinforced with a plastic-y nub. The laces are not flat like the Reebok Nanos, but rather resembled the Reebok Grace TR. It's also worth noting, that if you don't already double knot your sneakers, now is a good time to start. I didn't on one workout and had to stop mid-way through to re-lace.
At the back of the shoe, you'll find what I'll call a "wall glide", which is basically is a strip of fabric that makes sliding down the wall during handstand push-up a breeze. While I didn't notice this detailing during most of my workouts, I really valued it when I did have to go upside down and against the wall.
Performance
To test this shoe's functionality, I wore it to a variety of workouts. A lateral-movement-focused HIIT-style class. A hero WOD. At Least two workouts that included each of the following: squats, deadlift, clean, and snatch. And other programmed workouts over the course of May and June, which included heavy back squats, 1-rep max thruster, toes-to-bar, box jumps, rope climbs, wall balls, a two mile run, a 5K row, and double-unders. Cheers, to constantly varied functional movements.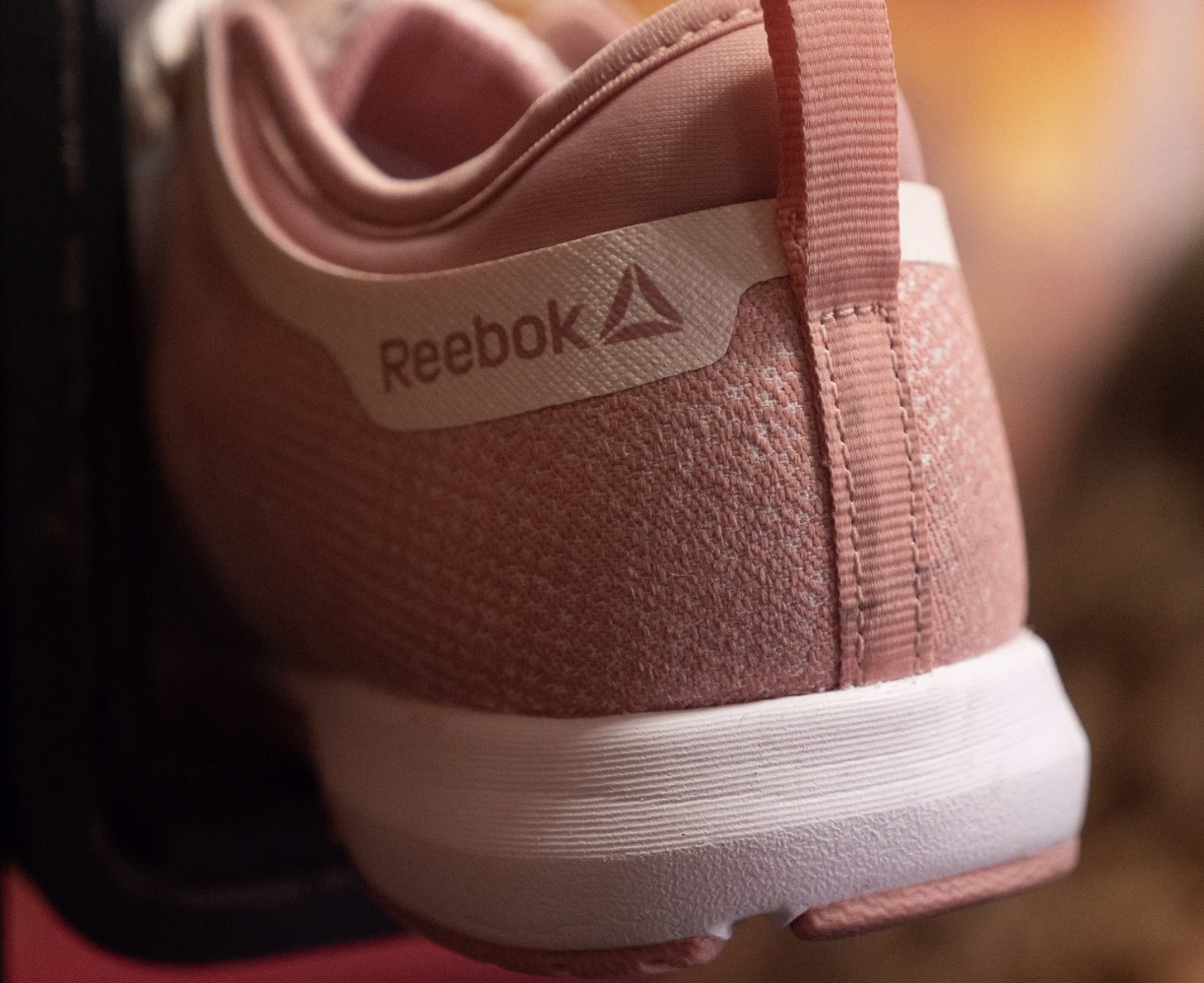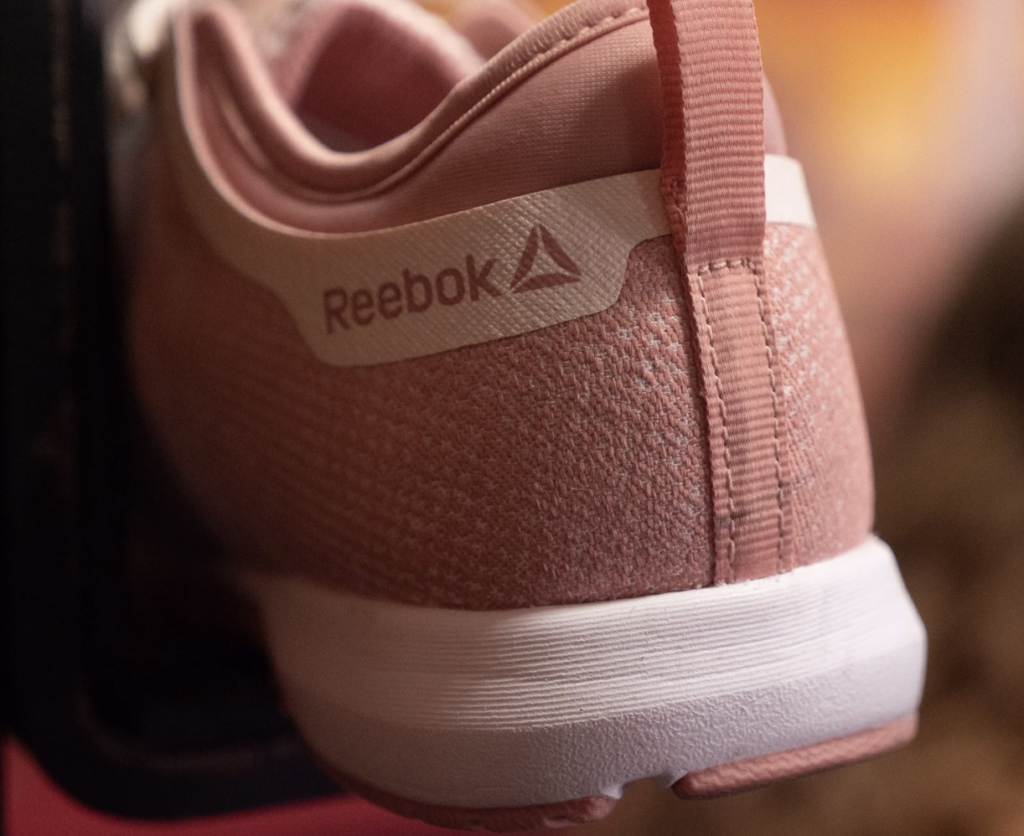 When it comes to a training shoe I have two main concerns: Stability and weight. From both perspectives, I believe this battery of moves does a good job of converting multiple (if not most) of the aspects of functional fitness.
Stability
How'd the shoe measure up? In my opinion, the Reebok Speed Her TR is less stable than the Nano, but still does a nice job of helping the foot stay in place during movements like wall balls, box jumps, and mid-weight kettlebell swings. I mention specifically mid-weight kettle swings because while the stability was more than passable with a 35 pound kettlebell, the 53 pound kettlebell took me for a spin more so than it does when I'm in a sturdier shoe, like the Nano.
That said, I worked up to heavy double on both the front and back squat (about 200 and 230 pounds, respectively) and didn't notice the heel give any more than it does during a typical workout (my hamstrings are tight, which often results in heel lift when I go heavy). The outsole, too, was quite stable. The TPU in this model is solid and I'd feel confident saying this shoe will prove to be stable under most athlete's squat weights.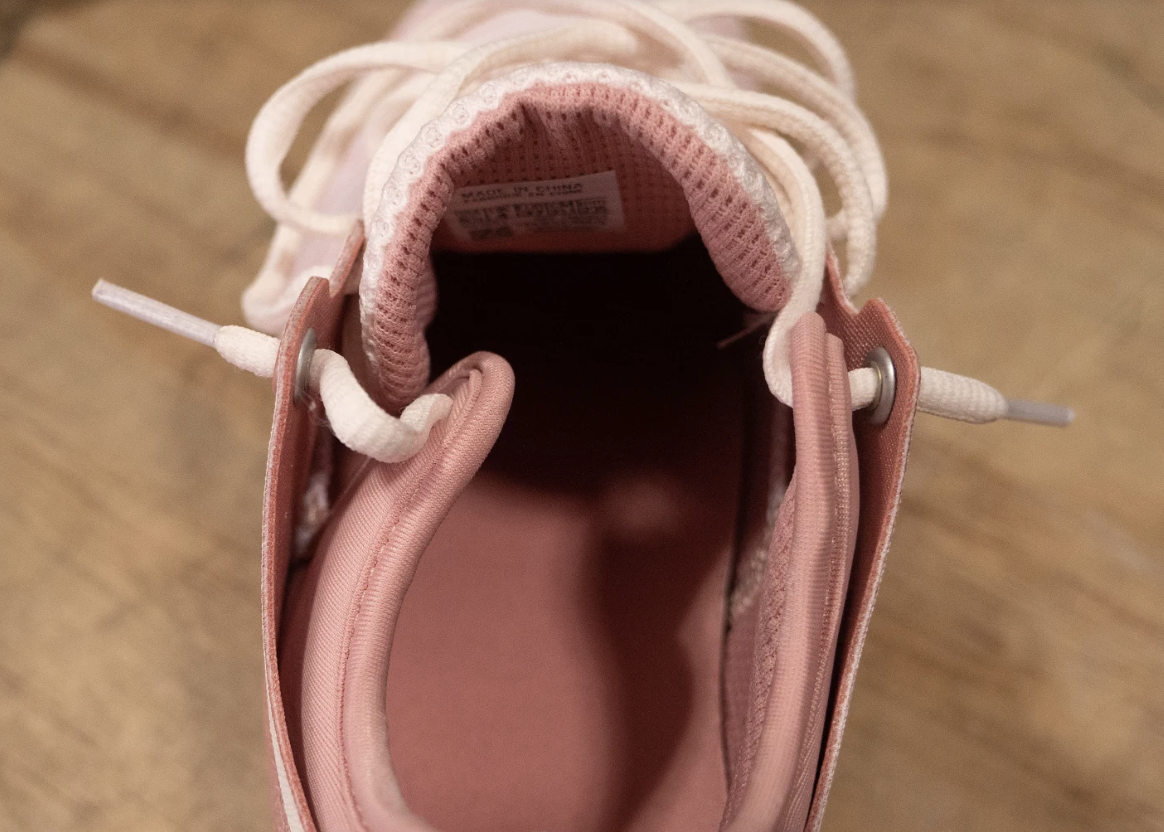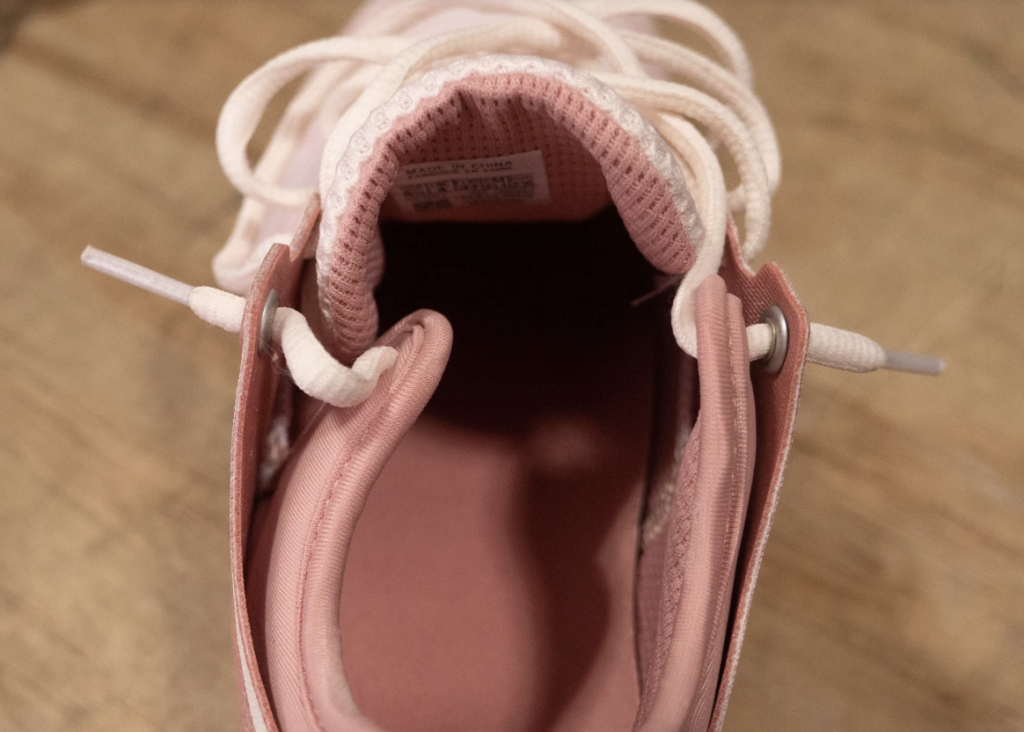 For the power cleans, I also liked how this shoe held up. Which is to say, I worked up to a heavy one-rep and didn't think about my feet once. But I matched my 1-rep max, which suggests the shoes did its job.
I also tried them out on the rope, and felt well-supported. While I don't typically use my feet on rope climbs, I gave it my best shot to test these shoes, and I liked the way the sticky rubber gripped the rope around the middle of the shoe.
Weight
Shoe weight, aka my ultimate CrossFit conundrum. I like to row in a heavier shoe like the Nano which helps keep my heal glued to the foot sockets. But I like to run in a light weight like the Nike Free or Reebok which are both light on the feet and don't make that thump, thump, thump noise with each step. I also prefer to do double-unders in a light-weight shoe, to prevent foot cramping.
I can comfortably say this shoe, which is rather light, does the best job of handling that balancing act of any training shoe I've tried to date. It has a firm enough sole to help me use my legs when I row. The shoe itself is weightless enough to help me stay light on my feet during double-unders. And while there was a little thumping when I ran in these buggers, they're great during WODs that combined a 400 or 800 meter run with a barbell, dumbbell, or kettlebell movement. Although, for my weekly 5 to 8 mile jaunt, I'll likely stick to my running shoes (as opposed to these training sneakers), there's no question: these are much better shoes for running, compared to the Nanos.
The only real problem I had with the shoe is pretty minor. Unlike the Nanos, and my usual running shoes (Nike Flyknit), the Speed TR's need to be broken in. When I first put the shoe on, it was a snug around the ankle and felt stiff around my foot after I'd laced up. Quite frankly, the first workout (which had heavy front squats, running, and HSPU) was rather uncomfortable. But by the third workout, I could feel that the shoe was starting to relax, and during every workout after, the stiffness felt more like stability than a limitation. And by the sixth workout, I really felt like the show was working for me. So, if you're looking for a shoe you can take out of the box and wear to a competition, this probably isn't the shoe for you. But if you're willing to wait one to two workouts for the shoe to adjust to your particular fit this baby is a good bet.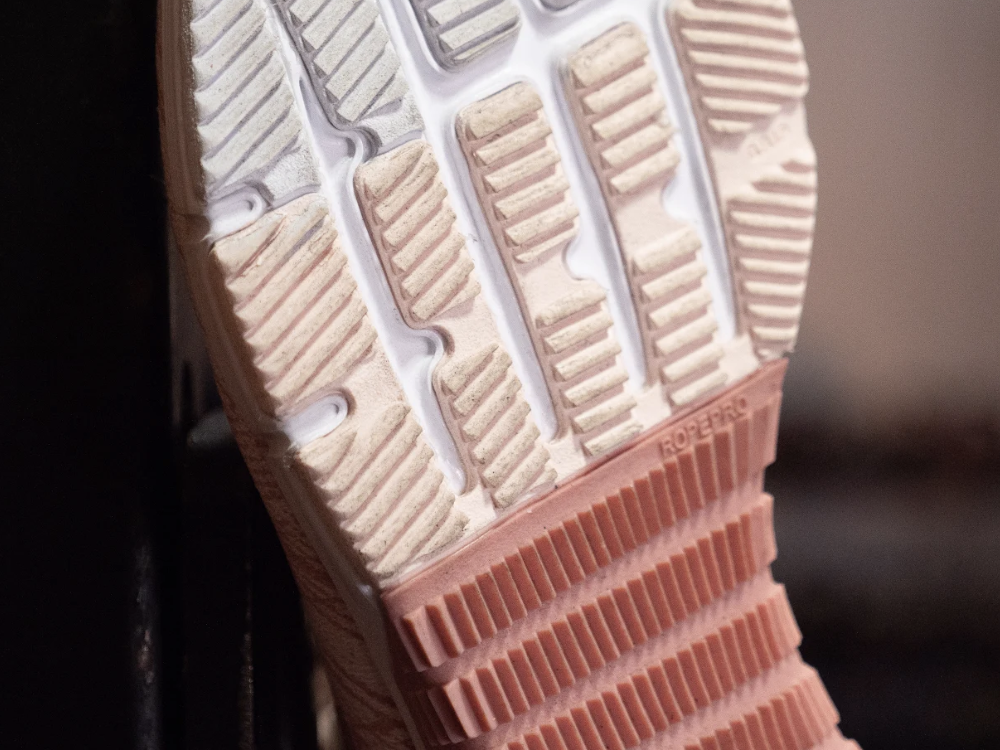 Additionally, to follow-up my performance test, I wore them around New York City, to work, and on a 2ish mile walk through Central Park. I forgot I was wearing a shoe meant for training until the last 10-minutes or so when I noticed my feet were beginning to overheat. Like I said: Feet prone to sweating.
Pros
Stable, but flexible
Price
Toe detailing
Easy to clean
Cons
Somewhat hot due to neoprene collar
Sometimes too flexible
Color options, if you prefer simple
Slippery laces
Sizing
Once you break them in (about one to three workouts), these shoes do fit true to size. However, if you have a wide foot or have gotten used to the breadth of the Nano's, it's worth noting that these are a more narrow shoe, especially in the toe box. That said, my feet are neither narrow nor wide, and I had no trouble with the feet. If you have somewhat wide feet, I'd simply recommend trying the shoes on before you buy them. Because while the heel loosens up and the overall shoe loses some of its stiffness, the toe splay didn't stretch in my case.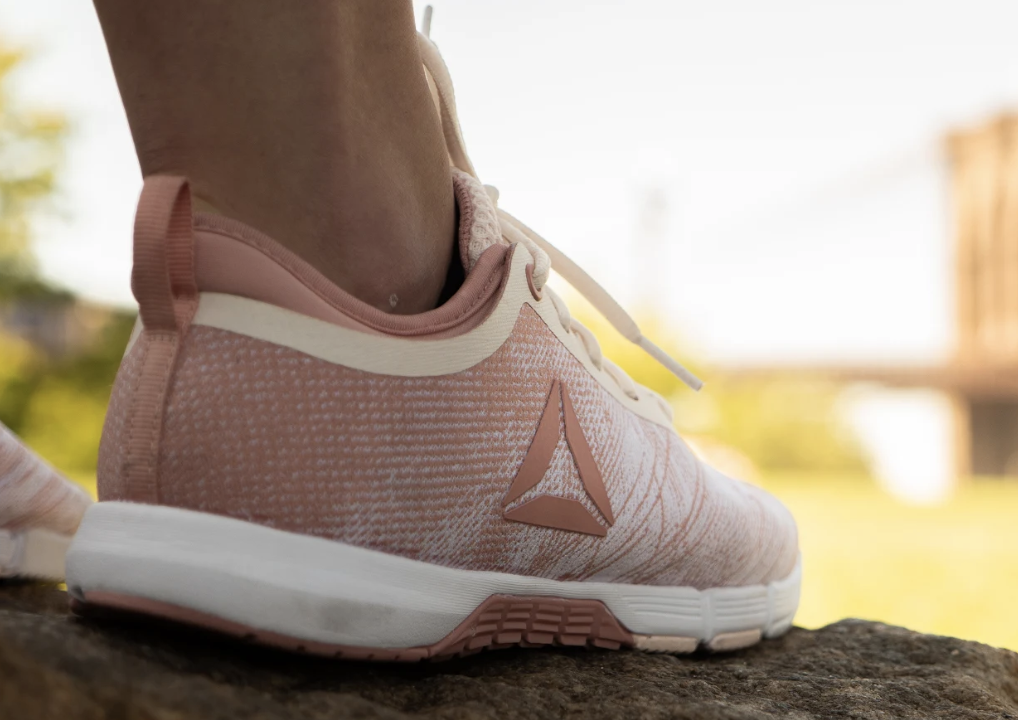 As for colors, these shoes are colorful. Currently, there are six colors available. Four of which are fun: pink on pink, red on blue, blue one teal, and maroon on lilac. The other two are more subtle, with grey, black, and white coloring. Usually, I'd have opted for the black and white pair. But I was feeling ~daring~ the day I picked these up and opted for pink instead. And I gotta say, I got more compliments on my pretty pink feet than I can count.
Price
When it comes to gear and supplements that promise to improve my performance, I'm not too shy about dropping the cash. I'll spend $100.00 on a pair of leggings, $40+ for a tub of collagen protein powder, and recently bought my first weight vest which, well, let's just say it's an investment.
So when I heard these shoes were only $80.00 (which goes a bit up and down depending on the season, you can check prices here), I was stunned. It's a hybrid shoe meant to meet all your training needs, so in my opinion you'd definitely get your money's worth if you workout often.
Additionally, they're 20 dollars less than the Reebok CrossFit Grace TR, which are slightly more CrossFit-geared. And a whopping 50 dollars less than the Nano 8s, but again, these shoes aren't going to provide the weight and stability that a strength athlete want (and get from the 8's).
Wrapping Up
All-in-all, I'm a fan of the Reebok Speed Her TR. It makes figuring out what to put on my feet for a workout easy. No matter what the workout entails: gymnastics, cardio-based movements, heavy lifting, barbell cycling, plyometrics, I know these shoes will support me.
The only downfall is for folks who are actually looking for a running shoe, or shoe to wear on just the treadmill and elliptical. These may be a little stiffer and heavier than what you're actually looking for, so it's something to keep in mind before investing. Additionally, advanced lifters who are lifting heavy may find that this show
But if you're looking for a quality, fair-priced cross-training shoe, and you're a beginner to intermediate athlete, then I think the Reebok Speed Her TR is a sound investment.