In early December 2017, Nike dropped their second rendition of the Nike Metcon DSX Flyknit 2. This Metcon model boasts multiple signature Nike shoe attributes and is designed to support heavy cross-training workouts. For starters, this shoe's construction is composed of Nike's Flyknit material, and additionally this shoe is equipped with Nike Flywire.
At this point, there are multiple Metcon models on the market, so it can be a little confusing at times which model would be best suited for your lifting style. For example, in the last 6-months alone we've seen the Nike Metcon 4 and the Nike Free x Metcon drop and both offer very different features.
In this review, I took the Nike Metcon DSX Flyknit 2 for a ride and analyzed how it compares to the other cross-trainers and Metcon models on the market. Everything about this shoe was taken into consideration and below you'll find notes on this shoe's construction, performance, stability, durability, and price.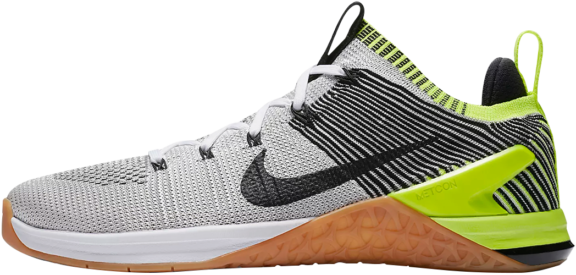 A cross-training shoe that utilizes classic Nike Metcon attributes and ties them with Nike's signature Flyknit material.
Construction
Upper Shoe Material
Potentially the biggest difference between this Metcon model and the others on the market is the upper shoe material. In fact, the Nike Flyknit material is exactly what makes this model so unique to its Metcon companions. Flyknit is a lightweight, breathable material that comes with a boot construction and allows for seamless movement.
For most, they've most likely experienced the Nike Flyknit with casual wear or running shoes. If you're a fan of Nike's Flyknit construction, then you'll most likely enjoy how this shoe's upper construction feels. Running up the side of the shoe there's Nike Flywire in each of the shoe's five eyelets. Flywire is a material that connects to the laces/eyelets and runs under the shoe to the opposing side.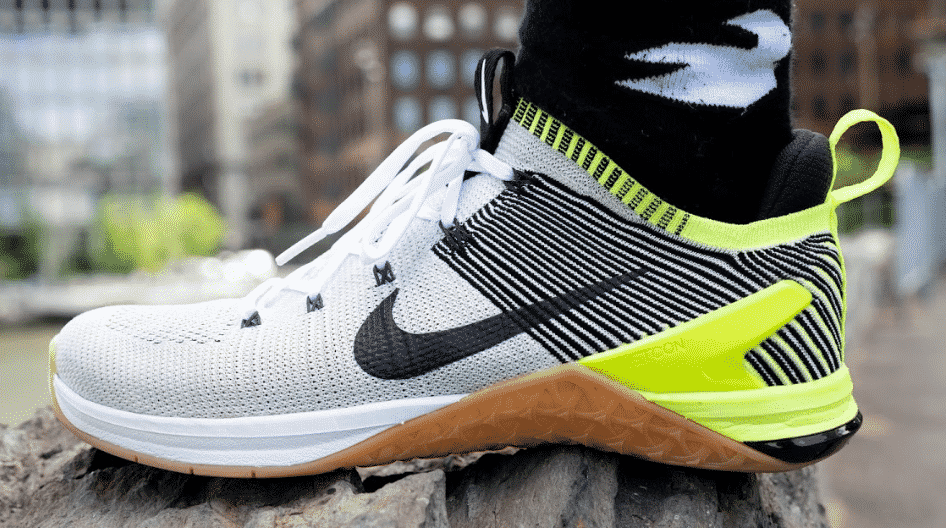 Boot and Heel
Unlike the Metcon 4, the Nike Metcon DSX Flyknit 2 offers a boot design, so there's no separate tongue. The boot is constructed with the Nike Flyknit, which makes it a little lighter than other bootie style shoes on the market. In terms of ankle support, the material sits pretty low and below the maleolus (ankle bony process), and doesn't come up incredibly high.
On the back of the heel, there's an additional piece of mesh-like material. Personally, I was a fan of this because it provided a little extra support since the Flyknit is pretty lightweight and sits low. In terms of friction, I think the material does a pretty good job at preventing rubbing, as it's a little thicker and is pretty soft (even barefoot I didn't have rubbing). The outside of the shoe offers the standard Nike Metcon heel clip.
Midsole and Outsole
The Nike Metcon DSX Flyknit 2 is very similar to the Nike Metcon 4 when it comes to the outsole of the shoe. First, there's the wave-like weaved tread that covers the full base of the shoe. Nike calls the material sticky rubber, and it's designed to support the shoe's grip on multiple surfaces.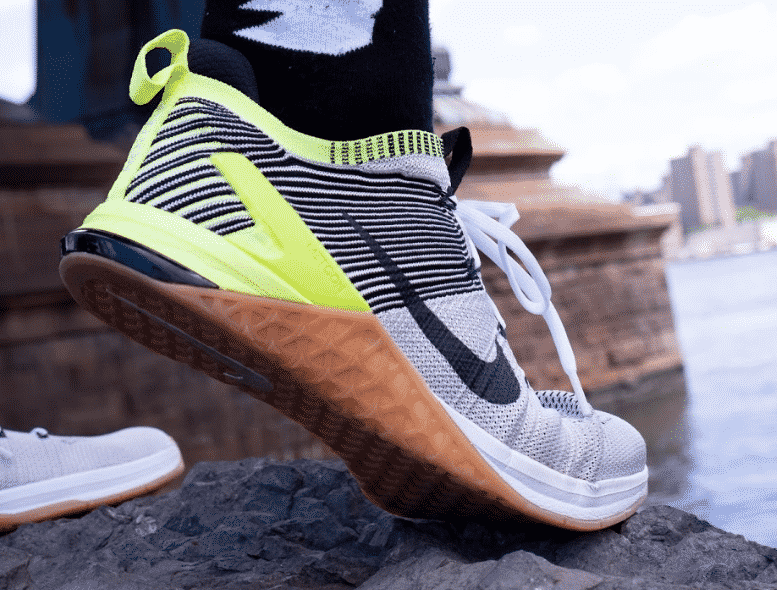 In respects to the midsole, the Flyknit 2 is slightly different to the other Metcon models. The main difference on the shoe is the toe. On this model's toe, there's a lip that comes up on the toe from the midsole, which reminds me of your standard tennis shoe construction. On the medial and lateral side, there's the extended midsole to promote grip on rope climbs and other movements. The heel offers a solid TPU-layer, and is designed to resist compression under heavy weight.
Nike Metcon DSX Flyknit 2 Performance
For my review, I put this shoe through a variety of tests to shadow what many would performance in a cross-training style workout. Over the course of my workouts, I performed compound movements, cardio-based movements, and plyometrics.
I've included some of the main tests I used throughout all of the workouts below, along with a score of 1-10 that accompanies the shoe's performance.
| | |
| --- | --- |
| Performance Test | Score 1-10 |
| Back Squat (185-315 lbs) | 9 |
| Power Clean (135-215 lbs) | 8.5 |
| Box Jump Burpees | 8.2 |
| Rope Climbs | 8 |
| Lateral & Sprint Movements | 6.5 |
Overall, this shoe held up pretty well in all of my tests, and there weren't any true glaring issues when it came to in-gym performance. In respects to stability, this shoe was definitely on the more stable side of cross-trainers I've tried. Yet, I did have a couple concerns with this model's upper shoe construction. Below, I've listed a couple thoughts I had on this shoe's performance.
Where the Nike Metcon DSX Flyknit 2 Excelled
Resisting compression under heavy loads. 
Providing a comfortable, lightweight, and mobile shoe for plyometric movements.
Tying together multiple signature Nike shoe elements into one cross-training focused model (Flyknit & Flywire).
Where the Nike Metcon DSX Flyknit 2 Fell Short
Providing a lot of support with lateral movements (Flyknit somewhat caved in).
Taking stress off of heel strike in repetitive sprints (hard TPU heel). 
Stability
One characteristic that comes with this model and deserves its own section is this shoe's stability. I thought this was one of the most stable cross-training shoes I've tried, and thought it rivaled the Nike Metcon 4. The midsole and outsole are both tough and did a good job at resisting compression under heavy loads.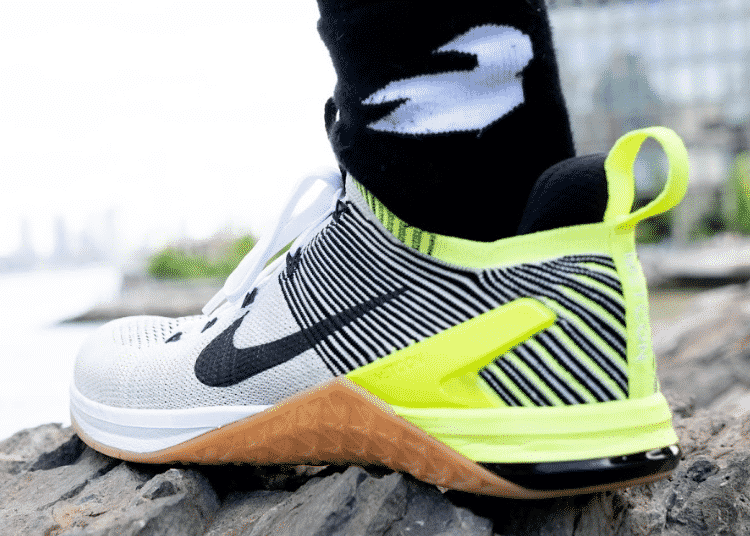 My only concern that comes with this shoe's stability is the stability it provides the ankle in lateral based movements. It's a very mobile shoe, as it's Flyknit, but sometimes too much can be a bad thing with stability. There were a few occasions when this shoe's upper construction caved in during lateral based sprint movements (shuttle runs, etc).
[Read how the Nike Metcon 4 compared to the Nike Metcon DSX Flyknit 2!]
Durability
Throughout the duration of my time with these shoes and through all of my workouts, I didn't notice any durability issues. I thought the tougher outsole construction and Flyknit with additional Flywire was a nice tough to provide extra support for the mid-foot and upper shoe. Granted, I do have a few concerns for long-term durability.
First, I'm not a huge fan of toe lips on shoes, as they can be a little more prone to peeling off on toe dragging movements. If you're doing a lot of burpees, then I'd recommend keeping an eye on this construction attribute. Second, the Flyknit is new to cross-training, so I'm interested in how much it may stretch with repetitive workouts. I didn't notice any problems, but Flyknit is very lightweight, so I'd keep an eye on this attribute as well.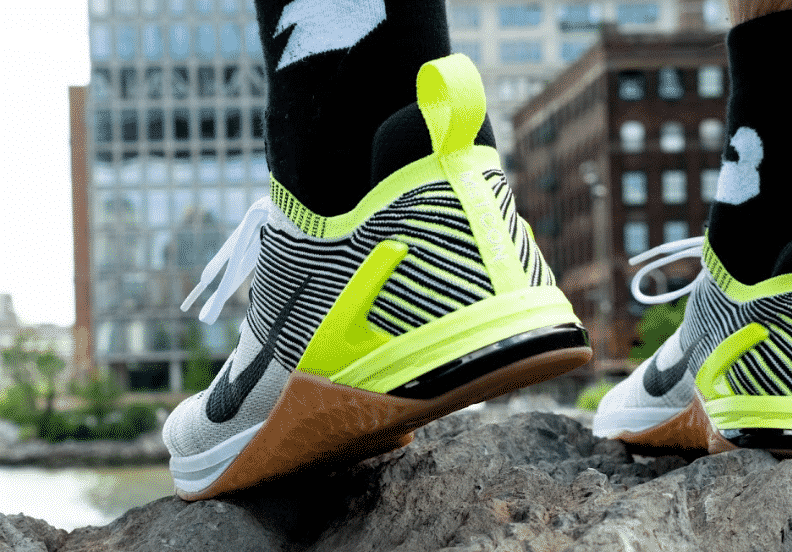 Price
In respects to price, you can expect to pay around $120.00 – $150.00 for this shoe. It was released in December 2017, so more than likely you'll be able to find some color schemes for a lower price than originally marketed for. The original asking price is a little higher than other cross-training models, but this model offers multiple signature Nike construction features, so if you're a fan of those, then you'll most likely find the price justifiable.
Wrapping Up
The reality, the Nike Metcon DSX Flyknit 2 is a pretty solid shoe. It offers multiple attributes that I liked throughout this review and that includes its construction and performance. If you're a fan of Nike's construction features like Flyknit and Flywire, then more than likely this shoe will meet your expectations. My only piece of advice would be to pay attention to the long-term construction features mentioned above.
If you want a mobile shoe that can endure heavy cross-training workouts, then the Nike Metcon DSX Flyknit 2 may be your best bet.